One of my most favorite cities in the world is Barcelona.  It is such a beautiful, whimsical city, complete with insane architecture, gorgeous beaches, the best farmer's market you'll ever go to, nap time, and tapas.  I've not been to Barcelona since becoming vegan, but as a vegetarian, there were a few staple tapas that I lived on while I was there, one of them being Tortilla Espanol.  Obviously, considering it takes about 64 eggs to make said dish, it is something I only daydream about now:  having this wonderful dish for dinner (at 10pm, because that's how you roll in Spain) with a pitcher of sangria, then crawling skipping, totally hungover eager for the day ahead, from my hotel to the nearest cafe to have the same dish for a late breakfast.  Then exploring, shopping, napping, and doing it all over again.  Crap, I miss Barcelona!
Anywho, I've been thinking about the Tortilla Espanol for some time.  I've been craving a thick, crustless, potato-filled pie and and after much thought, I decided to give this a whirl.  I know this isn't an vegan replica of the famed tortilla, but it was definitely inspired by it.
When my CSA sent me mustard greens, I had no idea what I was going to use them for.  I'd never even tasted them before, so when I received them, I took one small bite of one of the leaves and let's just say I knew right away that I wasn't going to ever be using them in their raw form.  I decided to use them with the potatoes and some lemon and dill to create the perfect balance, but any kind of greens could be used.  I even threw in some saffron because saffron always reminds me of Spain (but if you don't have it, it will be fine without it).  One serving of this quiche satisfied several of my cravings and I hope you enjoy it too!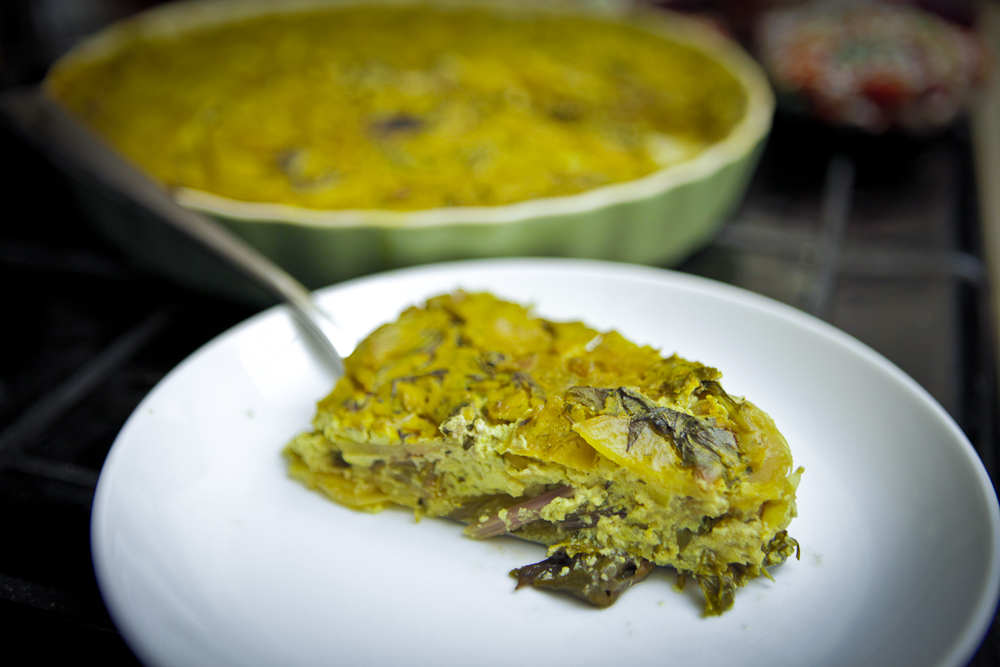 LEMONY MUSTARD GREEN & POTATO CRUSTLESS QUICHE
makes 8 servings
Ingredients:
1 T olive oil
½ onion, finely diced
¾ cup vegetable broth (or water)
½ lb baby gold potatoes, thinly sliced
1 bunch mustard greens, roughly chopped
2 cloves garlic, minced
juice of 1 lemon
1 tsp dried dill (or 1 T of fresh dill)
2 T fresh parsley (optional)
½ cup almond milk
1 tsp arrowroot flour (or cornstarch)
1 package extra-firm tofu
1 package vacuum-packed silken tofu
1 T Dijon mustard
¼ cup nutritional yeast
1 tsp black salt (or salt of your choice)
1 tsp dried oregano
½ tsp tumeric
pinch of saffron (optional)
several dashes of pepper
Instructions:
Preheat oven to 375°.  Spray a pie dish with vegan non-stick spray.
Heat the oil in a large pan over medium heat.  Add the onion and garlic and sauté for about 3 minutes, until onion is slightly translucent.  Add the potatoes and vegetable broth, turn heat down to medium-low, cover the pan, and let the potatoes simmer.  Check it occasionally for sticking, and add liquid if needed.  Cook until potatoes are soft, but not falling apart/mushy.  Add the mustard greens and cook until greens are slightly wilted.  Mix in the lemon juice, dill and parsley and remove from heat.
Add the arrowroot (or cornstarch) to the creamer.  Combine the creamer with the rest of the ingredients in a blender or food processor and blend until smooth.  Pour the batter into a bowl.  Add the vegetable mixture and stir to combine.  Pour batter into the pie dish, using a rubber spatula to make sure you get everything.  Bake at 375° for 50-55 minutes, or until lightly browned on the top and a toothpick inserted into the center comes out clean.  After about 40 minutes, you may have to cover with foil to prevent the top from browning further.  Let stand for 10 minutes and serve.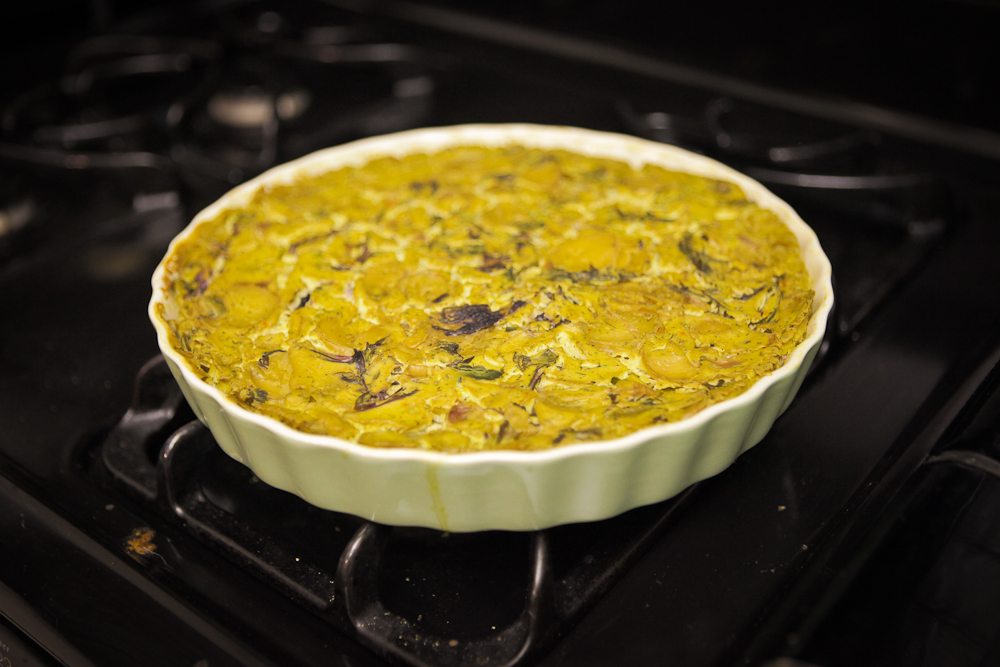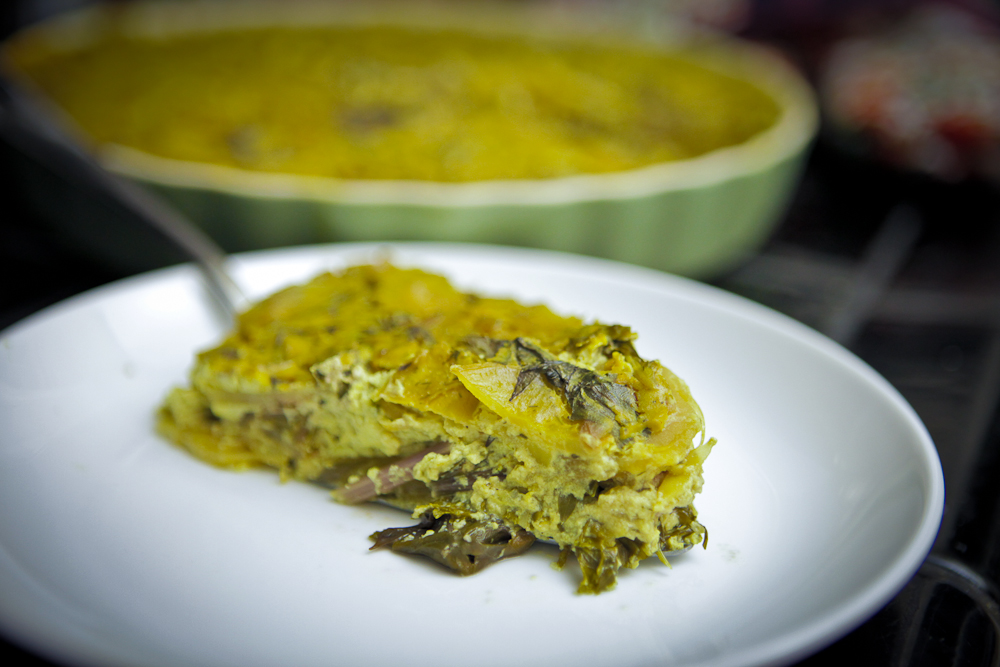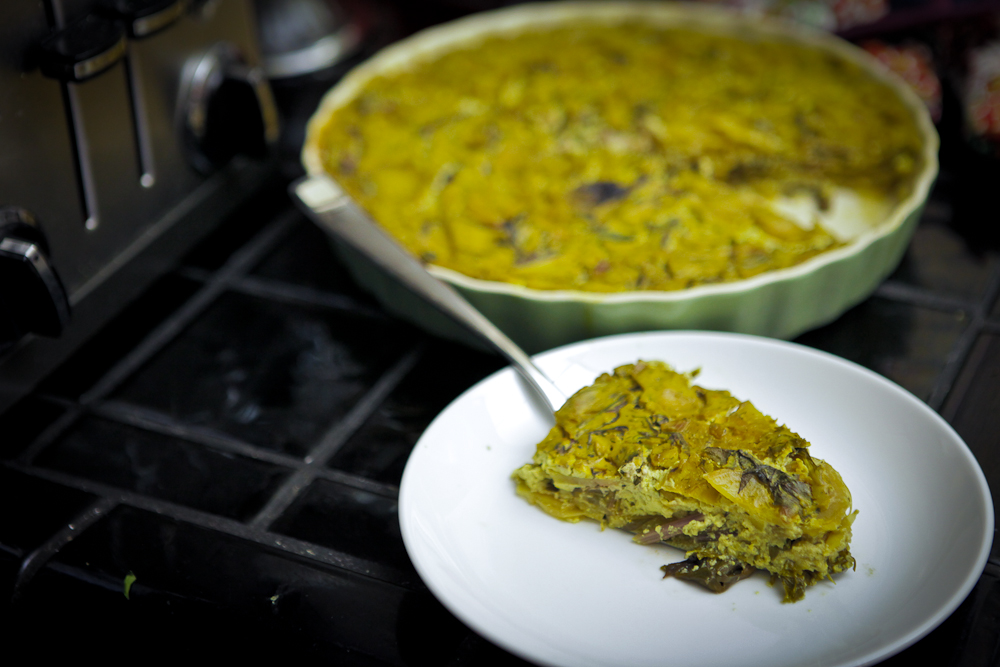 Photos by Chris Miller
© Kristy Turner and Keepin' It Kind, 2012. Unauthorized use and/or duplication of this material (content and images) without express and written permission from this blog's author and/or owner is strictly prohibited. Excerpts and links may be used, provided that full and clear credit is given to Kristy Turner and Keepin' It Kind with appropriate and specific direction to the original content.