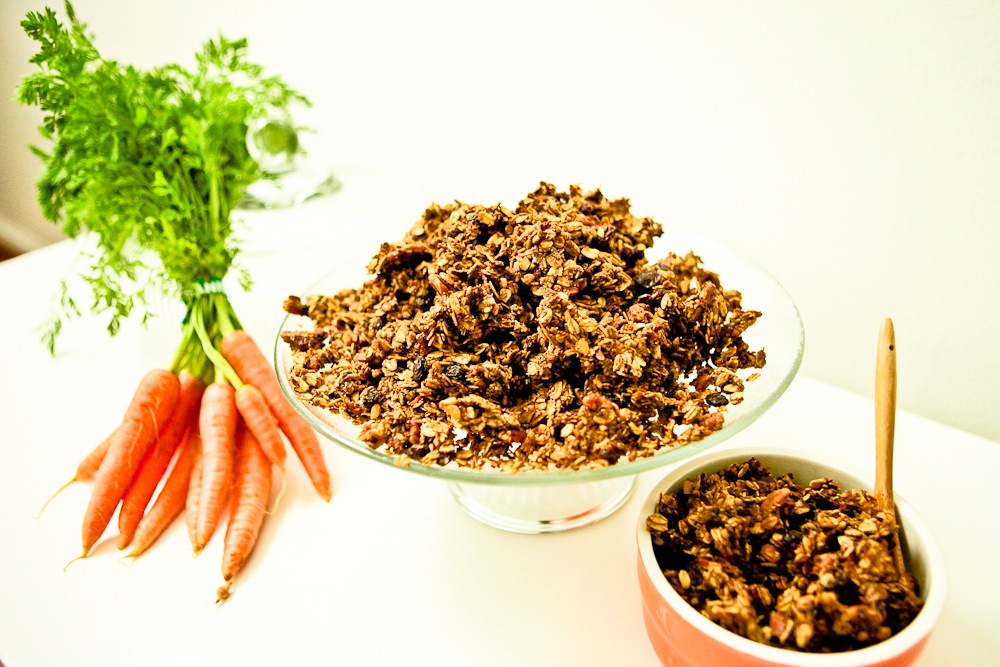 Chris loves carrot cake.  He also loves a big bowl of clustery granola cereal in the morning.  It was only a matter of time before I put the two together.
Fresh, organic, flavor-packed carrots from our CSA really put this carrot cake granola over the edge.  From the look of it, it looks like just any old granola.  When you put it in your mouth, it's like a mouthful of crunchy carrot cake.  When you pour almond milk (or your vegan milk of choice) on it, it softens slightly and the milk becomes reminiscent of cream cheese frosting, so with every bite, it actually tastes like you are eating carrot cake.  No joke.  I broke out into a giddy fit of giggles with my first bite- the similarity is uncanny!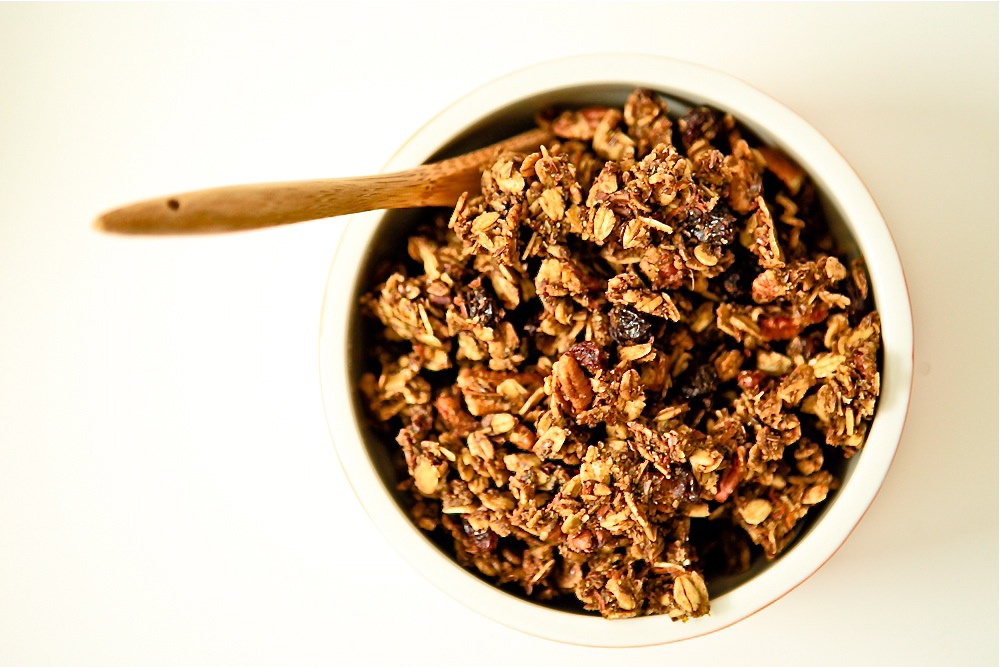 This cereal is perfect for those times when you wake up and you're like "Man, I want a big bowl of cake."  You never say that?  Ever?  Ok, it's just me then.  Maybe it's for those times when you're on a long hike, and you wish you had a little bag of cake in your pocket for that extra boost of energy.  Never happens?  Ok.   Maybe you're short on time and you need to combine breakfast and dessert because you just don't have time to eat both (I'm not even sure how this situation would occur, but I wish I had this sort of timing issue).  Yes?  Ok, then this granola is perfect for you!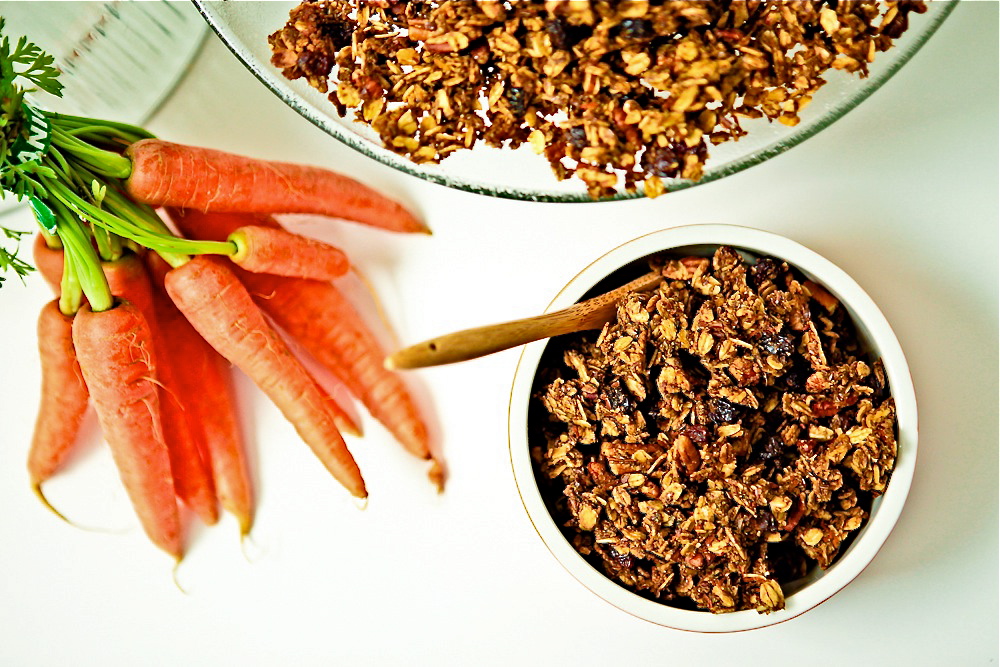 carrot cake granola
Ingredients
4 cups rolled oats
1 cup flaxmeal
1 cup chopped pecans
¾ cup raisins
2 ½ teaspoons cinnamon
1 teaspoon ground ginger
¾ teaspoon nutmeg
½ teaspoon cloves
¾ cup finely grated carrots
¾ cup apple juice
½ cup canola oil
¼ cup + 1/8 cup molasses
¼ cup + 1/8 cup agave syrup
2 teaspoons vanilla
Instructions
Preheat oven to 275°. Line two baking sheets with parchment paper and lightly spray with vegan non-stick spray.
In a large bowl, combine the dry ingredients. In a small bowl, combine the wet ingredients, minus the grated carrots. Heat the wet ingredients in the microwave for about 1 minute and 45 seconds, until hot, but not boiling. Stir in the grated carrots.
Add the wet ingredients to the dry ingredients and mix to combine. Divide the mixture between the two baking sheets, and spread out evenly. With your fingertips, go through and quickly "pinch" small clusters into the mixture. It won't all be clustered, but will have a lot of small clusters.
Put the baking sheets in the oven, one on the center rack, and one on the lower rack. After 25 minutes, switch the sheets, putting the one from the bottom rack on the center rack, and vice versa. Cook for another 20 minutes, and remove from oven. Let sit until cool. Once cool, gently remove from sheets and put into an airtight container.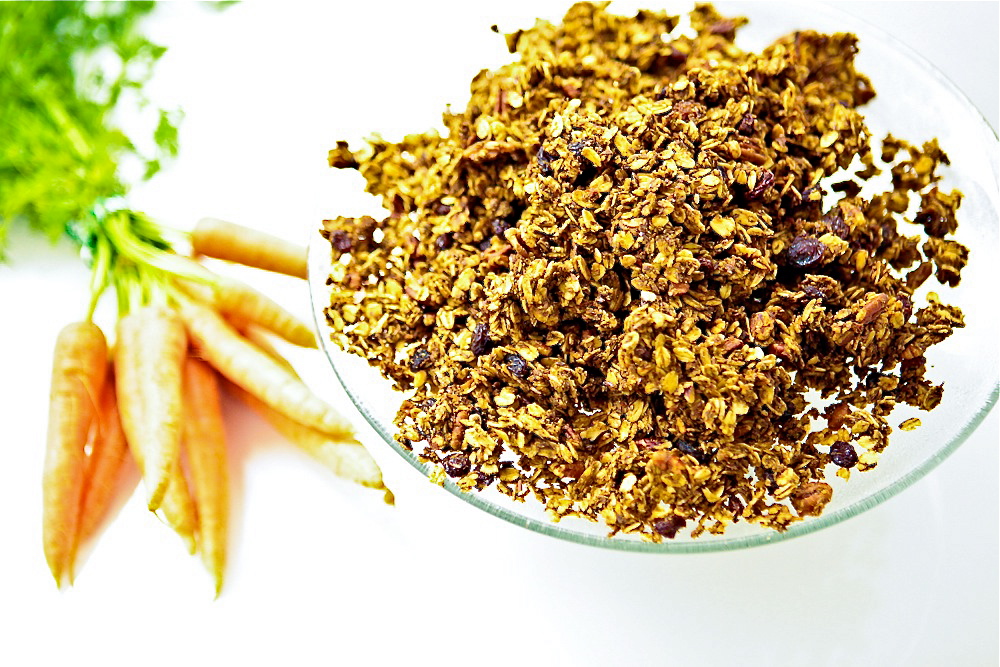 I know this is my second post this week about turning cake into a healthy meal, and you're probably saying "Good Heavens, somebody get this girl a cupcake!"  I must have some sort of subconscious fixation with cake right now, but let me tell you, I am pretty dang pleased with the side-effects!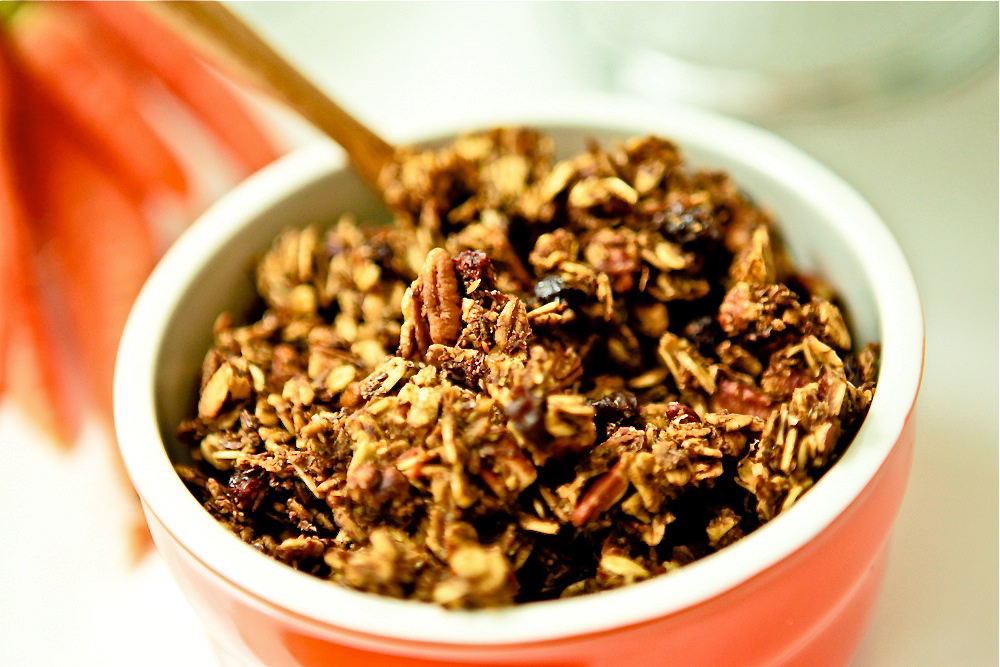 What is your favorite cake?
Photography by Chris Miller