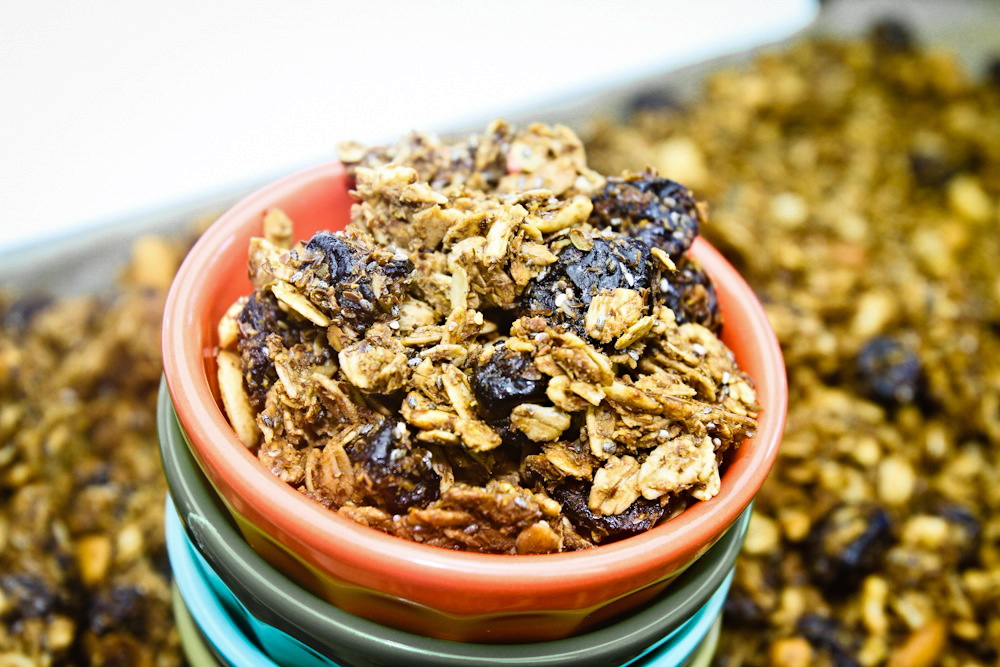 Ever since chia seeds became uber-popular, all I think of when I hear their name is those silly Chia Pets.  My brain rarely lets me just say "chia" with out it being preceded with the old commercial jingle.  I apologize for being obnoxious.
I could tell you that I created this granola because I wanted to create a new super-food cereal for Chris to have for breakfast, but that would be less than 10% true.  As I explained in this post, I get words stuck in my head and last week, the phrase of the week was "Chia Cherry."  It came upon me while browsing the bulk foods section at Whole Foods, and it just stuck.  Throw in my obnoxious issue with the word "chia," and you have the title of this granola.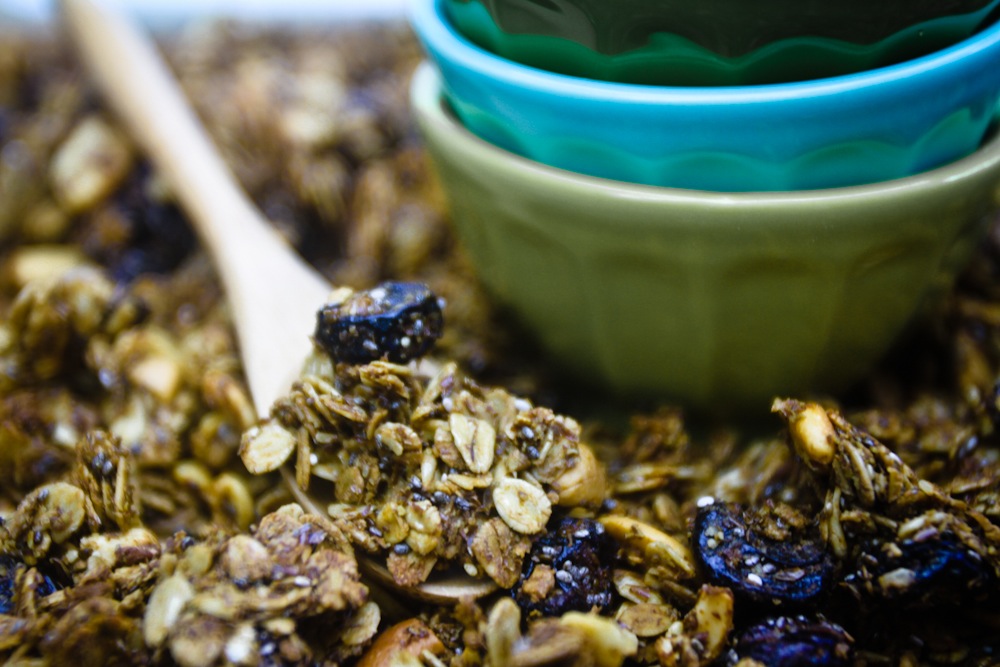 This alliteration turned out to also be a delicious combo.  I found some black cherry juice concentrate for about $3 to go with the dried cherries, which really added a strong cherry flavor, but a regular cherry juice would be fine (Trader Joe's has a good one).  I added cashews because cashews make everything taste better and in combination with the chia seeds, they gave the granola a really nice texture.  I could tell you that I beg for a bite from almost every bowl of cereal Chris fixes with this granola, but that would only be 90% true (I've taken a bite from every bowl).  I could get my own bowl, but that would leave less for Chris, and I made this granola specifically for him (100% true).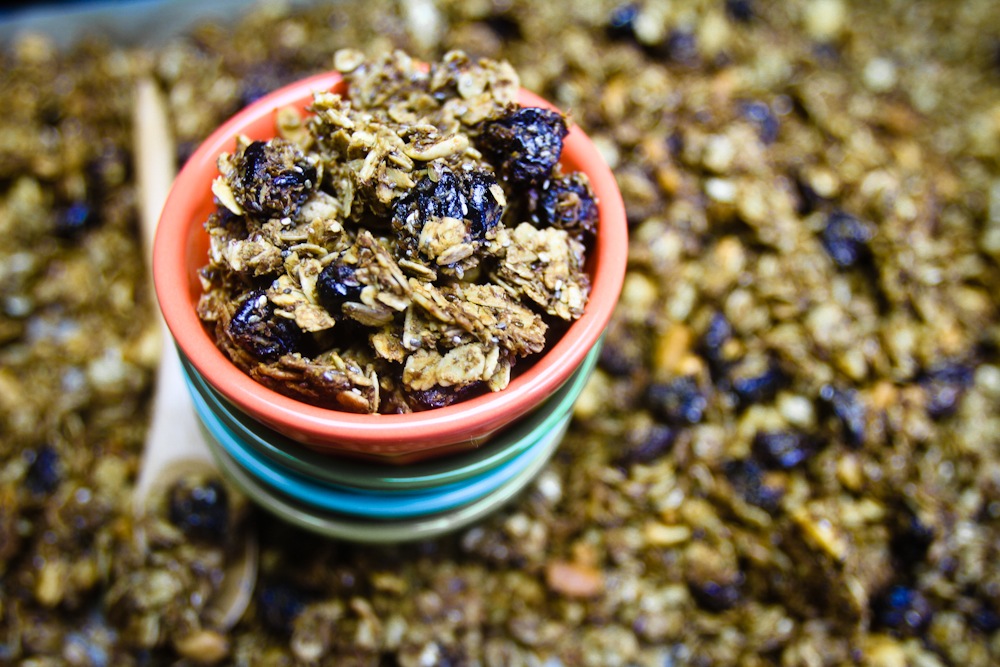 CH-CH-CH-CHIA CHERRY GRANOLA
Ingredients:
4 cups rolled oats
1/2 cup flax meal
1/2 cup chia seeds
1 cup roasted cashews
3/4 cup dried cherries
1 tsp cinnamon
½ cup black cherry juice concentrate (or regular cherry juice)
½ cup canola oil
¼ cup blackstrap molasses
¼ cup agave syrup
Instructions:
Preheat oven to 275°.  Line two baking sheets with parchment paper and lightly spray with vegan non-stick spray.
In a large bowl, combine the dry ingredients.  In a small bowl, combine the wet ingredients.  Heat the wet ingredients in the microwave for about 1 minute and 45 seconds, until hot, but not boiling.
Add the wet ingredients to the dry ingredients and mix to combine.  Divide the mixture between the two baking sheets, and spread out evenly.  With your fingertips, go through and quickly "pinch" small clusters into the mixture.  It won't all be clustered, but will have a lot of small clusters.
Put the baking sheets in the oven, one on the center rack, and one on the lower rack.  After 25 minutes, switch the sheets, putting the one from the bottom rack on the center rack, and vice versa.  Cook for another 20 minutes, and remove from oven.  Let sit until cool.  Once cool, gently remove from sheets and put into a glass or Tupperware-type container.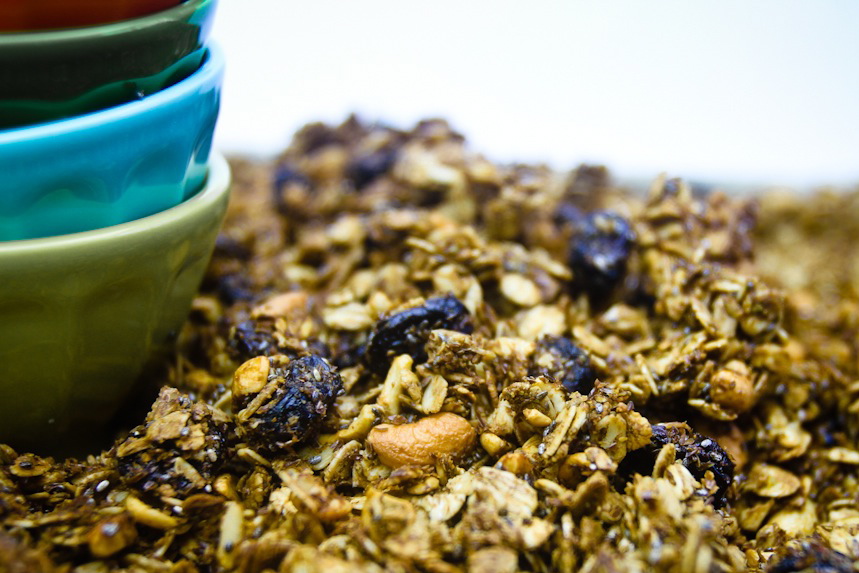 All Photos by Kristy Turner

© Kristy Turner and Keepin' It Kind, 2012. Unauthorized use and/or duplication of this material (content and images) without express and written permission from this blog's author and/or owner is strictly prohibited. Excerpts and links may be used, provided that full and clear credit is given to Kristy Turner and Keepin' It Kind with appropriate and specific direction to the original content.