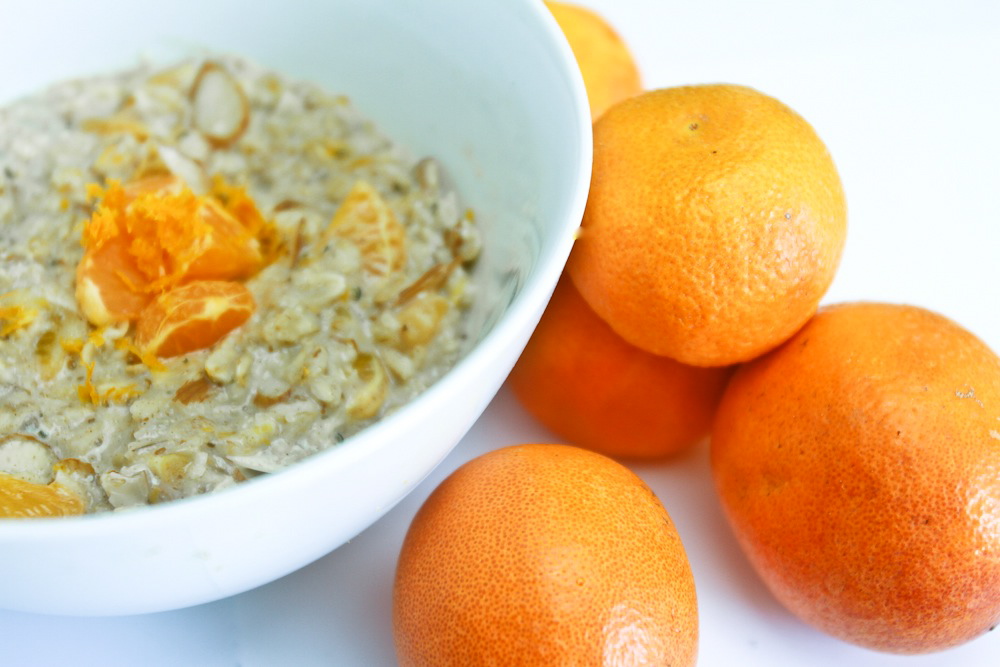 Growing up, my parents never told me what the ice cream man was because they didn't want me running into the street every time I saw him.  They also probably didn't want me always begging for ice cream.  Either way, up until the age of 9 or 10, I always thought the ice cream man was just this guy with a really cool car who liked to play his awesome music really loud.  I thought he was maybe one of my neighbors.
One day, my friend Heather and I were playing in the front yard when suddenly we could start to hear who I thought was my neighbor's awesome music.  Heather exclaimed "The ice cream man!"  I was like "What?!  Where?!," thinking she meant a man made entirely of ice cream (perhaps related to the Marshmallow Man in Ghostbusters?).  My neighbor came cruising up, and she ran to the fence, saying "Right there!"  I squinted my eyes to see if the driver was made of ice cream, but all I saw were pictures of various ice cream treats all over his truck.  After a few seconds, I made the connection.
That day, I had my very first treat from the ice cream man.  I was so overwhelmed with all of the options that I quickly pointed to the Creamsicle sticker and handed over my 50 cents.  Though I developed into more of a chocolate-loving girl, this was my first introduction to the combination of citrus and cream.  I've been playing with the combo a lot recently, and this oatmeal has become one of my favorite creations.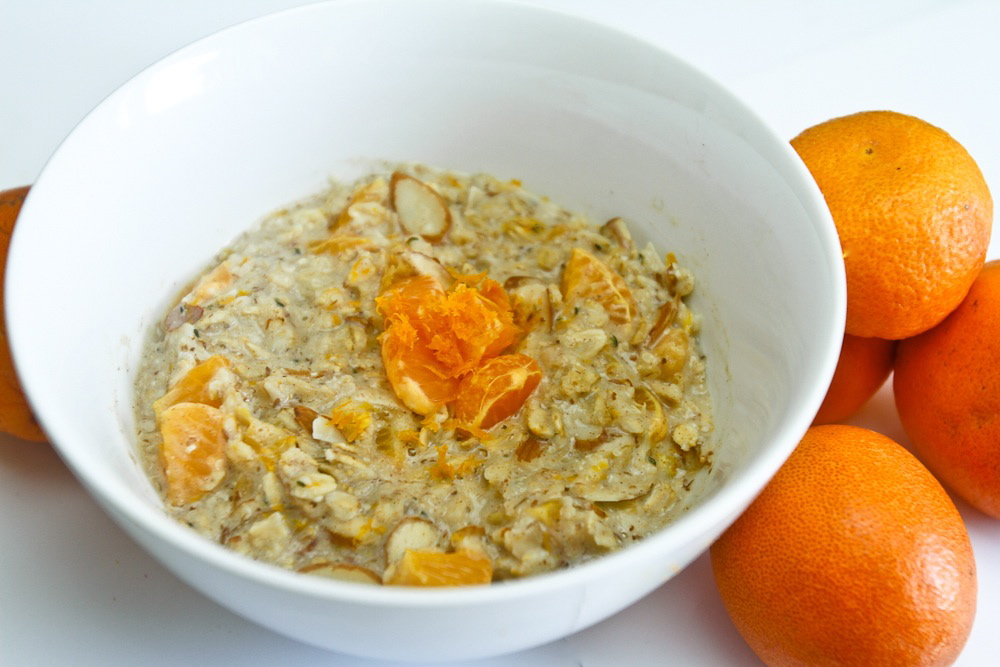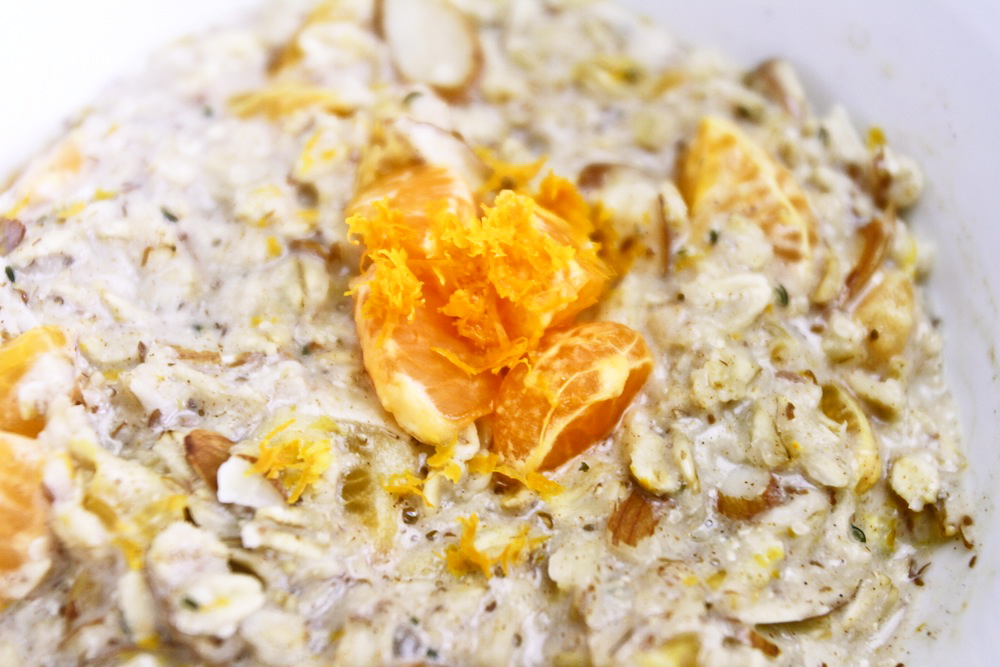 CREAMSICLE OATMEAL
single serving
Just a note:  Recently, Annie, An Unrefined Vegan, sparked my interest in hemp seeds, and I've been playing around with them ever since.  I love the taste and texture they add to many dishes, especially this oatmeal, but this could totally be made with just a full tablespoon of flax meal.

Ingredients:
¼ cup organic rolled oats (heaping)
½ T raw hemp hearts (shelled hemp seeds)
½ T flax meal
1 tsp powdered stevia (or sweetener of choice)
1/2 tsp vanilla extract
dash of cinnamon (optional)
¾ cup milk
½ cup chopped orange or tangerine segments
2 T raw sliced almonds
½ tsp orange zest
Instructions:
Combine the first 6 ingredients in a bowl.  Add the milk and microwave for 2 minutes.   Stir in the remaining ingredients, and microwave for another 30 seconds.  Serve warm.
You can also cook on the stovetop by adding the first 7 ingredients to a small pot, cover and heat on medium heat for a few minutes, until thickened and oats are soft.  Stir in the remaining ingredients and remove from heat.  Serve warm.
This oatmeal has been a very fun, tasty, and satisfying way to start my mornings.  I hope you enjoy it!
A side note, my friend Heather, who introduced me to the concept of the ice cream man, has an Etsy store where she sells all the lovely quilted things she makes.  She also makes very eco-friendly and stylish Reusable Sandwich Bags which have been nominated for the Handmade Olympics!  I had no idea there was such a thing, but I think it's pretty awesome.  To vote for her (please vote for her!), go here and click on her link (she's the 6th one down, with the reusable sandwich bags from Junienone).
What was/is your favorite ice cream truck treat?
All Photos by Kristy Turner

© Kristy Turner and Keepin' It Kind, 2012. Unauthorized use and/or duplication of this material (content and images) without express and written permission from this blog's author and/or owner is strictly prohibited. Excerpts and links may be used, provided that full and clear credit is given to Kristy Turner and Keepin' It Kind with appropriate and specific direction to the original content.