This week, in celebration of the upcoming, very long-awaited, premier of the 4th season of Arrested Development (my most favorite TV show of all time) on Netflix, I am doing a week of Arrested Development-themed recipes.  It's sort of a week-long Arrested Development premier celebration, if you will ("Oh, sure, I will.  Look, I have...").  To answer your questions: Yes, I am a huge Arrested Development fan and yes, I am also kind of a dork.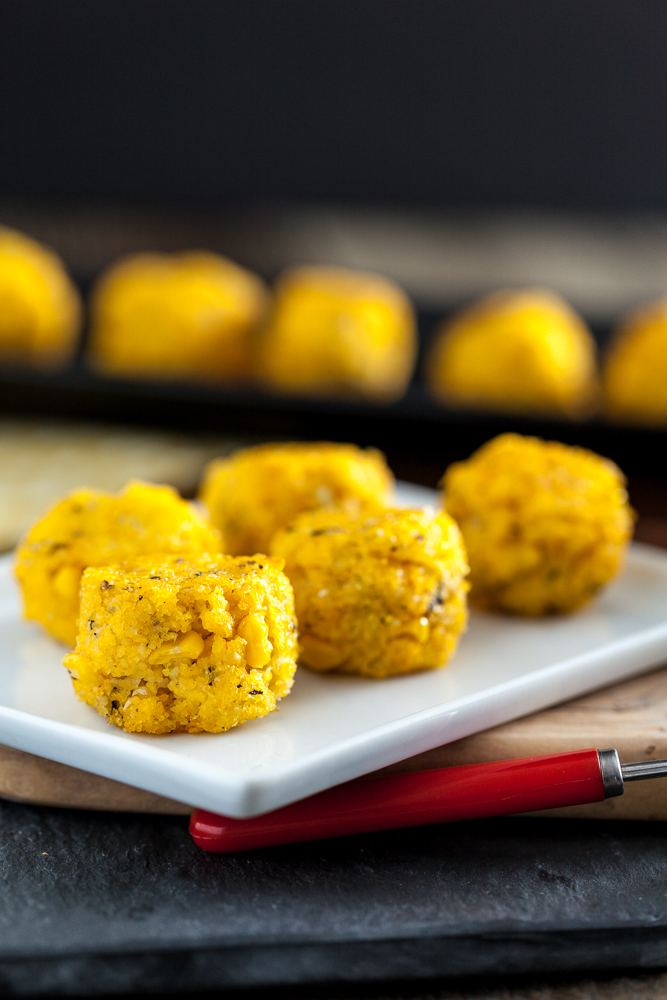 "Michael was making cornballs, a Bluth family favorite since George Sr. unsuccessfully tried to market it in the mid-seventies."
George Bluth Sr. once invented a faulty deep-frying contraption for making "cornballs" which easily burns whoever goes near it.  I can only guess as to what cornballs actually are since I've never had one.  I can however, create my own interpretation of the cornball.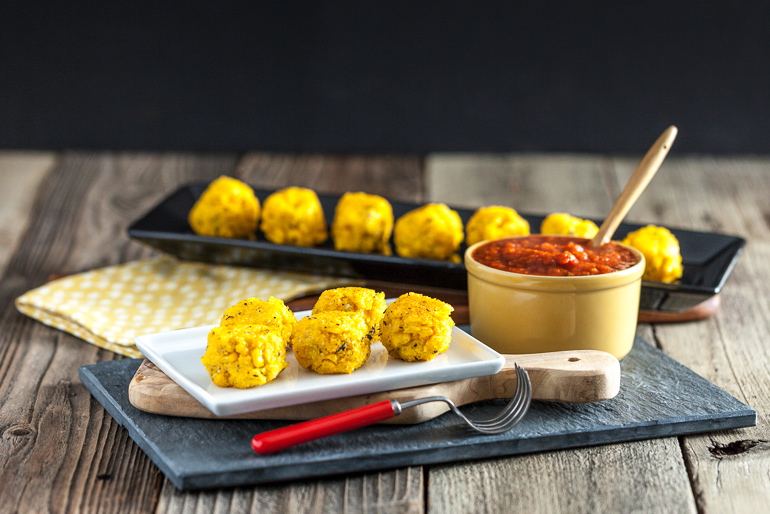 "Hey, the Cornballer. Thought these things were only legal in Mexico."
My version is made of cooked polenta and corn rolled into balls.  I chose to not deep-fry them for health purposes.  Instead, I baked them and they were absolutely wonderful.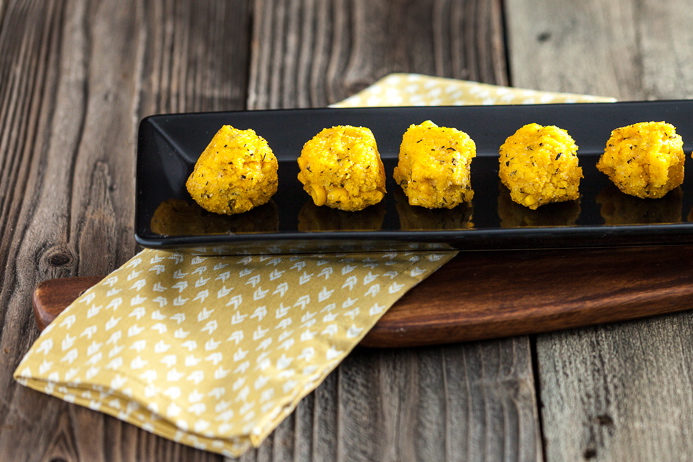 "In fact, the Cornballer wasn't legal anywhere, but George Sr. continued to market it in Mexico, anyways."
I served the cornballs with some very quickly-made spicy marinara sauce.  The final product was so delicious!  If these are anything like the Bluth's version, I can see why they love them so much!  Chris and I ate half the batch while re-watching the old Arrested Development episodes, preparing for the new season.  Not that we needed to watch them- we've only seen every episode about a hundred times.  I must say, though, the old episodes were even more enjoyable while eating these cornballs with brownie ice cream sandwiches for dessert.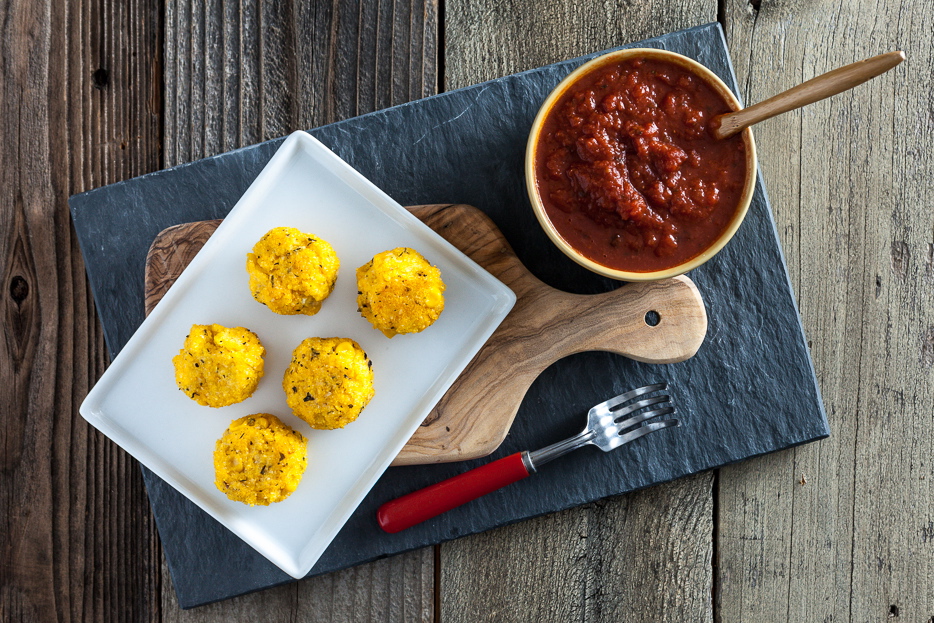 "Muy delisioso. Es verdad. Soy loco por los Corn Balls!"

Polenta Cornballs with Easy Spicy Marinara Sauce
Ingredients
2 cups water
1 cup ground polenta
1 teaspoon salt
1 teaspoon dried basil
½ teaspoon dried oregano
½ teaspoon dried thyme
pepper to taste
1 cup frozen corn kernals, defrosted
1 15oz can of organic fire-roasted tomatoes
¼ cup vegetable broth
1 tablespoon tomato paste
1 teaspoon Sriracha sauce
1 teaspoon dried basil
salt and pepper to taste
Instructions
for the polenta cornballs

Line a 9x13 baking dish with parchment paper. Set aside.
Bring the water to boil in a medium pot. Once it is boiling, add the salt. Slowly add the polenta, stirring constantly. Lower the heat to a simmer and continue to stir constantly until very thick, about 3-5 minutes. Stir in the spices and the corn. Remove from heat. Pour into the prepared baking dish, cover and refrigerate for 1-2 hours up to overnight.
Once the polenta mixture is firm, remove from the refrigerator. Preheat the oven to 400.
Line a baking sheet with parchment paper. Use an ice cream scoop or a large spoon to scoop out the polenta mixture and use your hands to roll it into 1-2 inch balls. Place on the baking sheet.
Bake in the oven for 20-25 minutes or until firm and slightly golden. Remove from oven. Serve immediately with spicy marinara sauce. Enjoy!
Combine all ingredients in a small pot. Heat over medium heat, stirring occasionally. Once heated, use an immersion blender to pulse the sauce until just slightly chunky. Remove from heat and serve hot or chill until ready to use and serve cold.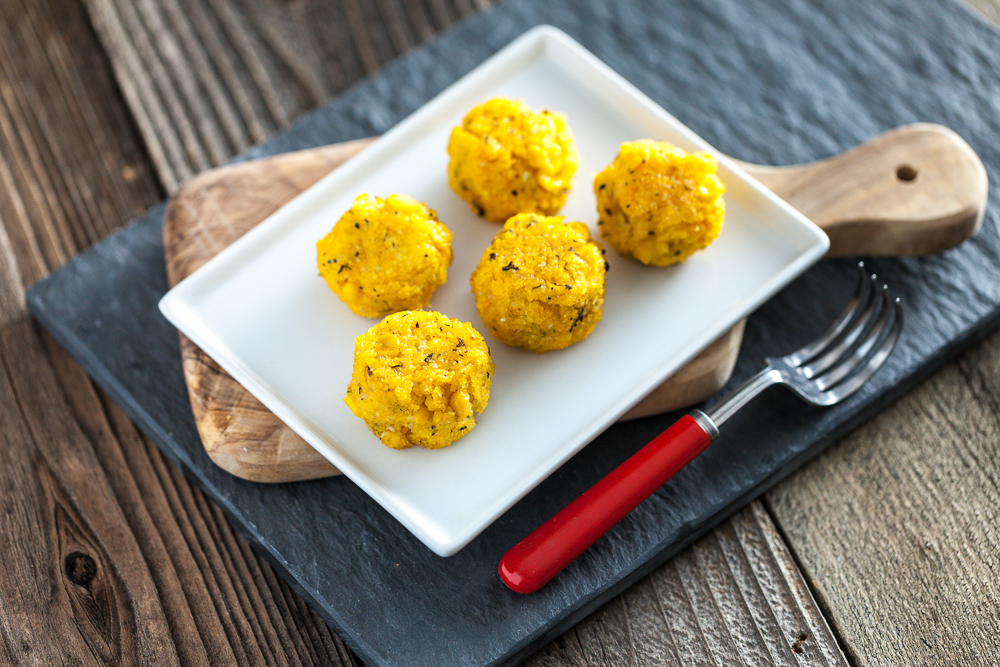 Are you looking forward to season 4 of Arrested Development?  Who is your favorite character?
Photography by Chris Miller