This week, in celebration of the upcoming, very long-awaited, premier of the 4th season of Arrested Development (my most favorite TV show of all time) on Netflix, I am doing a week of Arrested Development-themed recipes.  It's sort of a week-long Arrested Development premier celebration, if you will ("Oh, sure, I will.  Look, I have...").  To answer your questions: Yes, I am a huge Arrested Development fan and yes, I am also kind of a dork.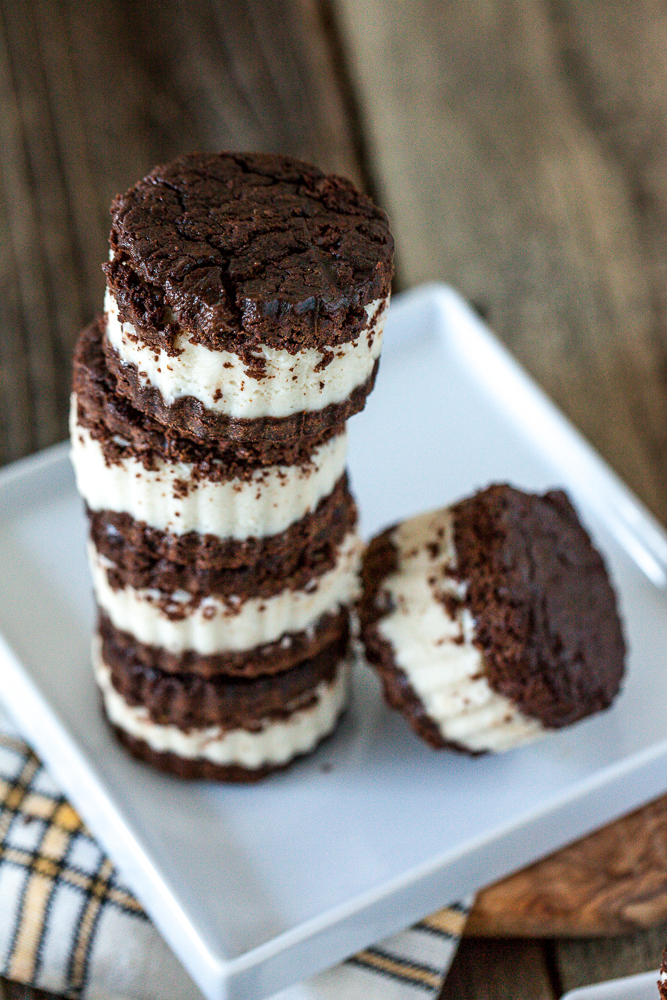 "Actually, George Sr. was in the kitchen trying to soothe himself with an ice cream sandwich..."
What better way to start off my Arrested Development-themed week than with ice cream sandwiches!  Right?!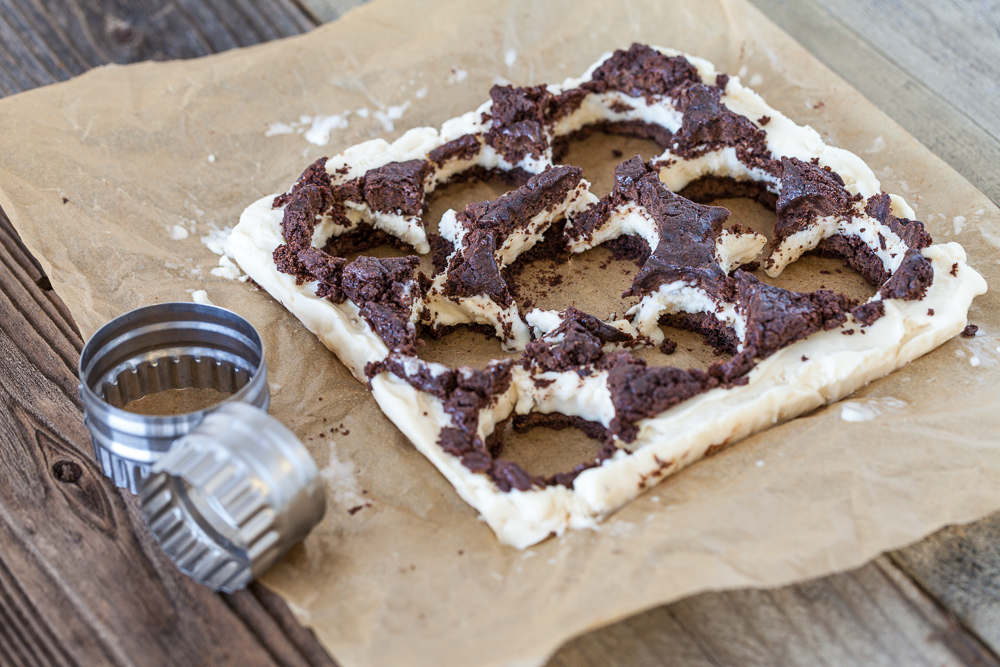 There is an ice cream sandwich machine in the visiting area of the prison where George Bluth Sr. is imprisoned.  Starting there and continuing throughout the entire series, George Sr. can often be seen eating an ice cream sandwich.  No Arrested Development-themed party would be complete without them.  And let's face it, ice cream sandwiches are just awesome.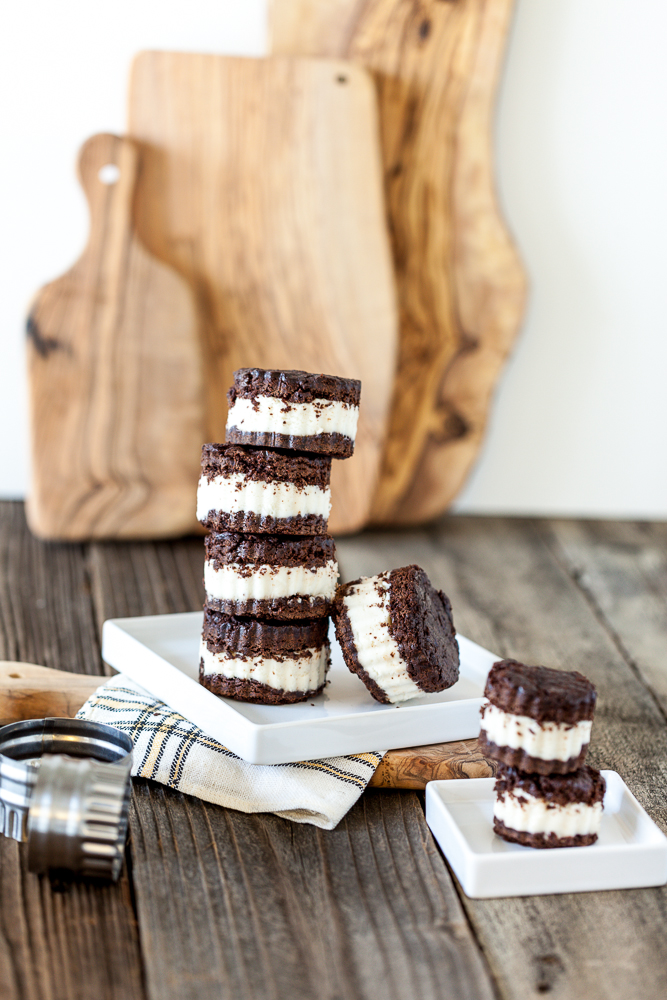 "I'm having a love affair with this ice cream sandwich."
For my version, I've made ice cream sandwiches a little more awesome by replacing the chocolate cookie with a very thin chocolate brownie.  Brownie Ice Cream Sandwich?  I think I'll have a love affair too…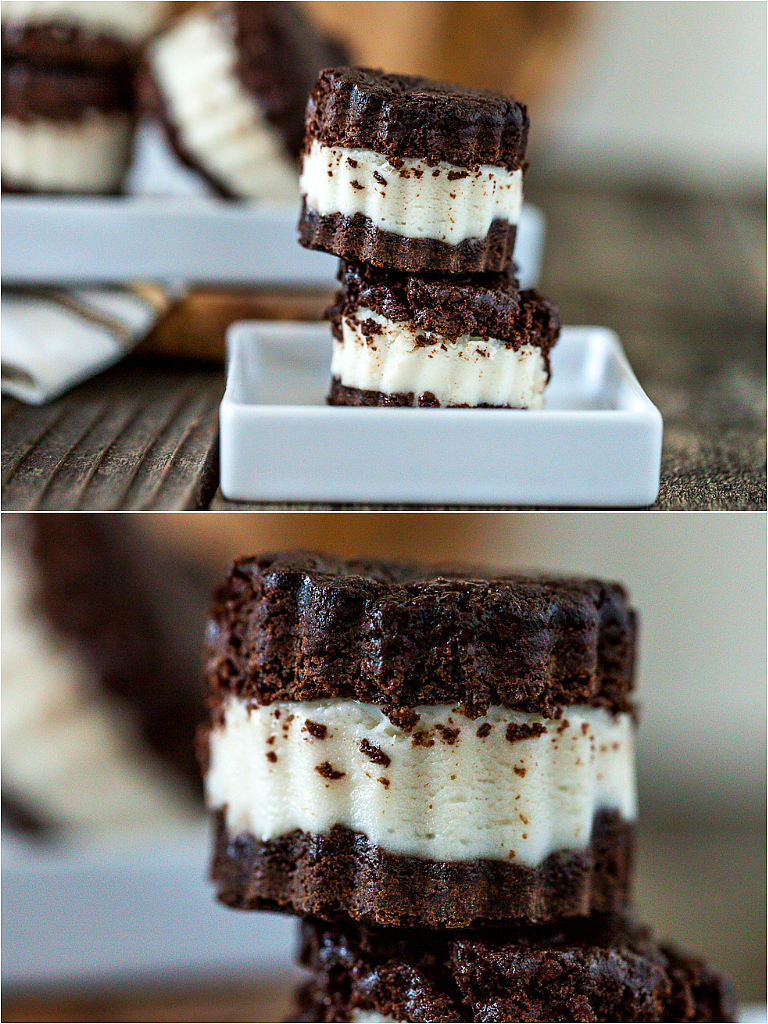 "Then why don't you marry an ice cream sandwich!"
Maybe I will!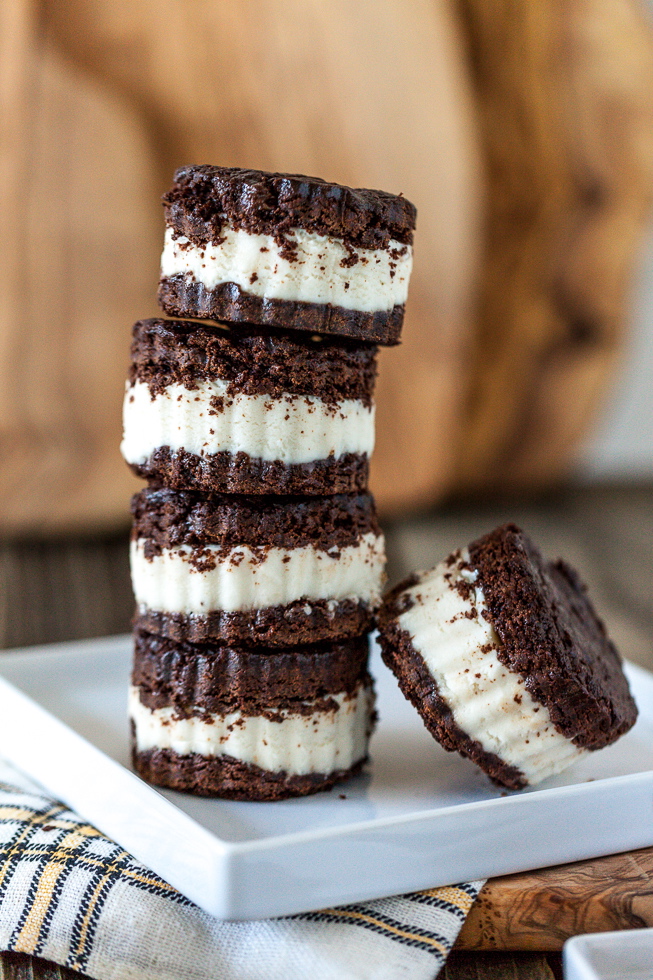 Brownie Ice Cream Sandwiches
Ingredients
1 cup gluten-free flour (or all-purpose flour)
3 tablespoons dutch-process cocoa
1 teaspoon baking powder
½ teaspoon baking soda
1/2 teaspoon xanthum gum (only if using gluten-free flour, optional)
1/2 teaspoon salt
1 cup vegan dark chocolate, chopped
3 tablespoons vegan butter
½ cup coconut sugar
1/2 cup applesauce
2 teaspoons chocolate extract
1 large container of vegan vanilla ice cream (I used Trader Joe's "Soy Creamy" vegan vanilla ice cream).
Instructions
Preheat the oven to 350. Line two square baking dishes with parchment paper. Set aside.
In a medium bowl, mix together your dry ingredients.
Heat your cup of chopped chocolate with the vegan butter in a in a large glass bowl over a pot of boiling water. Once it is fully melted, remove from heat. Add in the rest of the wet ingredients and mix thoroughly.
Add the dry ingredients to the wet ingredients and stir until just combined.
Dived the batter between the two baking dishes and spread until smooth and even. Place both dishes in the oven and bake for 25-30 minutes until set and the edges are pulling away from the pan slightly. Remove from oven and let cool for 1-2 hours.
Once the brownies are cool, place the the two brownie dishes in the freezer. Leave there for 30 minutes.
After 30 minutes, take your ice cream out of the freezer. Let it sit for a few minutes to soften. Remove the brownies from the freezer.
Spread ice cream on top of the brownie layer in ONE pan. Create a layer that is about ½-1 inch thick and spread out evenly.
Carefully lift the brownie layer from the other dish and place on a flat surface. Very carefully, lift and place the layer on top of the ice cream layer. Gently press down to compress the sandwiches. Cover the dish and freeze for about 30-60 minutes.
Remove the dish from the freezer. Use the parchment paper to lift the big sandwich from the pan and place on a flat surface, like a cutting board. Use a cookie cutter, biscuit cutter or a knife to cut out desired sandwich shapes. You will have to gently push from the bottom, underneath the parchment paper, to get the sandwiches to pop up. Place the sandwiches in an airtight container. Freeze until ready to serve. Enjoy!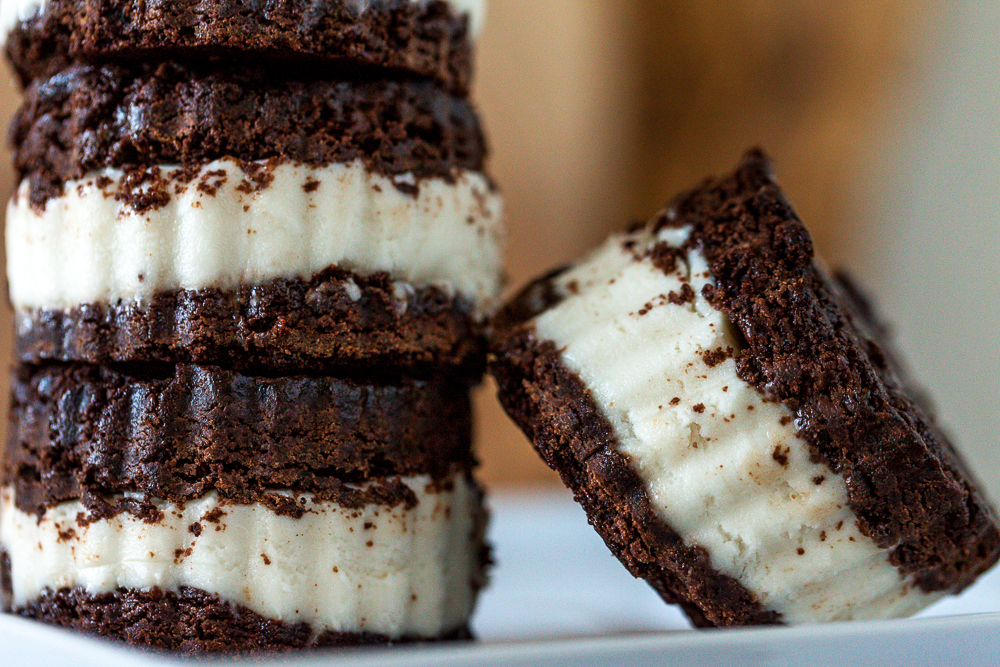 Are you an Arrested Development fan?  Do you have any favorite quotes?
Photography by Chris Miller