Welcome to the Virtual Vegan Potluck!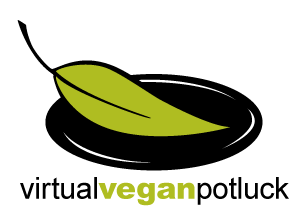 I made you cookies!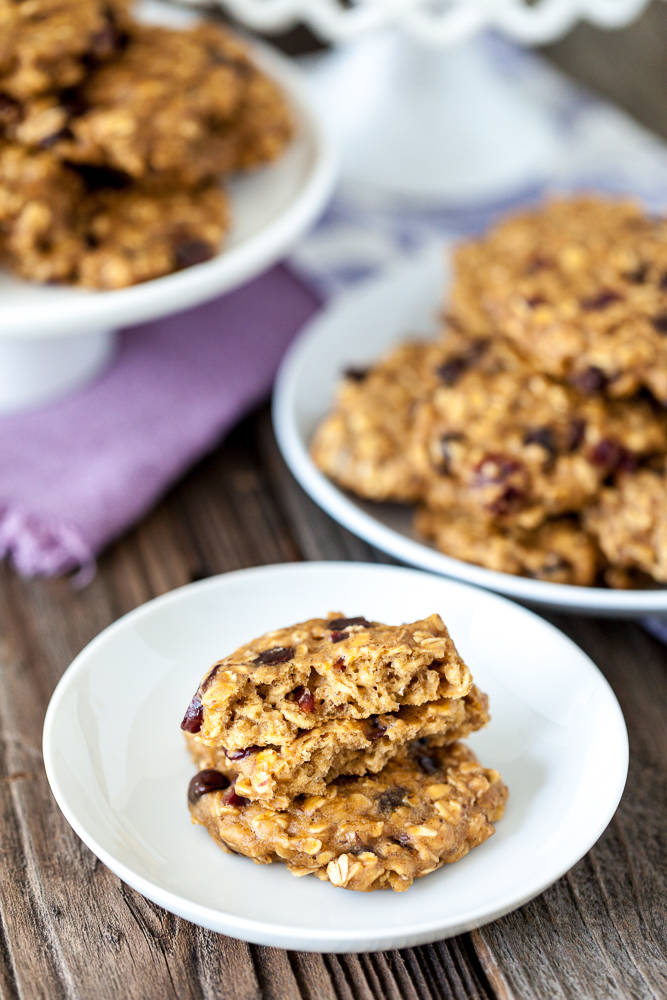 Lots and lots of cookies.  Oatmeal Cherry Chocolate Chip cookies to be exact.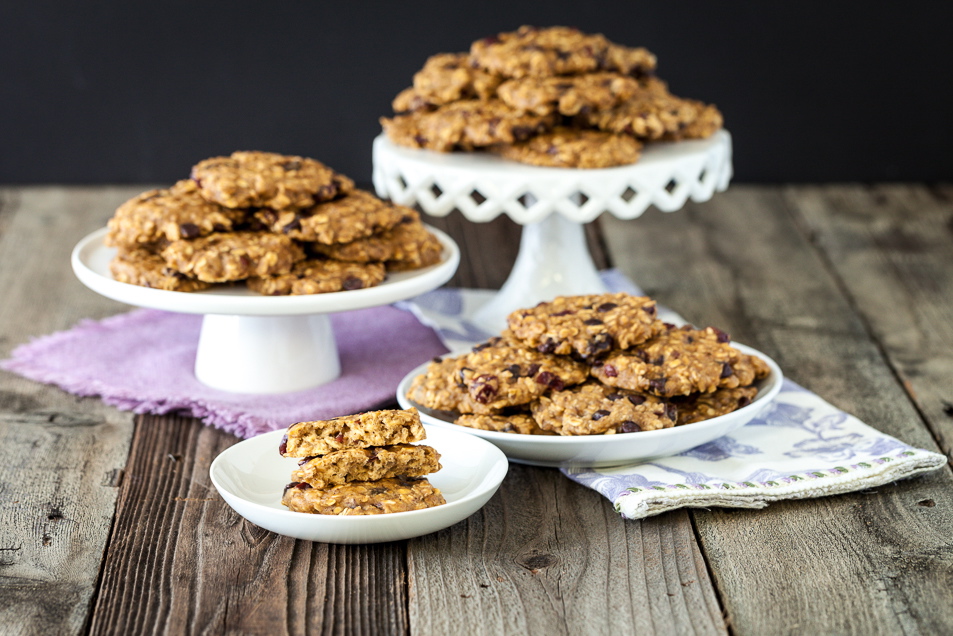 If I bring a dessert to a potluck, I usually always bring cookies, especially if I know there are going to be other desserts.  Why, you ask?  Well, I may just be speaking for myself, but cookies are the kind of dessert that you can grab and nibble on before or after the other main dessert (like pie or cupcakes) and not feel all that guilty about it.  Cookies are also the perfect party food because they're portable and you can take a couple and go and chat with your friends.  With pie, you generally always have to have a plate and fork and it's hard (yes- this is my definition of hard) to hold a conversation while eating pie.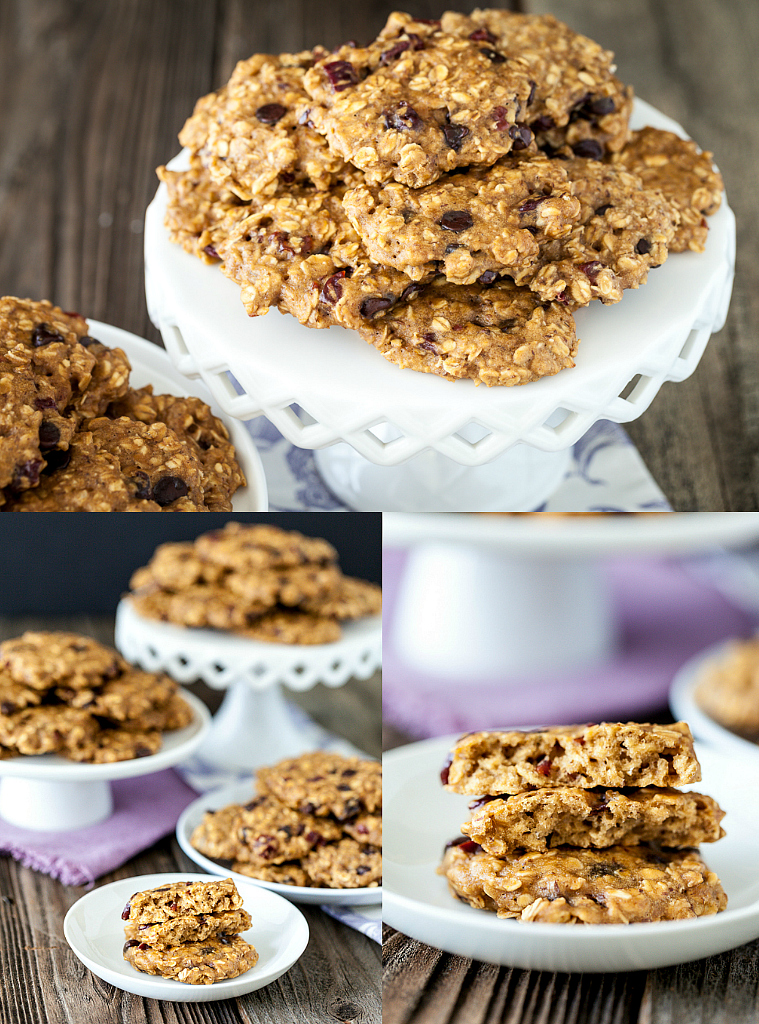 These cookies, in particular, I know are very popular with crowds.  I recently baked about 5 batches for a bake sale and they went over pretty well.  And people didn't even realize they were healthy(ish) or vegan!  But really- who doesn't love the concept of chocolate and cherries mixed into chewy oatmeal cookies?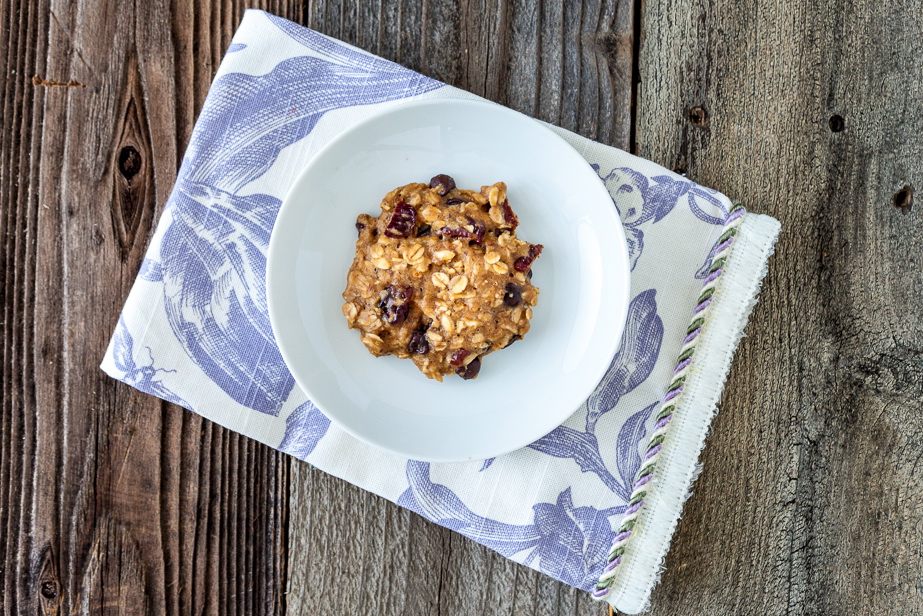 So grab one or five of these delicious treats and go chat with your friends.  They'll tide you over until you have your real dessert.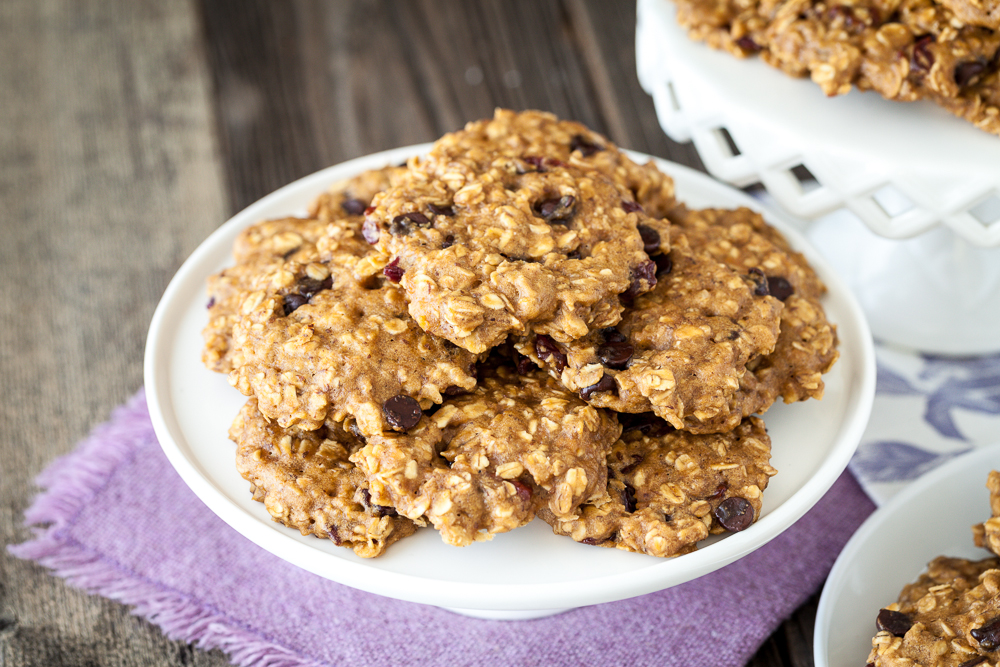 Virtual Vegan Potluck: Oatmeal Cherry Chocolate Chip Cookies
Ingredients
2 cups rolled oats
1 1/2 cups unbleached white flour (or gluten-free all-purpose flour)
1 teaspoon baking powder
1/2 teaspoon baking soda
1/2 teaspoon salt
1/2 cup almond milk
1 tablespoon apple cider vinegar
1/2 cup unsweetened applesauce
1/4 cup canola oil
1/2 cup coconut sugar
2 tablespoons maple syrup
1 tablespoon flaxmeal
1 teaspoon vanilla extract
1/2 cup vegan chocolate chips
1/2 cup dried cherries
Instructions
Preheat the oven to 350. LIne 2 baking sheets with parchment paper. Set aside.
Combine the almond milk and apple cider vinegar and allow to curdle for about 5-10 minutes (becoming "buttermilk").
In a large bowl, whisk together the dry ingredients.
In a medium bowl, mix together together the canola oil and coconut sugar. Add the buttermilk, applesauce, maple syrup, flaxmeal, and vanilla extract.
Add the wet ingredients to the dry and mix until just combined. Fold in the chocolate chips and cherries.
Using a tablespoon, scoop the cookie dough in heaping spoonfuls onto the baking sheets. Bake for 8-10 minutes, or until just starting to brown around the edges. Remove from oven and transfer to cooling racks. Let cool before serving. Enjoy!
Enjoy the rest of the Virtual Vegan Potluck!
Click here to start from the beginning.  Click here to visit the last blog.  Click here to visit the next blog.  Thank you, Annie, for another wonderful event!  Enjoy!
Photography by Chris Miller