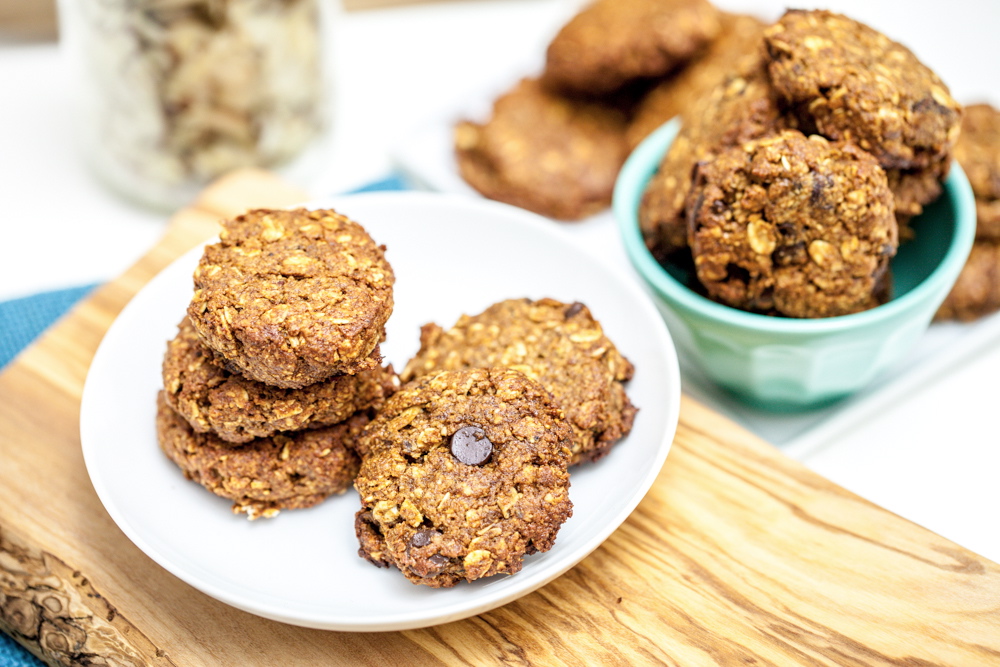 Remember when I said that I've abandoned oatmeal as my breakfast of choice?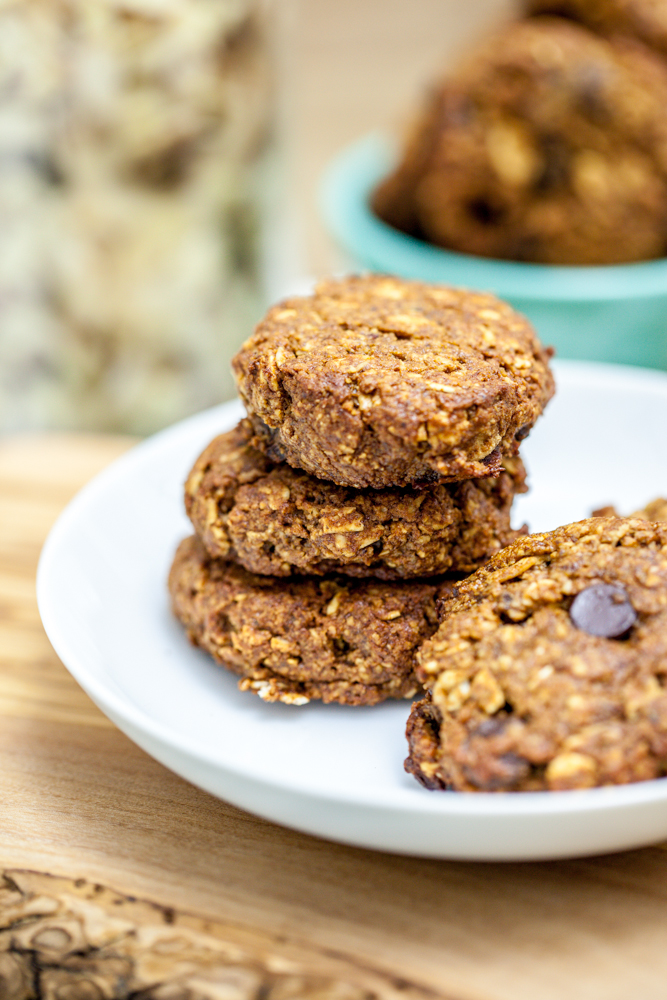 Well, that's still the case.  The very thought of it is turning me off.  The thought of the plain, wholesome taste of Morning O's (Cheerio's, Whole Foods style) in a bowl of cold almond milk, however, is what makes me rush home from the gym every the morning.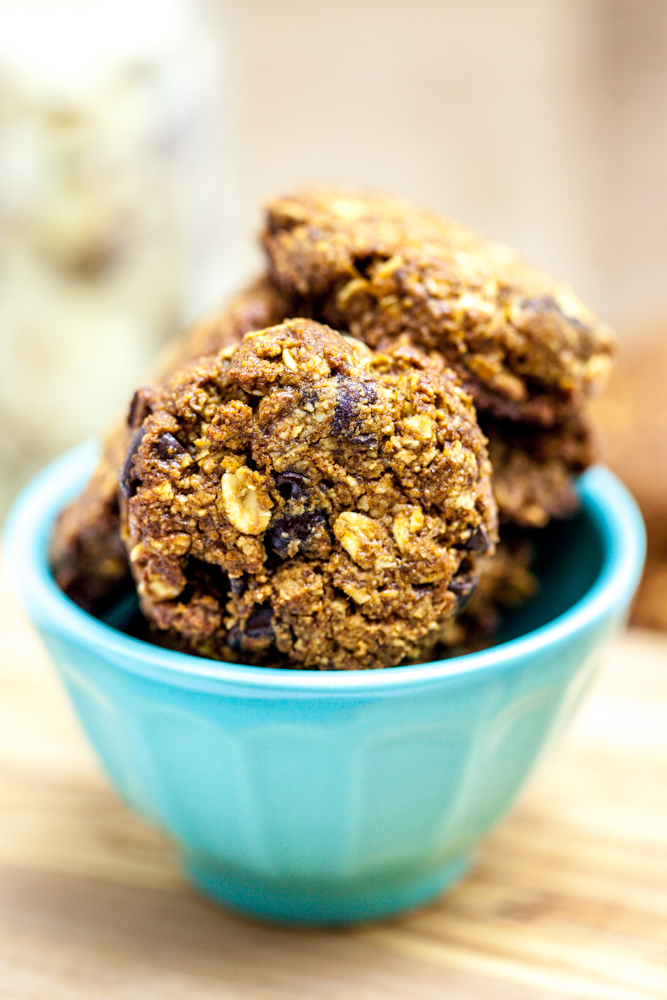 This doesn't mean that that jar of oats on my counter has to gather dust.  So I made cookies.  Oatmeal cookies.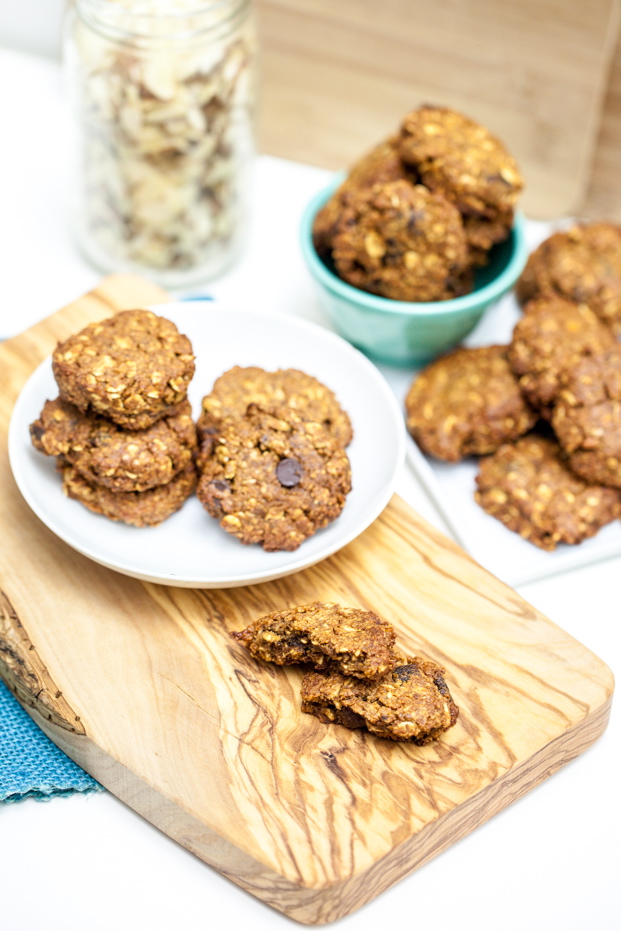 I know that back when I said that I'd abandoned oatmeal, I also said I'd somewhat lost my craving for dessert.  That actually didn't last too long (thank goodness!), though my cravings have been for less sweet, more wholesome tasting desserts.  So when I began playing around with oatmeal cookie ideas, I wanted something that would be more like a "healthy snack cookie."  I chose to use almond flour instead of regular flour and used dried dates and apricots as part of the base for the cookie.  As I combined the ingredients, and mixed them together to form the dough, I was so excited about this little healthy snack cookie I was making.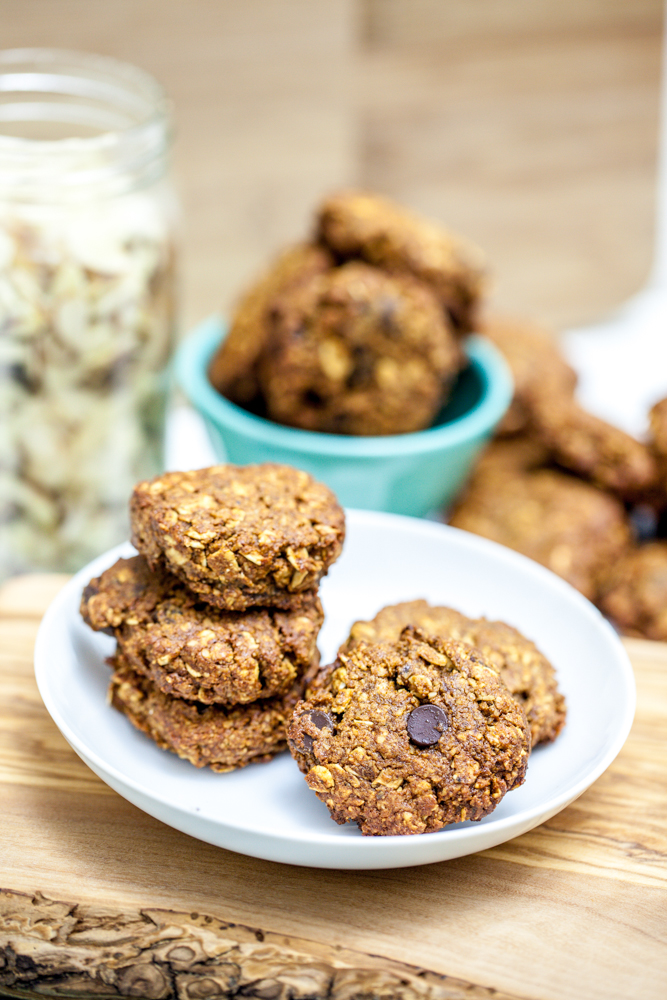 But then I tasted the dough (because that's what you do).  And I tasted it again.  And again.  And I realized that this was no snack cookie I was making.  Healthy, yes, but there was no way this cookie was going to be merely a snack.  The dessert-lover buried deep down (well, maybe not that deep down) inside me was unleashed.  I knew for sure that I was going to be having cookies after dinner that night.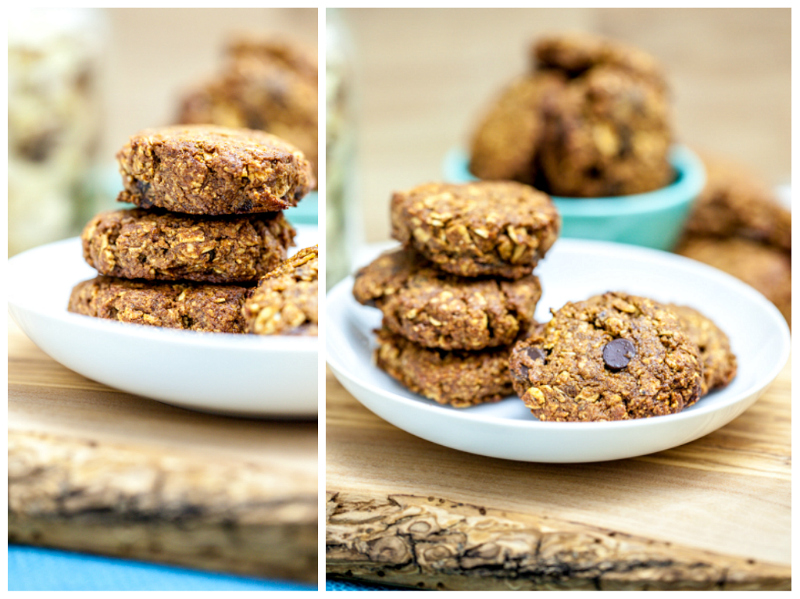 I began scooping the dough out onto the baking sheet and when I filled one up and was ready to do the second half, I broke down and added chocolate chips to the remainder of the dough.  I couldn't not.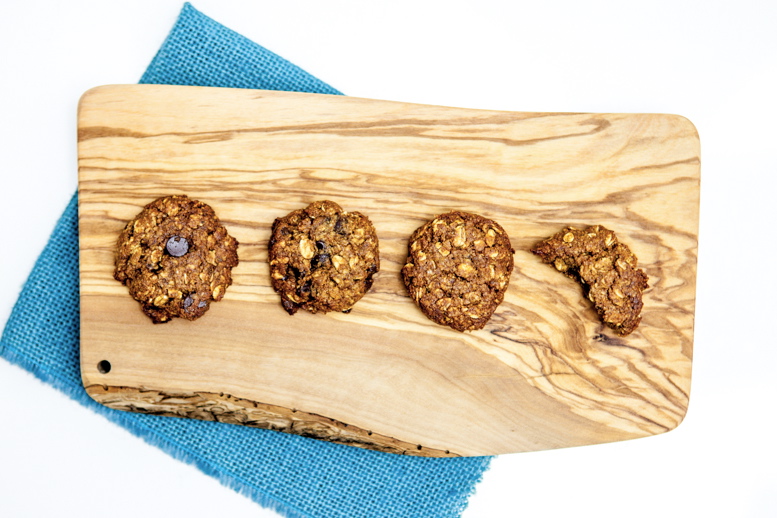 Once they had finished baking, I impatiently waited for them to cool down just enough for me to taste.  So I split a chocolate chip one with Chris and it knocked our socks off.  Then we split one without chocolate chips.  I thought for sure that the "plain" apricot almond oatmeal cookies couldn't be as good as the ones with chocolate chips, but my friends, they were just as good, if not better.   The chewiness, the nuttiness, the lightly sweet flavor!  These cookies are just fine without the chocolate chips but if you need your chocolate, by all means, add the chocolate chips.  The dessert lover in you will not regret it.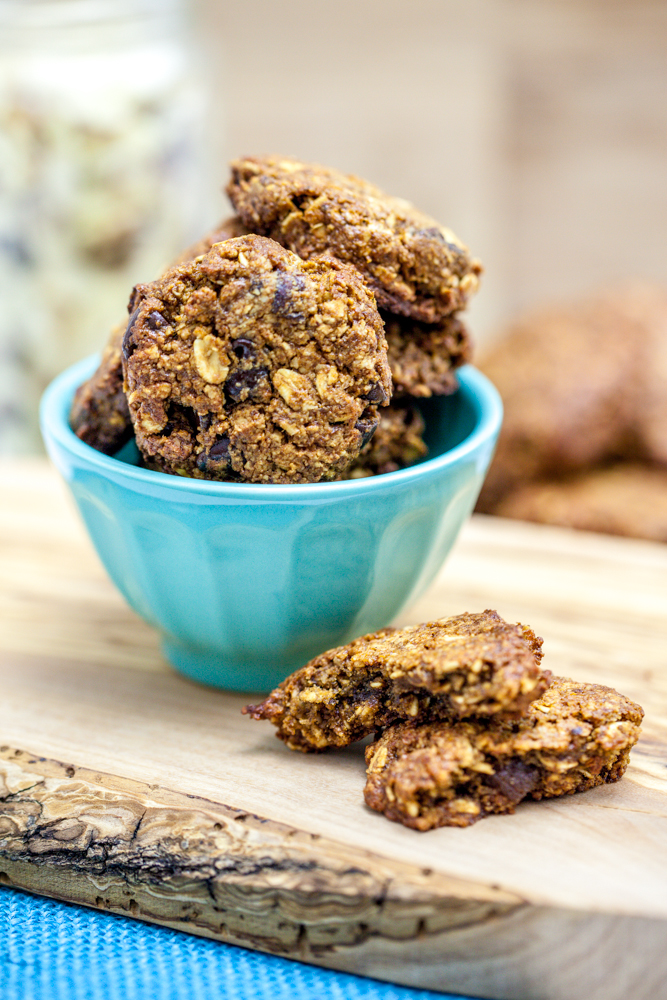 Chewy Apricot Almond Oatmeal Cookies
Ingredients
1 1/4 cups rolled oats
1 cup almond flour
1 teaspoon baking powder
1/2 teaspoon salt
1/4 cup almond milk
1 teaspoon apple cider vinegar
3/4 cup + 1/3 cup roughly chopped dried apricots, separated
5 dates, soaked for at least 1 hour, seeds removed
1/4 cup coconut oil, melted (at room temp)
1/2 cup coconut sugar
1 tablespoon flaxmeal
1 teaspoon vanilla extract
2/3 cup vegan chocolate chips (optional)
Instructions
Mix your almond milk and apple cider vinegar together. Set aside for at least ten minutes.
Preheat oven to 350. Line two baking sheet with parchment paper. Set aside.
In a large bowl, combine and thoroughly mix the dry ingredients. Set aside.
In a food processor, puree 1/4 cup dried apricots and the dates until smooth. Add the coconut oil, coconut sugar, almond milk mixture, flaxmeal, and vanilla extract and puree until smooth.
Add the wet ingredients to the dry ingredients and mix until just combined. Fold in the 3/4 cup of dried apricots and chocolate chips (if using).
Using a tablespoon, scoop heaping spoonfuls of dough, use your hands to form round balls, then place them on the prepared baking sheets, about 12 per sheet. Use the bottom of a measuring cup to lightly flatten each cookie.
Bake in the oven for 10 minutes, or until lightly browned around the edges. Remove from oven and let them rest on the baking sheet for 5 minutes before transferring to a cooling rack. Let cool and serve. Enjoy!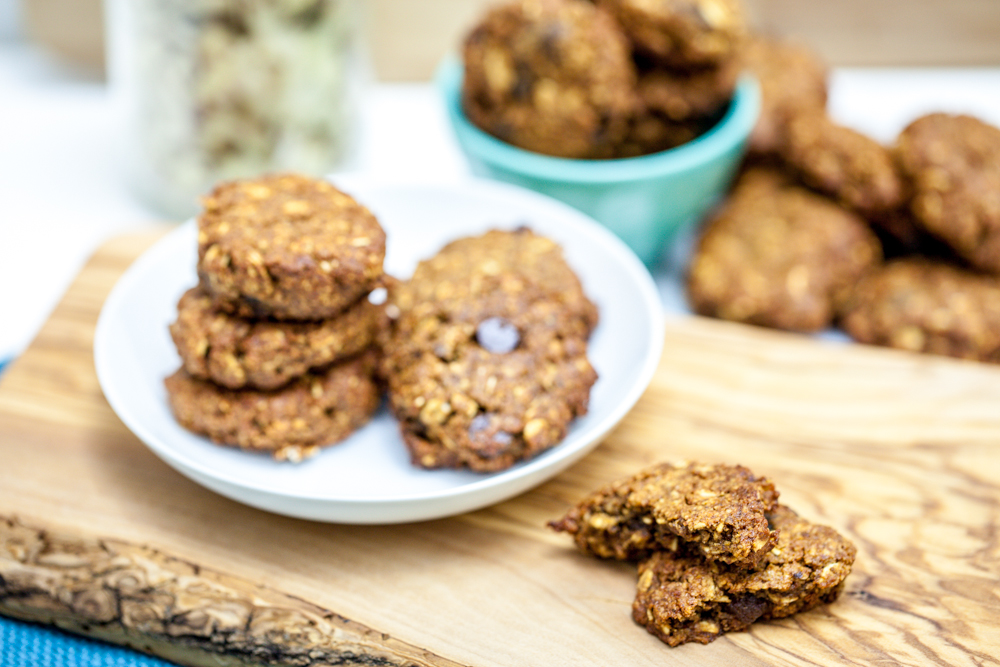 What's your favorite type of dessert?
Photography by Chris Miller