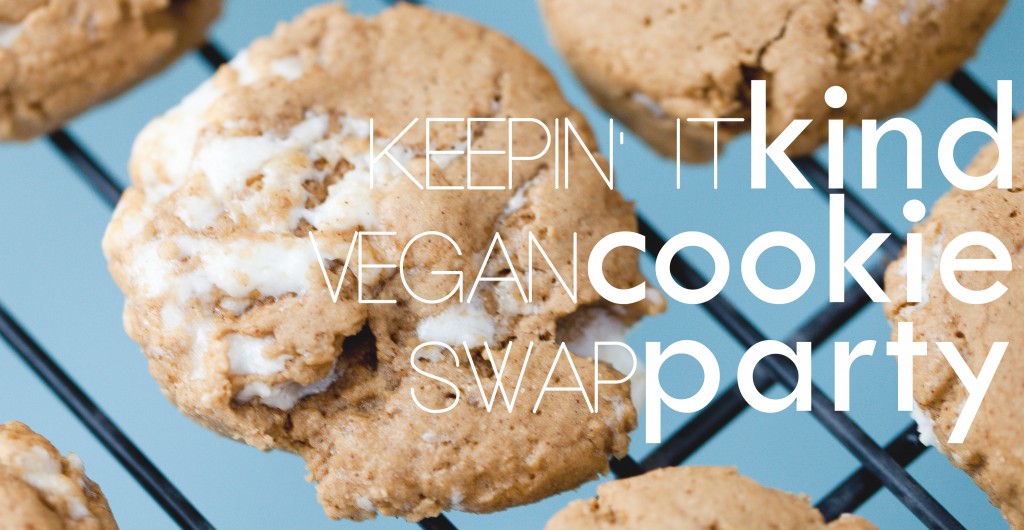 Back in the day, my friend used to host a cookie exchange party every year.  Everyone would bring about 40-50 cookies and the recipe printed out on an index card.  Each person would get to take 2 of each type of cookie as well as the recipe for each cookie.  It was an awesome party and it's something I miss doing each year.  I am ecstatic to tell you all, however, that through December 24th, I will be hosting a virtual, vegan version of this cookie swap party, with tons of guest posts from some of my favorite bloggers.  Keep checking back to see who brings what type of cookie!
A few weeks ago, Chris and I went on the best double-date.  With another vegan couple.  This NEVER happens.  We only have a couple "couple" friends and those couples are definitely not vegan.  When we found ourselves having dinner at Native Foods with the absolutely fantastically amazing Bex of Vegan Sparkles, and her beau, while on their trip to the states, we almost died.  We rarely ever get to talk to other vegans, in person, let alone another vegan couple, like ourselves.  We had such a blast talking and laughing until well after the restaurant closed, and as we parted ways, Chris and I kept saying "Man, I wish Australia wasn't so far away" and "If only we all lived closer!"  Bex is an incredible beauty, who is probably, the cutest person I've ever met.  She radiates positivity so much that she glows, or dare I say, sparkles.  I am even more obsessed with Bex and her blog now, so it is with much excitement that I present her guest post today! 
Seasons greetings everyone and thank you so much to Kristy for hosting this amazing holiday cookie swap! I'm so excited to be part of it!
I've loved 'Keep In It Kind' since I first stumbled across it many months ago and haven't stopped being inspired. Kristy's deliciously creative food and Chris's photos have me constantly drooling on my keyboard. With a squeal of excitement I was lucky enough to finally meet them both in the flesh during a recent trip to L.A.! We had a fantastic night chatting about all things vegan and I have to confide that I have even more of a crush on Kristy now - she is even more gorgeous and adorable in person.
When my family asked me to bring some sort of dessert along this holidays and Kristy invited me to come to her virtual cookie party, worlds collided in a beautiful fashion! I'd encountered an unforgettable brownie on my U.S. trip and I was super keen to recreate it for the holidays.
So are brownies really classed as cookie or as cake? My lovebug and I couldn't decide so I thought I'd make them for you and let you be the judge. Enter a semi-healthy, vegan, gluten-free slice of gooey fudgy yumminess!
Inspired by Healthful Pursuit's Fudge-Tastic Brownies and the incredible Candle 79 Mexican Chocolate Brownie I fell in love with in NYC.
Ingredients
2 cups pecans
4 tbsp agave syrup
1 tbsp coconut oil
Dash Himalayan rock salt
Instructions
Pre-heat oven to 180C/350F.
Mix all ingredients in a large bowl until nuts are well coated.
Spread nuts in a single layer on a lined baking tray.
Bake for 10-15 minutes. Set aside and allow to cool.
Bex's Fudge Brownies with Candied Pecans
Ingredients
1 very ripe banana
8 Medjool dates, pitted
1 cup peanut butter (or your favourite nut butter)
2 tbsp ground chia seeds, mixed with 3 tablespoons water to form a paste (I used a mortar and pestle for this)
2 tbsp melted coconut oil
½ cup agave syrup
1 tbsp pure vanilla extract
½ cup cacao powder
Dash Himalayan rock salt
½ tsp gluten-free baking soda
Instructions
Pre-heat oven to 180C/350F and grease an 8×8 baking dish (or two 8x4 loaf tins) with coconut oil.
In a food processor, combine all ingredients and process until smooth. If the mixture is too thick, add a little hot water to loosen.
Transfer batter into baking dish.
Bake for 30-35 minutes, until a toothpick comes out clean and the sides begin to golden.
Remove from oven and allow to cool.
Slice into squares and top with candied pecans.
Happy, healthy holidays, everyone! Love, Bex xx
Thanks for stopping by and be sure to come back tomorrow as I wrap iup the party with my little contribution!  Thank you so much, Bex, for sharing this fudgy goodness!
Be sure to check out the rest of the cookies at the party: