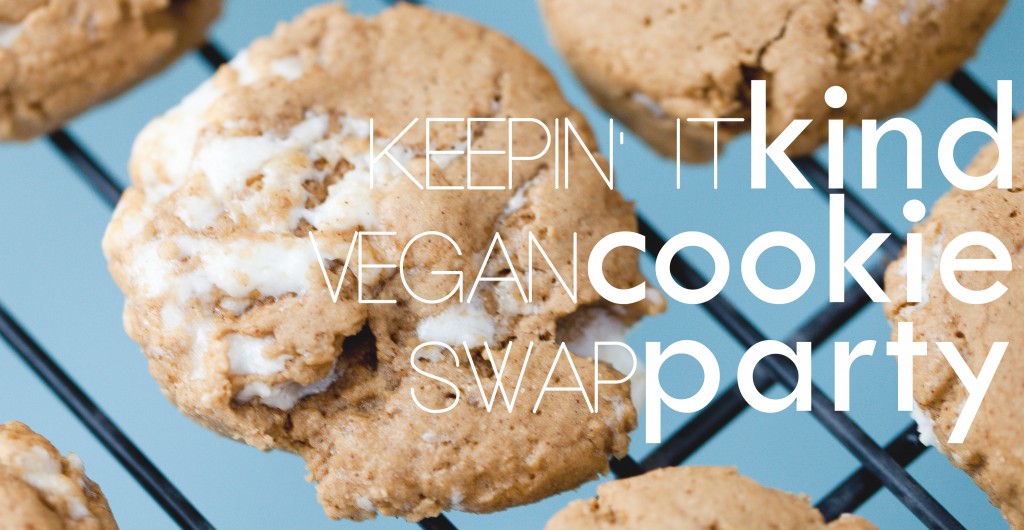 Back in the day, my friend used to host a cookie exchange party every year.  Everyone would bring about 40-50 cookies and the recipe printed out on an index card.  Each person would get to take 2 of each type of cookie as well as the recipe for each cookie.  It was an awesome party and it's something I miss doing each year.  I am ecstatic to tell you all, however, that through December 24th, I will be hosting a virtual, vegan version of this cookie swap party, with tons of guest posts from some of my favorite bloggers.  Keep checking back to see who brings what type of cookie!  
Have you ever daydreamed about what it would be like if one of your favorite food bloggers opened up a vegan bakery that served a huge variety of breads, cookies, and other desserts, like molten chocolate cakes?  And they would also serve incredible pizzas and indian food (I guess that would make it more of a restaurant than a bakery, but still...)?  Just me?  Well, this crosses my mind every time I visit Vegan Richa.  During Vegan MoFo, when Richa was dedicating the month to pizza, I wanted to camp out in her kitchen (but in a totally non creepy way).  I've made no secret of how much I love Richa's recipes, but I think they would be even better if I was able to eat them after Richa made them herself.  Today, I have the next best thing:  Richa, herself, is here sharing one of her drool-worthy cookie recipes!   

Its that time of the year again! Cookies, carols, lights and cheer everywhere and hubbs off from work keeping me super busy:). And Kristy taking the world by storm with this amazing cookie party! Thank you for having me over Kristy:)
Christmas used to be a smaller affair in India while growing up. The main celebrations were Diwali and other festivals during October/November. We had friends and neighbors who celebrated Christmas and always shared their goodies. After a load of sugar indian sweets, December used to be about cookies, fruit cakes, short breads, Jam thumbprints and Macaroons. I didnt know of any other fancy holiday cookies till I started baking my own and looking around at the fun sugar high:) Can you imagine not knowing about gingerbread folk for about 20 years!
Scooped and ready to bake.
Coconut macaroons scream festive already. These macaroons have some dried cranberries and pistachios, my favorite combination, to take them to a whole new level. Easy, delicious and perfect right out of the oven.
More Cookies from my blog.
Baked..
Happy holidays to all!
Richa's Zesty Coconut Macaroons with Cranberries and Pistachios
Ingredients
_ wet_

2 Tablespoons agave syrup
2 Tablespoons orange marmalade (or orange zest and 2 Tablespoons agave/maple)
2 Tablespoons ground raw sugar (or sweetener of choice)
2 Tablespoons coconut milk
1/8 teaspoon sea salt
1/8 teaspoon ginger powder(optional)
1 cup dried coconut flakes
1/4 cup brown rice flour
3/4 teaspoon baking powder(optional)
1/4 cup each or more of cranberries and chopped pistachios
Instructions
In a bowl, mix all the wet ingredients.
Add in the dry and mix well.
Chill dough for 15 minutes.
Using a scoop or Tablespoon measure, scoop out the mixture and place on parchment.
Dip the scoop in water before every scoop for less mess.
Bake for 14-16 minutes depending on the size of the scoop until slightly golden.
They burn very easily, so keep an eye after 14 minutes.
Cool for 5 minutes, devour.
Notes
allergy information: gluten, soy, corn, yeast, dairy, egg free
Thanks for stopping by and be sure to come back tomorrow to see who our next special guest is and what they bring to the party!  Thank you so much, Richa, for sharing another one of your amazing creations!
Be sure to check out the rest of the cookies at the party: