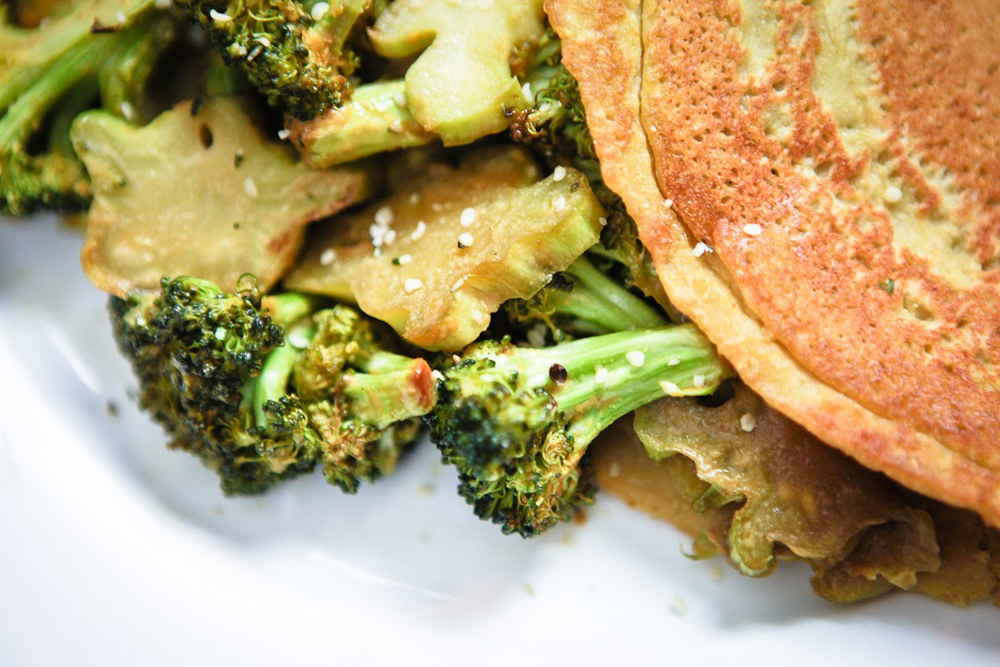 Broccoli and I used to be on not such great terms.  It wasn't as bad as my past relationship with grapefruit, but I generally just avoided it.  After becoming vegan, I decided to bring more broccoli into my life (grapefruit could stay out, as far as I was concerned).  My search for broccoli recipes led me to Kathy Patalsky of Healthy Happy Life's Maple-Roasted Cheezy Broccoli.
Everything about this recipe perplexed me.  Maple syrup?  On Broccoli? With Nutritional Yeast and Soy sauce?  What?  It was such a strange collection of ingredients that I "pinned" it immediately, knowing that I was going to make it soon.  A couple days later, for the first time in a very long time, I purchased broccoli for my own consumption (I get it for Sophia all the time).  This is one of the most simple, yet extraordinarily tasty broccoli dishes you will ever make.  The cheesiness of the nutritional yeast combined with the sweetness of the maple syrup and the saltiness of the soy sauce, produces a very pleasant umami flavor.  This recipe has earned then nickname of "Special Broccoli" in our house, and let me tell you, it is the most delicious broccoli I've ever had.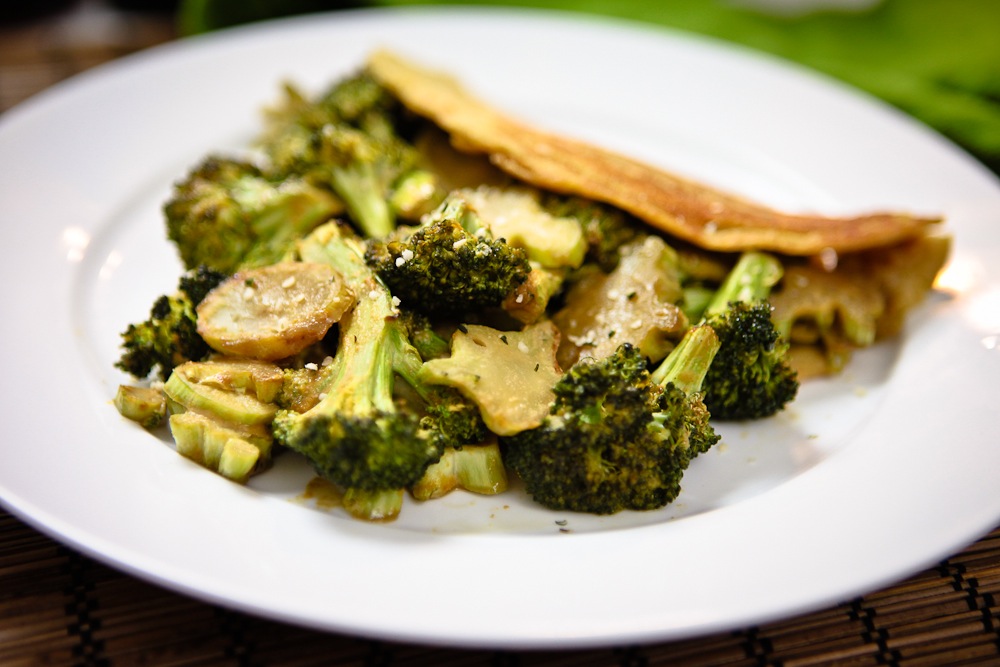 We make this recipe quite frequently (it was even the side dish to our Christmas dinner, and received rave reviews from my omni in-laws), accompanying many other dishes, but one of our favorites has been stuffed inside of a tofu omelet.  I was craving that for dinner and since we had a huge head of broccoli, I knew what I was making.  The problem was that I was out of silken tofu, which is what I usually make my omelets with.  I had seen chickpea omelets around the interwebs and decided to grab a recipe for some of those babies.  I had an idea of who might have a good recipe for one, and I was right.  Richa at Hobby and More had the hook up with her Chilla/Puda recipe.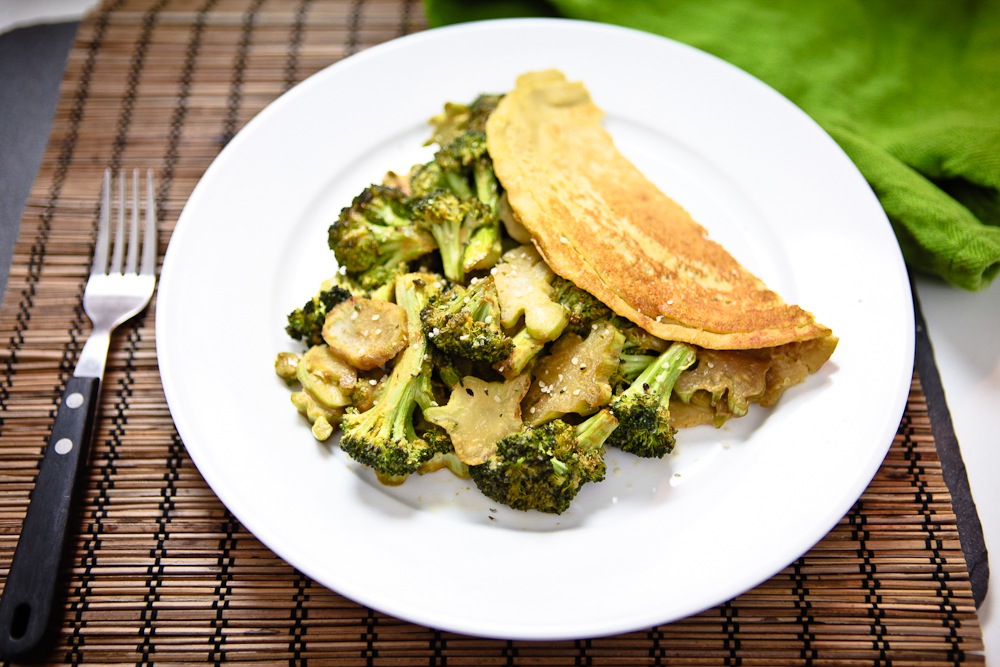 Where have these chickpea omelets been my whole life?  If someone had told me, when I was considering veganism (and scared of giving up my egg-based omelets), that there were actually chickpea omelets out there that were easier to make, healthier, and a million-times better tasting than their egg-based counterparts, I would have signed up about a year earlier than I did.  It's pretty crazy to think about the excuses one will make to avoid making change in their life, even if that change is better for your health and will allow you to align your actions with your morals.  I was hung up on omelets for crying out loud!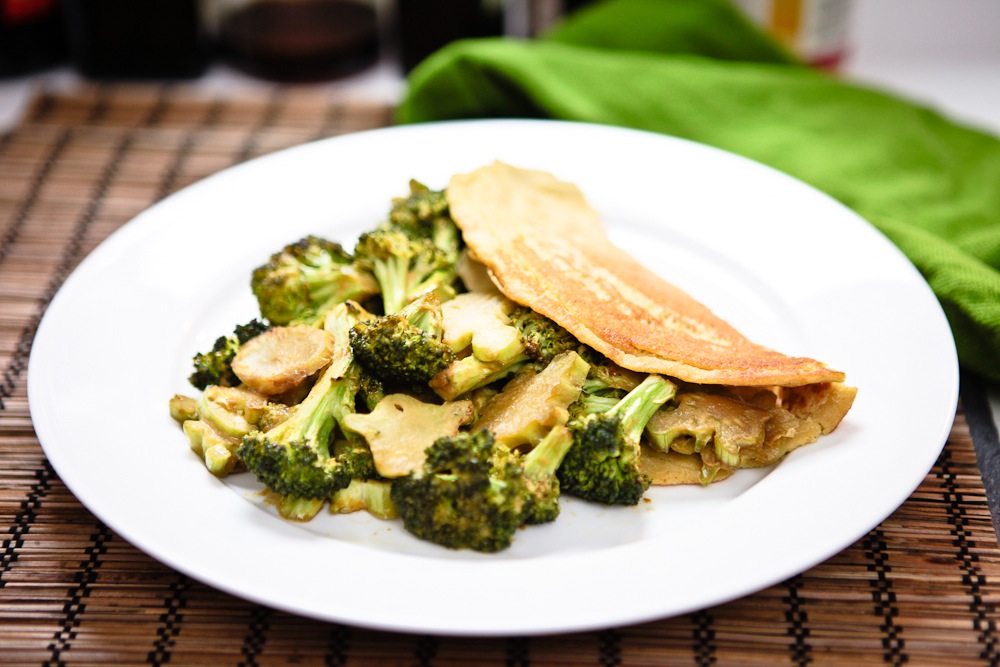 Our "Special Broccoli" stuffed inside these beautiful, golden, savory chickpea omelets were such a treat.  I can see this becoming a staple as we always have chickpea flour and we almost always have broccoli (a fact I never thought possible prior to finding Kathy's recipe).  It was so simple to make, complimented each other beautifully, and was downright delicious!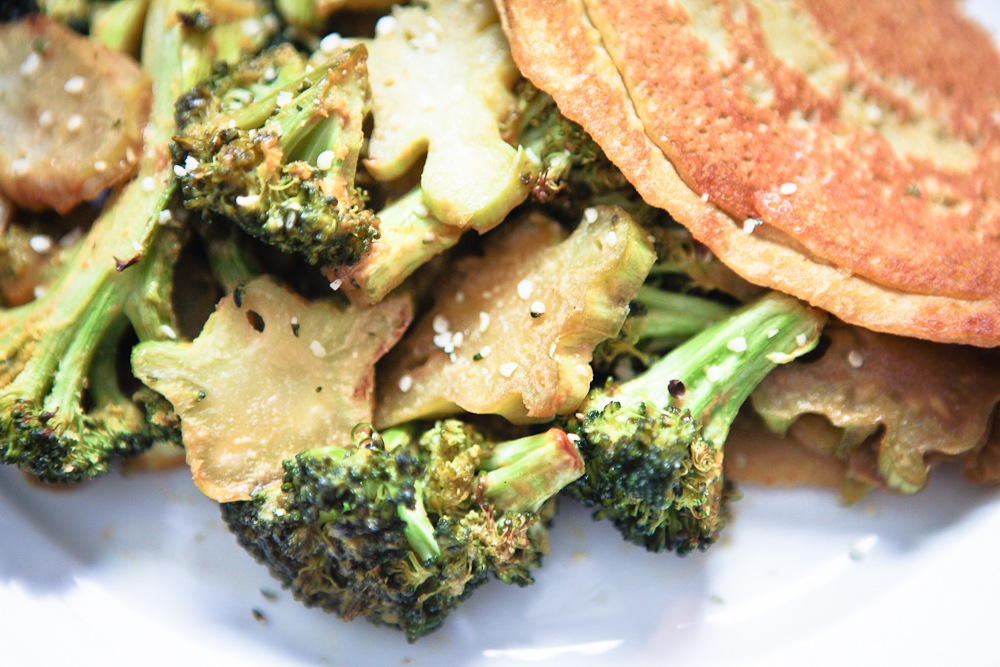 CHILLA WITH MAPLE-ROASTED CHEEZY BROCCOLI
serves 2-4
Ingredients:
Instructions:
Fold the omelets in half and stuff the broccoli inside each of the omelets.  Enjoy!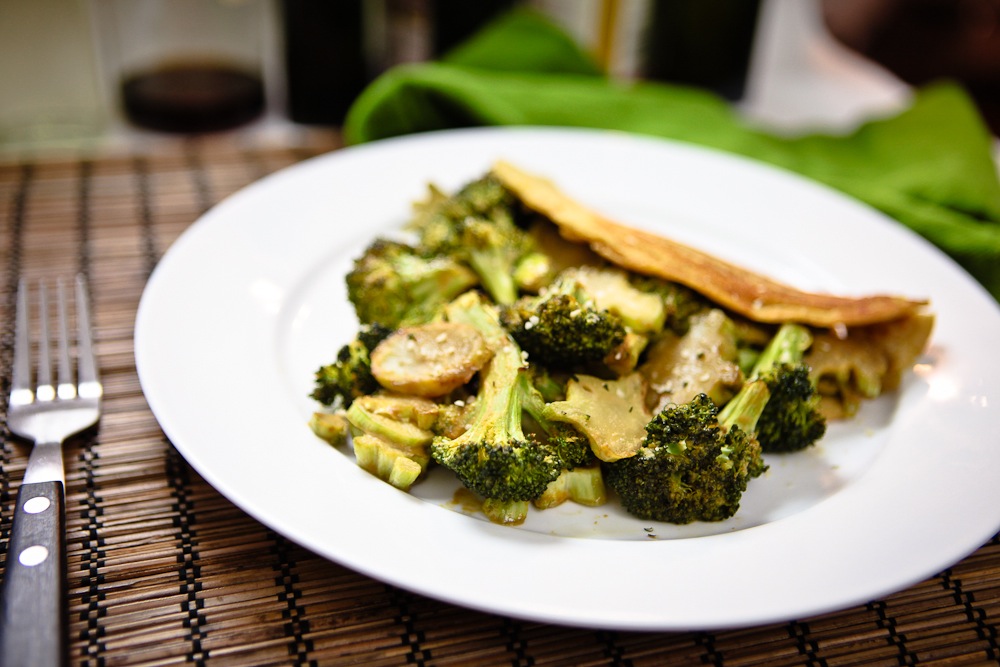 Thank you so much, Kathy and Richa!
All Photos taken by Chris Miller

© Kristy Turner and Keepin' It Kind, 2012. Unauthorized use and/or duplication of this material (content and images) without express and written permission from this blog's author and/or owner is strictly prohibited. Excerpts and links may be used, provided that full and clear credit is given to Kristy Turner and Keepin' It Kind with appropriate and specific direction to the original content.