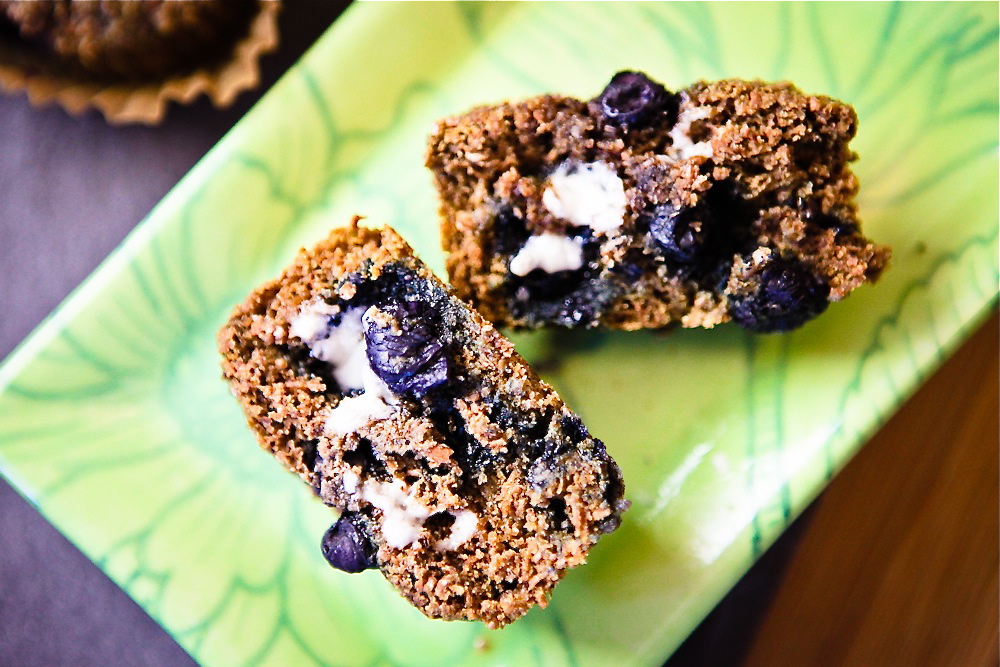 I am the type of person that can eat the same thing for months, sometimes even years, then get tired of it suddenly and replace it with something else.  My entire junior year of college, I had tomato soup (from a box) with a grilled cheese sandwich (on white bread, usually with Kraft singles) for lunch daily.  Off and on, for the last 10 years (up until becoming vegan), my typical lunch would be cottage cheese with apple slices.  Several years ago, following my divorce, I turned to the comfort of Trader Joe's Mini Blueberry Fiber Cakes as my snack for when I got home from the personal training studio where I worked.  They were $4.49 for a carton of 6, and they were basically high-fiber, low-calorie blueberry bran muffins.  Everyday, when I would get off work for the morning (around 11am), I looked forward to 3 things: Walking Samantha, my canine companion, having one of these muffins, slightly heated in the microwave, halved, with a bit of Earth Balance melted on each half, and taking a nap (I'd been up since 4:30am!).  Though on the expensive side, these muffins were my little treat for a morning's hard work, right up until I moved to Europe.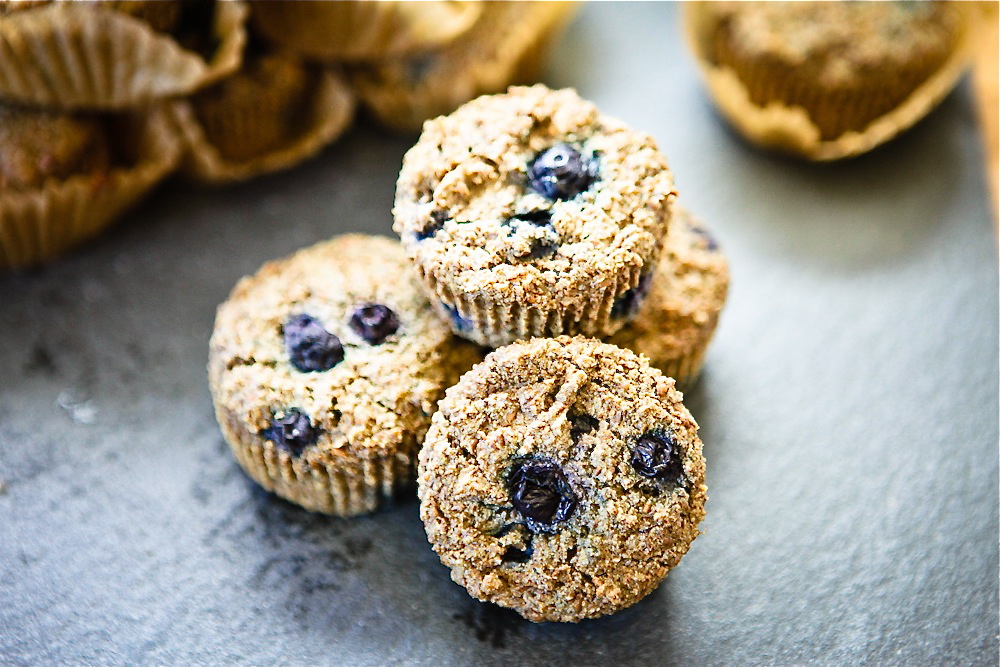 Shortly after becoming vegan, I began looking for that little "V" they put on all of their vegan products (God bless Trader Joe's!), including items I wouldn't normally purchase.  On one of these "V" searches, I found that my old Mini Blueberry Fiber Cakes were, in fact, vegan.  Though I hadn't had one in years, I decided to grab a carton, for old times sake, and since they were so low in calories, sugar-free, and high in fiber, I thought they would make a great early morning, pre-workout snack.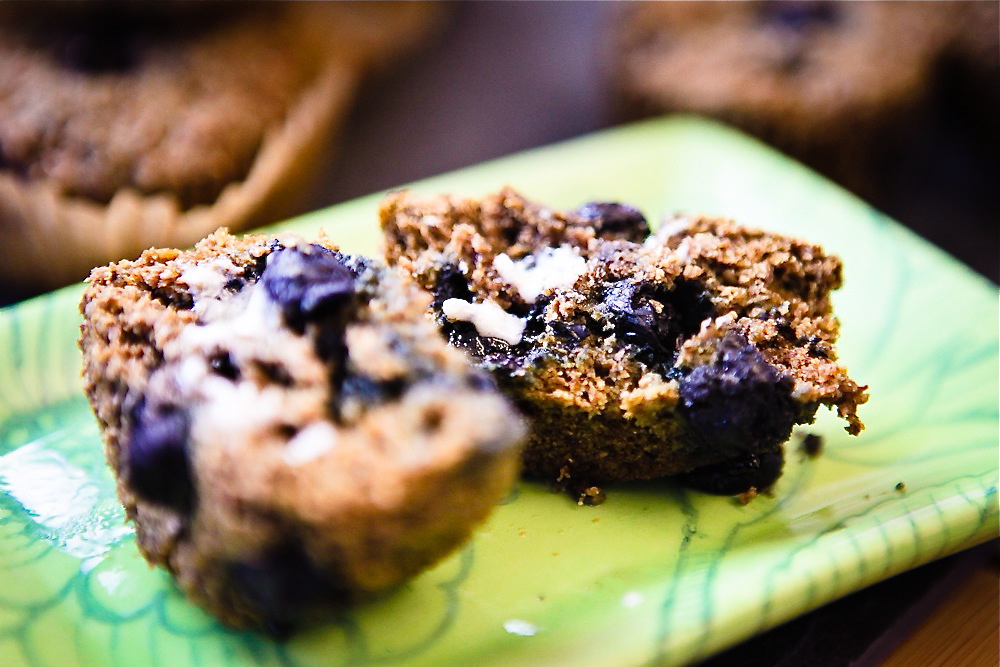 My old obsession with these fiber cakes returned, and even though they were overpriced, I continued to buy them because they were comforting and I had found them to be great source of fuel for my workouts.  I knew I could probably create a similar, and likely healthier, version of these glorified bran muffins, but something inside me did not want to give them up.  "Five dollars per week for my pre-workout snack isn't too extravagant, right?" I thought to myself.  I continued to think that right up until I realized that yes, it actually was too extravagant, especially knowing full well how to make my own darn muffins.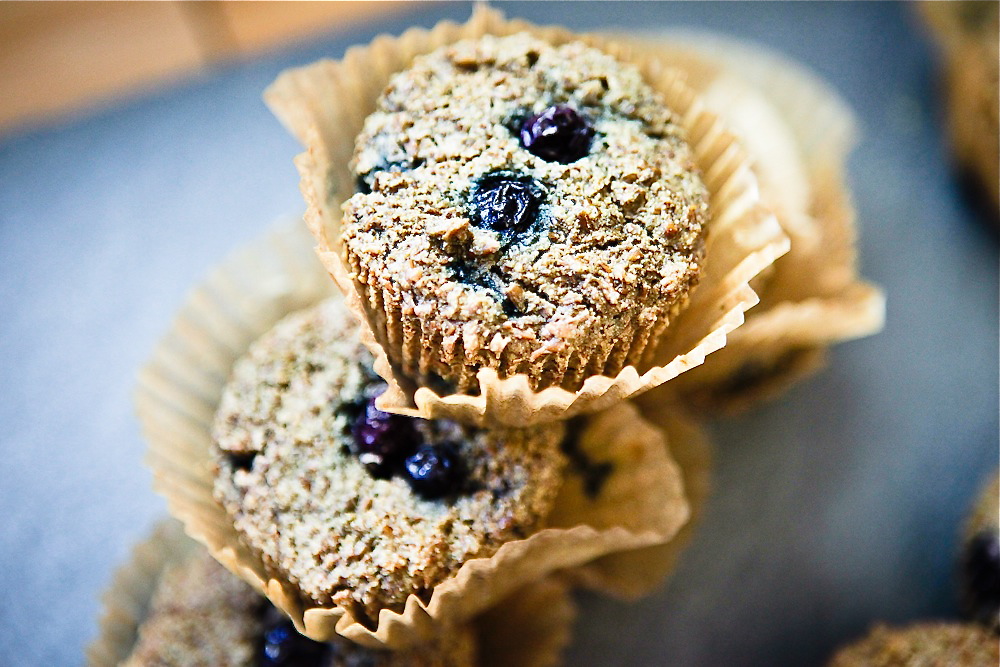 So I became a muffin-makin' machine, and after several tweaks, I came up with this recipe, which actually is higher in fiber and protein, has the perfect amount of sweetness, and fulfills my requirement of having comfort and fuel provided in one soft and moist blueberry muffin.  Knowing me, I will likely be eating these (or variations of these) every morning for the next 8-34 months.  With muffins this yummy as a pre-workout snack, who can blame me?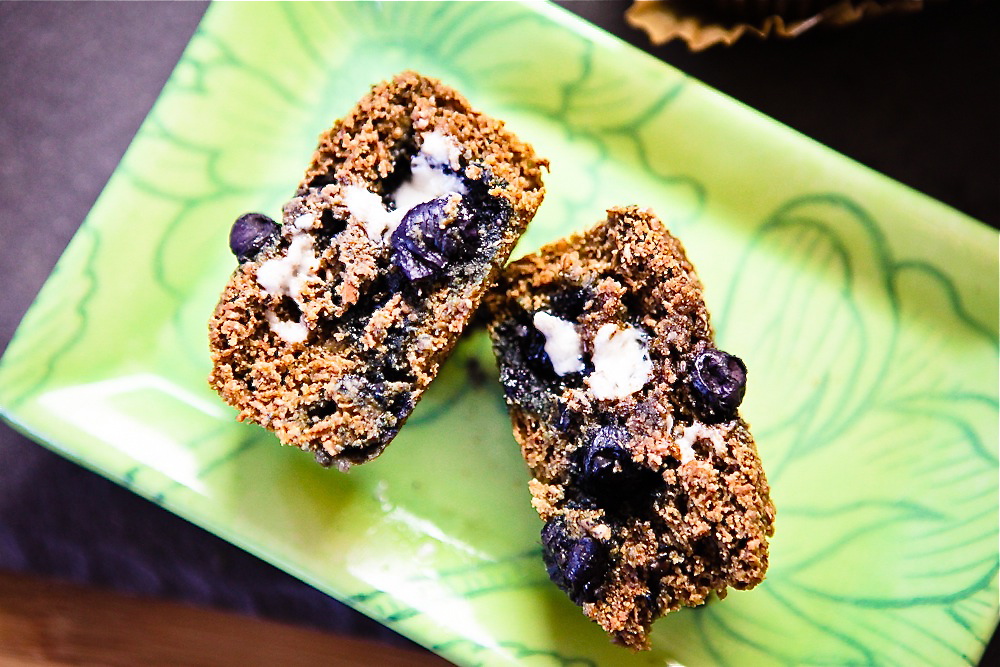 BLUEBERRY QUINOA BRAN MUFFINS
makes 12 muffins
Ingredients:
1 cup quinoa flour
1 cup wheat bran
2 tsp baking powder
1 ½  tsp cinnamon
1 tsp baking soda
½ tsp salt
1 banana, mashed (about ½ cup)
¾ cup coconut milk (or other vegan milk)
½ cup apple juice
1 T flax meal
1 T molasses
1 tsp vanilla extract
1 cup blueberries, fresh or frozen
Instructions:
Preheat oven to 350.  Line a 12-muffin tin with cupcake wrappers, or just lightly grease it.
In a large bowl, thoroughly combine the dry ingredients.  Set aside.
In a medium bowl, whisk together the liquid ingredients (including the flax meal).  Add the liquid ingredients to the dry and stir until combined.  Fold in the blueberries.
Evenly distribute the batter amongst the 12 wells of the muffin tin.  Bake at 350 for 20-22 minutes, until a toothpick inserted into the center of one of the muffins come out clean.  Remove from oven and let them sit in the tin for a few minutes, then remove and let cool on rack.  Enjoy!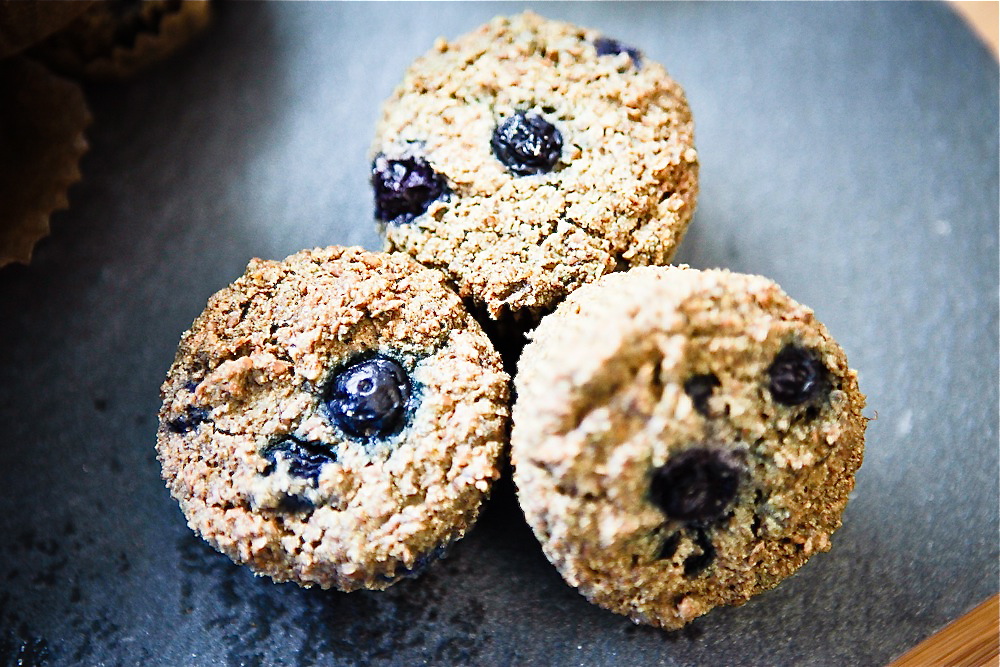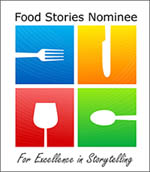 Now, I need to take some time to give some thank-yous!  The first one is terribly long-overdue and I feel awful about waiting so long.  In my defense, it has taken me some time to get caught up after our trip, and if I don't put things on my to-do list, I completely forget about them!  CJ, over at Food Stories, nominated me for the Excellence in Food Storytelling award!  I know its it's way too late to still be in the running (It's a monthly award, and I was supposed to follow all the rules for the award nomination awhile ago), so I just want to say thank you to CJ- I am so honored!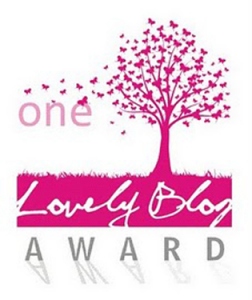 My second thank-you is to the super-sweet Allison at Live Passionately Tonight who has awarded me with the One Lovely Blog Award!  I love Allison's honesty and courage and I love how shares her journey through life.  Thank you Allison!  I'm only going to do 1 random fact, because I'm too lazy to find seven: I once auditioned for Italy's version of Big Brother, "Grande Fratello," and taught myself how to explain to the judges, in Italian, that I was a lion tamer (this was in my pre-vegan days), and that I was also a retired horse whisperer (DISCLAIMER: I do not know how to communicate with lions, tigers or horses.  This was a ploy to appeal to the judges).  I have no clue why, but I never got called back...  Here are my nominees:
Thank you again to CJ and Allison, and to all of you who read what I write and leave little notes- You totally make my day, everyday!
This recipe is entered in a contest at littlebluedynamos.com.
All Photos taken by Chris Miller

© Kristy Turner and Keepin' It Kind, 2012. Unauthorized use and/or duplication of this material (content and images) without express and written permission from this blog's author and/or owner is strictly prohibited. Excerpts and links may be used, provided that full and clear credit is given to Kristy Turner and Keepin' It Kind with appropriate and specific direction to the original content.