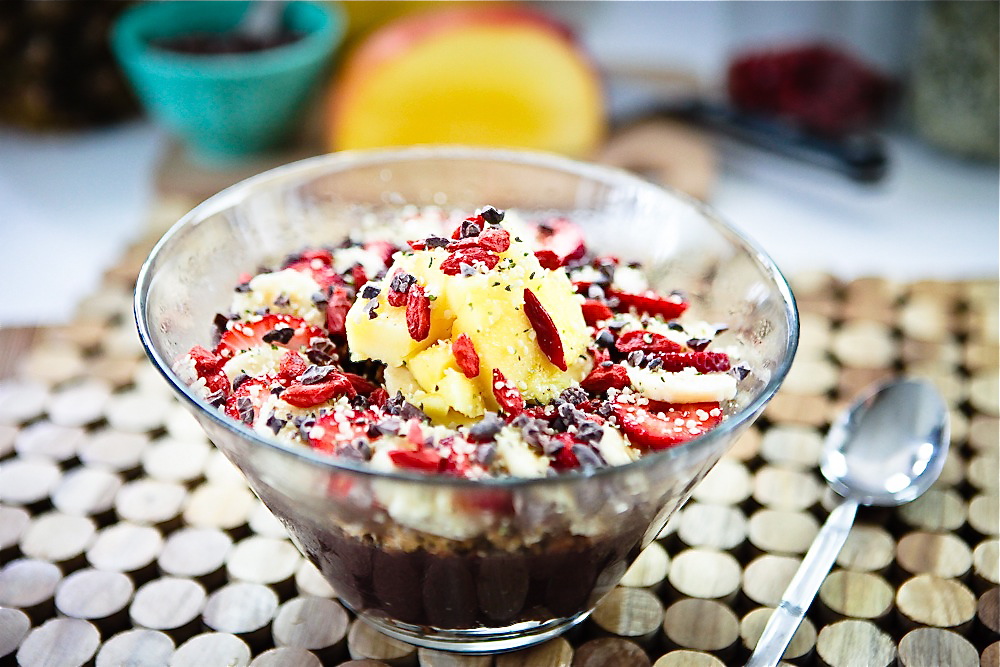 Recently, I returned home from yoga to find a huge box on our doorstep.  In this box, I found a Vitamix.  For me.  From my husband.  I feel like an official vegan now.  An official vegan with the most amazing partner anyone could ever ask for.  It's not just this gift, though.  Have you seen his photography (all over this site)?  Or heard him sing (and sometimes rap)?  Or witnessed his spot-on Christopher Walken impersonation (Don't ask him to do Adam Sandler.  Please.)?  Chris is pretty awesome, but I digress.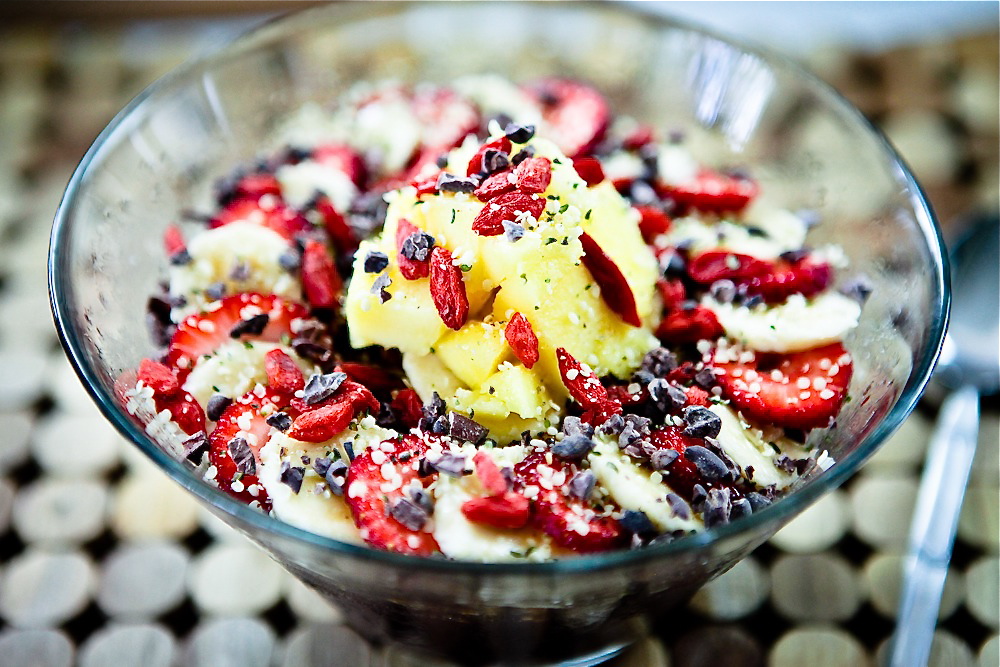 The reason for the Vitamix is that my Cuisinart blender and I had a falling out.  I don't want to go into too much detail but there were many profanities uttered (from me) and my kitchen was filled with much smoke (from her).  She endured all of my smoothie-making like a pro, but I think it's because I never used all that much frozen fruit.  She was fine with a frozen banana and an ice cube or two, but much more than that would make her grumble.  Imagine her dismay when I decided that I wanted to make Acai Bowls for breakfast every morning.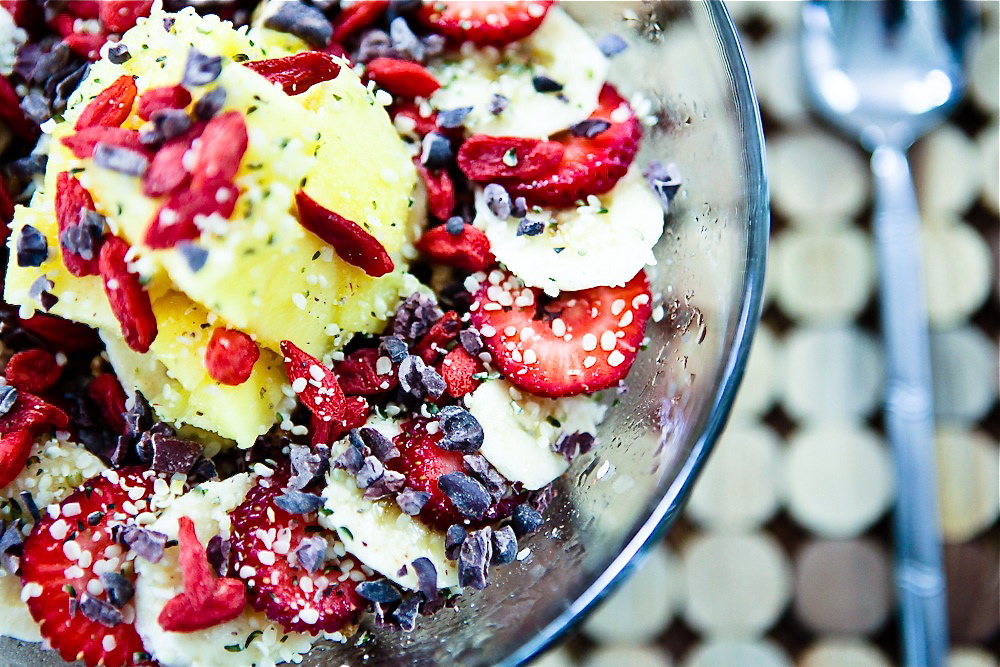 Acai bowls are basically smoothies, made with acai berries (which are sold, pureed, in individual serving packets.  Be sure to get the unsweetened kind, with no citric acid or other ingredients added.  It should be 100% acai berries.), with other fruit and usually a juice or milk, topped with granola and fresh fruit.  I never thought anything could deter me from my 4-year-long oatmeal-for-breakfast-routing, but I was wrong.  I wrote here about how Acai Bowls in Maui totally rocked my world.  It wasn't just that eating them was a mind-blowing experience, but I felt amazing all day afterwards.  I felt so balanced and healthy and satisfied for hours after.  I spoke to the gals at Choice quite a bit about their bowls, and they are like walking encyclopedias when it comes to super foods.  They don't stop with the super fruit, acai, they pack their bowl full of super nutrient-dense ingredients.  When we returned home, I though "How hard could it be to recreate that everyday?"  We can get the ingredients and we already have a blender, so we're set!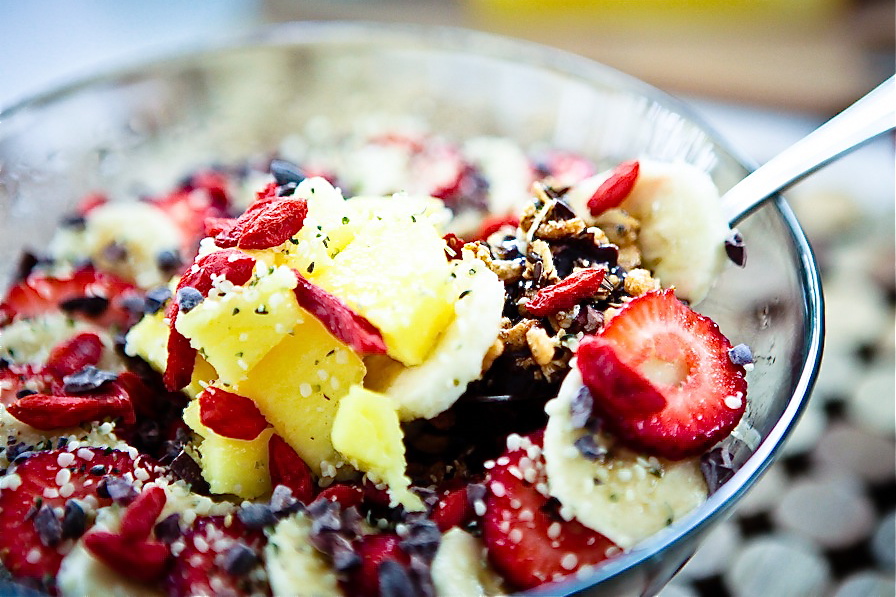 My blender was not on board.  As much as Chris thinks it's adorable and hilarious (his words, not mine) during the rare times that I get pissed off a little heated, he took the cue from the smoke in our kitchen that it was time to upgrade.  Once the Vitamix came into my life, it was on!  I've tried quite a few combinations, but right now, this is my favorite, and it is full of super-good-for-you ingredients.  Because I like lists, I'm going to break-down all the nutritional benefits from these super ingredients here:
Hemp, Flax, and Chia Seeds- from my Super Seed Trifecta Granola, and you can read about how good they are for you here.
Acai Berries- have amazing energizing and antioxidant (free-radical killers/cancer preventers) powers.  They help produce blood cells and aid in detoxifying the body.
Coconut Milk- besides being rich in many valuable minerals (iron, magnesium, potassium to name a few), it is packed with vitamin C, the B vitamins, and has more calcium than dairy milk or almond milk.  If that wasn't enough, it is very high in lauric acid, which kills bacteria in the body and aids in digestion.
Cacao Nibs- an antioxidant powerhouse!  It contains tons of dietary fiber and is one of the highest dietary sources of magnesium.  Oh, and it's where chocolate comes from!  Does it get any better?
Goji Berries- mega antioxidant capabilites and thought to slow the aging process.  And their bright red color is so gorgeous!
Kale- a staple in your healthy eating lifestyle.  Renowned for its antioxidant abilities, high levels of vitamins C and K, has more iron than beef (per calorie), this inflamation-fighter has recently been named the most nutritious food!

Maca Powder- made from a Peruvian root, this super food is super smart: It adapts to provide your body with what you need when you injest it.  If you're fatigued, it boosts your energy.  If you're anxious, it levels you out.  It provides endurance and stamina.  In addition to countless essential vitamins and minerals, it is packed with amino acids.
All of that super-healthy-goodness, packed into a beautiful bowl and served with a spoon.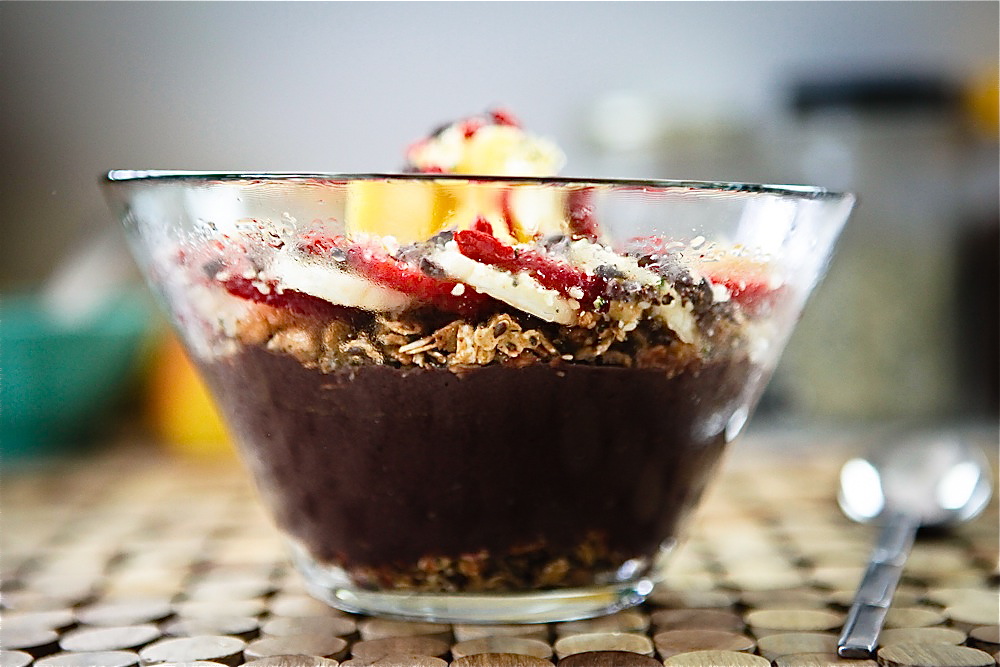 SUPER MANGO PINEAPPLE ACAI BOWL
makes 1 bowl
Ingredients:
1/4 cup coconut milk (from the carton, not the can) or other vegan milk
1/2 banana
3/4 cup loosely packed kale, chopped
1/2 heaping cup frozen mango
1/2 heaping cup frozen pineapple
1 acai packet
1 heaping tsp maca powder
1/2 cup + 1/4 cup Super Seed Trifecta Granola (or granola of your choice), separated
1/2 banana, thinly sliced
3-4 strawberries, thinly sliced (optional)
1/4 cup fresh mango, chopped (or other fresh fruit of your choice)
1 T goji berries
2 tsp cacao nibs
1 tsp hemp hearts (shelled hemp seeds)
Instructions:
Choose the bowl that you are going to serve the acai bowl in, and place it in the freezer (optional, but this will keep the smoothie colder longer).
Prepare your toppings, such as the slicing the strawberries and the half banana.  Set aside.
Combine the first 7 ingredients in your high-speed blender, and puree until smooth.  You may need to scrape the sides a few times or stir it to break up clumps.  This will be a thick smoothie.
Remove the bowl from the freezer and pour 1/4 cup granola into the bottom of the bowl.  Gently pour the smoothie on top of the granola (If the smoothie has started to liquify, you may want to place the blender canister in the freezer for about five minutes before pouring into the bowl).  Top with the 1/2 cup of granola and sliced fruit.  Sprinkle the goji berries, cacao nibs, and hemp seeds on top of the fruit and serve immediately.  Enjoy!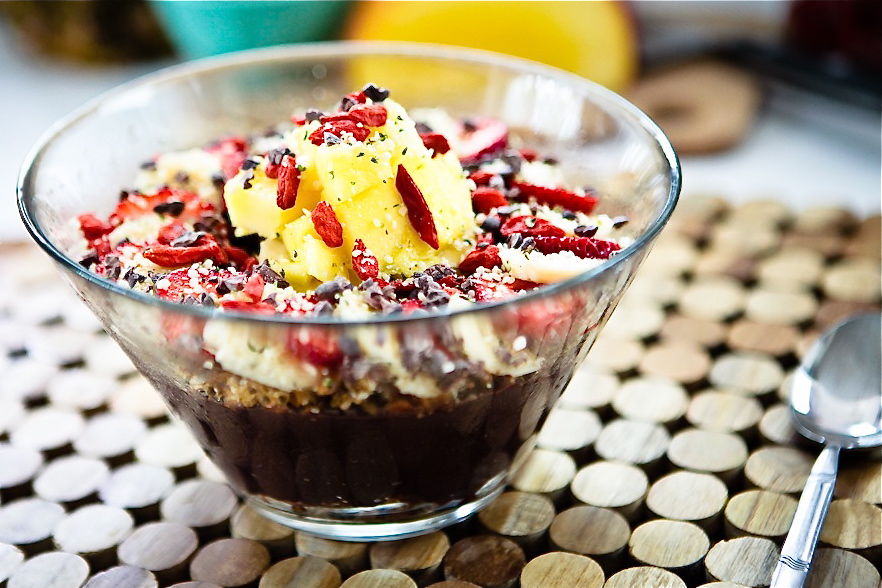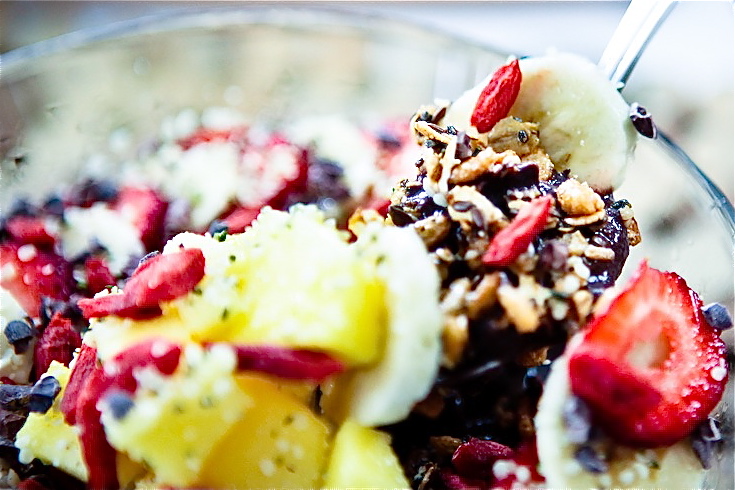 Imagine starting your day with something this beautiful and delicious and then add in the super-powered feeling you have all day just from eating it.  It can be yours.  Go give your blender a workout!
All Photos taken by Chris Miller

© Kristy Turner and Keepin' It Kind, 2012. Unauthorized use and/or duplication of this material (content and images) without express and written permission from this blog's author and/or owner is strictly prohibited. Excerpts and links may be used, provided that full and clear credit is given to Kristy Turner and Keepin' It Kind with appropriate and specific direction to the original content.