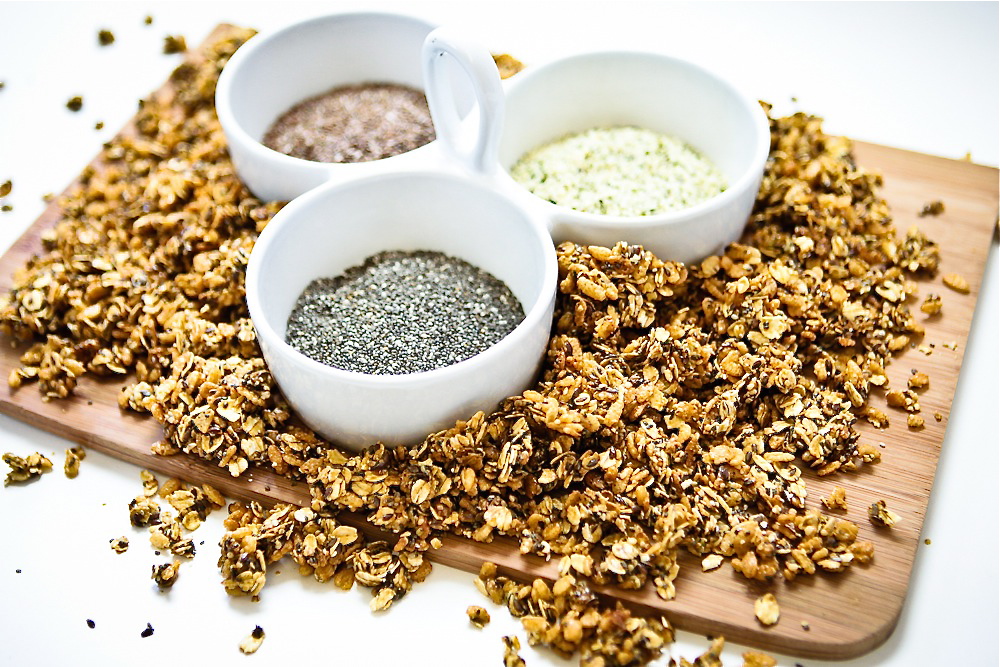 Trifecta.  Isn't that a fantastic word?!  I'm not enirely sure it is an appropriate term for what I am describing, but as I've said before, I love words.  This one gets stuck in my head more than any other word I can think of right now (Weird Fact:  It is usually James Franco's voice saying it in the same manner he did in the film "Pineapple Express"), and I hardly ever get a chance to use it.  Until now.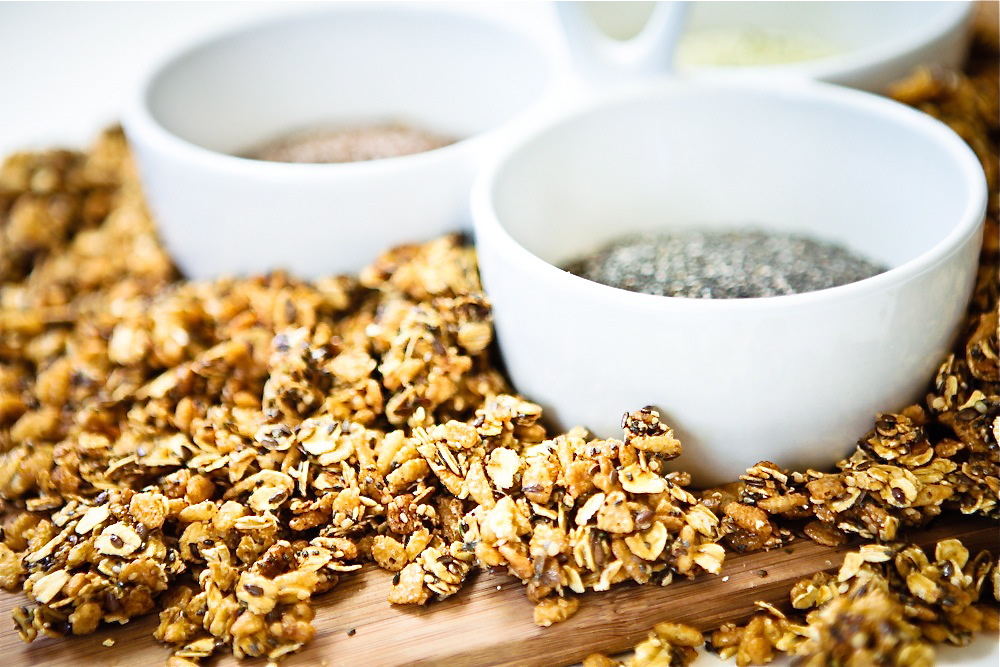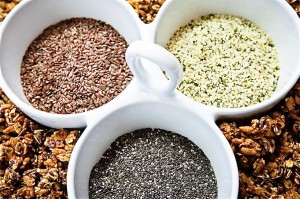 There are three super-powered seeds in this granola: Hemp, Flax, and Chia.  They are all considered super foods because of their amazing health benefits.  Hemp seeds are an excellent source of very easily digestible protein, and they are full of omegas and crucial amino acids that most vegetable proteins lack.  Flax seeds are very rich in lignans and omega-3 fatty acids.  They have been proven to control cholesterol, regulate bowel movements, and prevent cancer and heart disease.  Chia seeds, on top of being chock-full of soluble fibers, omegas, and proteins, they are full of cleansing and hydrating properties.  Aztec warriors would cross the dessert for days at a time, keeping chia seeds under their tongues to prevent dehydration.  I'm not an Aztec warrior, but I am totally on board with all of these health benefits!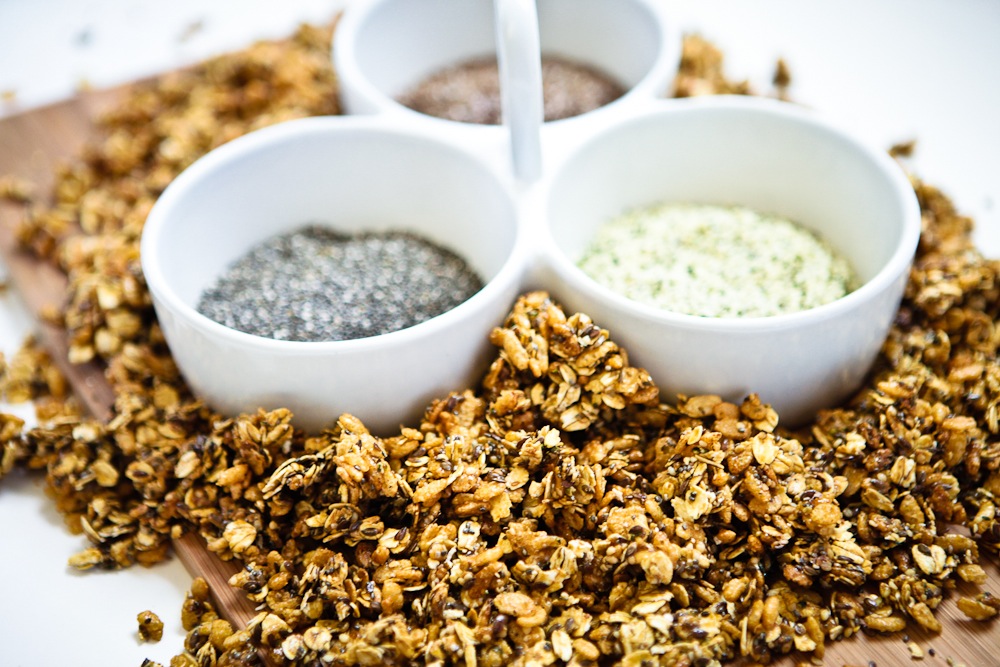 This granola unites all three seeds creating a trifecta (Yay!) of wondrous health benefits.  With gluten-free oats and crisp rice cereal, as the base, andusing brown rice syrup as the base, this granola is light and not overly sweet.  It is gluten-free, sugar-free, and very low in oil.  It is, by far, my favorite granola to date.  Usually it is just Chris who eats the granola for breakfast, but I have quit my oatmeal (for now) and have been enjoying this trifecta (Yay!) of goodness every morning.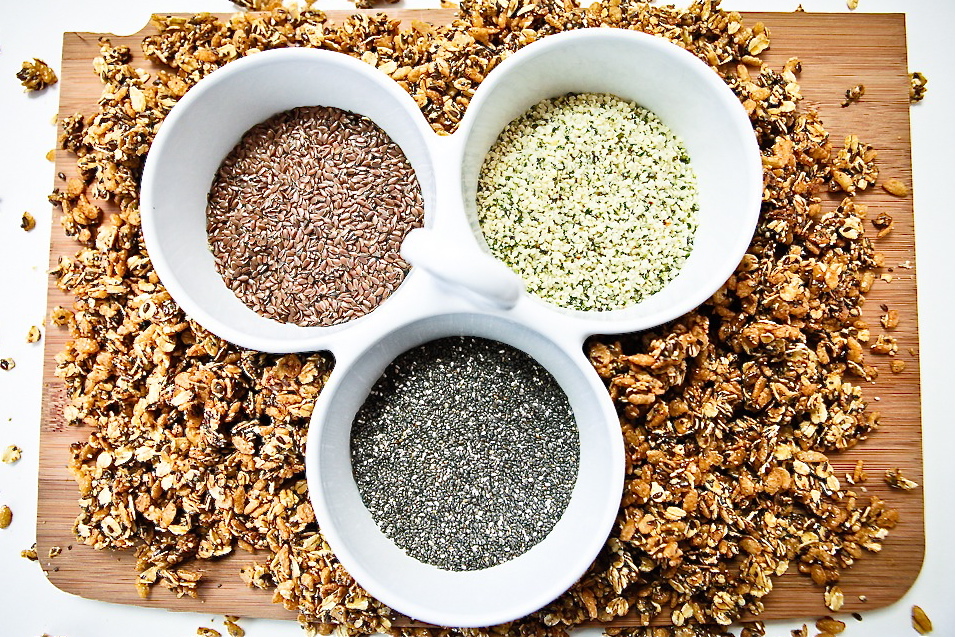 Super Seed Trifecta Granola
Ingredients
3 cups crisp brown rice cereal (gluten-free)
3 cups gluten-free rolled oats
½ cup hemp hearts (shelled hemp seeds)
½ cup brown flax seeds
¼ cup chia seeds
½ cup brown rice syrup
2 tablespoons flax oil (or other oil)
1 tablespoon molasses
½ tablespoon vanilla extract
Instructions
Preheat the oven to 275. Line two baking sheets with parchment paper.
In a large bowl, combine the dry ingredients. In a small bowl, combine the wet ingredients.
Heat the wet ingredients in the microwave for about 1-2 minutes. Alternatively, you can heat the wet ingredients in a saucepan, until it just begins to bubble around the edges.
Add the wet ingredients to the dry and thoroughly combine. Divide the mixture between the two baking sheets and spread out evenly.
Bake the granola for 45 minutes, switching shelves for each sheet (i.e. placing the sheet from the top shelf on the lower shelf and vice versa). Once done, let cool completely before transferring to an air-tight container. Enjoy!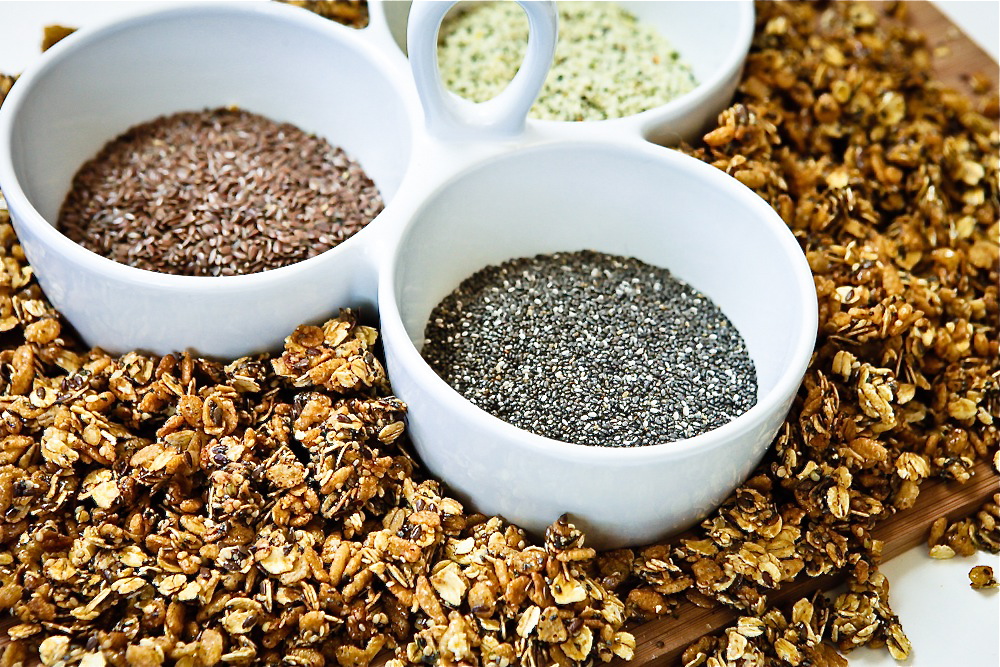 As if this Super Seed Trifecta (I had to say it one last time!) wasn't great enough by itself, I've been using it as an ingredient in another super-powered recipe!  Stay tuned for more super goodness!
Photography by Chris Miller