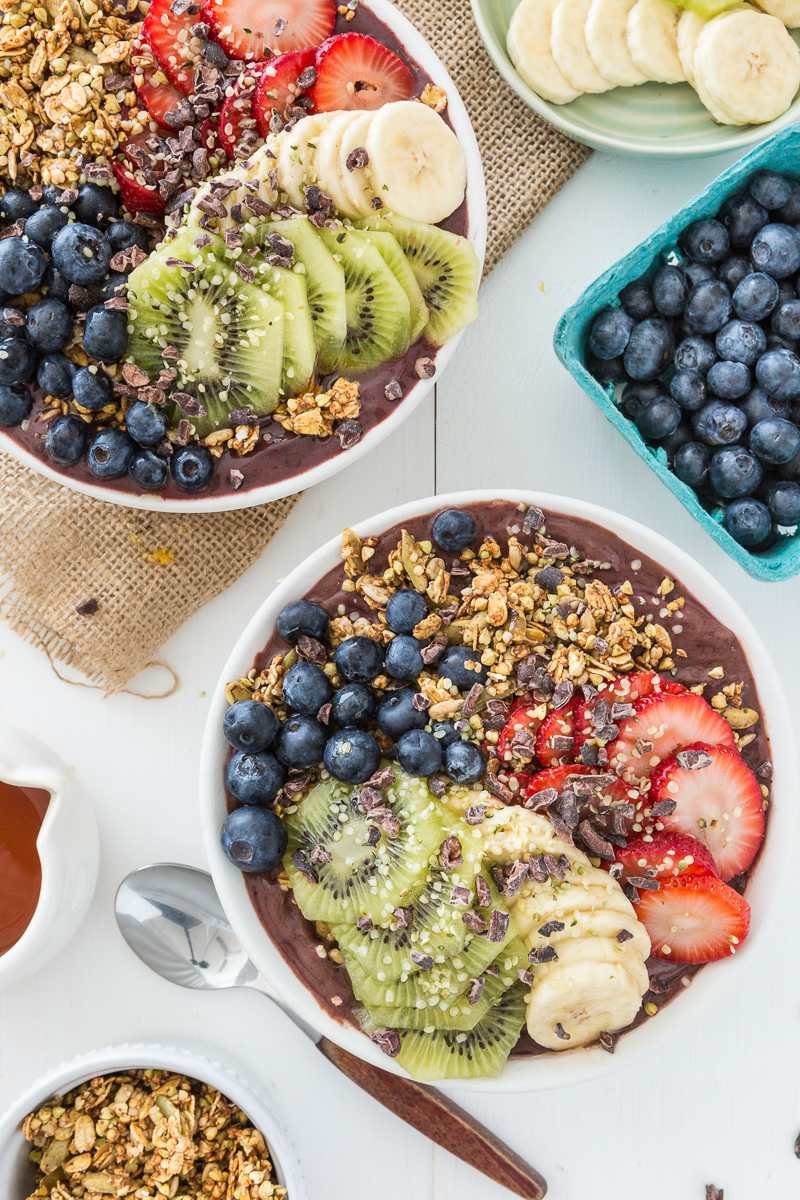 If you follow me on Instagram, you know that when the weather gets warm, I'm a little crazy about smoothie bowls (super, super, super crazy). I mean, most mornings, my breakfast consists of a smoothie, but if I have a little extra time in the morning, it's almost always a smoothie bowl that I turn to. I've even shared a few on the blog in the past: my Super Mango Pineapple Açai Bowl, Cacao Berry Bliss Bowl, and the Dragon Fruit Smoothie Bowl). Dressing up a smoothie with some crunchy granola and fresh fruit absolutely makes my day. Every spoonful with the variety of textures coming from the clusters of granola, the luscious smoothie, and the chunks of fresh fruit is, in my book, perfection.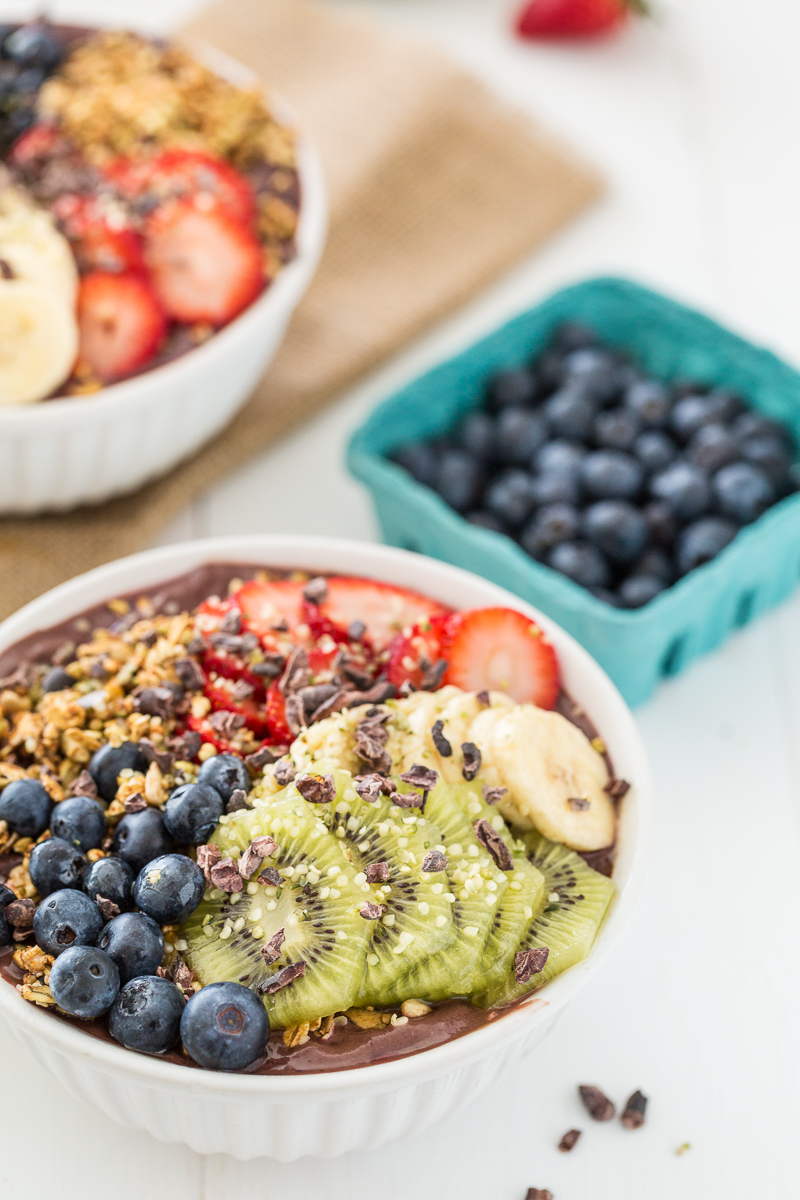 While on most smoothie bowl days, I'll usually just dress up one of my go-to green smoothies, sometimes I like to pull out all the stops and make an extra special smoothie bowl: The Açai Bowl. Ever since our trip to Maui when we had açai bowls for breakfast every day, the special bowl holds special memories for us so when I make them for Chris and I, it's always a romantic little breakfast. It's not just the sentimental aspect of them that makes me love them so. Açai puree adds an extra tartness, an extra brightness, an extra zinginess to the smoothie. It like when you add salt to caramel. The caramel is perfectly good with out it, but when you do add it, oh. my. god. So much better, right?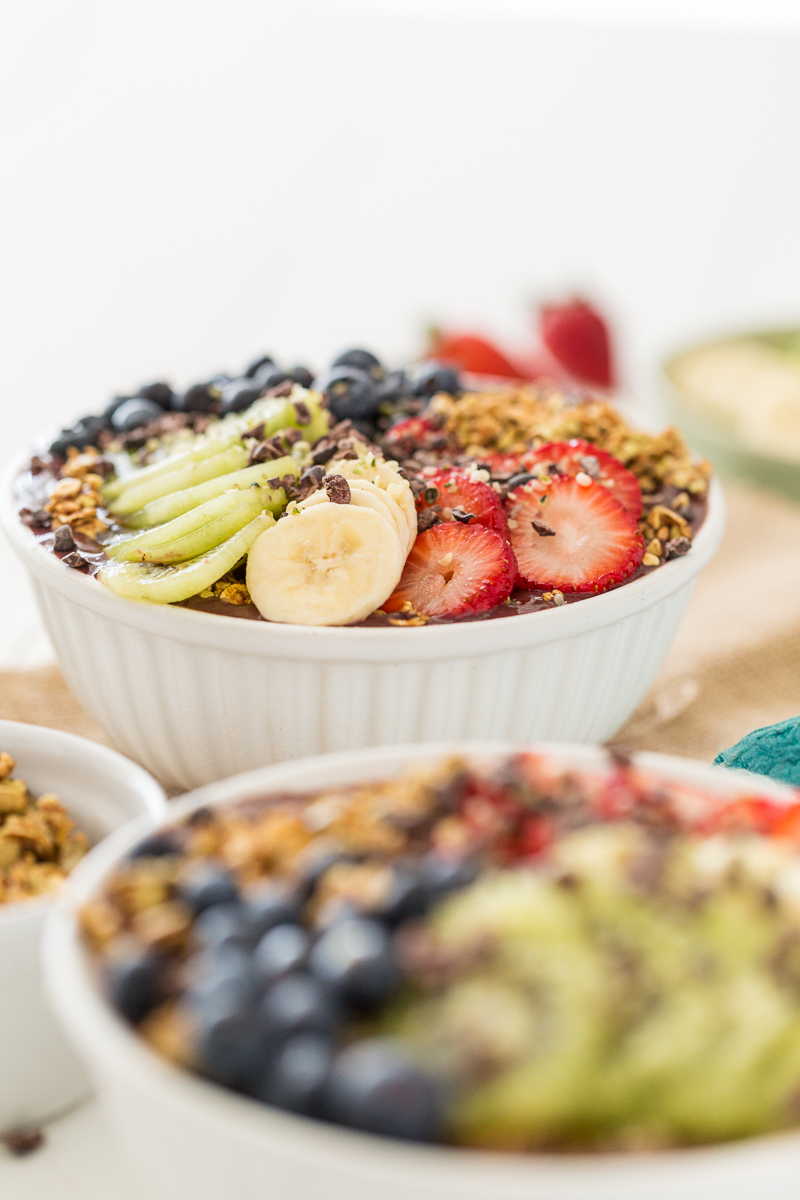 So I've made quite a few smoothie bowls in the last few years (has it really already been a few years?) and I've gathered a pretty good understanding of how to make them extra stellar in that time. Here are my tips and tricks:
My Tips & Tricks for a Stellar Smoothie Bowl
1. If you're doing an açai bowl, you can get your açai a few different ways: via açai juice, açai powder, or frozen açai packets. I prefer the packets but do keep in mind: NOT ALL AÇAI IS CREATED EQUALLY! The best kind, the kind with the purest, boldest flavor, comes without any additives- no added sugar or preservatives. I know I am speaking against popular opinion here, but there is a very popular brand that starts with the letter 'S' and rhymes with "Amazon" that yes, you can get an unsweetened version of, but it still contains citric acid which, in my opinion, dulls the flavor down. The sweetened variety is even more dulled down and does not appeal to my taste buds at all. My preferred brand is Amazon Planet and the packets contain 100% pure acai. You can get an "energy" blend with green tea and yerba mate, but I always stick to the purest form. It really, really, REALLY makes a difference.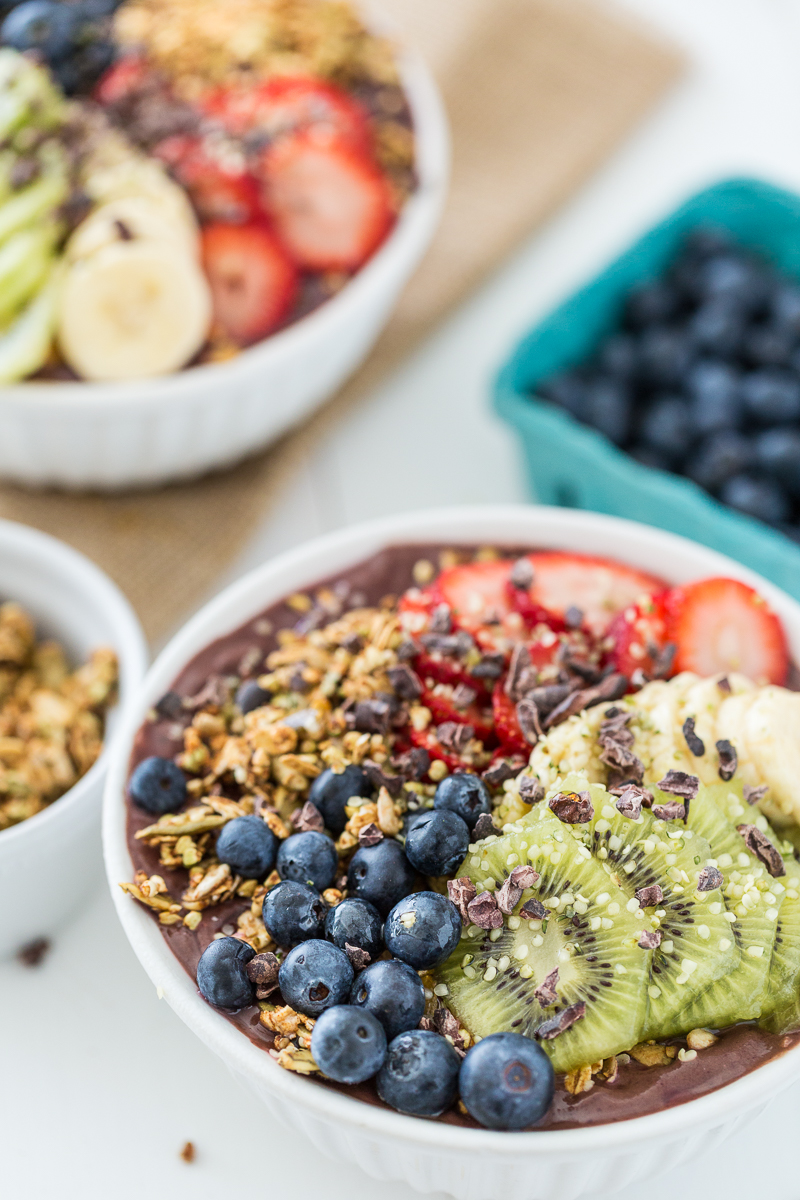 2. Smoothie bowls require less liquid than regular, drinkable smoothies. When you scoop up your smoothie, you want it to be more like a slightly melted soft-serve ice cream or a thick milkshake and less like soup. For my normal huge-ass breakfast smoothies, I usually use a cup of non-dairy milk. For smoothie bowls, I use 1/4 cup.
3. You need to have at least 1 "creamy" frozen fruit in your smoothie to give it that velvety texture and add sweetness. Most people like to use bananas for this, but I actually prefer mangoes. Too much banana gives me an all-day headache, and I think they can actually overpower the flavor of the smoothie a bit whereas mangoes are a little more neutral. But seriously- use whichever you prefer. Chris generally prefers bananas so I often make two separate smoothies for us. Frozen (rather than fresh) is better, so if you need frozen bananas, peel some over-ripe fresh bananas, place them in an airtight container and store them in the freezer for smoothie time.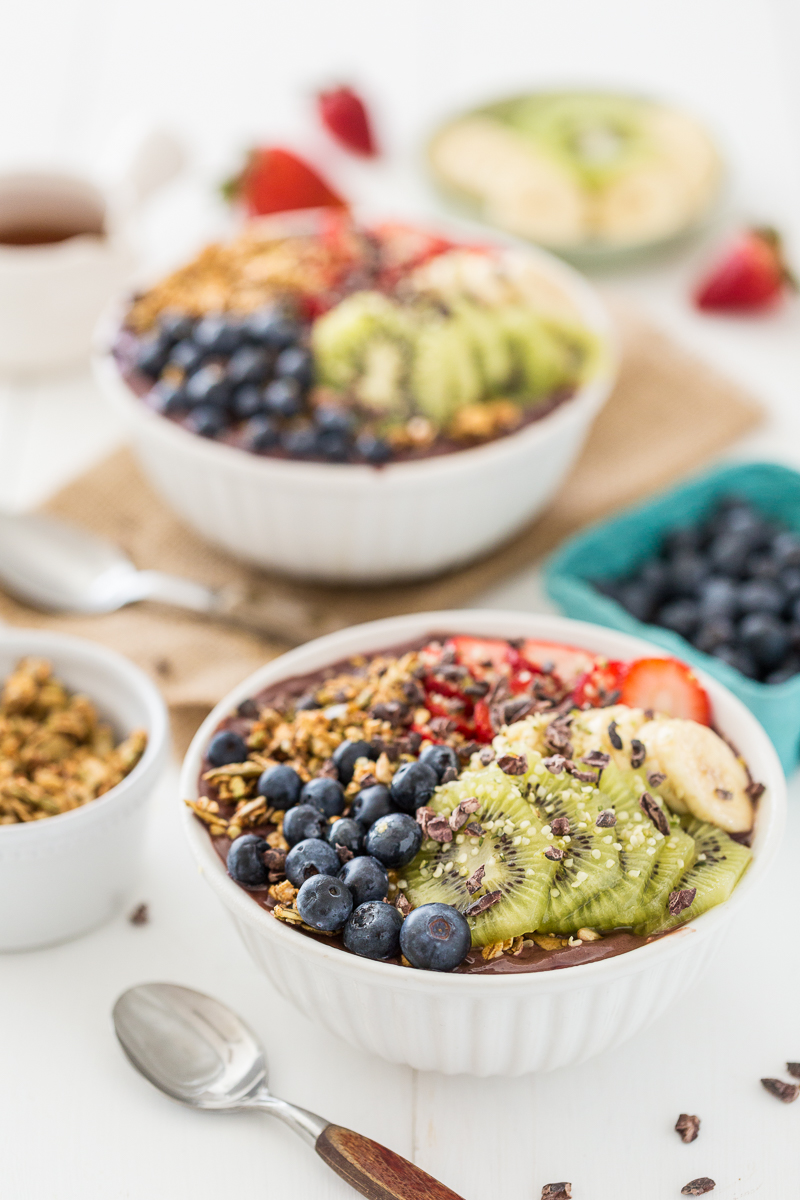 4. Add greens to the smoothie. I actually add greens (spinach, kale, chard, collards) to all my smoothies, but seriously, it's a great way to add a lot of nutrition without really changing the taste or texture. It's obviously not necessary, but what've you got to lose?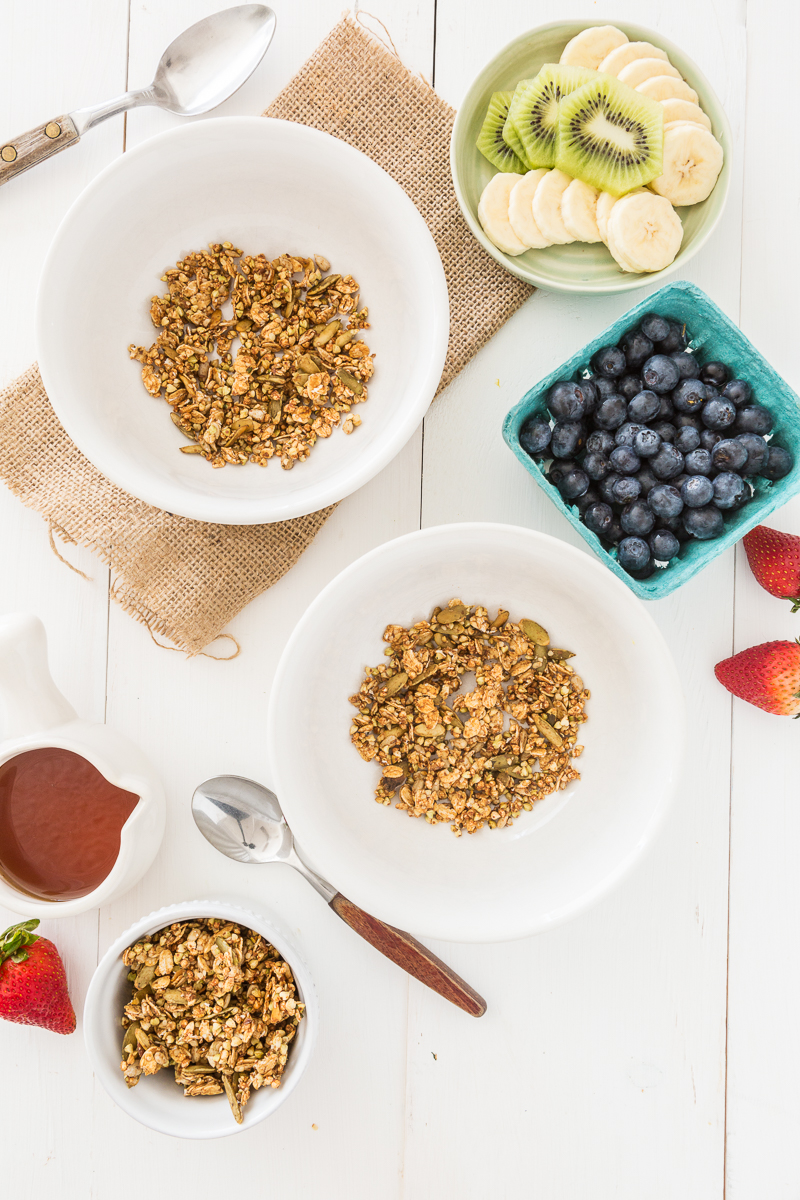 5. Putting granola on the top of a smoothie bowl is divine, but you want to know what's really great? Having extra granola waiting for you at the bottom of the bowl. It makes your last few bites more extraordinary- kind of like all the huge, awe-inspiring fireworks that they save for the end of firework shows. It helps make me less sad when I've finished it.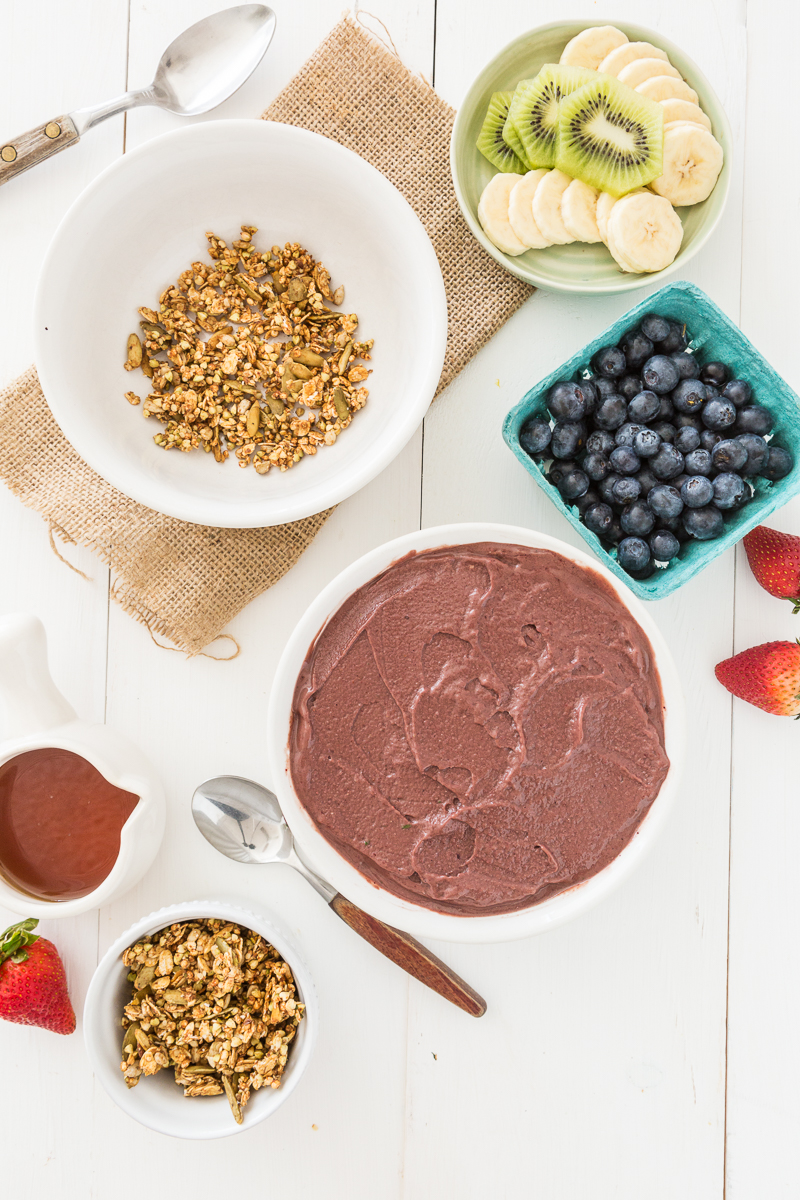 6. Having a variety of fruit on top kind of seals the deal for me. A scant scattering of blueberries will just not do. Pick out at least 2 different fruits, if not 3 or 4, and slice them into bite size pieces. Some of my favorite fruit toppings are: strawberries, bananas (one of the only places I really like bananas), blueberries, blackberries, kiwi, nectarine, peach, mango, and pineapple. Figs can be good as long as they're not too mushy and you get rid of the stem. And don't just throw the fruit on top of your smoothie (unless you're in a terrible rush). Make it a feast for your eyes as well by taking the time to lay them out in a pretty way. It sounds silly, but sitting down to a gorgeous, smoothie bowl, decked out with a lovely display of fruit toppings is way more satisfying than the slap-dash ones. Of course, it will taste the same either way.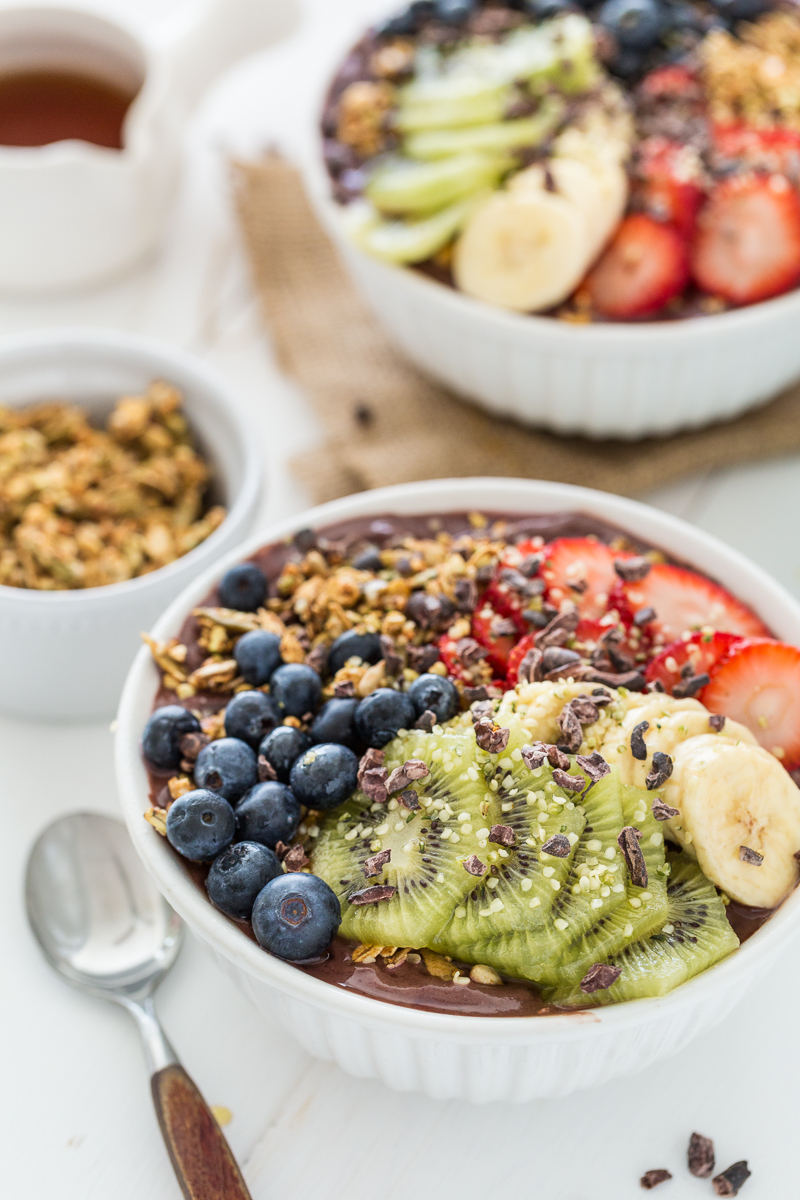 7. You could stop there, with just granola and fruit on top, but there are a couple more things you can add to take this bowl to the next level. I suggest a scattering of small seeds (my favorites are hemp seeds or buckwheat groats, though flax, chia, or even sunflower or pumpkin seeds would work. Even a bit of chopped almonds or cashews might be nice) and cacao nibs for extra crunch. It may sound like a small detail, but I'm telling you- when you scoop up a bite of thick smoothie, a cluster of granola, and a slice of banana with a few seeds and a couple nibs stuck to it, you'll thank me. And if you like your smoothie bowls to be sweet, try a light drizzle of maple or agave syrup over the top. If you want an extra protein kick, try a little drizzle of nut butter.
My favorite açai bowl is a simple one. It consists of almond milk, hemp seeds (for protein), buckwheat groats (for fiber), greens, mango, berries, and of course, açai berry. I top it (and fill the bottom of the bowl) with my favorite crunchy buckwheat granola and a few of my favorite fruit toppings. A light dusting of hemp seeds and cacao nibs with a very slight drizzle of maple syrup makes it a show-stopper.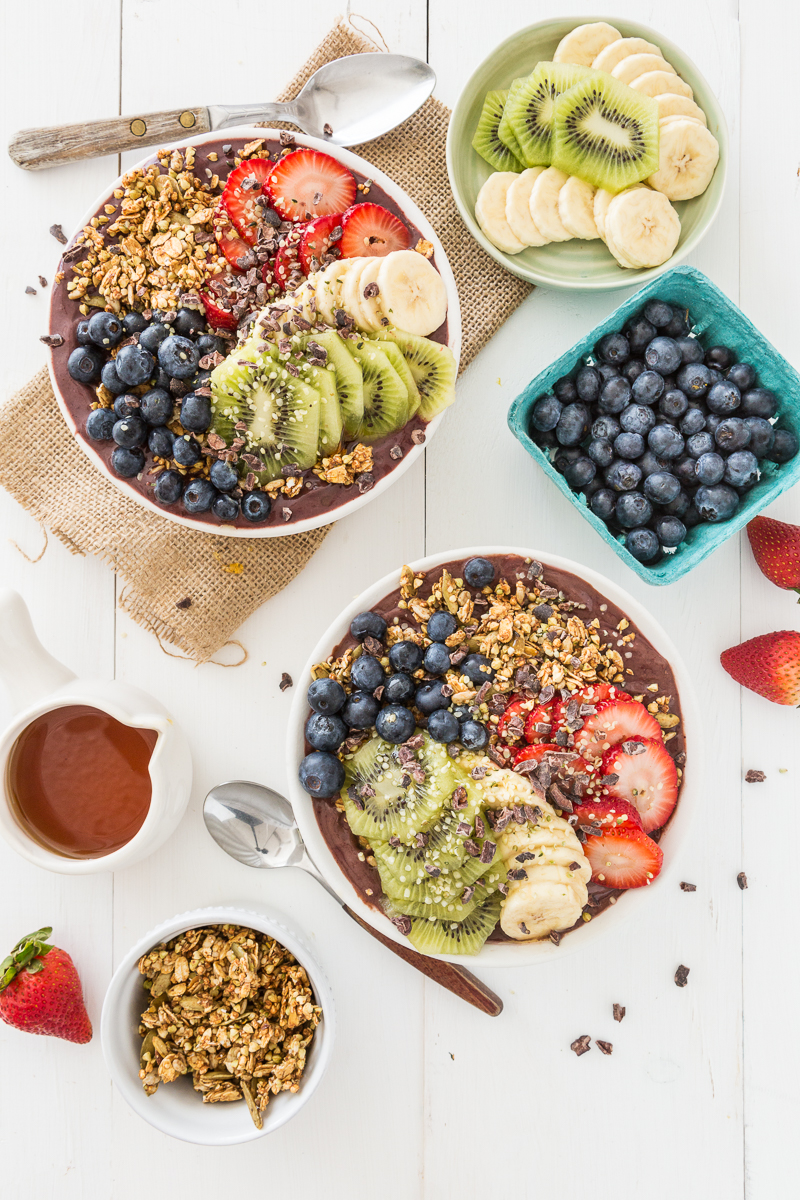 My Favorite Açai Bowl + My Tips & Tricks for a Stellar Smoothie Bowl
Ingredients
1/4 cup unsweetened vanilla non-dairy milk
1 tablespoon hemp seeds
1 tablespoon buckwheat groats
1 large handful of greens
1 1/2 cups chopped frozen mango (about 7-8 ounces)
1 heaping cup frozen mixed berries (about 5 ounces)
1 frozen açai berry packet (I use Amazon Planet)
granola of choice (I use My Favorite Crunch Buckwheat Granola)
about 1 1/2 - 2 cups sliced fruit for topping
1 teaspoon hemp seeds, optional
1 teaspoon cacao nibs, optional
maple syrup, optional
Instructions
Combine the smoothie ingredients in a high-speed blender and blend until smooth. If your blender has a stirring device to use while it's blending, use it to help move things around. If it doesn't, you may need to stop and scrape the sides with a rubber spatula periodically.
Fill the bottom of your bowl with about 1/4 cup of granola. Pour the smoothie over the granola. Top with more granola, the sliced fruit, and the hemp seeds, cacao nibs, and maple syrup, if using. Serve immediately. Enjoy!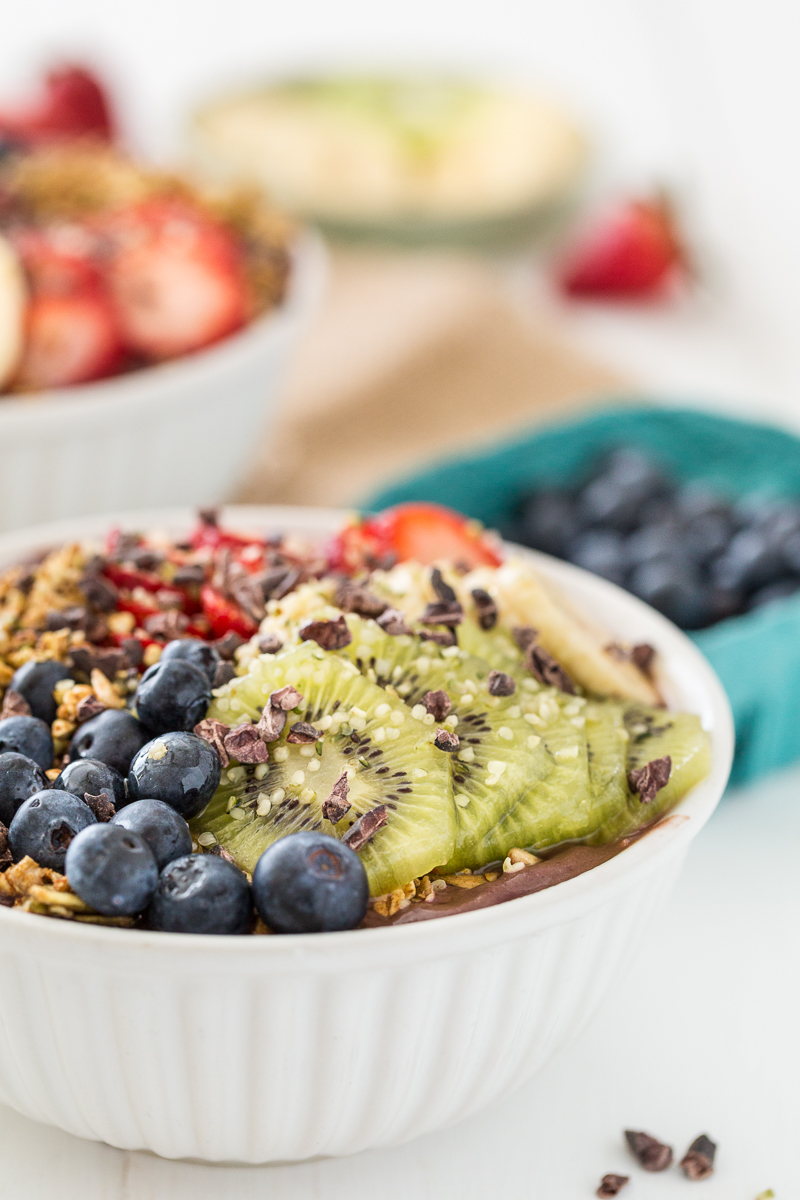 What goes in your favorite smoothie bowl?
Photography by Chris Miller