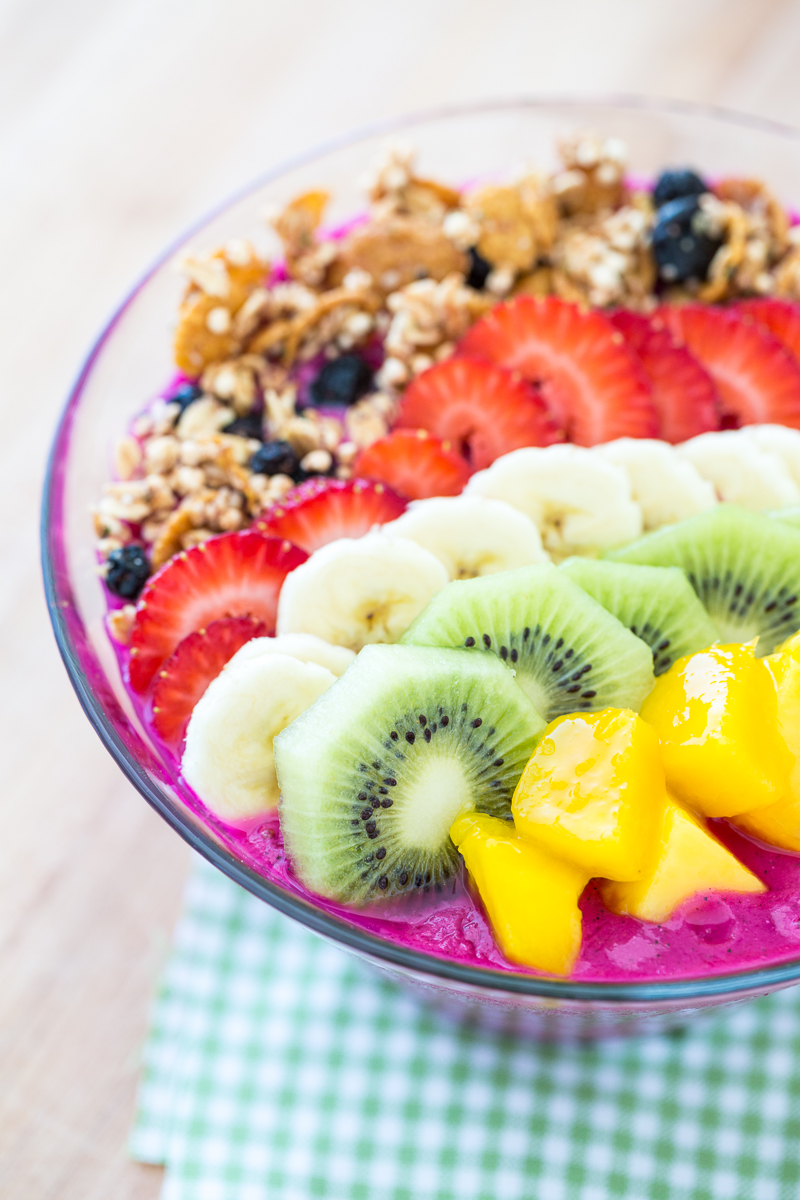 There was a time in my life where if you told me to eat a smoothie with a spoon I would've thought you were drunk.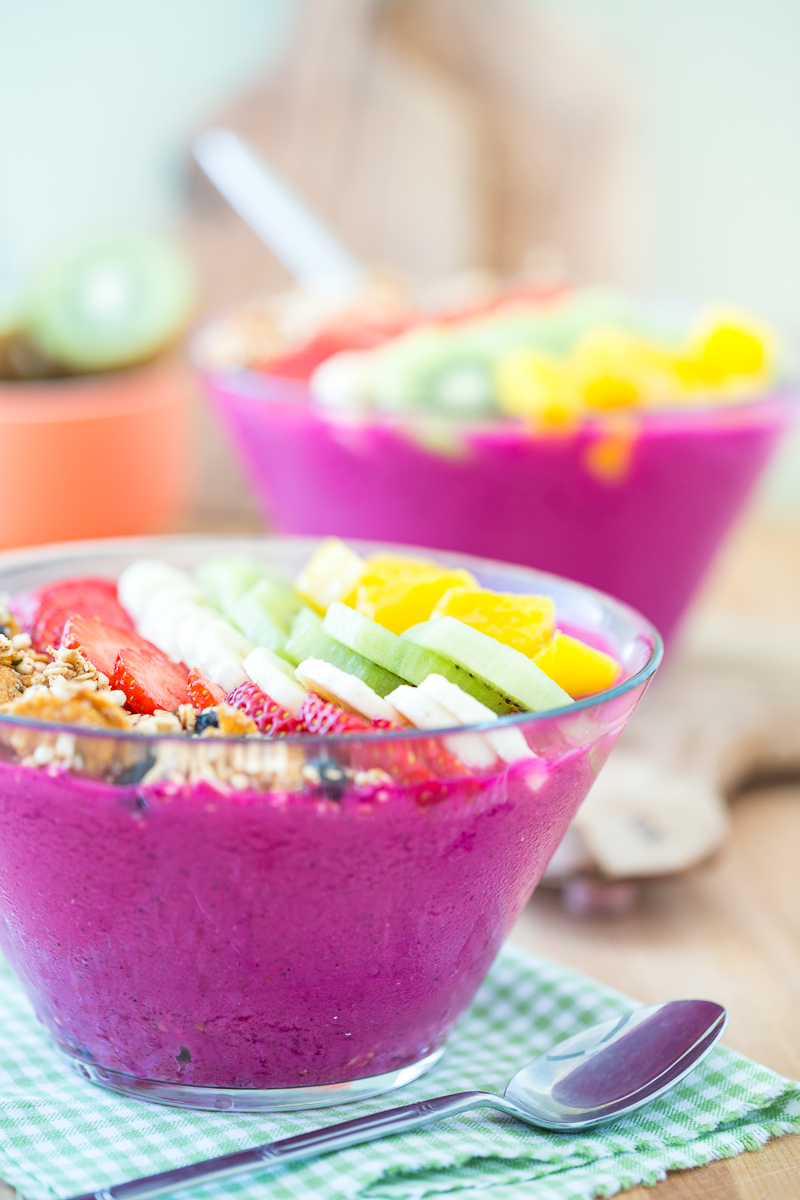 "Smoothies are for drinking, moron silly!" I would've exclaimed. "You need a straw, not a spoon!"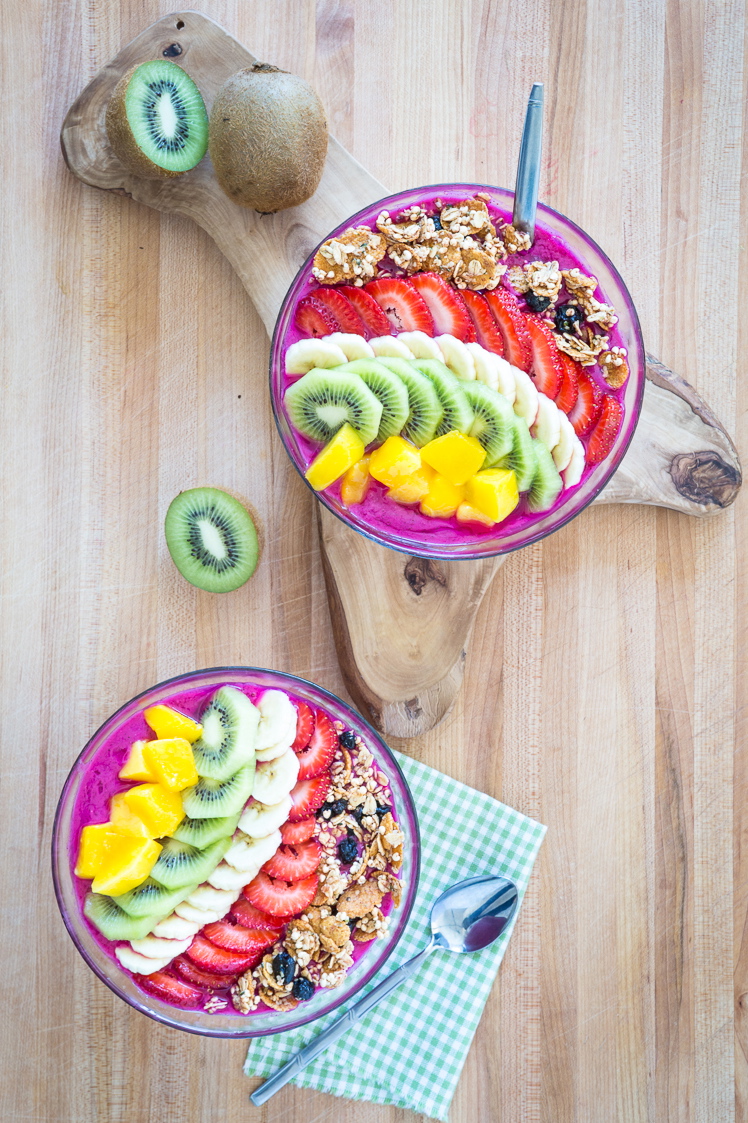 It took a trip to Hawaii a couple years ago, and the introduction to acai bowls (you may remember the Super Mango Pineapple Acai Bowl and my Cacao Berry Bliss Bowl that were inspired by this trip) to completely change the way I look at smoothies. Now, I would say it's evenly split between how I consume my smoothies. Sometimes I use a straw, sometimes I use a spoon, and sometimes I use both!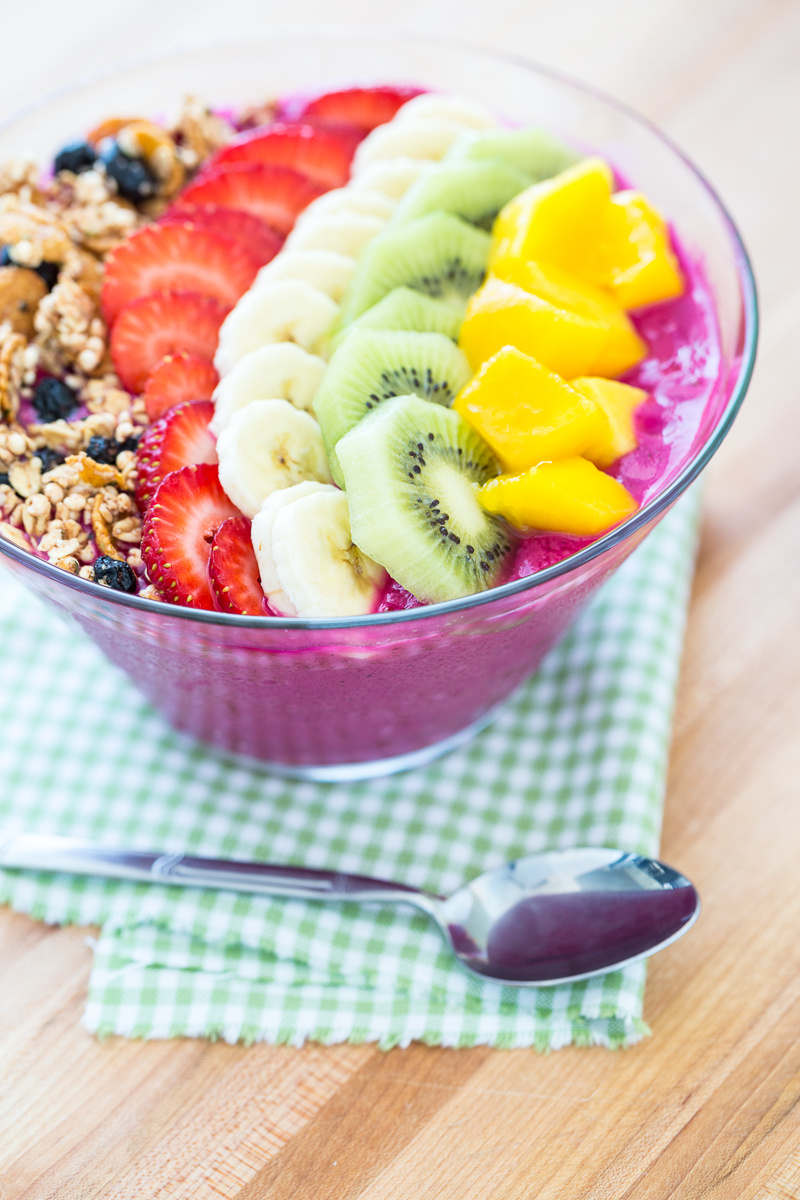 I love scooping up a bite of smoothie with a little crunchy granola and a little bit offresh fruit. It makes the smoothie seem like more of a solid meal to me- one that keeps me energized for hours!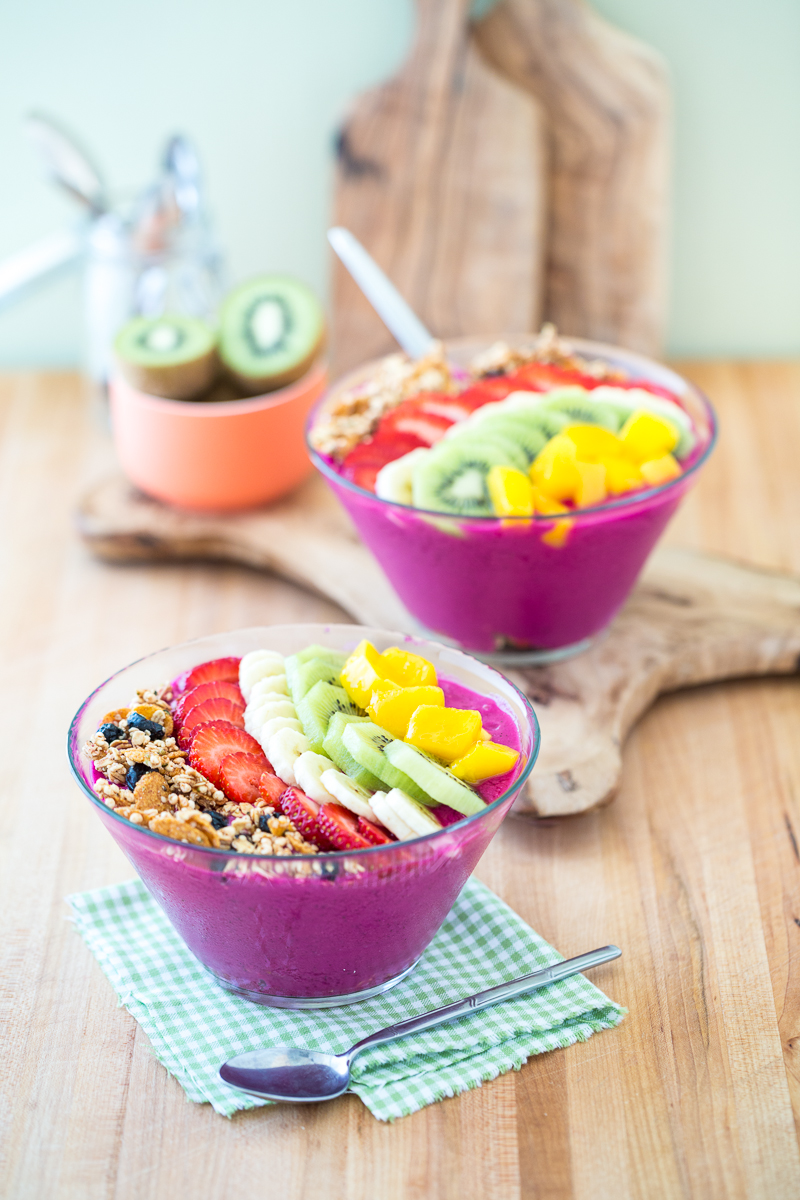 Recently I was grocery shopping and in the freezer section, next to my beloved acai packets, I found frozen pitaya or dragon fruit puree. Seconds later, it was in my shopping cart and I was running to the register. I was about to have a dragon fruit smoothie for lunch! The dragon fruit puree had a milder taste than I'd expected, which means it pairs well with other fruits. It reminded me of a very mild kiwi and it made for a light, delicious, and gorgeously bright pink smoothie. I loved the smoothie so much, I couldn't wait to make a smoothie bowl for breakfast the next day.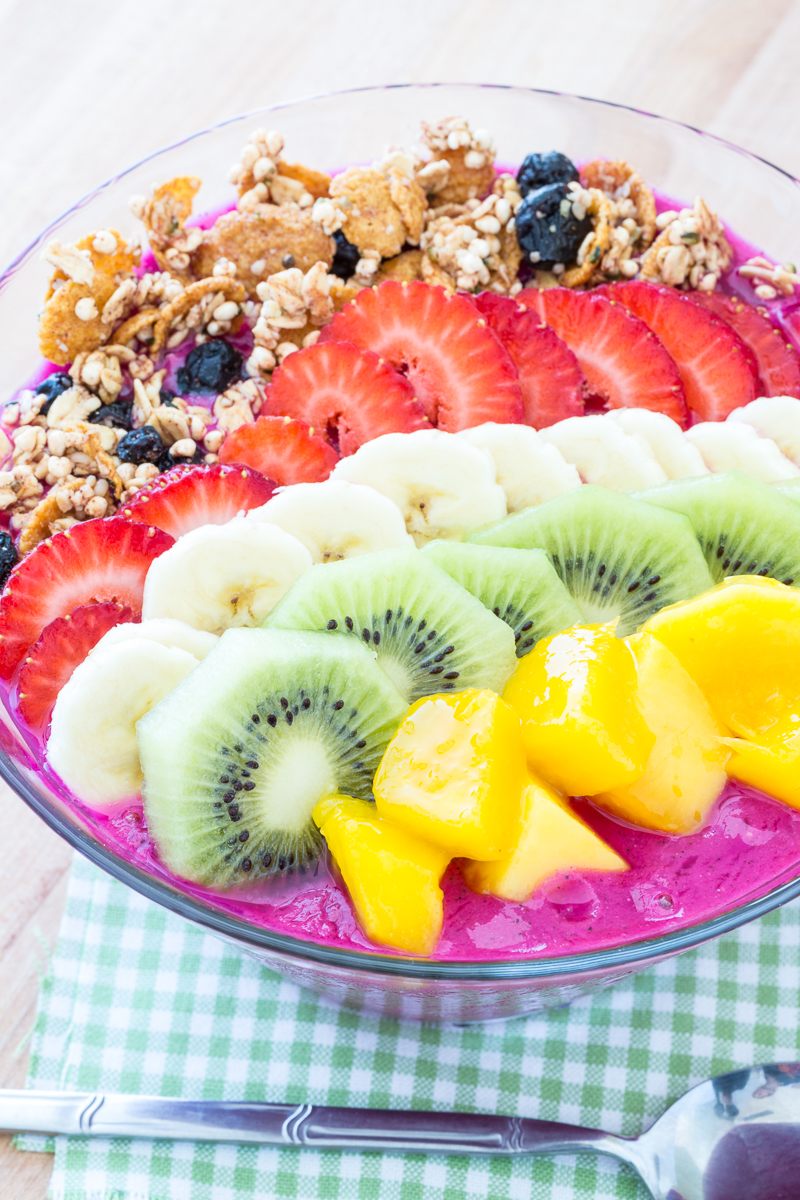 Since I knew Chris and I would be enjoying these bowls after a long run, I added some some Tropical Tango Vega Protein Smoothie Powder (my favorite protein powder for fruity smoothies, by the way) to help replenish some protein, vitamins, and minerals. I also used mango as my base because too much banana makes my blood sugar spike and drop perilously low faster than you can sing "B-A-N-A-N-A-S" (both bowls show bananas on top, but I gave most of mine to Chris post-photo shoot). If you have no problem with bananas, then you can definitely replace the mango with a large banana, if you'd like. Almond milk, kiwi, and some frozen strawberries made up the rest of smoothie. Topped with some granola (I used Lemon Blueberry Granola) and some fresh fruit, this dragon fruit smoothie bowl is the picture of pure bliss. Somebody, grab me a spoon!
Dragon Fruit Smoothie Bowl
Ingredients
1 cup chopped frozen mango
1 cup chopped frozen pineapple
1 packet of frozen pitaya (dragon fruit) puree
2 handfuls of baby spinach (or other green)
1/2 kiwi, peeled
1/2 cup almond milk
granola (I used Lemon Blueberry Granola)
chopped fresh fruit of choice: strawberries, banana, kiwi, mango, blueberries, blackberries, raspberries
Instructions
Combine the smoothie ingredients in the blender and blend until smooth.
Pour about 1/4 cup of granola into the serving bowl. Top with the smoothie. Top with more granola and fresh fruit of choice. Serve immediately. Enjoy!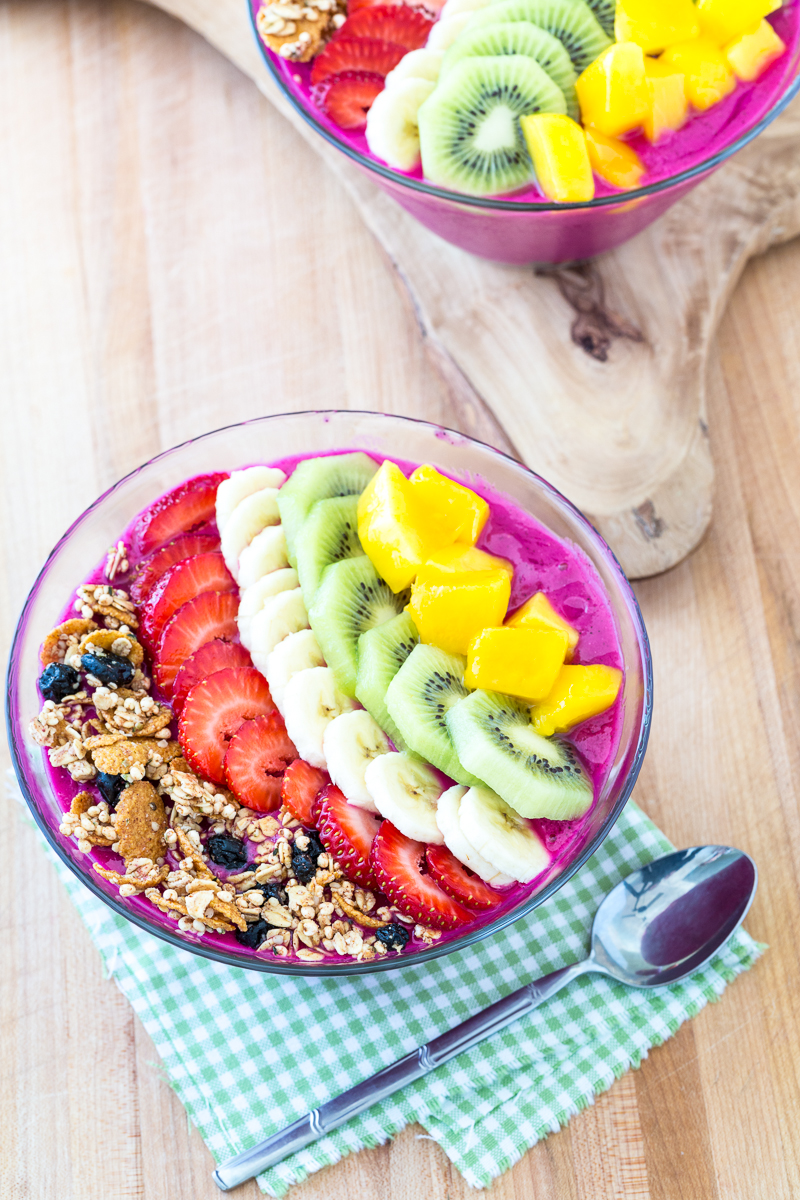 Thank you to everyone who entered the NuNaturals Giveaway! Congratulations to the winners, Melissa Atlas, Margaux Mouton, Caitlin Palamara, and Olivia Allman!
Do you prefer to drink your smoothies or eat them with a spoon?
Photography by Chris Miller