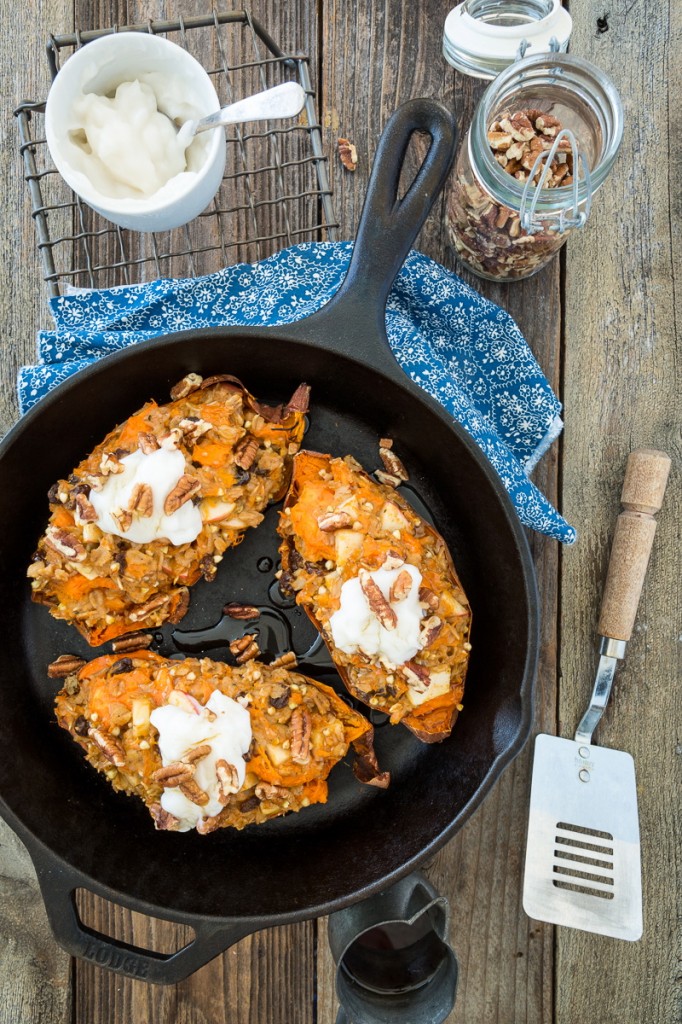 I've been a little in denial about this whole "Spring is Here!" thing.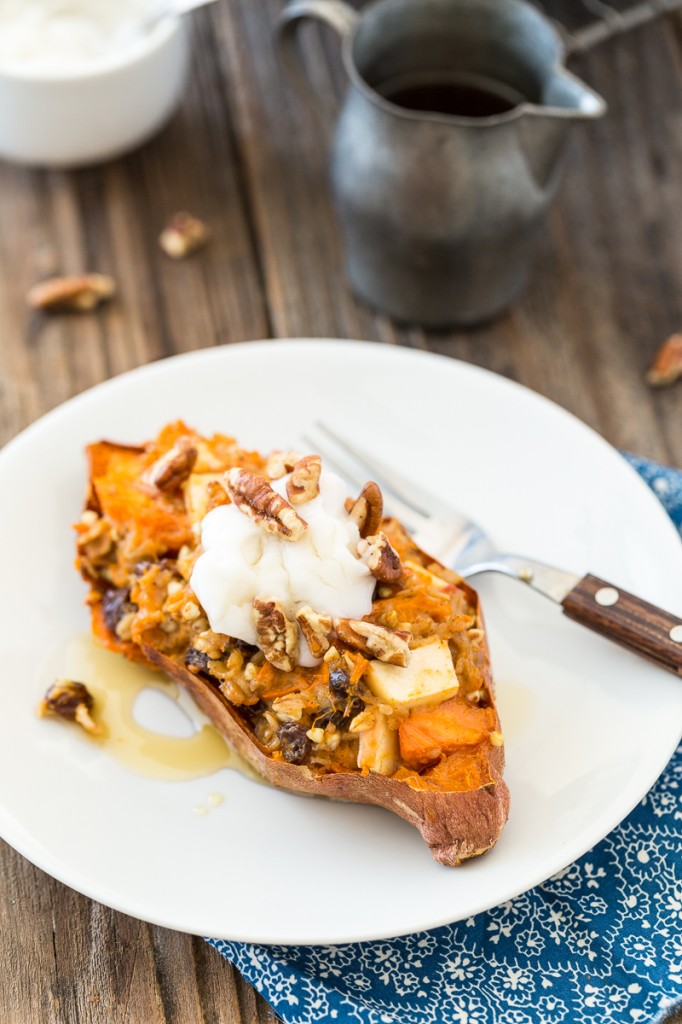 Don't get me wrong- I love Spring. I love all of the seasons. I'm just not quite done with winter.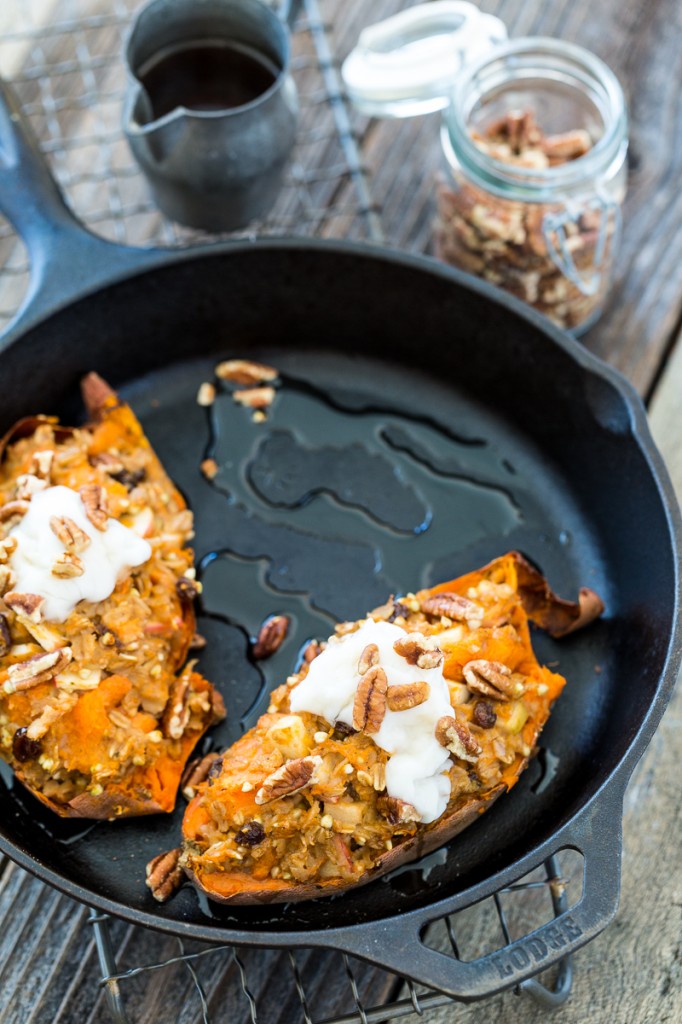 That is why I'm sharing a fallish/wintery sort of recipe with you today. I do realize that now is the time for lemony treats, spring greens, and all things carrot cake (or Easter-themed). But I'm rebelling a little bit and sharing my favorite breakfast of late: Oatmeal-Stuffed Sweet Potatoes.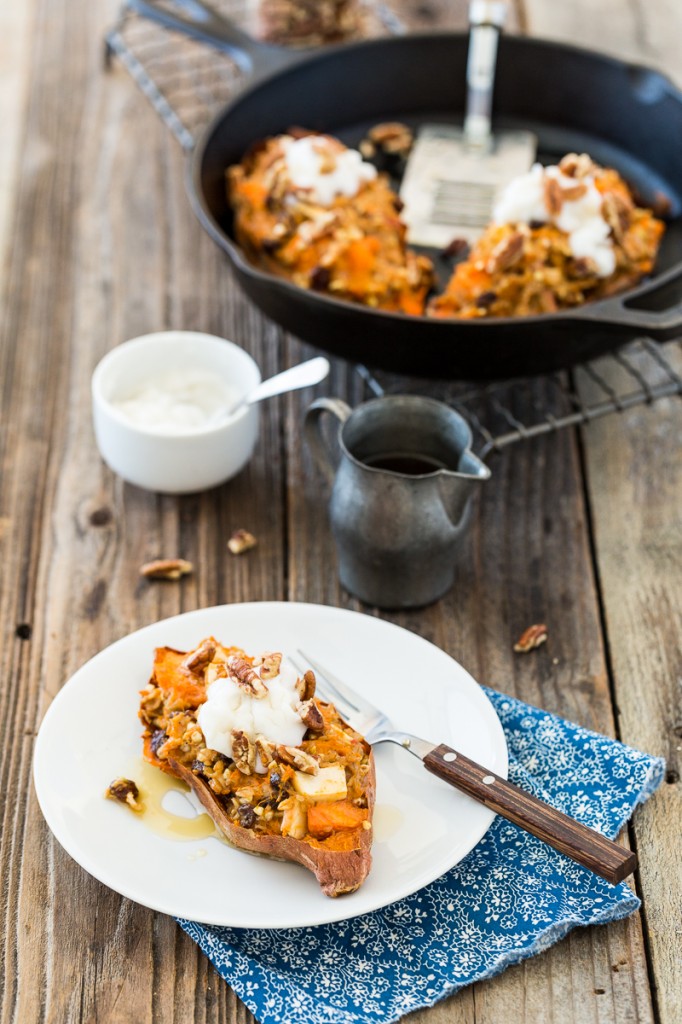 These sweet potatoes are baked, then cut in half and their flesh scooped out. Their flesh is then mixed with a cinnamony, maple oatmeal filled with apple slices and raisins and then stuffed back into the skins from whence they came.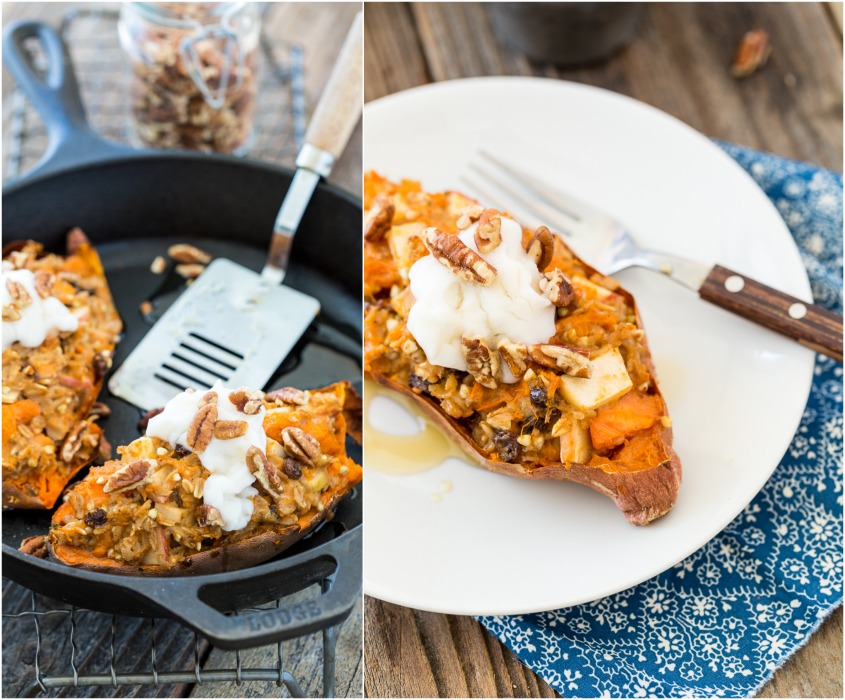 Then they're baked again and then topped with yogurt (I used So Delicious plain Greek-style yogurt), sprinkled with pecans, and drizzled with more maple syrup.
Maybe it's less of a "denial that Spring is here" sort of meal and more of a "farewell-for-now to Winter" kind of dish. Either way, you totally have an excuse to make it tomorrow (or save it until September when it's more seasonally appropriate).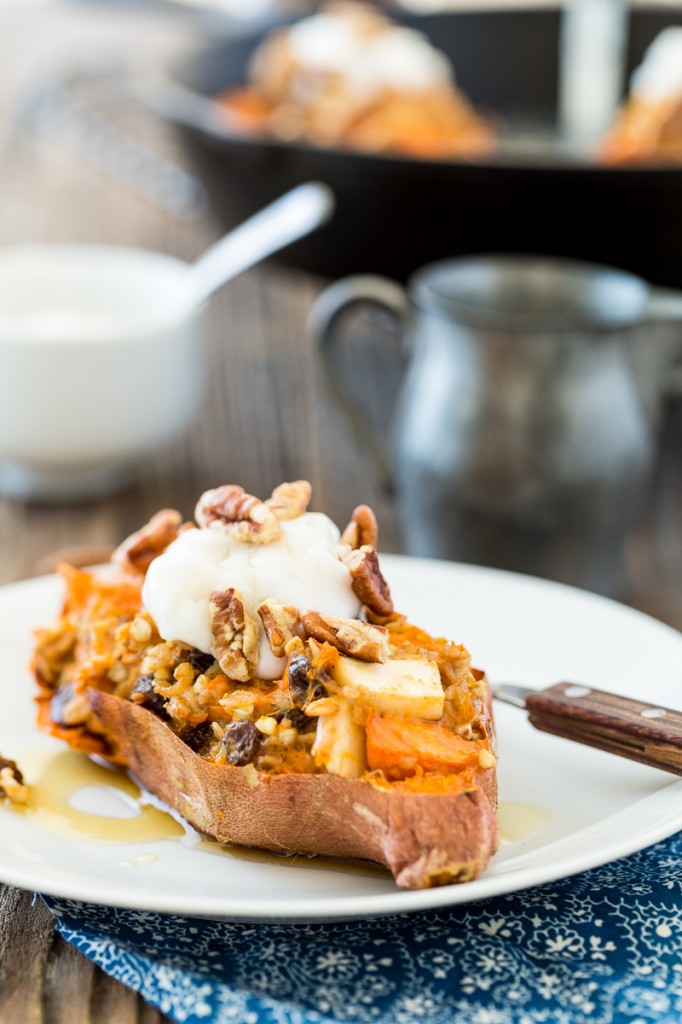 Twice-Baked, Oatmeal-Stuffed Sweet Potatoes
Ingredients
2 medium sweet potatoes
2 cups non-dairy milk
1 cup rolled oats (gluten-free if necessary)
3 tablespoons buckwheat groats
1 tablespoon hemp seeds
1 tablespoon maple syrup, plus more for drizzling
1/2 teaspoon ground cinnamon
1/4 teaspoon ground ginger
1/8 teaspoon ground nutmeg
1/8 teaspoon ground cloves
salt to taste
1 apple, cored and diced into 1/2 inch pieces
1/2 cup raisins or dried cranberries
chopped pecans for topping
plain or vanilla vegan yogurt for topping
Instructions
Preheat oven to 400 F. Line a baking sheet with parchment paper. Puncture the sweet potatoes with a fork several times and place them on the prepared baking sheet. Bake for 1 hour or until a knife can easily slice into the center. Remove from the oven and let cool for a few minutes. Reduce the oven heat to 350 F.
About 5 minutes before it's time for your sweet potatoes to come out of the oven, start your oatmeal. Combine the rest of the ingredients, except for the pecans and yogurt, in a medium pot. Bring to a boil over medium heat and then reduce the heat to a simmer. Let simmer for 10 minutes or until thickened.
Once the sweet potatoes are cool enough to touch, slice them in half and gently scoop out the flesh, keeping the skins intact (and keeping their "cup" shape). If needed, mash the sweet potato a flesh until it is in small/medium chunks. Add the sweet potato to the oatmeal and stir to combine. Taste and add more sweetener or salt if necessary.
Divide the oatmeal mixture amongst the 4 potato "cups" until each has a heaping mound of oatmeal. Return to the oven and bake for 15 more minutes. Remove from the oven and serve immediately, topped with yogurt, pecans, and more maple syrup. Enjoy!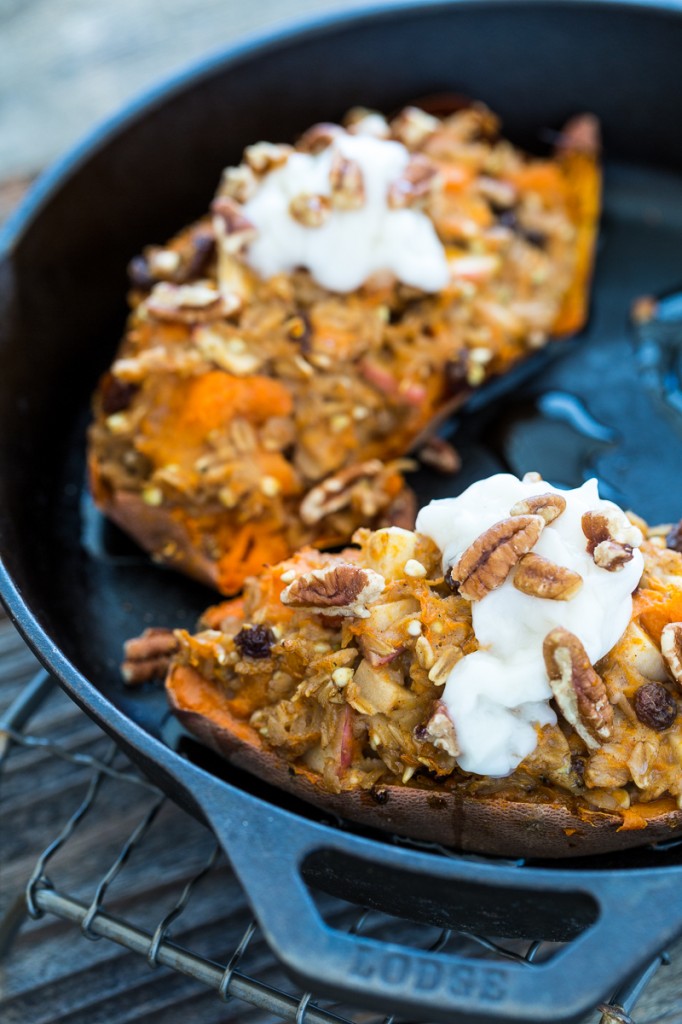 If you haven't already noticed, my posts will be a little sporadic in the coming weeks as I finish up the book and then give my brain the much-needed little technology break it needs. By mid-to-late April, I should be back on my normal blogging schedule.
Thank you to all who participated in the Thrive Energy Cookbook Giveaway! I love all hearing what inspires each of you to be healthy- thank you so much for entering! The winner is Marilyn Thomas. Congratulations!
Photography by Chris Miller