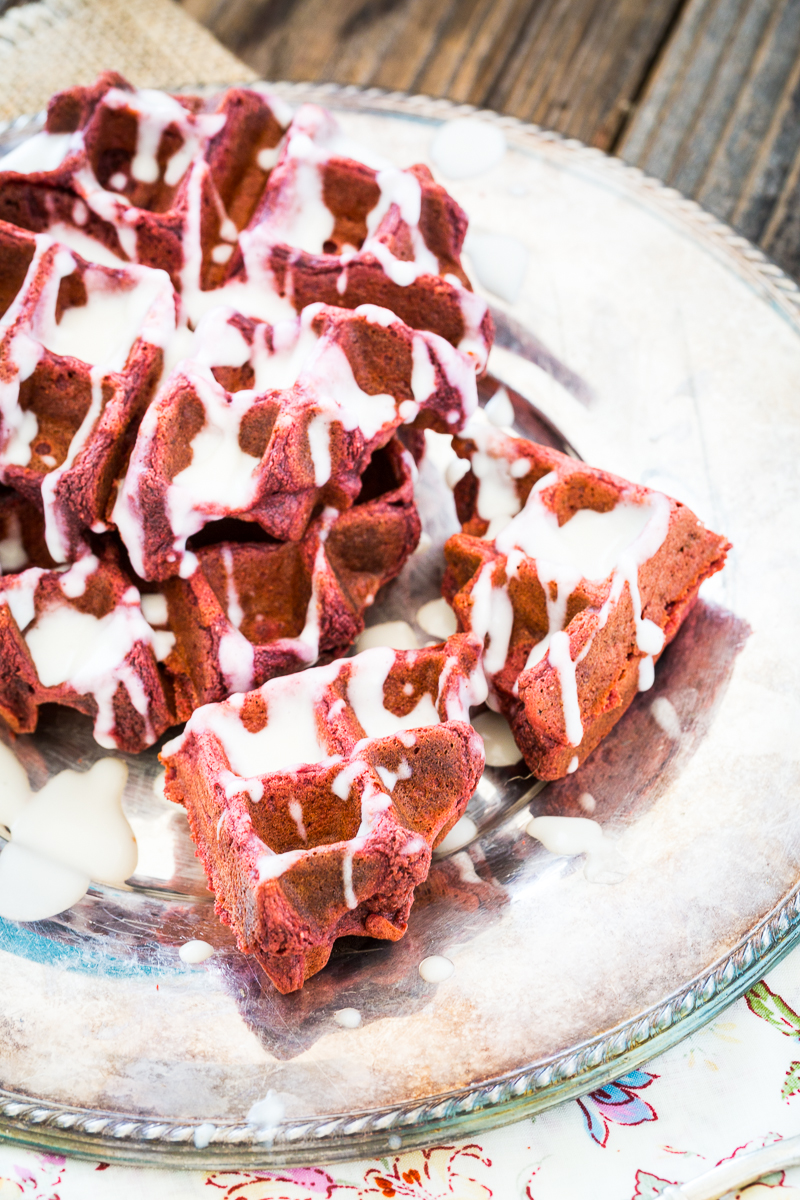 There was a period in my life where I only ate a proper breakfast on Sundays. As a result, I didn't like life very much during this period.
Breakfast is definitely my most favorite meal of the day. It always has been, actually. When I was very, very little, my dad would leave a bowl full of dry cereal and a cup of milk out for me so when I woke up, I could just pour the milk in the bowl and go watch Ghostbusters (for the 6,438th time)(seriously, I did this every day for a year or so and every day I challenged myself not to cry when the Marshmallow Man appeared and every day I lost). On days when my dad didn't work, he would make waffles or omelets or sometimes just cinnamon toast. In high school, I grabbed a blueberry bagel every day before rushing out the door. In college, I got really into fruit and yogurt.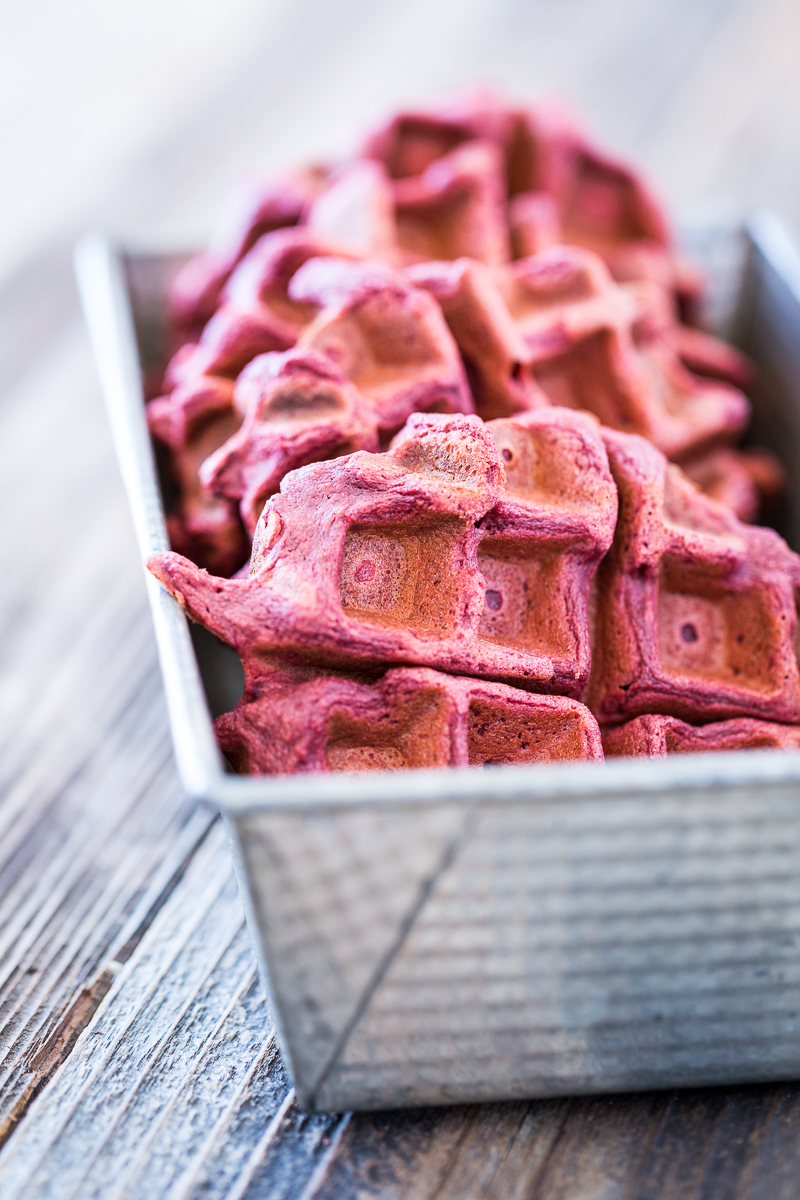 Then, when I became a personal trainer and I had to start working at 5am, even though I knew the importance of breakfast and how your metabolism didn't really get going until you ate something, and even though it was my favorite meal, I still began to skip it because I wasn't hungry that early and I didn't want to be late and because I thought "Eh, I'll grab something later, maybe." I never did, though. Not even when I got home around noon. By then, I'd trained 5 to 7 people and worked out and the only thing I'd likely eaten was a couple peanut M&M's and some coffee. Needless to say, my blood sugar was dangerously low. So low, that sometimes I couldn't even change out of my sweaty clothes or eat or even speak, really. I would just mumble something along the lines "nap" to my pup, Samantha and she would join me in bed where we slept until the afternoon.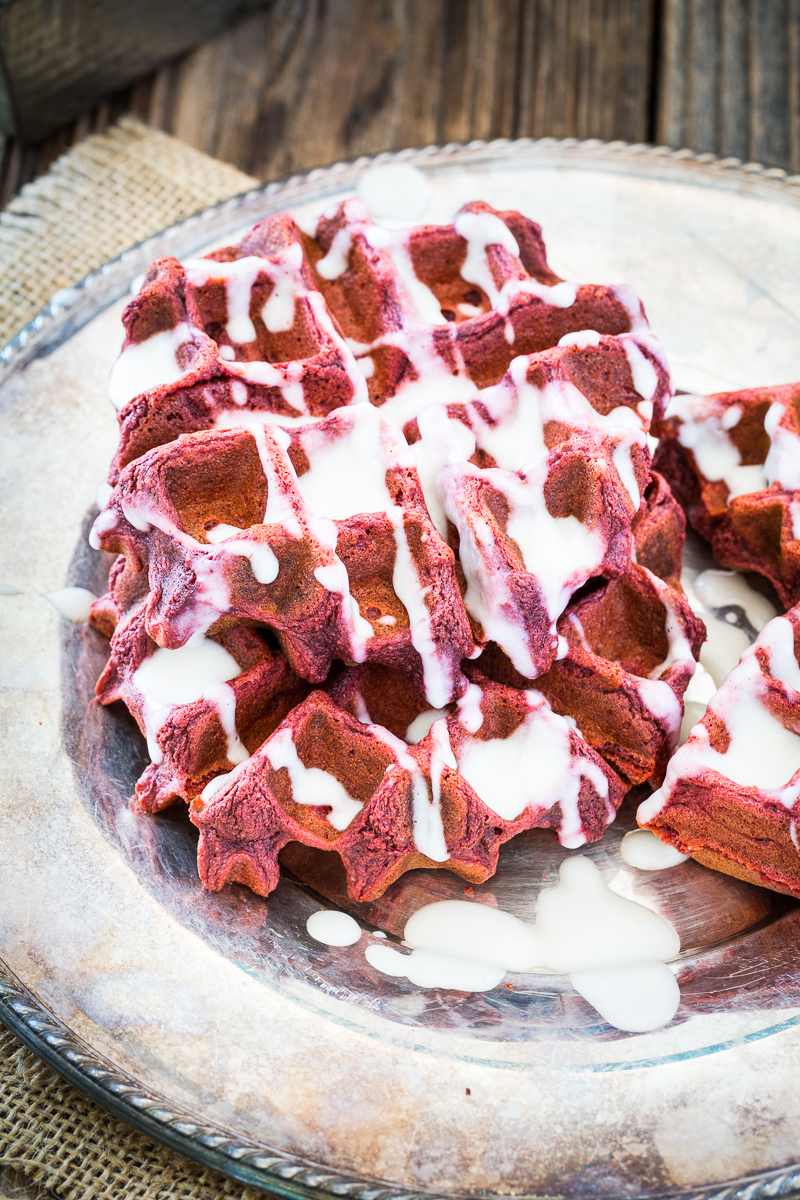 When I awoke from these naps, I was so ravenous that I would be shaking. I'd shove handfuls of cashews in my mouth while preparing the biggest grilled sandwich (this was back in the days when the George Foreman Grill was super popular and being vegetarian, I used mine as a panini press) anyone had ever seen. Seriously, I put everything I could find in those sandwiches. They were ridiculous. And what's even more ridiculous? I was still hungry after I ate it. I would spend the rest of the afternoon munching on things because I just couldn't quite get full. Somehow, this went on for 2 to 3 years. It makes me sad that for 2 to 3 years of my life, I didn't partake in the best meal of the day (except on Sundays). It took quitting my job and moving to Europe before I got back into the habit of eating breakfast every day.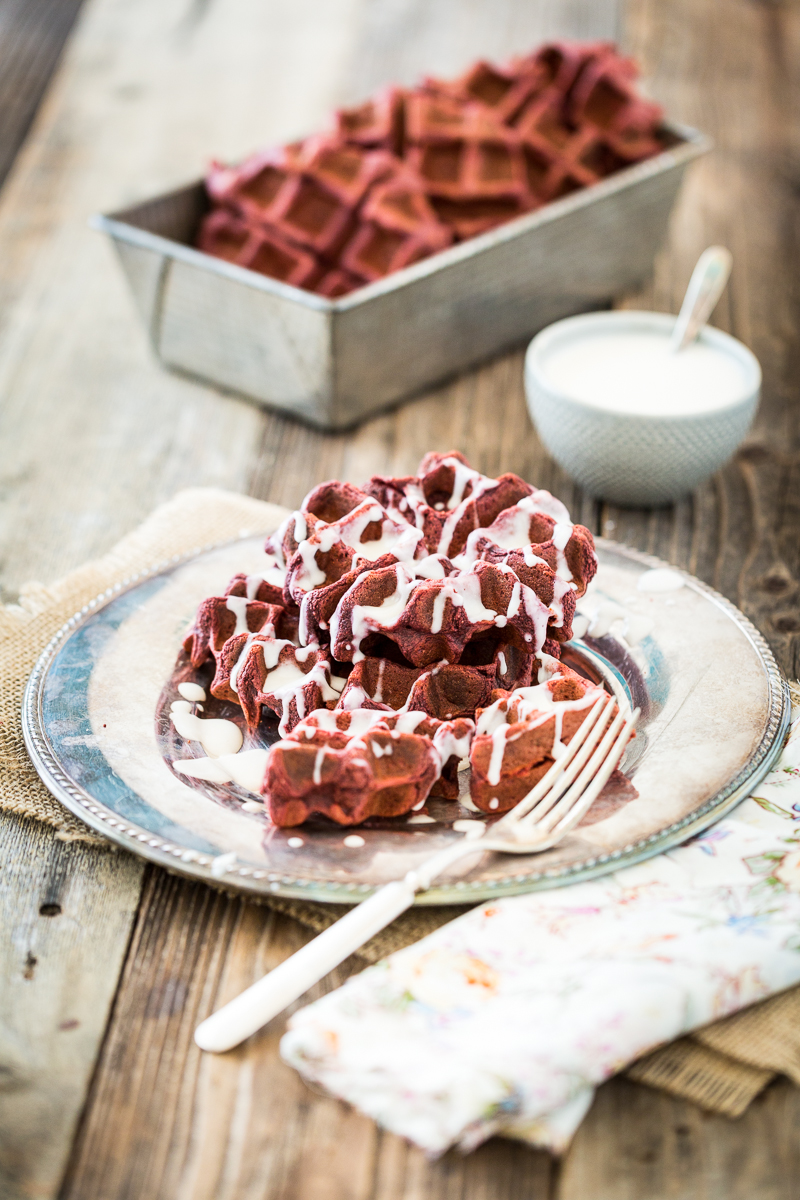 When Vega asked me to be a part of their #OneChange promotion, which demonstrates different ways people can make one change to make their lives healthier, I knew exactly which "change" I wanted to share. The #OneChange promotion highlights 4 traits that I'm sure all of use can relate to on some level: The Number Cruncher, The Serial Snacker, The Weekend Splurger, and The Breakfast Skipper. I know I have at some point in my life, been a little bit of each of them, but being a Breakfast Skipper was definitely the one that wreaked the most havoc in my life.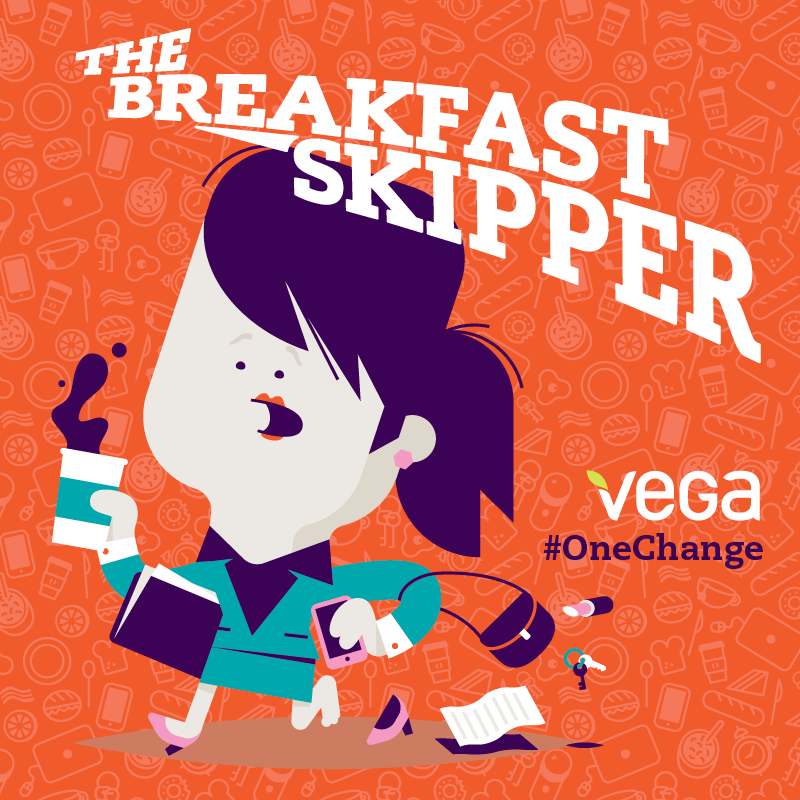 Of course, I'm all for the lazy weekend brunch but I know that most days of the week, a quick breakfast is probably a necessity. If I'm in a rush, overnight oats are totally my jam. On days when I don't get my act together enough to pull even that off, something that can be thrown in the toaster while I finish getting ready is key. Something like a bagel or these waffles. Yes, these waffles. These nutrient-dense, sugar-free red velvet waffles made with Vega One Chocolate shake powder are something that can be made ahead of time and reheated in the toaster or in the oven (on the rack) in just a few minutes. The sugar-free cream cheese icing can be made ahead of time too, so all it takes is just a few minutes to have a Sunday-morning-style brunch before you have to run out the door.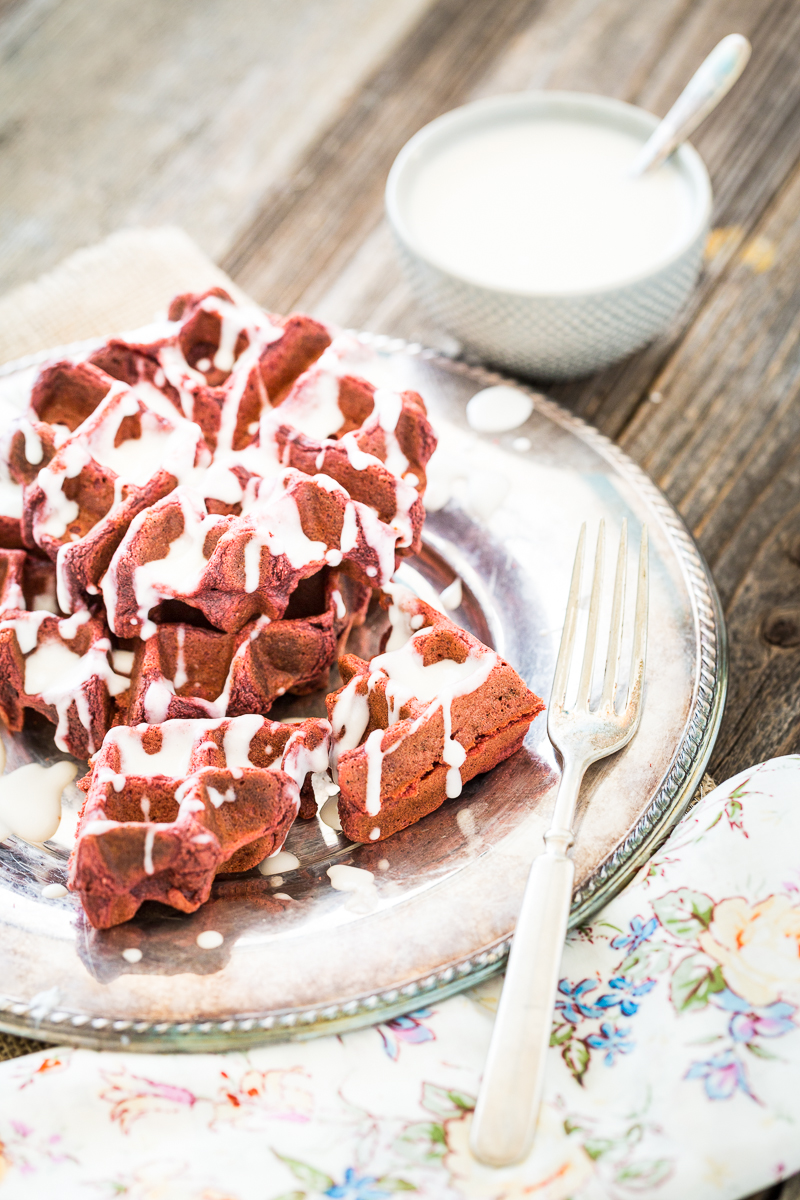 So, let's make one change. Let's get rid of the low-blood-sugar-inability-to-focus mornings where you're so ravenously hungry that all you do is stare at the clock waiting for lunch time. Let's be done with being so hungry that you overeat for the rest of the day. Let's make one change by starting your day with breakfast.  Being tight on time doesn't mean you have to sacrifice your nutrition. With waffles this tasty (even my chocolate-despising stepson loved these!!!)(there's still hope for him!!!), your breakfast skipping days will be long gone.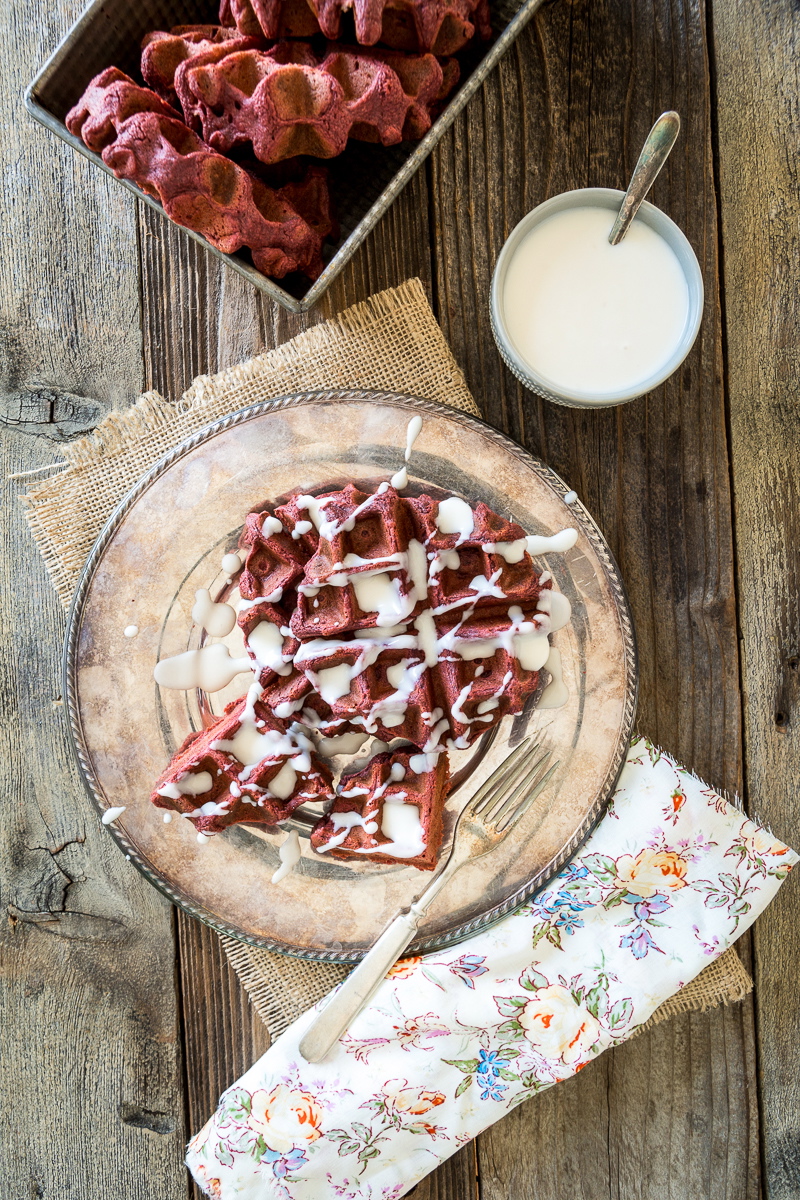 Sugar-Free Red Velvet Waffles with Cream Cheese Icing
Ingredients
3/4 cup whole wheat flour
3/4 cup oat flour
1 tablespoon cocao or cocoa powder
1 tablespoon baking powder
1/2 teaspoon salt
2 packets of stevia (optional)
1 1/2 cups almond milk (or other nondairy milk)
2/3 cup beet puree (about 2 medium/large beets, steamed and pureed)
1/4 cup melted coconut oil
1 tablespoon fresh lemon juice
1 teaspoon chocolate extract
1 teaspoon vegan red food dye (I used India Tree brand), optional
1/4 cup + 2 tablespoons vegan cream cheese
3 tablespoons powdered xylitol (or powdered sugar)
2 tablespoons almond milk (or other nondairy milk)
1 tablespoon fresh lemon juice
Instructions
In a large bowl, whisk together the dry ingredients. In a medium bowl, stir together the wet ingredients. Add the wet to the dry and stir until combined.
Cook in your waffle iron according to your machine's instructions.
To make the icing, whisk together the icing ingredients in a medium bowl. Serve the waffles drizzled with icing. Enjoy!
Notes
If you don't have powdered xylitol, you can make some by blending 1 cup granulated xylitol with 1 teaspoon arrowroot powder or cornstarch until you have a fine powder. If you don't have xylitol at all and don't want to use powdered sugar, you can add 2 tablespoons agave syrup.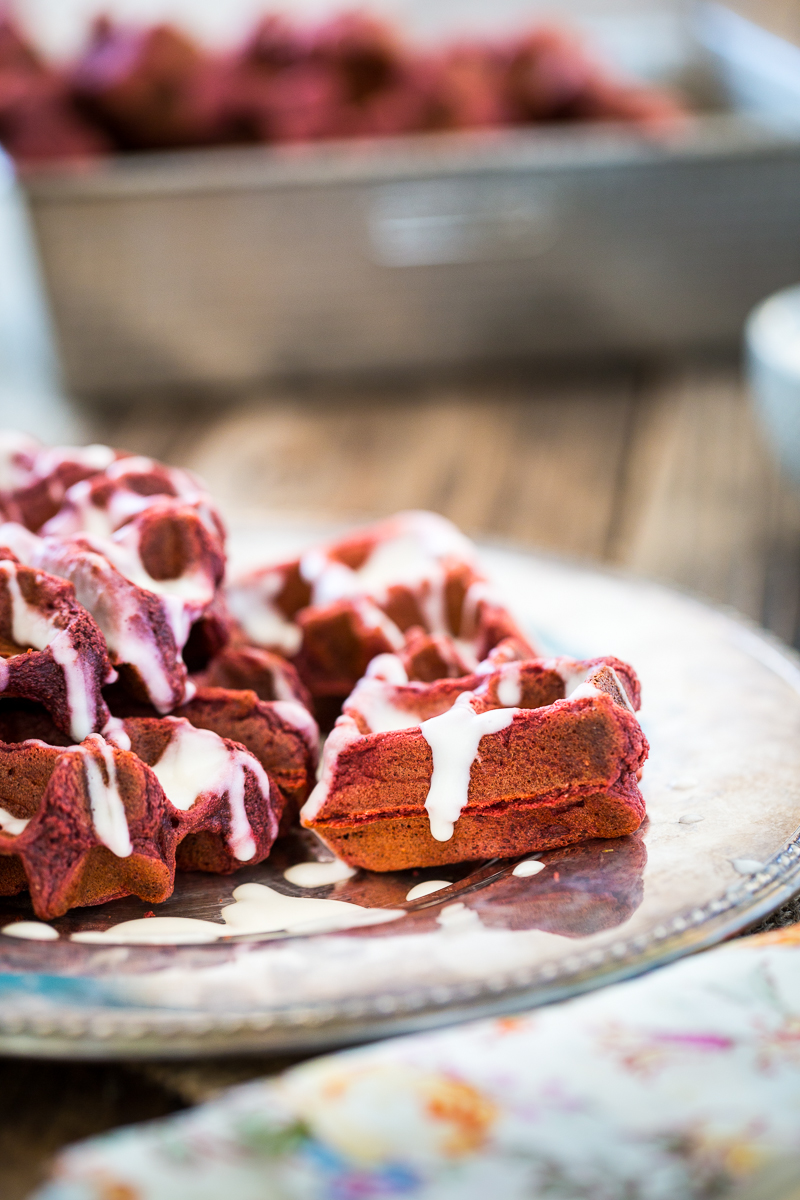 What's one change you can make to make your life healthier?
Disclaimer: I was given Vegan One product to try but the thoughts and opinions expressed here are my own.
Photography by Chris Miller