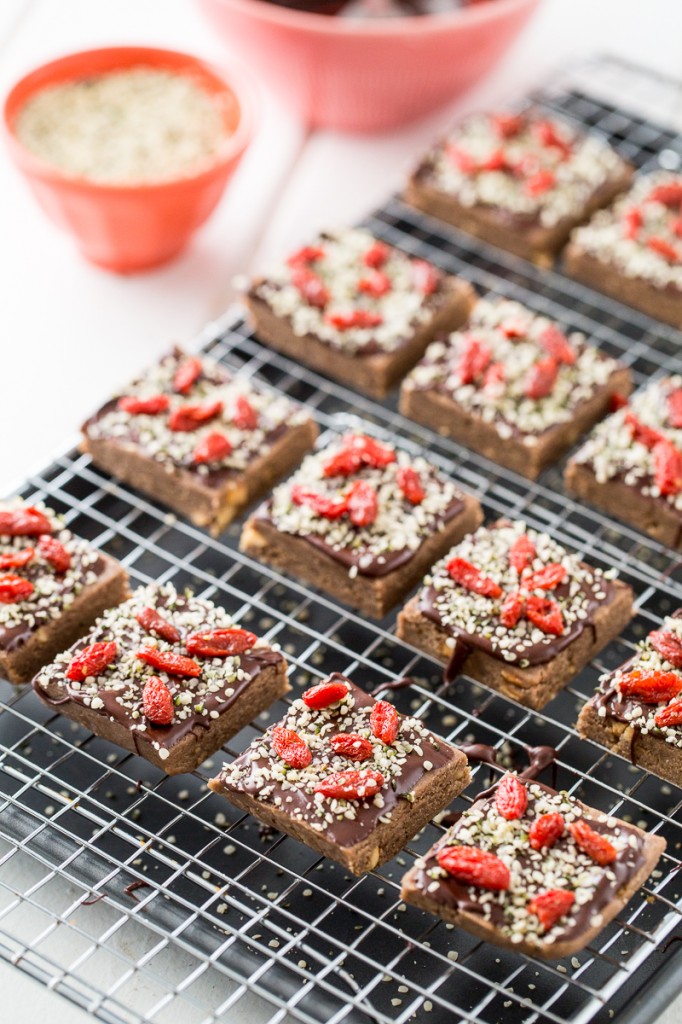 I want to start by saying HOLY COW! I cannot believe the response I've gotten about recipe testing for my book! It's sometimes hard for me to believe that people even read my blog, but to hear from so many people who've tried my recipes and want to try more is just mind-blowing. I'm also so inspired by all of you who have made changes in your life to be healthier and teach yourself how to live a different lifestyle. Thank you so much for all of your kind words and enthusiasm. I'm doing my best to make my way through all of the applicants. It will be really tough to narrow it down (please don't be discouraged if I don't choose you!) but I'm hoping to have a final list in the next week or two.
Also, I want to thank everyone for you kind words and sentiments in regards to yesterday's post. I truly felt everyone's good vibes coming my way. Big hugs to you all. Now, back to regularly scheduled programming...
On this blog, I talk a lot about being vegan for the animals. I love animals. I love life. I don't want to be a part of stealing life from animals. Period.
I don't talk as much about how much I love being vegan for my health. The fact is, when I went vegan I got so much healthier and in more ways than one.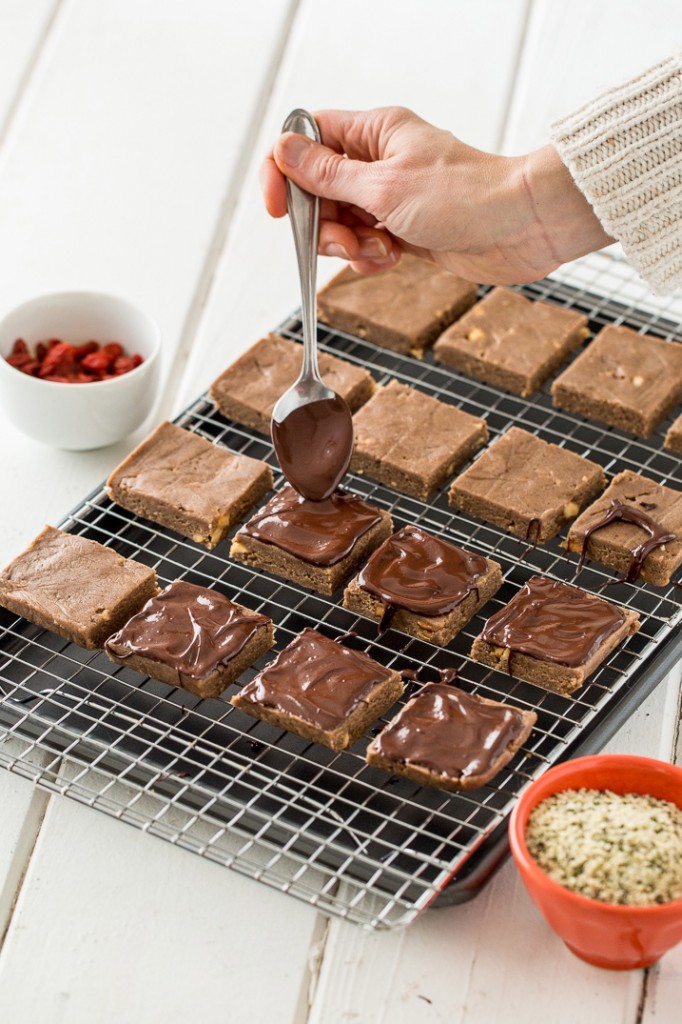 In one respect, my body became healthier because I was no longer destroying it with the animal products I was forcing into it. When I became vegetarian and began to eschew dead animals, I immediately felt lighter, cleaner, and purer. I lost weight. But I was still consuming eggs and dairy, probably more than I had before. My body suffered from all of the antibiotics, chemicals, toxins, and cholesterol contained in the eggs and dairy it was trying to digest. My poor body tried to tell me that it was not capable of digesting dairy by way of cystic acne, bloating, weight gain, restless sleep. I complained about the horrible gas pains in my stomach but did nothing to fix it.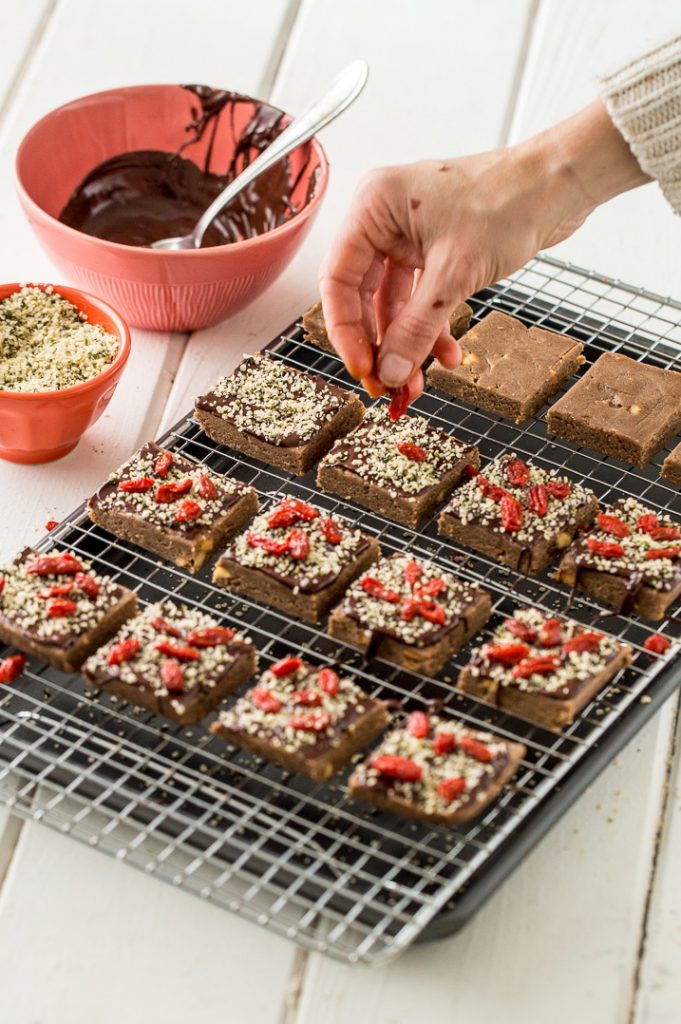 When I went vegan, all of that went away. All of it. The constant acne, the bloating, the gas- all gone. I lost weight and felt rested after sleeping through the night. I have more energy in my workouts and don't feel fatigued all day. Removing the animal products from my diet improved my health dramatically.
I also got healthier because when I started reading labels to check for animal products, I started paying more attention to the other things going in my body. I started to make sure the products I bought didn't have weird preservatives or ingredients I couldn't pronounce. I also began paying more attention to getting the nutrients my body needs every day. I had never bought kale or chard or collard greens before going vegan. Now, when I go a couple days without greens or other nutrient-dense foods, my body can feel it!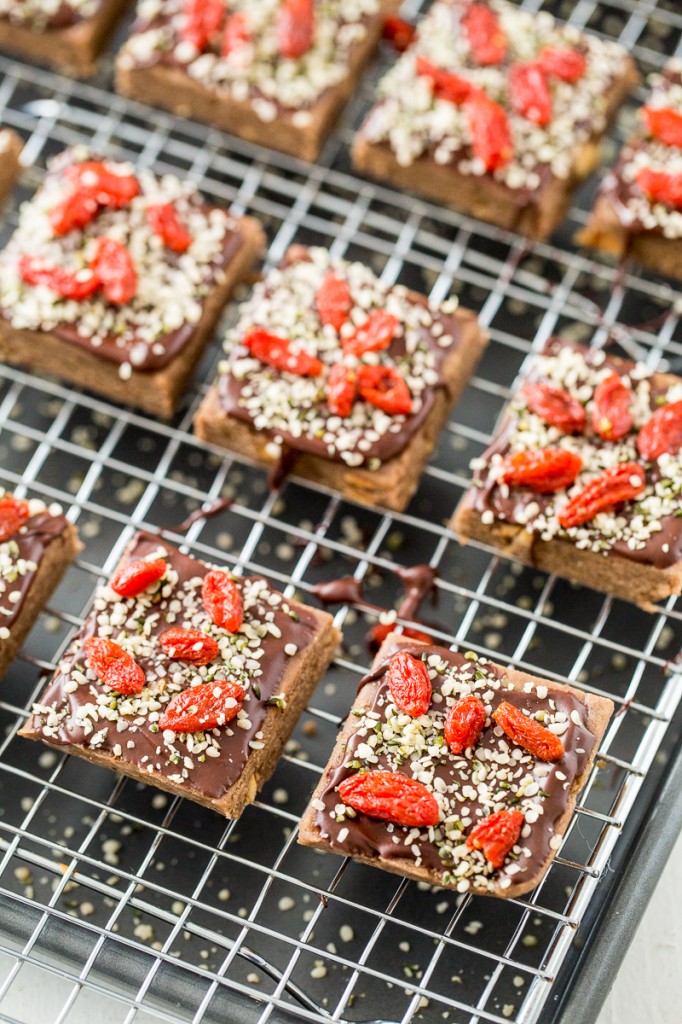 Right now, I am so busy that I barely have time to prepare nutritionally balanced meals. Sound familiar? Also, with all of the recipe testing, I end up doing a lot of little tastes throughout the day and I'm not hungry for much else, nor do I feel like making something extra! That's why I made these little protein bars. They're adapted from my Peanut Butter Crunch Protein Bars, but they have a fruity twist. The applesauce is replaced with strawberries and the the natural flavored protein powder is replaced with Vega's Bodacious Berry Protein Smoothie Powder. Instead of crisp rice cereal dispersed thoughout, there are crunchy nuts, and instead of being topped with peanuts, it's topped with hemp seeds and plump goji berries for a little superfood power punch.
Even though I'm crazy busy right now and don't have time to make extra food for myself, these bars keep me on track. They're like little chocolate berry bursts of nutrition, thanks to Vega.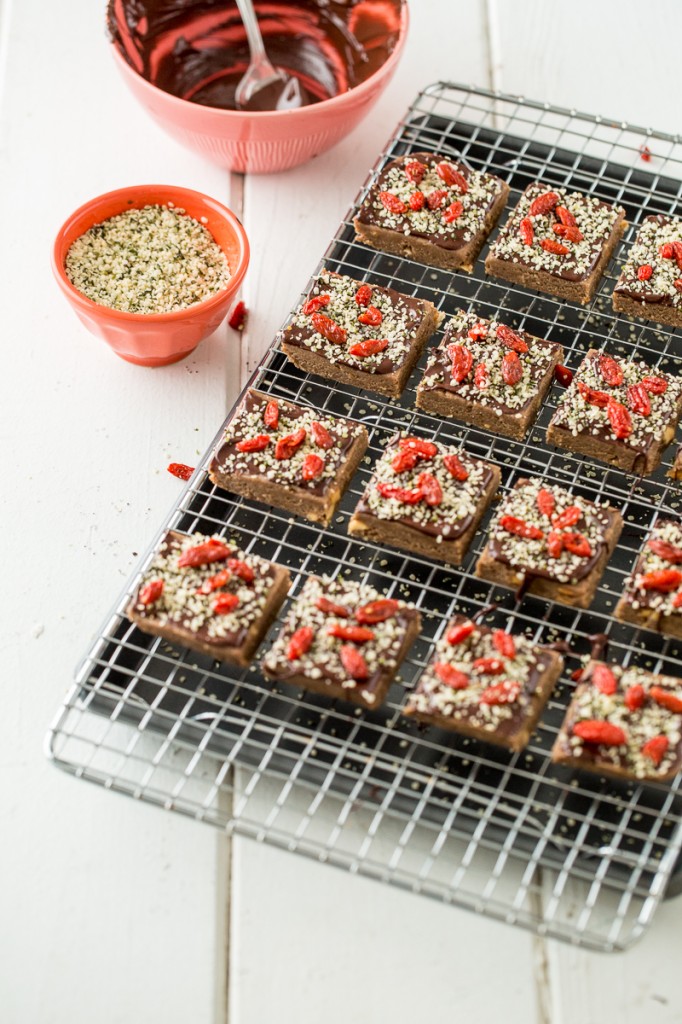 Hemp Chocolate-Berry Protein Bars
Ingredients
1/2 cup peanut butter
3/4 cup frozen and slightly defrosted strawberries
10 medjool dates, pitted
4 tablespoons hemp hearts, divided
1/4 teaspoon salt
1/2 cup nut of choice (peanuts, almonds, cashews, pecans, or hazelnuts would good here. I used peanuts.)
1 1/2 bars of Vega Maca Chocolate (or 2/3 cup chocolate chips)
1/4 cup goji berries
Instructions
Pour the peanut butter, strawberries, dates, and 2 tablespoons of hemp seeds into a food processor and process until smooth. Add the protein powder and process until combined and rolls around in one big ball. Taste a little piece and add salt if necessary. Add the 1/2 cup of nuts and process until just combined.
Line an 8x8 baking dish with a large piece of plastic wrap. Place the mixture into the dish and press down until flat. Fold the edges of the plastic wrap over the top of the mixture and refrigerated for about an hour (you can also freeze, if desired).
Place the goji berries in a cup and cover them with warm water. Let them rehydrate for 5 minutes before draining them and drying them off between two paper towels.
Using the plastic wrap, lift the block out of the dish. Cut the block into 8 or 16 equal pieces.
Lay the bars out on a cooling rack over a baking sheet. Melt the chocolate in a double broiler (or a glass bowl over a small pot of boiling water). Spoon a little over the top of each bar, spreading it around a bit. While the chocolate is still melted, sprinkle the remaining 2 tablespoons of hemp hearts over the tops of the bars. Sprinkle each with a few goji berries. Place the cooling sheet in the refrigerator until the chocolate has hardened. Store them in an airtight container. They will keep for about 10 days. Enjoy!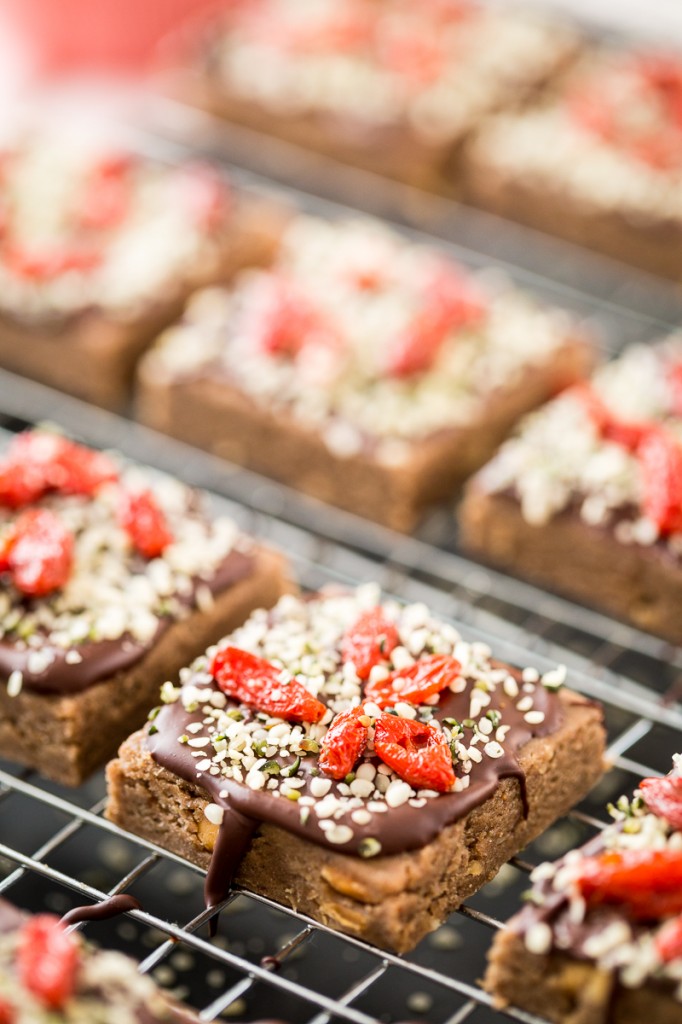 What are your tricks for staying on track with your nutritional needs?
Disclaimer: I was given Vegan product to try but the thoughts and opinions expressed here are my own.
Photography by Chris Miller