Back in my pre-vegan days, I used to love a good cookie swap party. Now that I'm vegan and don't have many vegan friends close-by, I'm bringing the cookie swap party to Keepin' It Kind! Each day, for 25 days, one of my favorite bloggers will visit and share one of their favorite holiday cookies! That's 25 Days of Cookies, my friends! Happy Holidays!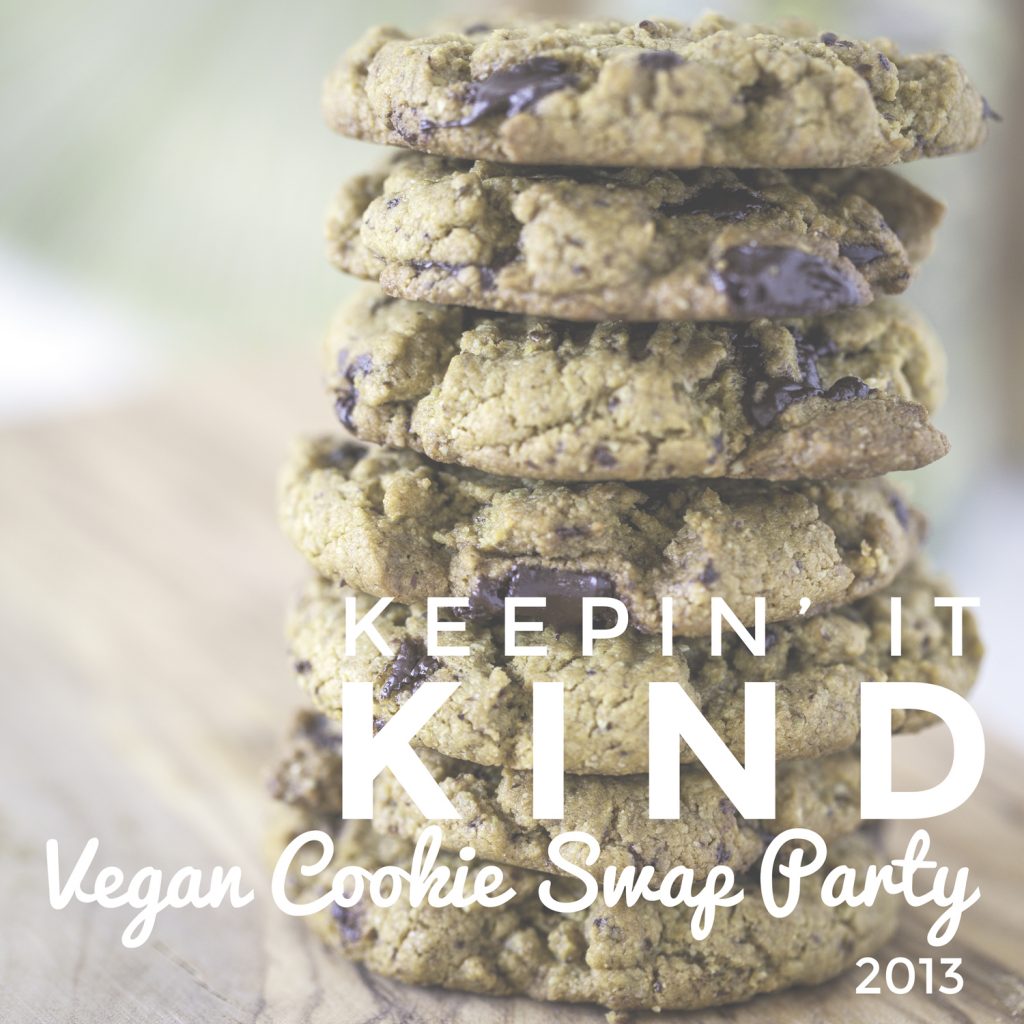 If you follow my blog, you know I've made it no secret that one of my most favorite people ever is my friend, Cadry of Cadry's Kitchen. We share a love for Alex P. Keaton, Kermit the Frog, and we actually both once worked as entertainers at childrens' parties. Her blog, Cadry's Kitchen, is eloquently written, insightful, humorous, creative, and full of delicious recipes, tips, and reviews. It's always a pleasure to have Cadry as a guest at Keepin' It Kind and I know that you're going to find her cookie contribution as original and scrumptious (and the perfect break from all of the sweets) as I do!  
I have been blogging at Cadry's Kitchen for 4 ½ years. In those years I've developed recipes for 30 entrees, 17 appetizers, 12 salads, and numerous other soups, beverages, sides, and breakfasts. Over the course of that time, do you know how many desserts I've put on my site? Five. And one of them was developed for Kristy's cookie exchange last year.
It's not that I never eat desserts. I enjoy a bit of dark chocolate after dinner or a spoonful of cherry amaretto Coconut Bliss on occasion. It's just that if I have a choice between a savory appetizer as a starter or a dessert to finish the meal, I'm going to choose the appetizer every single time.
So when Kristy contacted me about taking part this year, I have to admit I hesitated. Last year's cookies took multiple trials and multiple failures… Sweet treats don't come naturally to me. I hemmed and hawed until Kristy wrote me again, "Did you get my email about the cookie exchange…"
Sheepishly I wrote her back. "Yeah. I'm sorry, Kristy. I don't know if I can do it… Unless you'd be up for me doing some kind of savory cookie that's not actually a cookie at all."
Surprisingly, she wrote back eagerly, saying something like… "Sure! Since there will only be sweet things, a savory option could be good."
That night I told my husband, David, that I was doing the cookie swap again. A smile passed over his face. "You just couldn't say no to Kristy, could you?"
"Nope."
(If you've been reading Kristy's blog for long, you can probably understand it too. Who could look at that face – even virtually – and say anything but yes?)
Then I realized what I'd gotten myself into. A savory cookie that's not actually a cookie??? What does that even mean? Were people going to think I was nuts when I started offering up mashed potato snowmen and broccoli Christmas trees for a cookie exchange? Would they start making lists of who not to invite to their next holiday potluck?
But wait! I see you scribbling there! Not so fast! Before you include me on the list with the person bringing the Green "Cookie Dough" Smoothie, hear me out! This cookie recipe is not for dessert. It's an appetizer or main course.
If spicy, salty, and just a hint of sweet is what makes your palate sing, these Curried Ginger Men will have you fa-la-la-la-la-ing right along with me! These spicy "cookies" are an Indian take on my favorite falafel recipe from Appetite for Reduction. Instead of Middle Eastern flavors, they are filled with curry, cilantro, ginger, and garlic with a bit of heat from Sriracha. They'd make a fabulous lunch or festive dinner, and what other time can you tell people unabashedly that you had cookies for supper?
And is that a glass of soy milk for Santa? Nope! It's a sweet peanut curry dipping sauce as a cooling compliment to the spicy ginger men. The combination of flavors from the warming spices and nutty dip may have you reconsidering the savory cookie that's not actually a cookie after all.
Cadry's Curried Ginger Men
Ingredients
for the curried ginger men

1 1/2 cups chickpeas (1 15-ounce can, drained and rinsed)
1 clove garlic, minced
2 Tablespoons yellow onion, chopped small
1/2 cup loosely packed cilantro leaves
2 teaspoons fresh ginger, zested with a microplane zester or minced
1 teaspoon extra virgin olive oil
2 teaspoons Sriracha
3 to 4 Tablespoons chickpea flour
2 teaspoons curry powder
1 teaspoon cumin
1/2 teaspoon coriander
1/2 teaspoon baking powder
1/4 teaspoon salt

for the creamy peanut dipping sauce

1 (12.3 ounce) container extra firm silken tofu
1 1/2 teaspoons curry powder
3 Tablespoons peanut butter
1 teaspoon agave syrup
1 Tablespoon plain, non-dairy milk
1 teaspoon Tamari
1/4 teaspoon cinnamon
Pinch of salt
Instructions
for the curried ginger men

Preheat oven to 400 degrees and line a baking sheet with parchment paper.
In a food processor, pulse the chickpeas and garlic for a few seconds. Add the onion, cilantro, ginger, extra virgin olive oil, and Sriracha and pulse a few seconds more, scraping down the sides to get everything. The mixture should be fully combined and broken up, but not smooth like a hummus.
Add the above mixture into a large mixing bowl along with 3 Tablespoons of chickpea flour, curry powder, cumin, coriander, baking powder, and salt. Fully combine with a spoon until it is combined enough to use your hands. The mixture should be soft but firm enough that it can be rolled into balls or packed into a gingerbread cookie cutter. If it seems too wet, add a tablespoon more of chickpea flour.
If making gingerbread-shaped men, use a small gingerbread cookie cutter and set it on top of the parchment covered baking sheet. Press the mixture into cookie cutter until it's in every crevice and even with the top of the cutter. Then slowly press the falafel man out of the cookie cutter. Repeat until all of the ginger men have been made.
If making traditional falafel-shaped balls, simply form the mixture into round, walnut-sized balls and line evenly across the baking sheet.
Bake for 16 to 18 minutes. Remove them from the oven and carefully flip them with a spatula. Return them to the oven to bake for 8 to 10 minutes more. Remove them from the oven, and allow them to cool for a few minutes before serving. (They hold their shape better and are less likely to crumble when cool.) Serve with Creamy Peanut Dipping Sauce.

for the creamy peanut dipping sauce

Add all of the ingredients to a blender and blend until smooth, stopping occasionally to scrape down the sides. Serve in a separate bowl with the Curried Ginger Men. (To decorate the men with the sauce, simply move a portion of the sauce into a squeeze bottle and outline the ginger men just before serving.)
Notes
Recipe adapted from Appetite For Reduction
Outside of her irrational fears of developing cookie recipes, Cadry is a totally normal human-type person who writes at Cadry's Kitchen. She delights in sharing down-to-earth recipes and demystifying what it means to be vegan. She makes humorous vegan-oriented videos, interviews, and claymation cooking demonstrations.
When not writing or chopping, Cadry can be found in the pottery studio making hand-built ceramics, cuddling her two affectionate cats, or traveling with her husband. Her pottery is available on Etsy. You can also connect with her on Facebook, Twitter, Instagram, and Pinterest.