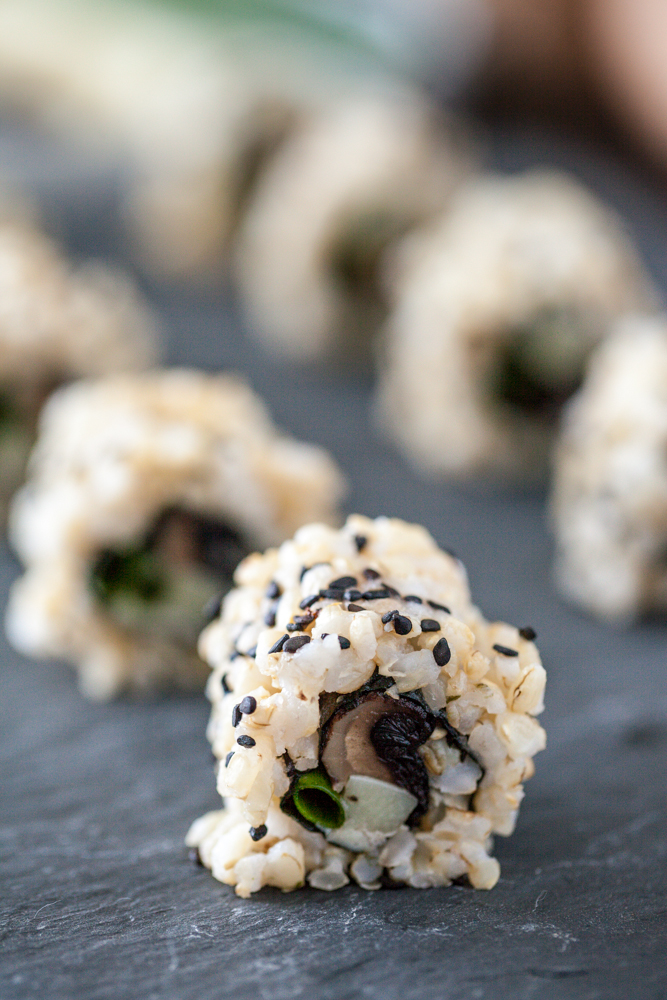 "Did you just run down the hall because you were afraid of the dark?" Chris asked me one evening after I had returned from the bathroom.
"Yeah.  So?" I responded.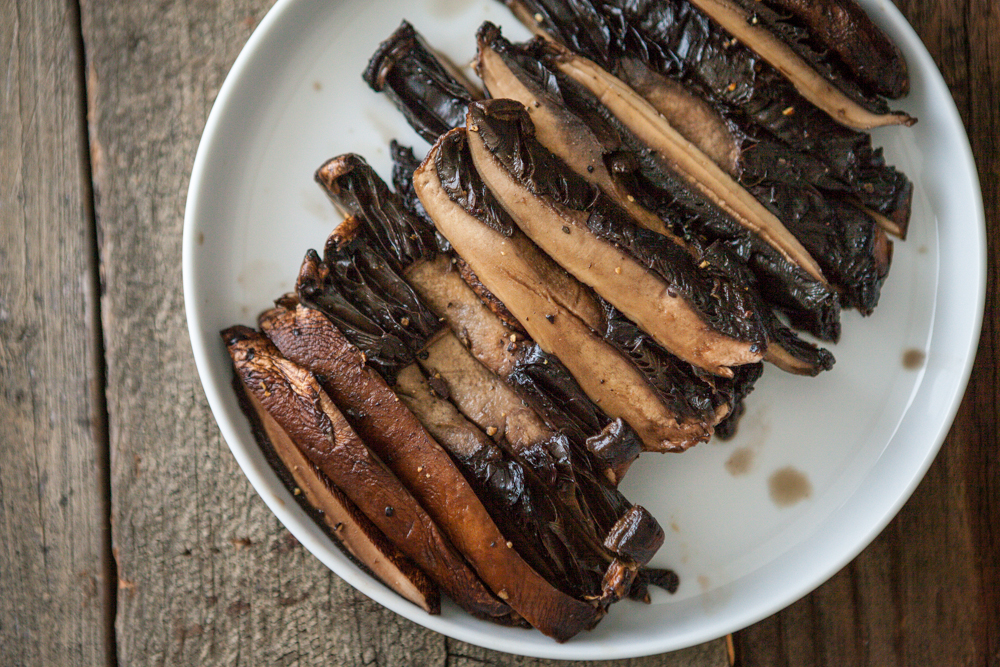 I absolutely cannot be allowed to watch scary movies or television shows ever.  I. Can't. Handle. It.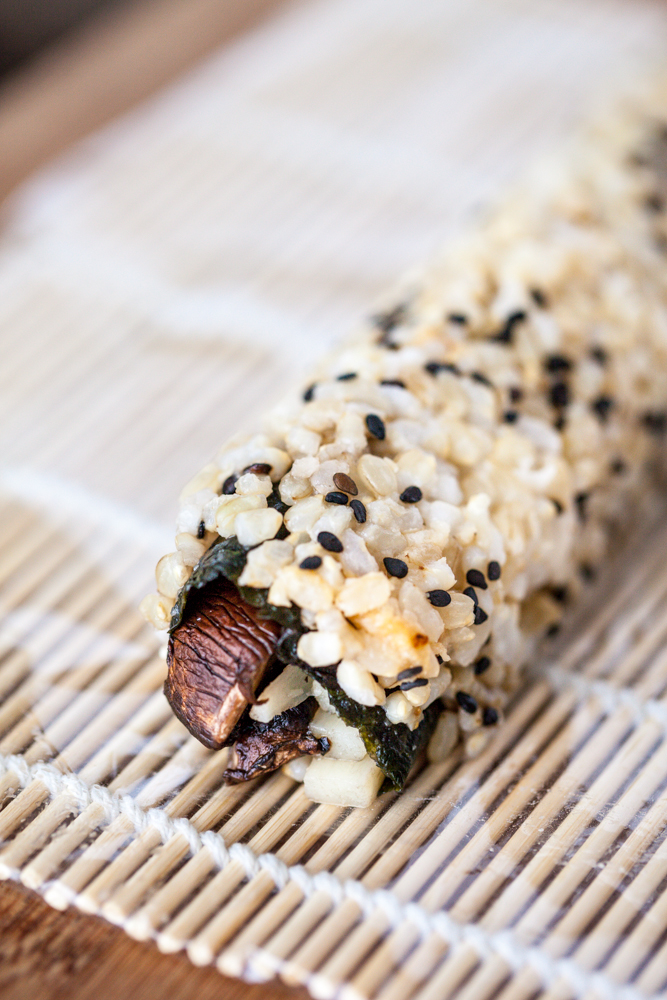 I thought I had outgrown my overactive imagination and the paralyzing fear that comes with watching horror flicks.  After all, only just six or seven years ago, my best friend and I used to build forts and watch terrible scary movies- movies so bad that you find yourself laughing at the awful writing and acting rather than jumping at every scare (John Corbett, I love you and always will but you should never do thrillers.).  It had been a long time since I had lost my shit been scared after a scary movie and even longer since the time The Ring kept me from looking at myself in the mirror for about a month.  I thought I was good to go.  Well, I was wrong.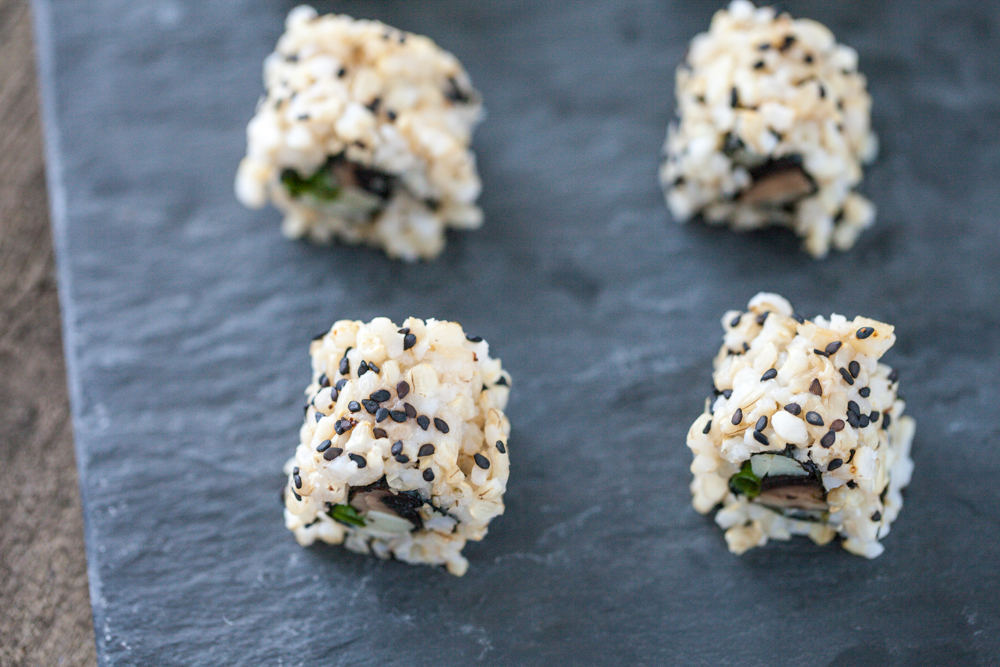 A couple jobs ago, there was a woman in the office next to mine (with a pretty loud voice) who raved constantly about the television show, American Horror Story.  She went on and on about how well-written and entertaining it was and how much she and her husband were loving season 2.  Since discovering Downton Abbey, Chris and I have been on a television series kick.  We'll pick a series (usually something we've heard good things about) and watch every episode of every season.  We had just finished Mad Men and were looking for something new to dive into.  After scrolling through the options, we picked American Horror Story.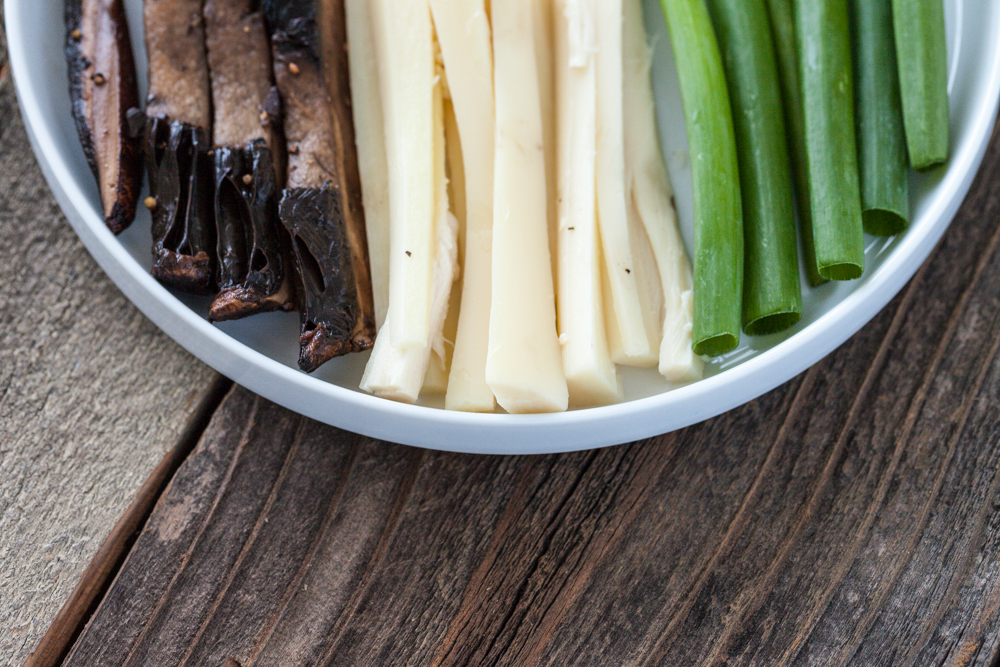 I made plates of sushi for each of us and we settled in for a nice evening of sushi, tv-watching, and cuddling on the couch.  I was so excited about this sushi- the smoky roasted portobello had been filling our house with some wonderful smells, it was paired with heart of palm (my obsession as of late), and I had semi-perfected the "rice on the outside" sushi rolls.  Needless to say, I was pretty stoked for dinner.  Chris hit play and I reached for my chopsticks.  Before I could dip one roll into soy sauce, though, my heart began racing.  I couldn't take my eyes off the screen and I could feel myself breathing heavier.  I watched, knowing something awful was about to happen.  There was something there and they couldn't see it.  "Why don't they run?  Dear God, why don't they run?" I kept thinking to myself (I may have said this out loud too, I don't know).  Just as I'd suspected, something really awful did happen with no lack of gruesome images to go along with it.  Then the opening credits began to roll.  "I don't know if I can watch this," I told Chris.  After the opening credits, it was only a matter of moments before more bloodshed.  I don't think I lasted through more than four minutes of that show (including the opening credits).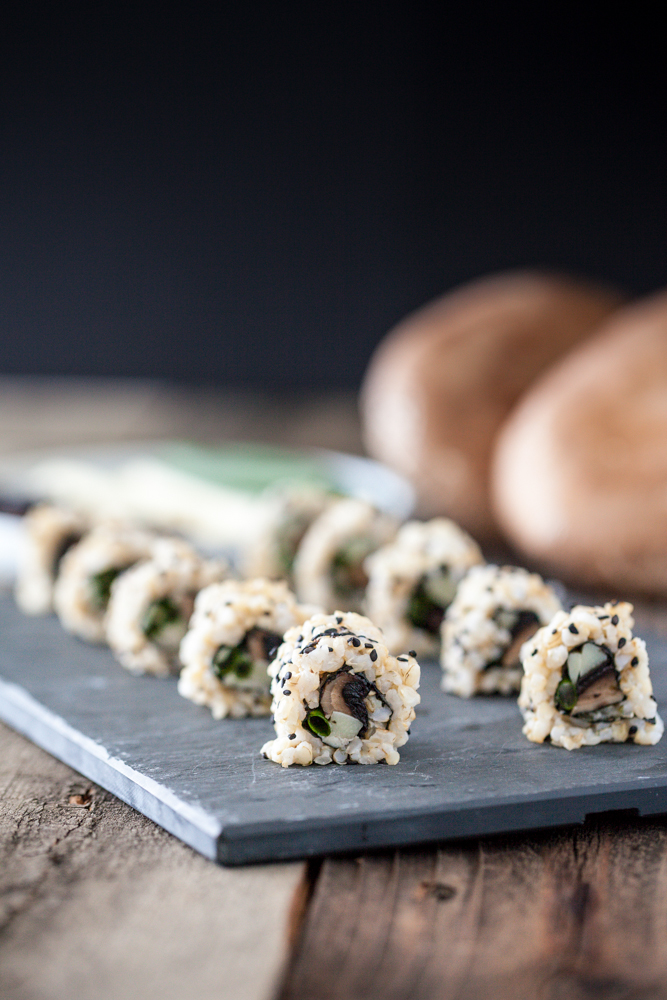 Luckily, sushi tastes just as great cold so once I was able to stop hyperventilating calm down and pull myself together, I enjoyed every bite of this portobello sushi.  The smokiness of the portobello blends beautifully with the creaminess of the heart of palm and the green onion adds just a touch of mild onion flavor.  The rice on the outside is sprinkled with toasted black sesame seeds.  The trick, I have learned, to rolling the sushi with the rice on the outside is to only use half a sheet of nori and use very minimal fillings (so use about half as much as shown in the picture below and you'll be okay.  This roll actually was a huge fail, a tasty fail, but not as pretty as the subsequent rolls.)  Using a wet knife to slice it is also pretty imperative.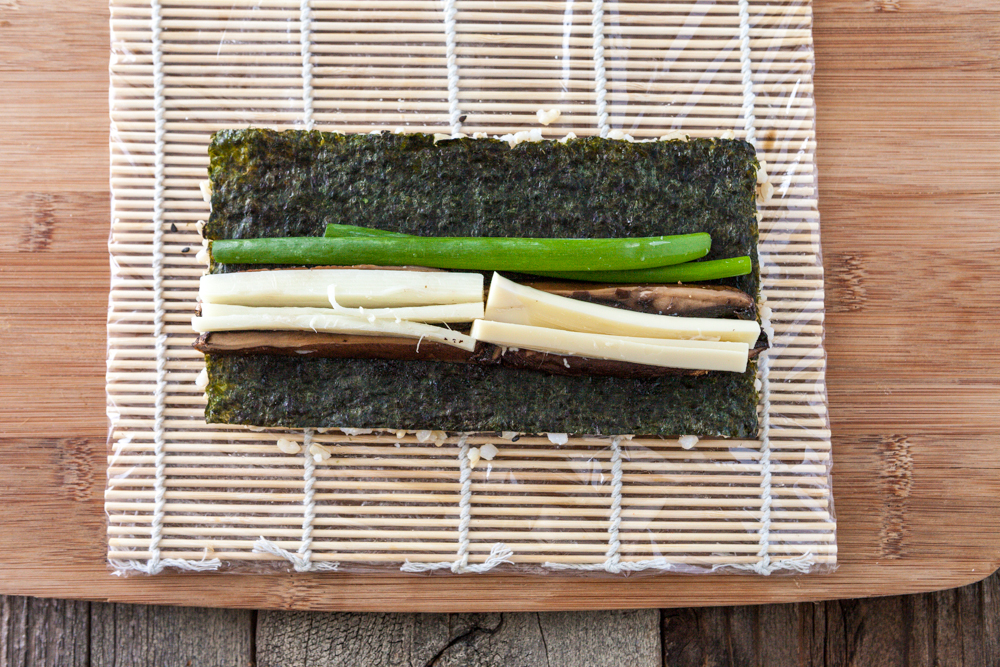 I enjoyed the rest of our evening too, it being horrifying-image free.  My overactive imagination, however, was kicked into high gear.  I was afraid of the dark for the rest of the night (and the following two nights).  I did take to running down the hall when it was dark.  I may or may not have taken Samantha in the bathroom with me for those nights, even just to brush my teeth.  And try explaining to your husband that you need to take a running leap into bed because standing next to the bed in the dark, with your ankles exposed, is simply not an option.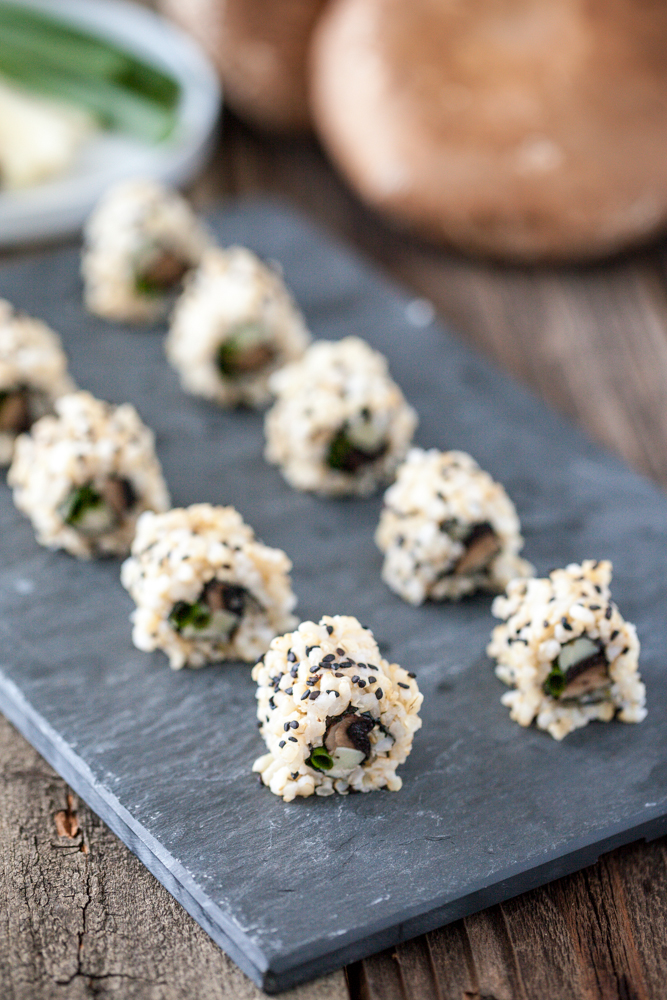 Smoky Roasted Portobello Sushi Rolls
Ingredients
2 medium-large portobello mushrooms
olive oil spray
2 teaspoons Bragg's Liquid Aminos (or tamari/soy sauce)
1 teaspoon liquid smoke
salt and pepper to taste
2 heart of palm stalks, sliced into matchsticks
4-5 green onions, trimmed
2 cups cooked brown rice
1 tablespoon brown rice vinegar
1 teaspoon mirin
1/2 teaspoon salt
2 nori sheets, broke/cut in half
Instructions
Preheat the oven to 400. Line a baking sheet with parchment paper. Lightly spray both the top and the bottom of each portobello mushroom cap and place them on the baking sheet, underside up.
Drizzle 1 teaspoon of Bragg's Liquid Aminos over each mushroom. Drizzle 1/2 a teaspoon of liquid smoke over each mushroom. Let them sit until the oven is fully preheated. Place them in the oven and roast for 10 minutes. Remove and let rest for about 10 minutes. After they've rested, slice the portobellos, on th ebias, into about 6-6 slices each.
In a large bowl, mix together the cooked rice with the brown rice vinegar, miring and salt. Or you can skip this step, if you'd like.
If you've never rolled sushi before, I strongly recommend watching a tutorial first (it will explain it much better than I can). For rolling it with rice on the outside, I learned from this tutorial.
Wrap a bamboo rolling mat in plastic wrap. Layout one sheet of nori, smooth side up, on top of the plastic wrapped rolling mat. The nori should be laying lengthwise from left to right (the distance from front to back should be the shorter distance of the rectangle).
Spread rice out on top of the nori, leaving about 1/2 an inch clear at the end of the nori sheet farthest from you.
If you want to roll the sushi with the rice on the inside, leave it as is. If you want the rice on the outside (as I did), follow these instructions:
If you'd like, you can sprinkle sesame seeds on top of the rice (I toasted black sesame seeds and used those). Then, very carefully, flip the nori sheet over and lay the rice side down on top of the plastic wrapped bamboo mat.
In the middle of the nori sheet, lay down a strip of portobello slices, heart of palm matchsticks and green onion halves.
Using the bamboo mat, roll the end of the nori closest to you over the filling ingredients. Continue rolling the mat until the roll is fully closed. Form the mat around the roll and gently form the roll. Unwrap and lay the roll on a cutting board. Wet a very sharp knife and use it to slice the roll in half, then slice each of those halves in to 3-4 small slices. Repeat with the remaining ingredients, making four rolls. Serve immediately with some soy sauce and Enjoy!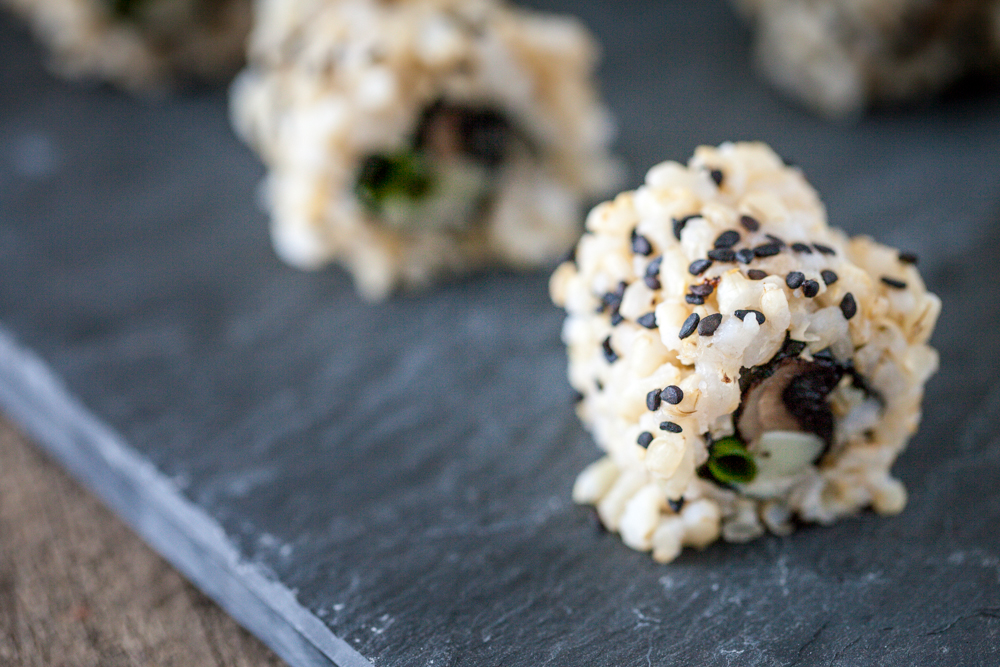 Do you like scary movies?
Photography by Chris Miller