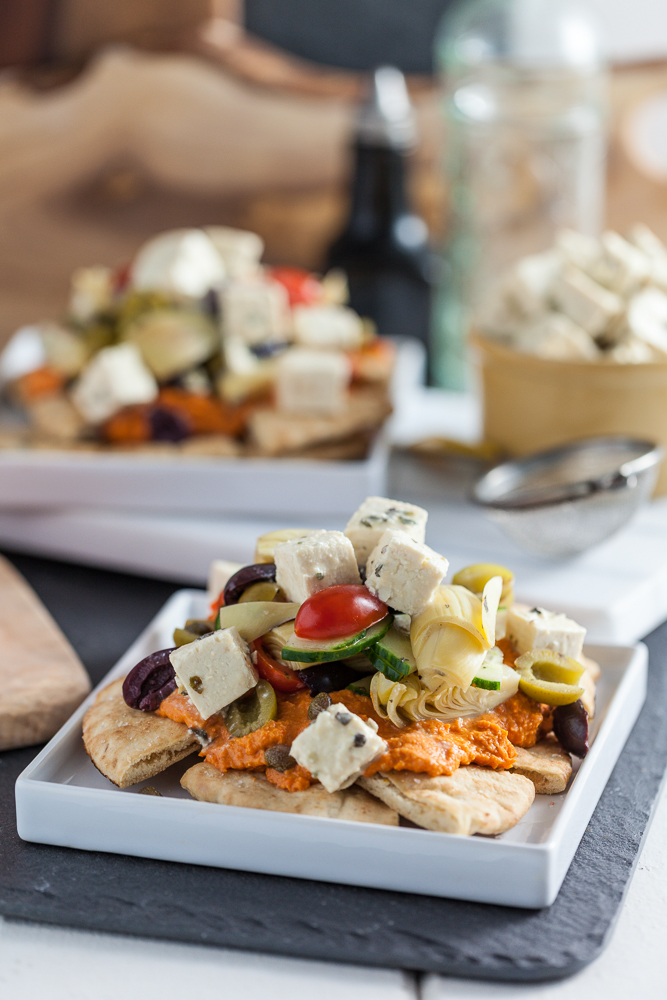 When Chris and I went to Greece on our honeymoon, we did not fully research what sorts of foods would be available to us.  We somehow had gotten the (totally incorrect) notion in our heads that hummus was Greek.  We had grand ideas of eating our body weight in hummus and pita, with beautiful platters of olives, artichoke hearts, and roasted bell peppers on the side and a few Greek salads scattered here and there.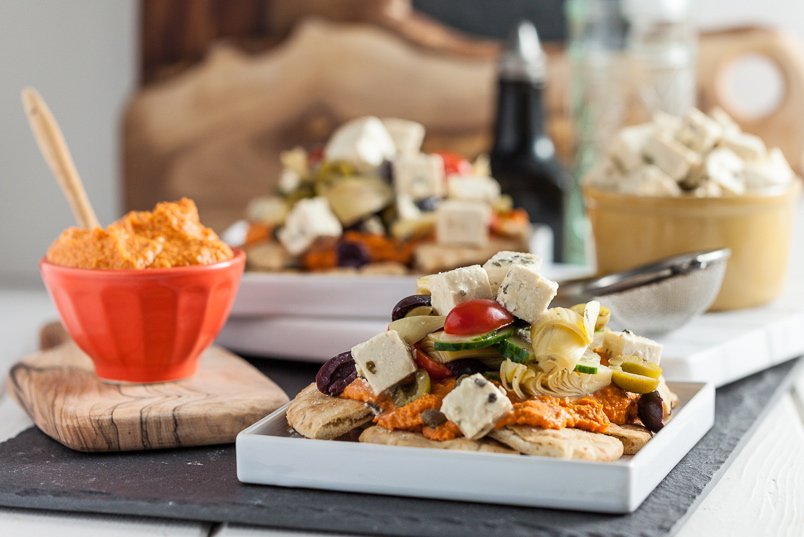 When we arrived in Athens and began searching for places to eat, we would read the menu posted outside of each restaurant.  We wandered from restaurant to restaurant looking for some sign, any sign, of hummus.  No luck.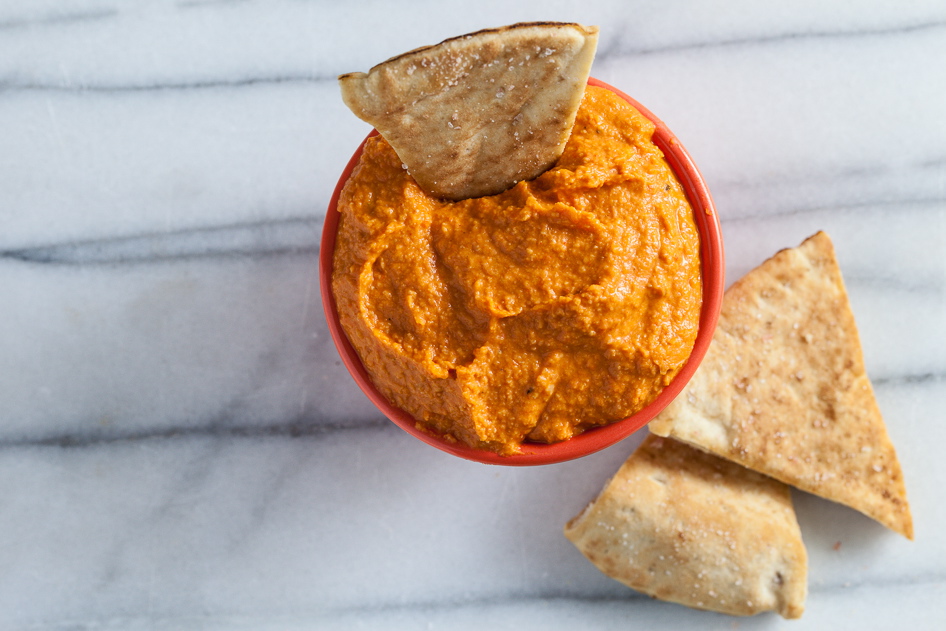 We finally settled on a restaurant that had "pureed fava beans" on the menu.  We were seated and we placed our order.  We enjoyed our meal, though pureed fava beans are definitely not comparable to hummus.  When our server brought our check, we switched into ultra-American-tourist mode and actually asked why no one served hummus.  He told us we had Greece confused with Lebanon or Turkey.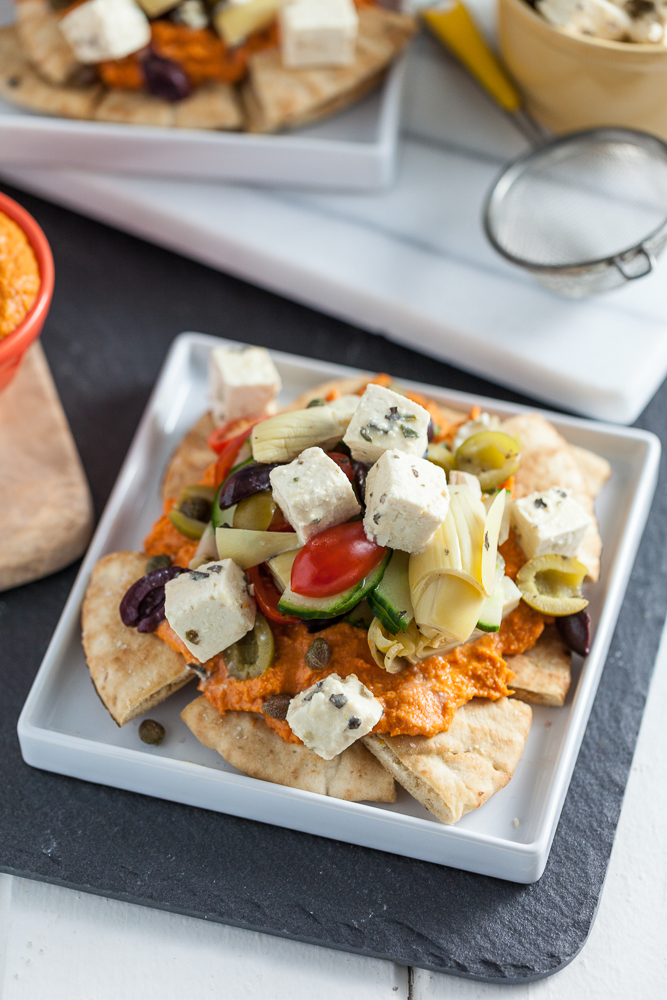 We enjoyed the rest of the food we ate on our trip, even without the hummus.  Chris and I still joke with each other, though, asking each other "So, wait, you're telling me that hummus is not from Greece?"  We're basically big dorks.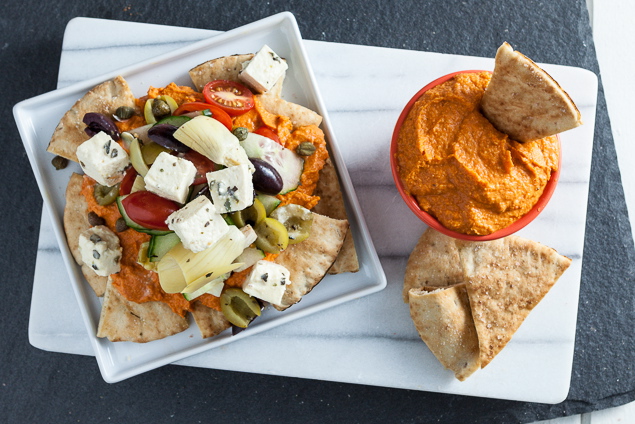 I was recently reminiscing about our honeymoon and how silly we were.  I also began thinking about the feasts we had expected to have and came up with the idea to combine them all into one wonderful, dreamy dish.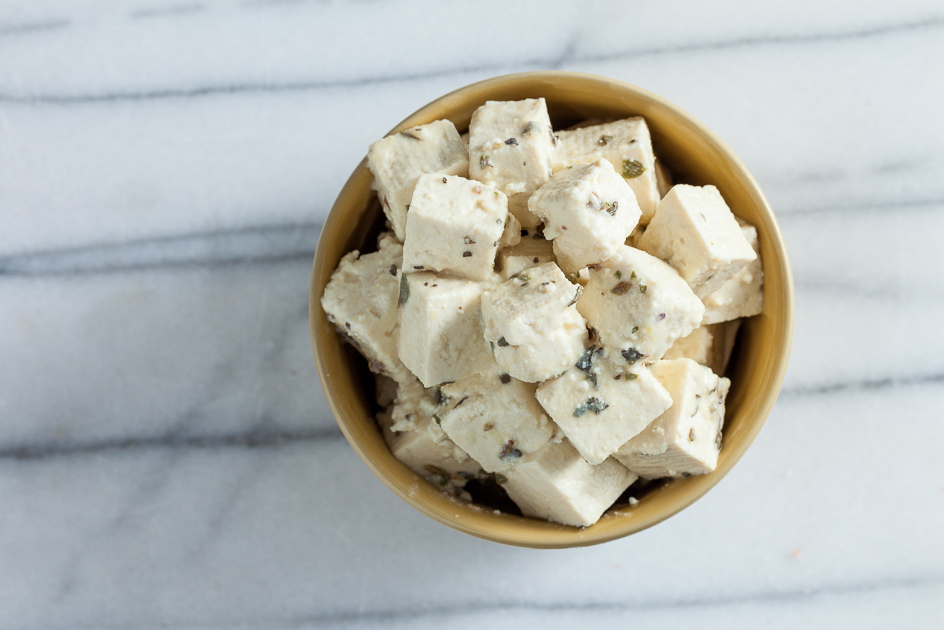 And what's more dreamy than Nachos?  Pretty much nothing.  Especially these Nachos.  Nachos made from freshly baked warm, crunchy pita chips, then topped with creamy roasted red bell pepper hummus and loads of olives, tomatoes, cucumber, artichoke hearts, and capers.  And nachos wouldn't be complete without some form of cheese so these Mediterranean nachos are finished with chunks of homemade super-tangy tofu feta.  What an amazing meal!  And after all the pita chips are gone, the leftovers make for incredible pita sandwiches.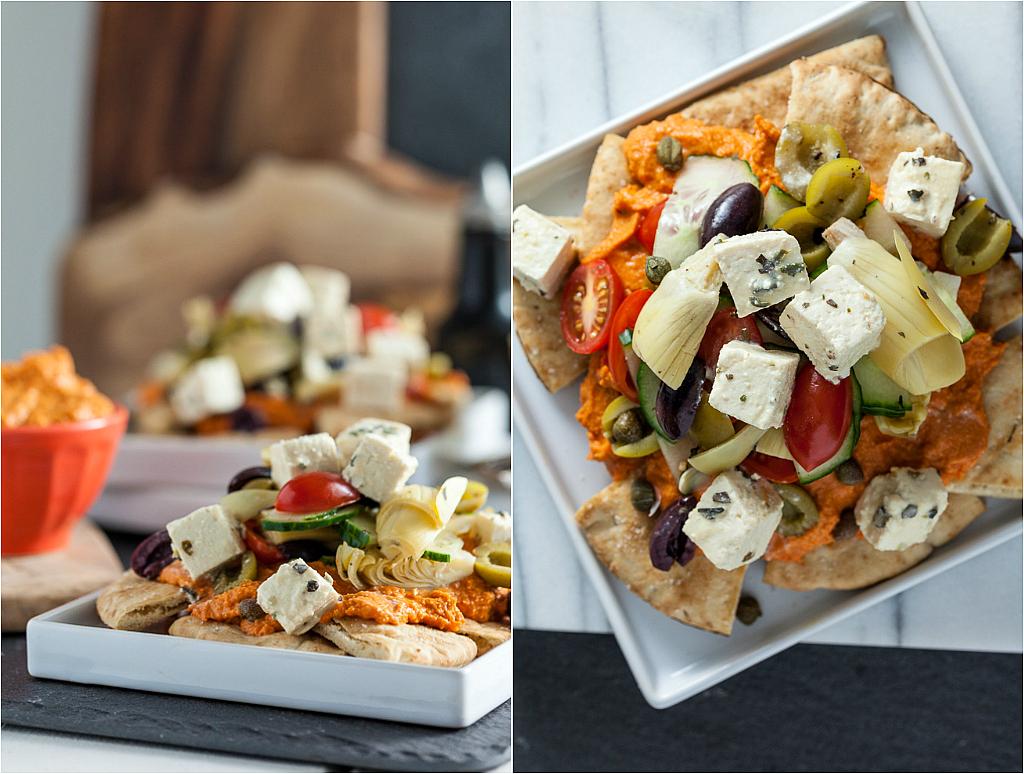 Yes, I know you wouldn't be able to find this dish in any restaurant in any Mediterranean country.  I'm well aware of this dish's lack of ethnic authenticity.  This incredibly delicious dish is just our pre-honeymoon food dreams on steroids. (healthy, vegan steroids).  The awesome part is that you don't need to go all the way to Greece for this wonderful meal (you will be sorely disappointed if you do)- it's only as far away as your kitchen!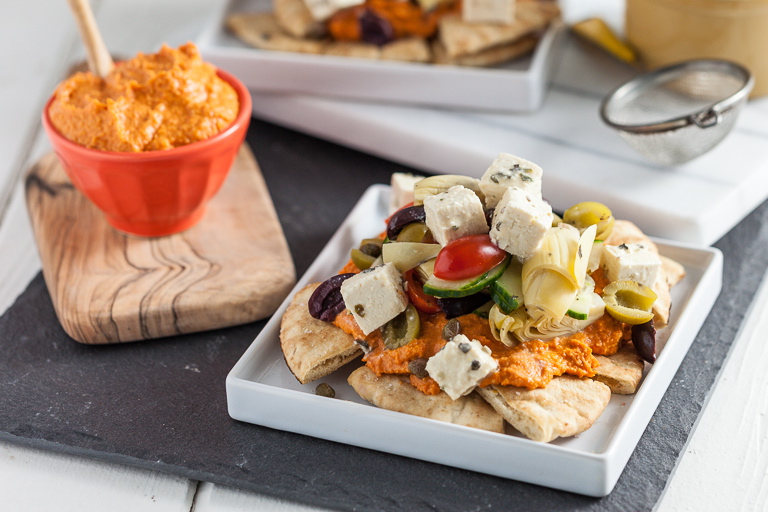 Mediterranean Nachos with Roasted Red Bell Pepper Hummus & Tofu Feta
Ingredients
1 14oz package of tofu, pressed for at least 1 hour
1/3 cup fresh lemon juice
2 tablespoons water
2 tablespoons white miso
2 tablespoons rice vinegar
1 teaspoon dried basil
1 teaspoon dried oregano

for the roasted red bell pepper hummus

2 red bell peppers
1 15oz can of chickpeas, rinsed and drained
1 clove of garlic
juice of 1 lemon
3 tablespoons tahini
1 teaspoon smoked paprika
pinch of cayenne pepper (optional)
4 fresh pitas
olive oil spray
sea salt
1 15oz can of artichoke hearts, rinsed and drained
1 cup cherry/grape tomatoes, halved
1/2 cup very thinly sliced cucumber
1/3 cup black kalamata olives, halved
1/3 cup green olives, halved
2 tablespoons capers, rinsed
1 tablespoon red wine vinegar
1 teaspoon dried basil
Instructions
Make sure the tofu has been pressed for at least one hour. To do this, place a clean kitchen towel on a plate. Place the block of tofu on the towel, cover with another clean towel, then top with a heavy book and 3-4 cans of beans (or other canned goods). Let sit for at least one hour.
Once the tofu has been pressed, chop the block in half. Chop those blocks in half, lengthwise. Chop the four rectangles into small cubes.
In a shallow dish, combine the marinade ingredients. Place the tofu in the dish and toss in the marinade. Cover and refrigerate for at least 2 hours before using. The longer it sits, the better it tastes. It can be made 2-3 days in advance, if desired.

for the red bell pepper hummus

Preheat the oven to 450. Line a baking sheet with parchment paper.
Turn one of your stovetop burners up to medium-high heat. Place your peppers on top of the burner. Use tongs to slowly turn the peppers until all sides of the pepper are black and charred. Place the peppers on the prepared baking sheet and place in the oven, with the garlic for 5 minutes, flipping halfway through to allow the peppers to cook evenly. When they're done, remove from the oven and place in a plastic bag or tupperware container with a lid. Let them cool inside the bag/container.
Once the peppers have cooled, peel the outer skin off of each of them. Carefully trim the top off and remove the seeds. Place the peppers in a food processor or blender. Add the rest of the hummus ingredients, except for the vegetable broth. Process until smooth. Add vegetable broth by the tablespoon to thin it out until desired consistency is reached. Transfer to an airtight container and chill until ready to use.
Preheat oven to 350. Line a baking sheet with parchment paper.
Cut the pitas into 1/8ths. Spread them out on the baking sheet. Lightly spray with olive oil spray, flip them and spray the backsides. Bake in the oven for 15 minutes or until pitas are golden and crisp, flipping once halfway through. Remove from oven and let cool for a few minutes.
While the pita chips are in the oven, combine the artichoke hearts, tomatoes, cucumber, olives, and capers in a bowl. Toss with the red wine vinegar and olive oil. Add salt and pepper to taste, if desired. Set aside.
Once the pita chips are cool to touch, place them on a plate (or multiple plates for individual nachos). Liberally spoon the hummus over the pita chips. Top the hummus with the tomato/olive salad, using as much or as little as you'd like. Top the salad with the tofu feta, using as much or as little as you'd like. Serve immediately. Enjoy!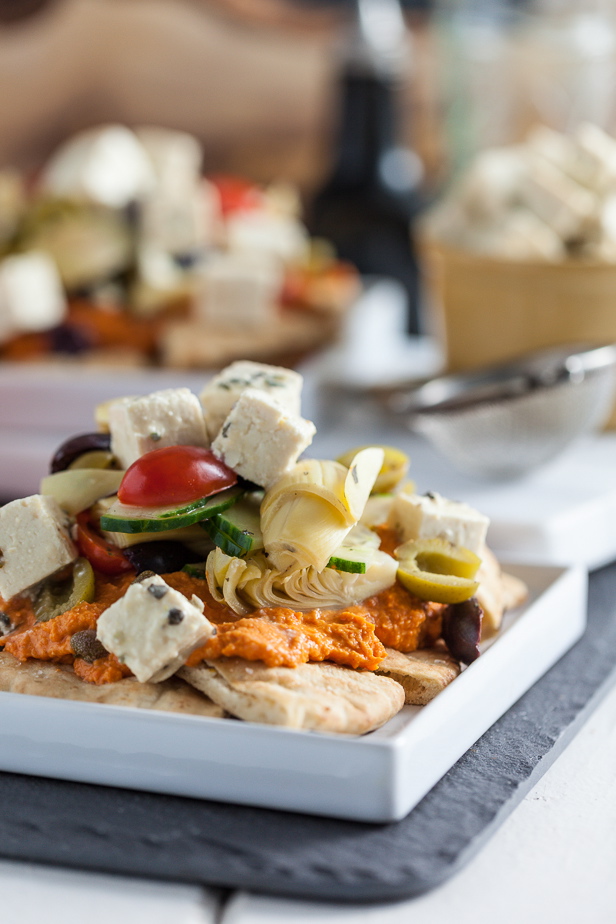 What are your favorite ethnic foods?