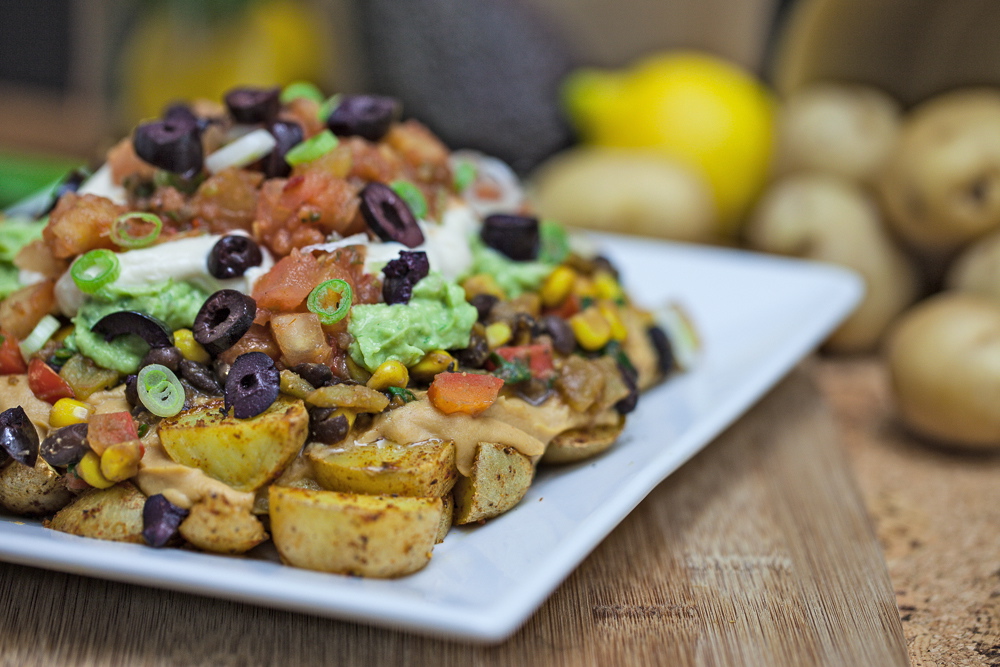 Oh, yes I did.  Because everything nacho-style is infinitely better.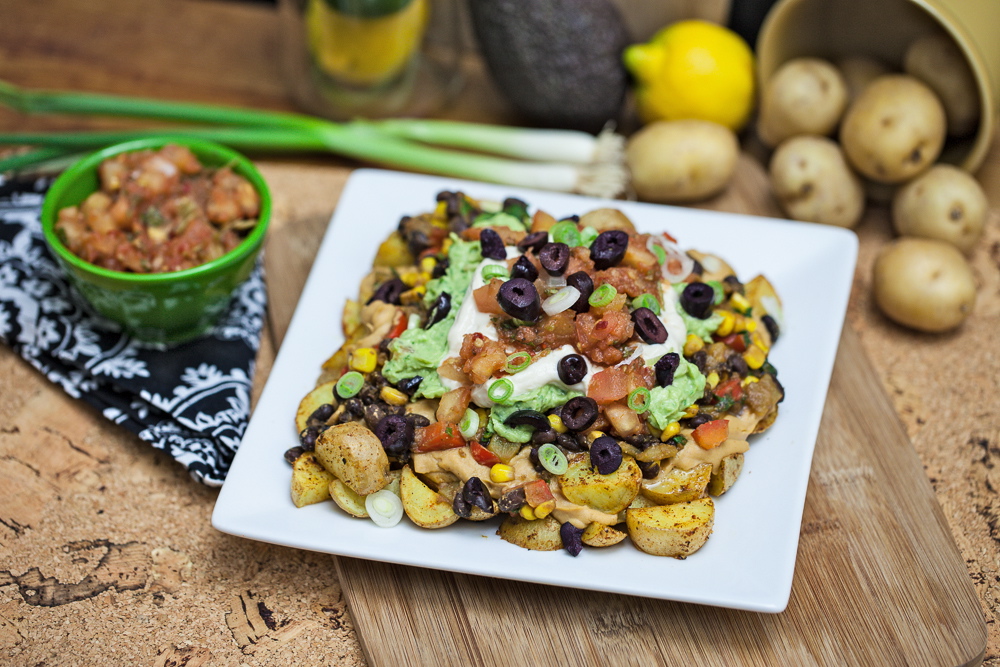 I recently made this discovery after sharing a bag of Trader Joe's new Nacho Style Kale Chips with Chris.  They were pretty phenomenal.  I realize that this is not an earth-shattering idea because we all know that people have been making nacho-style kale chips for hundreds of many years.  However, I've been a traditional nacho lover for ages, but have never ventured into the area of making other nacho-style dishes.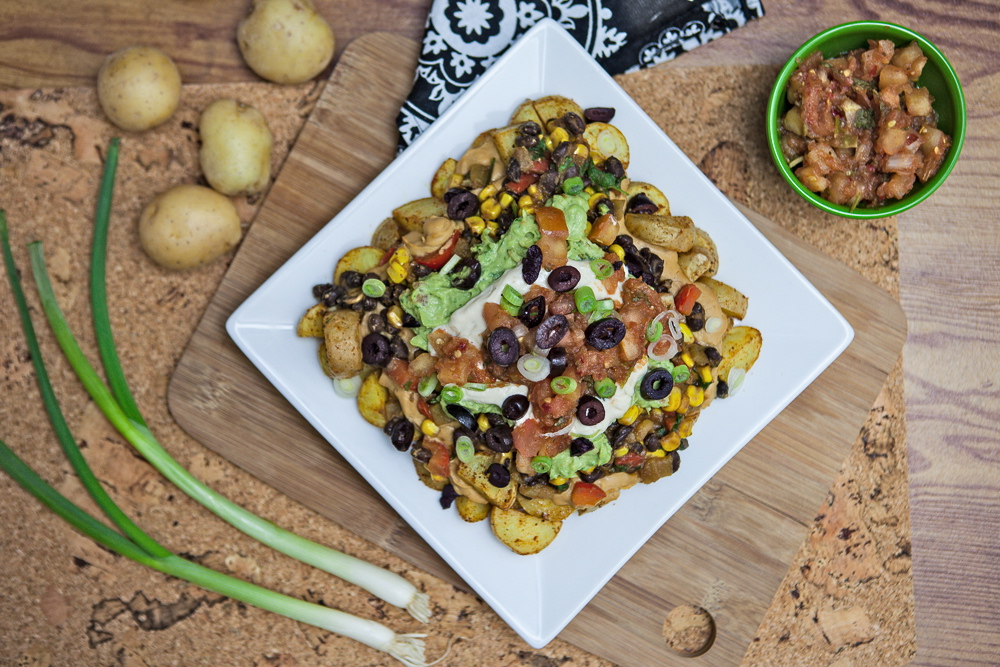 Until now.  I decided to start with roasted potatoes because a.)  I love potatoes and b.) everything tastes better when it's roasted.  This decision can go down in my top ten list of best decisions I've ever made in my entire life (somewhere between adopting Samantha and that time I decided to move to Los Angeles).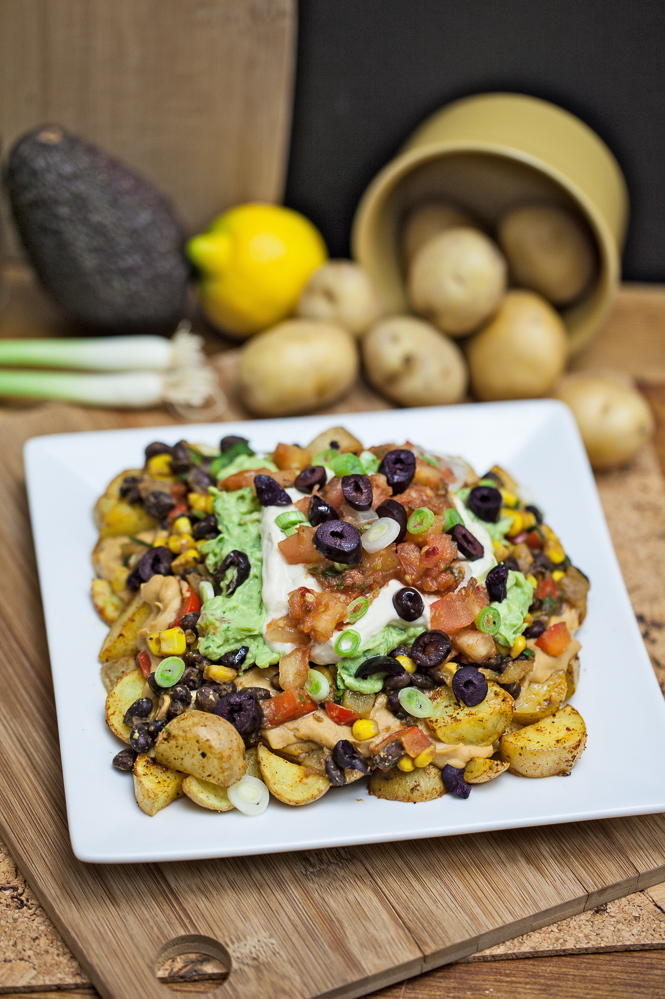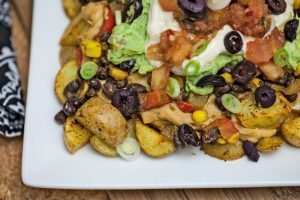 Let's talk about these nacho potatoes.  We start with the roasted potato chunks, and drench them with Cadry's Creamy Cauliflower Queso.  Super healthy, tasty, and perfect, yes?  But wait, there's more: We top the cheese with a spicy mixture of black beans, corn, bell pepper and chilies.  Then we top that with some homemade guacamole, pico de gallo, and tofu sour cream.  Then we finish the dish with some sliced green onions, black olives, and a few more green chilies, for good measure.  It was indescribably, incredibly, stupid-delicious.  Imagine the best nachos you've ever had in your life, then multiply that by infinity and you've got these nacho potatoes.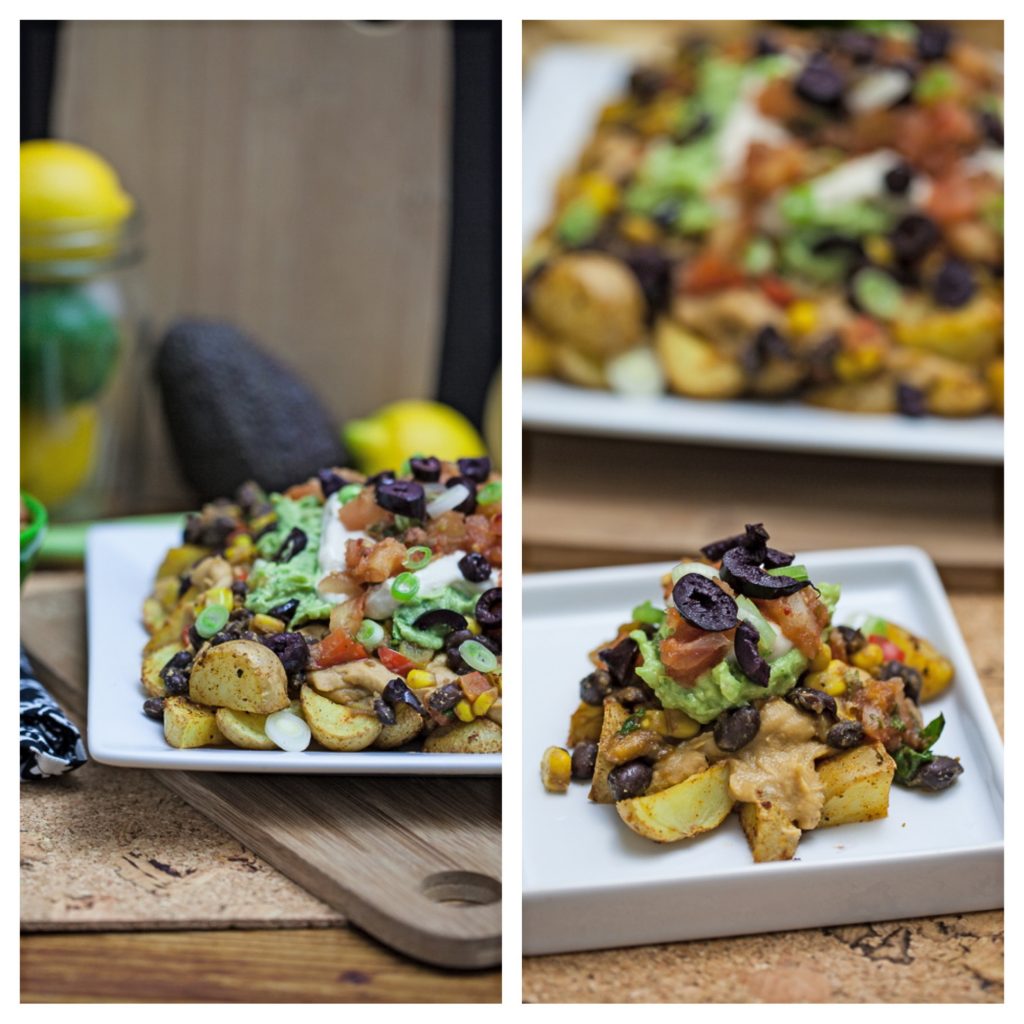 What made this dish even better is that Chris and I shared the plate, so they were more like "romantic nachos."  However, if you're serving these at a party (ahem, like a Super Bowl Party), you may want to offer your guests their own plates so they can serve themselves their own portions.  Just a thought.  These would also be great for a "Me Party,"* but I would maybe cut the portion size down a bit (or not- it's your party).  Regardless of who you share these bad boys with, I hope you enjoy them!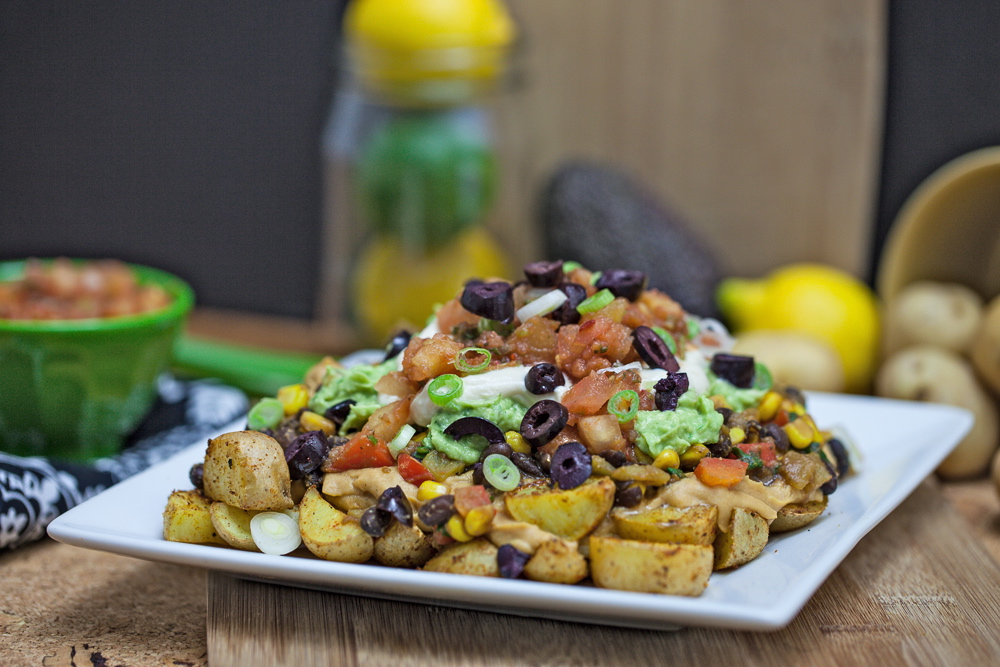 Ingredients
2 cups golden potatoes, chopped into bite-size pieces
olive oil spray
1/2 teaspoon cumin
1/4 teaspoon smoked paprika
salt and pepper to taste
1/4 cup + 2 tablespoons vegetable broth
1 tablespoon Bragg Liquid Aminos
1 15oz. can black beans, rinsed and drained
1 cup corn kernels (I used frozen and thawed)
1/2 red bell pepper, chopped
3 tablespoons Hatch green chilies
1 teaspoon liquid smoke
1 teaspoon cumin
1/2 teaspoon smoked paprika
1/2 teaspoon ancho chili powder
1/2 teaspoon garlic powder
juice of 1/2 a lime
2 tablespoons fresh cilantro, roughly chopped
salt and pepper to taste
1/2 cup tofu sour cream
salsa (use your recipe of choice, or store-bought)
guacamole (use your recipe of choice, or store-bought)
2 green onions, thinly sliced
1/4 cup black olives, thinly sliced
2 tablespoons pickled jalapeños
Instructions
Ahead of time, you can prepare your Cauliflower Queso, Tofu Sour Cream and the guacamole and pico de gallo (if you're not using store-bought). I bought the pico de gallo and for the guacamole, I just mashed an avocado with some lime juice, cilantro, and a tablespoon of the pico de gallo.
Preheat the oven to 450. Line a baking sheet with parchment paper. Spread out your potato chunks and lightly spray with olive oil (or drizzle about 1 teaspoon of oil over them). Add spices and salt and pepper to taste. Toss to fully coat each piece. Roast in the oven for 20 minutes, flipping once.
If you made your queso ahead of time, reheat about half of the recipe in a small pot over medium-low heat, stirring frequently. If you just made it and it's still warm, then you can skip this step.
While your potatoes are in the oven, cook your beans. In a large pan, combine the vegetable broth, Bragg Liquid Aminos, and garlic. Heat the pan over medium heat and add your black beans. Cook the beans in the liquid until the liquid begins to simmer, about two minutes, before adding the corn, the bell pepper, the chilies, the liquid smoke, and the spices. Turn the heat to low and cook the beans, stirring occasionally, until the liquid has cooked away and the beans are fully cooked (hot, but not mushy). Squeeze in the lime juice, stir in the cilantro and add salt and pepper to taste. Remove from heat.
To assemble the nachos, place all of the potatoes on one large plate, or split them up into 3-4 individual servings. Top the potatoes with as much cauliflower queso as you would like. Pour about 1 1/2 cups of the black bean mixture over the cheese. Add the sour cream, pico de gallo, and guacamole on top of the beans. Top with sliced black olives, green onions, and chilies. Serve immediately. Enjoy!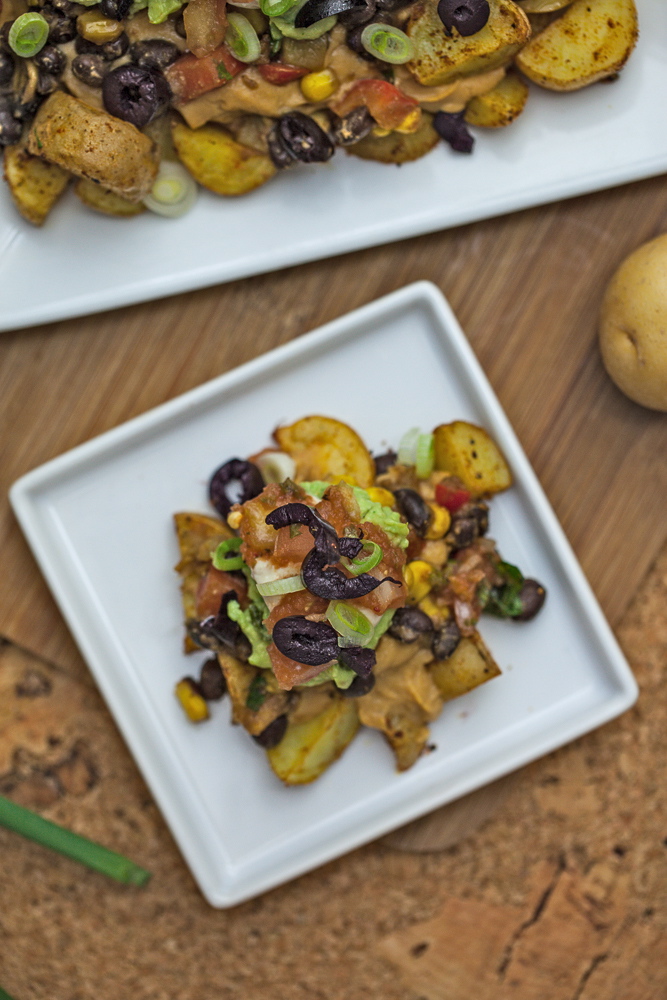 What food creations would go down in your list of "Best Decisions Ever?"
*I'm one of those crazy Muppet fans and I've had this stuck in my head for about a week.  I apologize.  No, I don't.
Photography by Chris Miller