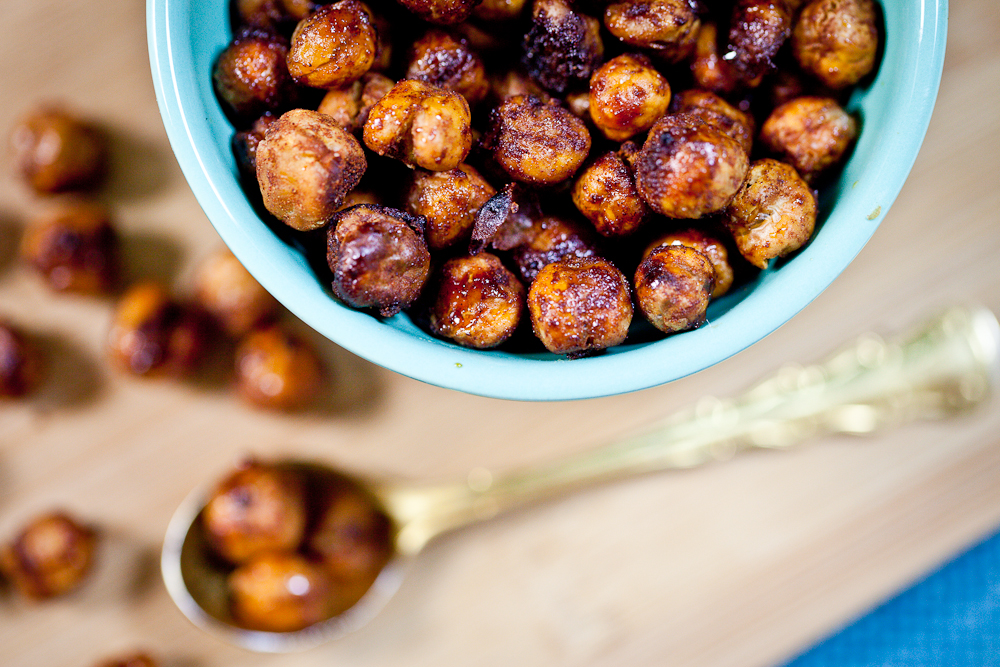 The Chickpea surprised me with something really sweet the other day.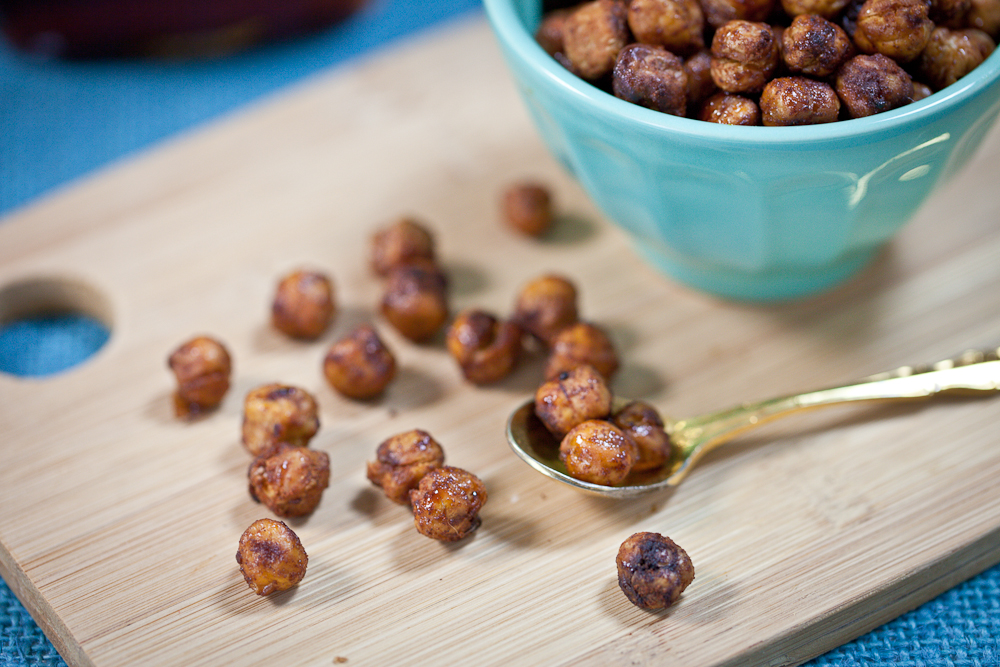 I know I'm a little late to the roasted chickpea party.  I don't know what took me so long to get here or why I put it off for so long.  I guess I didn't think I'd like them?  I thought I'd be put off by a crunchy chickpea?  Maybe they put the taste of Corn Nuts in my mind (Corn Nuts would have to be my least favorite snack food of all time)?  Something clicked one day, though, and I said to myself "We're talking about your boo*, The Chickpea, here.  How can anything chickpea-related be bad?"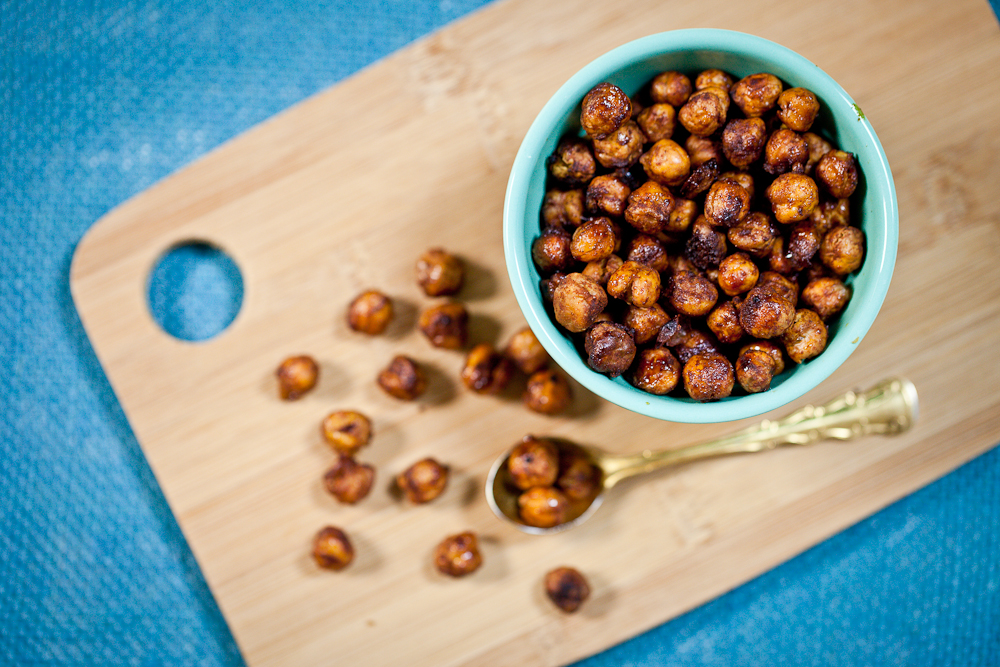 So I ventured forward, and trying to stay as far away as I possible could from anything that might even remotely taste like Corn Nuts, I decided to go the sweet route.  Roasted with cinnamon and a little coconut sugar, then glazed with maple syrup, these chickpeas reminded me more of sweet maple roasted nuts.  The fact that these chickpeas are were sweet, nutty, crunchy, and could be eaten by the handful, made them incredibly addicting.  They are were a great snack and even satisfied my mid-day sweet tooth cravings.  It's a good thing I cooked up a ton of chickpeas, because about half of them are going to be used for making multiple batches of these guys.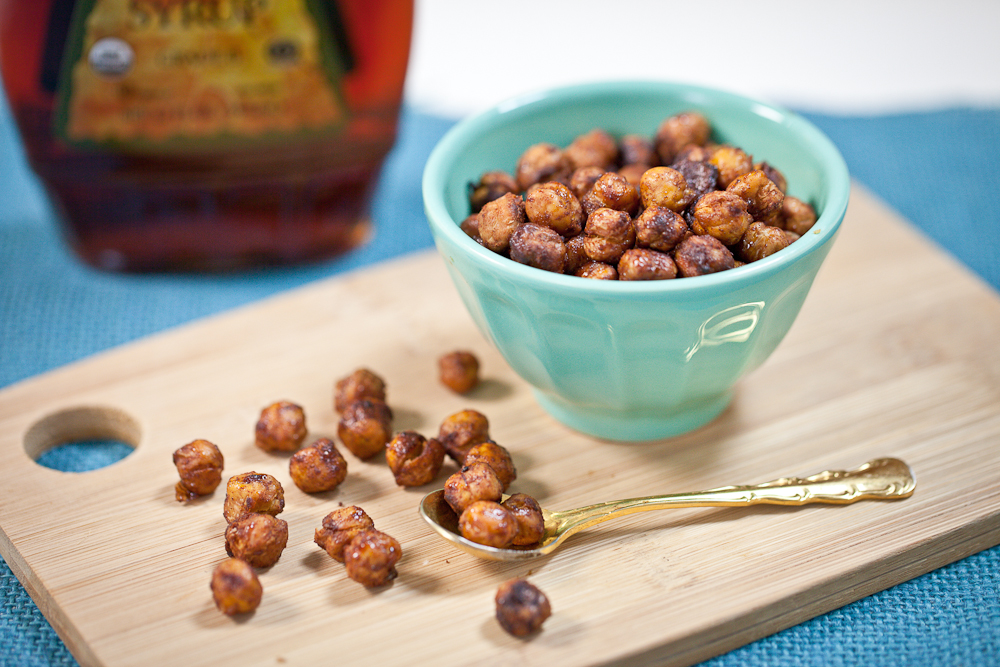 Maple-Glazed Cinnamon Roasted Chickpeas
Ingredients
2 cups of cooked chickpeas or 1 15oz can of chickpeas, rinsed and drained
2 teaspoons canola oil
2 teaspoons cinnamon
1 1/2 teaspoons coconut sugar
1/4 teaspoon salt
1 tablespoon maple syrup
Instructions
Preheat the oven to 400. Line a baking sheet with parchment paper.
Remove the skins from the chickpeas as much as possible. Lightly drying them with a clean kitchen towel helps loosen them up a bit.
Place the chickpeas in a bowl and add the oil, cinnamon, sugar, and salt. Toss to fully combine and lay them out on the prepared baking sheet.
Place them in the oven and allow them to cook for 40 minutes. Remove, drizzle the maple syrup over them and toss them to fully coat each chickpea, then return to the oven for 5 more minutes. Remove from the oven and allow to cool completely before serving. Enjoy!
Notes
Update, 10/13/2012: A couple of readers have made these, one said they didn't cook enough at this temp/time, and another said they overcooked at this time/temp. I recommend keeping an eye on them and take them out when you feel they are fully roasted and crispy, but not burnt.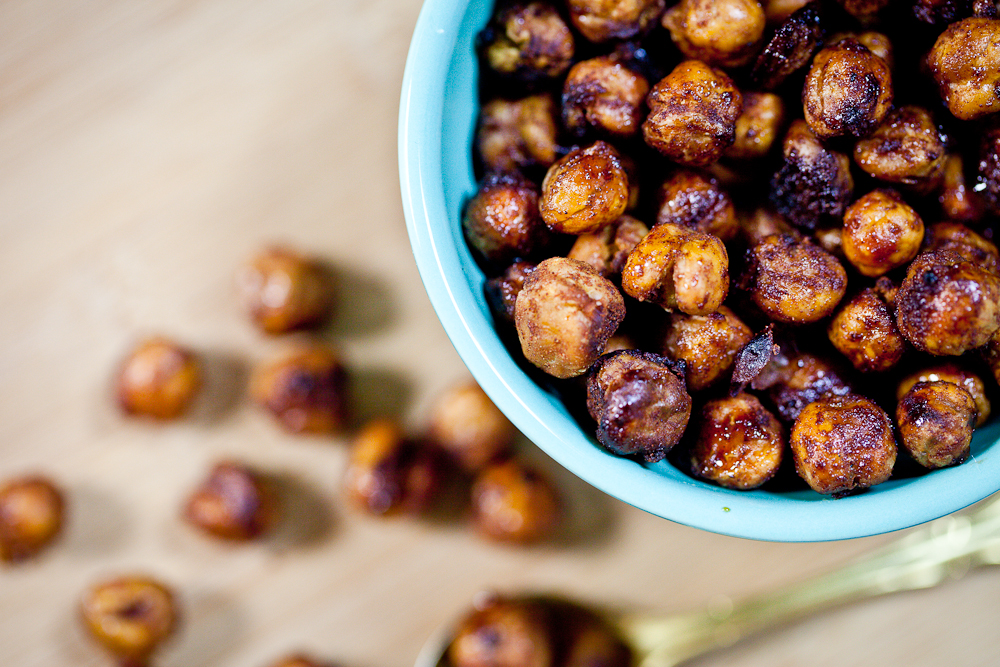 *for the record, I have never in my life used the phrase "boo" to reference a romantic partner, and I promise to never do it again... for the rest of the week.
First time here?  Check out the rest of my Chickpea Love Affair Vegan MoFo Entries!
This recipe is being shared with Healthy Vegan Fridays and Wellness Weekends.
Keepin' It Kind is participating in the Walk for Farm Animals to give hope to millions of abused and neglected farm animals! Please support me by making a Donation today. Together we can make the world a more compassionate place for animals!  Learn more about Why I am Walking for Farm Animals and join our team!
Photography by Chris Miller