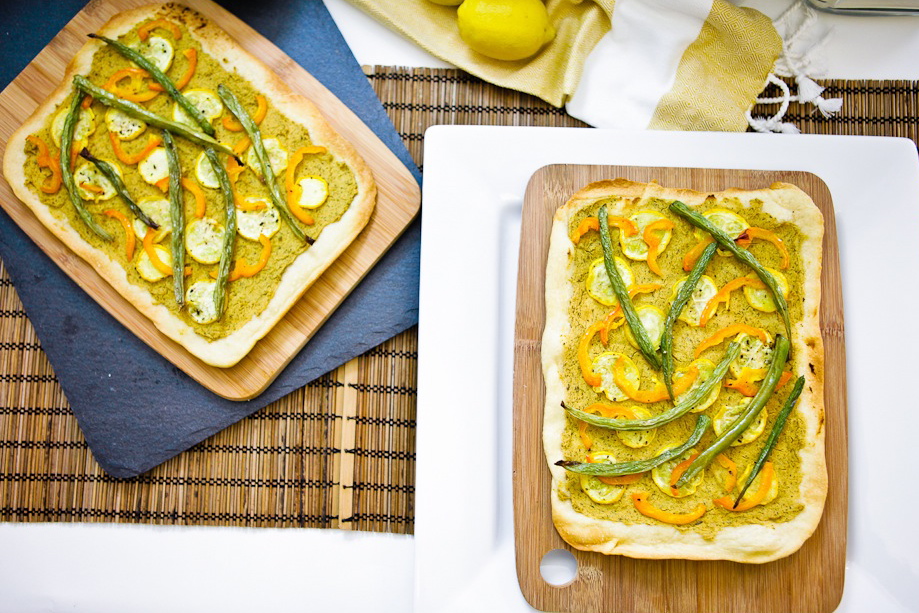 In the summer, I crave anything lemon-flavored (which you've likely already guessed from this post or this post).  One day, I was in the kitchen, making hummus (what else is new?), and what was going to be a simple fresh herb hummus, was somehow transformed into something different.  I was squeezing a lemon for fresh juice to add to the hummus, when a voice inside me asked a question that has got me into trouble countless times: "Why stop at one?"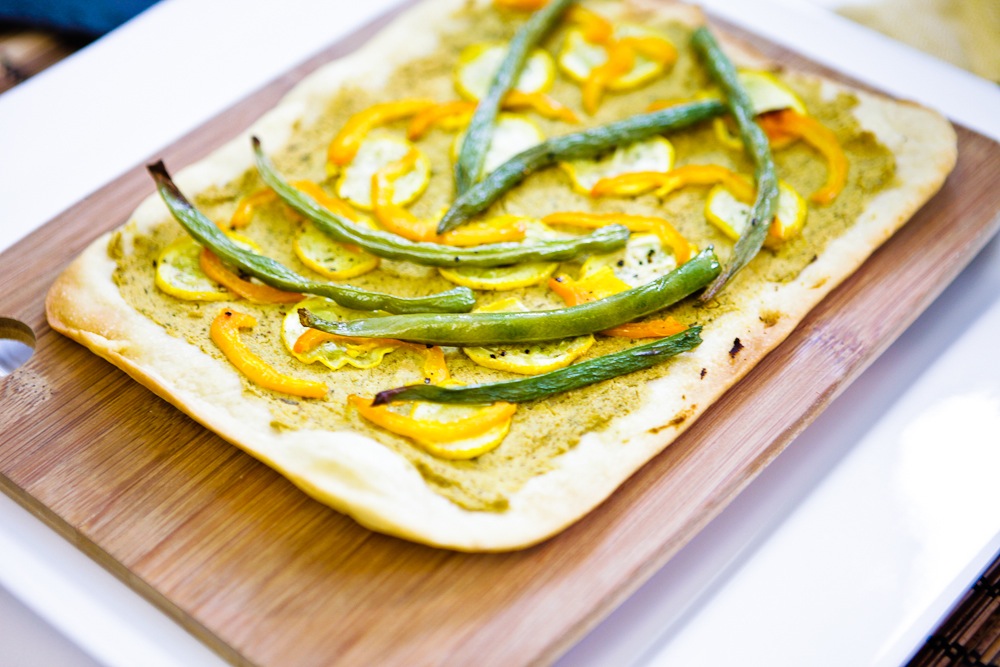 This time, however, the result was far from troublesome.  I juiced a couple more lemons and even "zested" one.  The result?  Phenomenal.  Each bite of this creamy hummus is filled with a bright lemon tang partnered with a hint of fresh herbs.  It is also the greatest-scented hummus you will ever have the pleasure of smelling.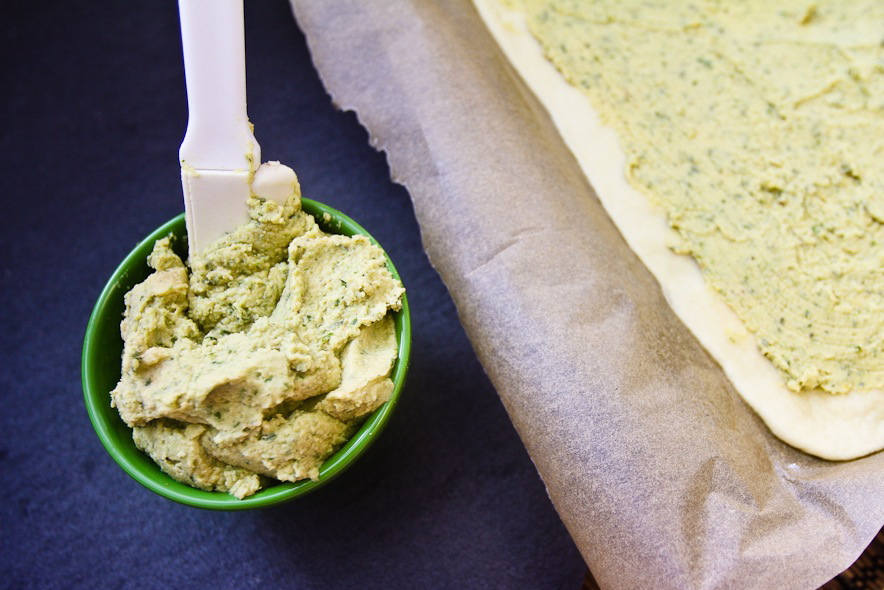 The day after making this hummus, it occurred to me that it was far too good to just drench my baby carrots in.  It needed to be the highlight of a full meal.  This hummus was not meant to be a co-star- it needed the spotlight.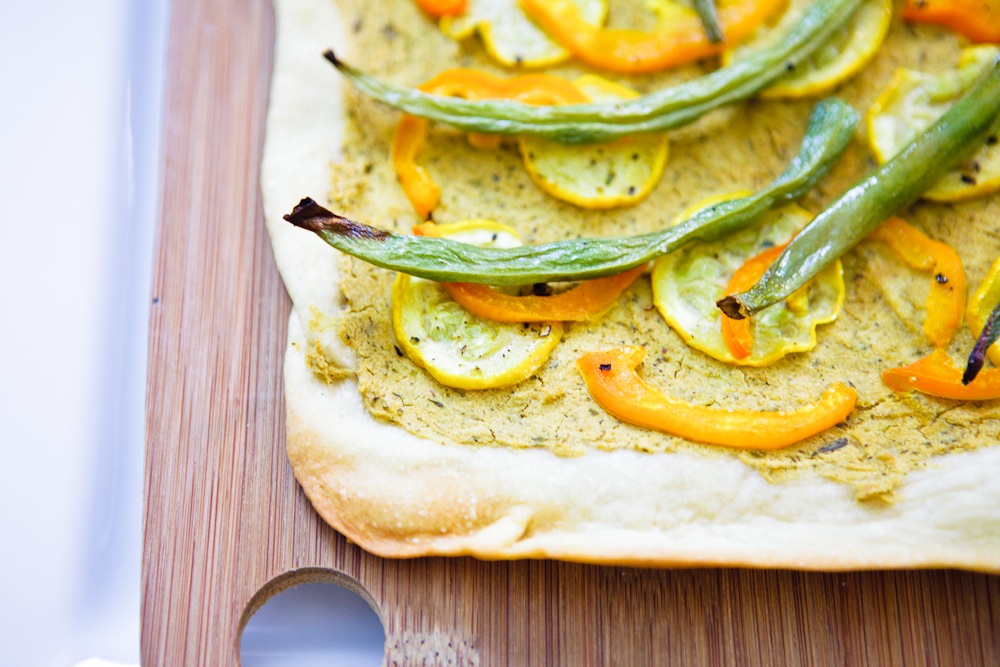 And the spotlight it received atop this light and zesty pizza.  Roasted green beans, yellow zucchini (both part of my CSA delivery), and some orange bell pepper were the perfect toppings for this lovely pizza.  This light, thin-crusted pizza is perfect for a warm summer night, or sliced, it could be served as a lovely appetizer.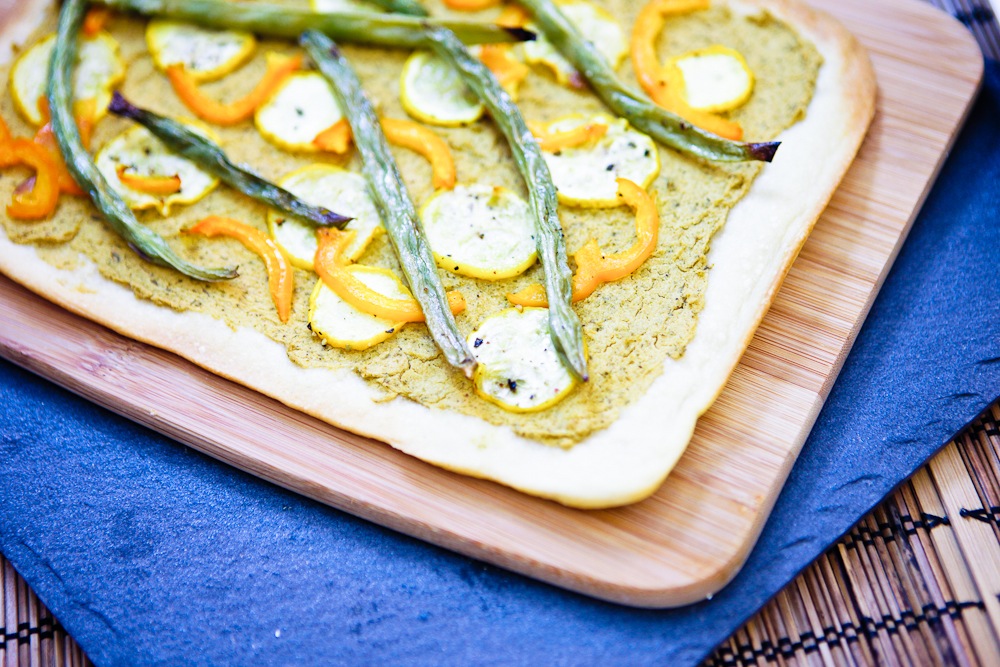 LEMON HERB HUMMUS
Ingredients:
1 can of chickpeas, rinsed and drained
5 T fresh lemon juice (about 2-3 lemons)
½ T lemon zest
1 T tahini
1 T olive oil
1/3 cup fresh parsley, roughly chopped
2 T fresh thyme (or 2 tsp dried)
1 T fresh oregano (or 1 tsp dried)
salt and pepper to taste
Instructions:
In a high-speed blender or food processor, combine the first five ingredients and blend until smooth.  Add the herbs and pulse until combined.  Salt and pepper to taste.  Chill until ready to use- will keep for about 3-4 days.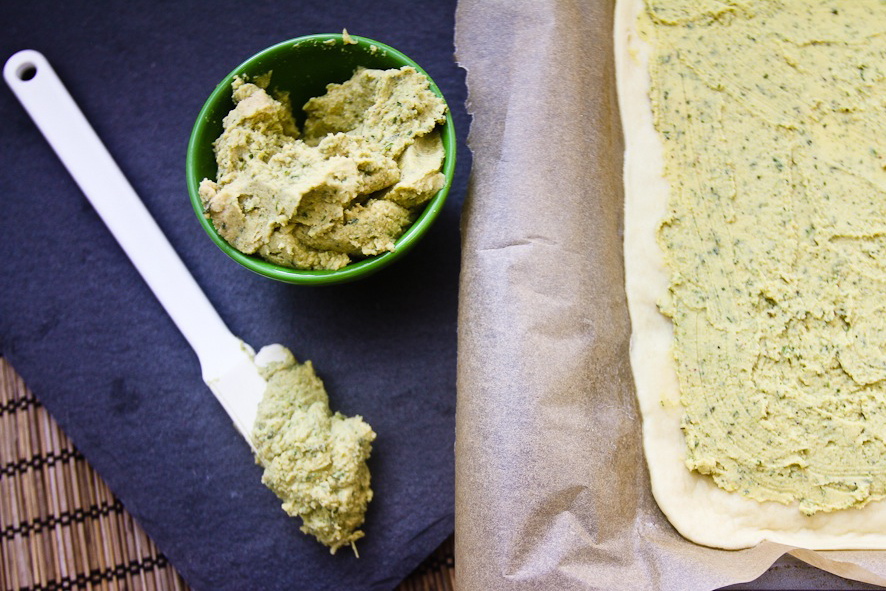 LEMON HERB HUMMUS PIZZA
makes 1 large or 2 medium pizzas
Ingredients:
1/3 recipe of pizza dough (or pizza dough recipe of your choice)
1 batch of Lemon Herb Hummus (you will have a bit leftover)
½ lb fresh green beans, ends trimmed
1 yellow zucchini/squash, very thinly sliced (I used a mandoline)
½ orange bell pepper (or red or yellow), very thinly sliced (I used a mandoline)
olive oil spray
salt and pepper to taste
Instructions: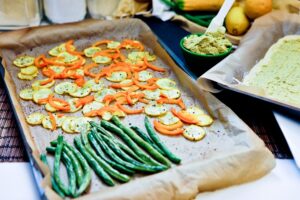 Prepare your pizza dough, according to these directions, or use your own preferred method. Prepare your pizza pan or peel, and place rolled out dough on the peel/pan.  For this time, I prepared individual pizzas, but this recipe will make a single pizza, if that's what you prefer.
Preheat the oven to 400. Line a baking sheet with parchment paper and spread out the green beans and squash slices.  Lightly spray with olive oil and salt and pepper to taste.  Toss them to fully coat with the olive oil and spread out evenly.
Bake the vegetables for 8-10 minutes, then remove from the oven.  Add the bell pepper slices and toss to combine and spread out evenly again, making sure the squash slices are flipped so that they cook evenly.  Return to the oven for 5 more minutes.  Remove from the oven and set aside.
Increase the heat in the oven to 475.
Spread the hummus out in a thick layer on your prepared crust(s).  Top with the roasted veggies.  Place the pizza(s) in the oven and bake for about 10 minutes, until the crust is lightly crisp and golden.  Remove from the oven and serve immediately.  Enjoy!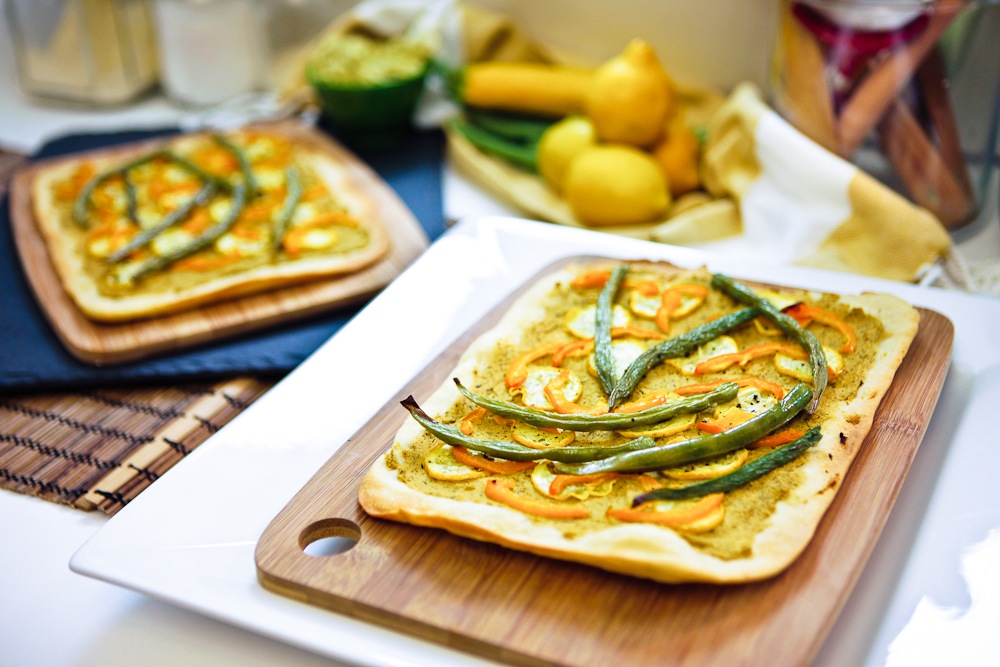 What summertime flavors are you craving?
All photos taken by Chris Miller and Kristy Turner

© Kristy Turner and Keepin' It Kind, 2012. Unauthorized use and/or duplication of this material (content and images) without express and written permission from this blog's author and/or owner is strictly prohibited. Excerpts and links may be used, provided that full and clear credit is given to Kristy Turner and Keepin' It Kind with appropriate and specific direction to the original content.