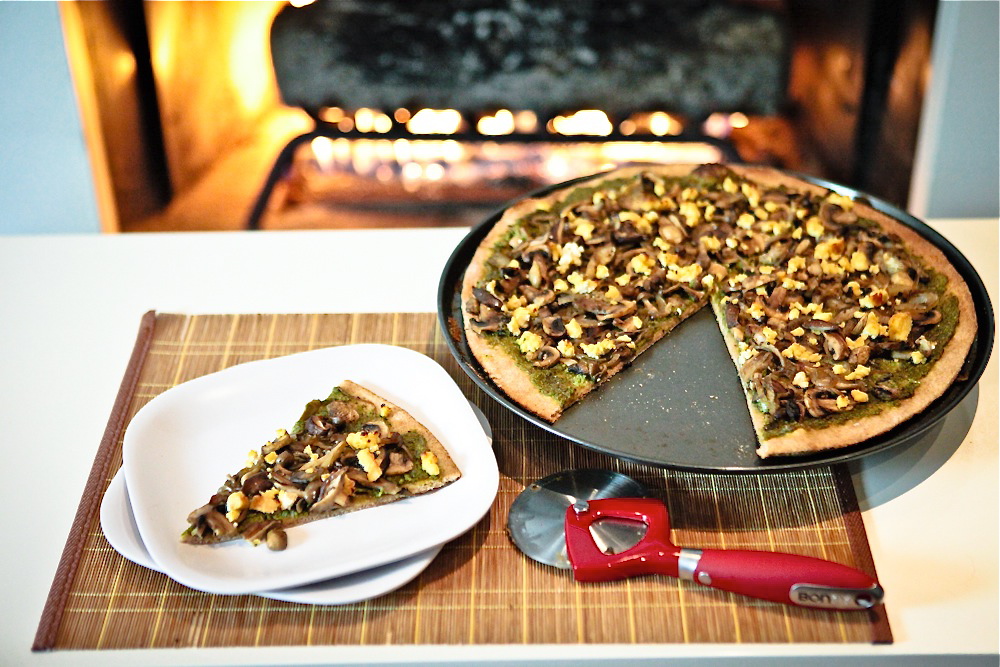 Every Saturday night is "Family Movie Night" in our house.  Sometimes the movie is a new release, or something the twins have seen without us, but most of the time, we watch "older" flicks.  Chris and I really get a kick out of sharing with the twins the movies that we loved when we were younger.  There have been several hits with the twins: Ferris Bueller's Day Off, Little Shop of Horrors (with Rick Moranis), Napoleon Dynamite, Ghostbusters, Clue, the Back to the Future trilogy, anything by Tim Burton.  It's also fun to see how comedy has changed over the years, or how what we find entertaining has changed.  Most of all, its just great to hang out together.
This last Saturday was going to be The Parent Trap (the original, not the Lindsay Lohan version).  There was a short period, as a child, where I wanted only two things: to have a twin and to also be Haley Mills.  I wanted her cute short hair and her accent and her cleverness and then to have me multiplied by 2.  I was very excited to be seeing this movie I hadn't seen since I was a child, so I wanted to make something kind of special for movie night.  What better for watching movies than pizza?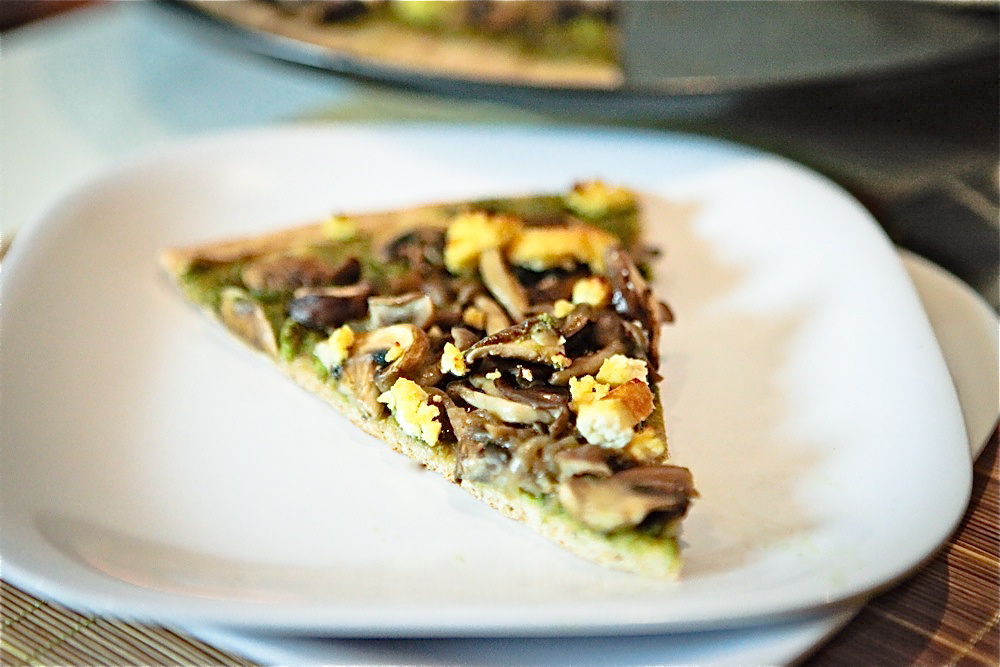 The recipe for the pizza dough came from an old roommate I used to have who would, on occasion, make some of the best pizza I've ever had in my life.  It's nice and thin, but not too crisp (I love thin crust pizza).  Everything he made was pretty amazing.  His cooking was magic.  The pesto sauce was made on a whim, using some mustard greens I had received from my CSA (though any green would work here), and some pistachios I had on hand.  The mushrooms were a combination of Crimini, Shiitake, and Bunapi-Shimeji (I really love the texture and buttery taste of these cute little guys, but do not eat them raw- they are only edible after being cooked) that I just sautéed briefly before adding to the pizza.  I used this recipe for the tofu chèvre.  Once you have all the components, the pizza comes together very easily.
PIZZA DOUGH
makes 3 12-14 inch pizzas
Ingredients: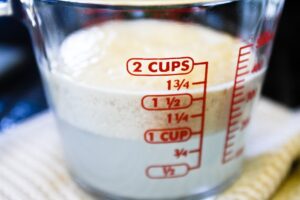 1 package active dry yeast
1 teaspoon sugar
1 cup warm water (110 deg.)
1 tablespoon kosher salt
2 T olive oil
3 cups whole wheat flour, plus more for dusting
Instructions:
In a measuring cup or small bowl, combine the yeast and water and gently stir until yeast has mostly dissolved.  Add in the sugar and gently stir until dissolved.  Set aside for at least 10 minutes, until a thick layer of foam has developed on the top.
Pour your flour into a large bowl and make a small "well" in the middle.  Add the salt and olive oil to your yeast mixture and pour into the well in the bowl of flour.  Use a wooden spoon (or other strong spoon) to stir, until it becomes too tough.  Then you can use your hands to knead the dough.  If it is too sticky, add more flour, 1 tablespoon at a time.  If it is too crumbly, add water, 1 tablespoon at a time.  Knead the dough until it forms into a solid ball.  Turn the dough out onto a lightly floured surface and fold it over itself a few times; kneading until it's smooth and elastic.
Form the dough into a round and place in a lightly oiled bowl, turn it over to coat. Cover with plastic wrap or a damp towel and let it rise in a warm spot until doubled in size, about 1 hour.
Preheat the oven to 500.  Prepare your pizza-cooking device of choice (pan, stone, or paddle) by lightly sprinkling with flour or cornmeal.
Once the dough is domed and spongy, turn it out onto a lightly floured counter. Roll and stretch the dough into a cylinder and divide into 3 equal pieces. Cover and let rest for 10 minutes so it will be easier to roll out.  Roll or pat out a piece of dough into a 12-14 inch circle, about 1/8-inch thick.
Transfer your rolled-out pizza dough to your cooking device and top with desired toppings.  Transfer the pizza to the oven and cook for 10-15 minutes, until crust is golden and crisp.  Repeat with remaining balls of dough, or wrap in plastic and refrigerate for up to 5-7 days.
PISTACHIO PESTO
makes about 1-1/4 cups of pesto
Ingredients:
½ cup pistachios, shelled
3 cloves garlic, minced
¼ cup + 2 T olive oil
¼ cup vegetable broth
1 bunch of mustard greens (or other type of greens), about 4 cups, roughly chopped
2 T nutritional yeast
1 tsp basil
salt and pepper to taste
Instructions:
Combine the first four ingredients in the bowl of a food processor and process until combined.  Add the next three ingredients and process until smooth.  Salt and pepper to tastes.  Enjoy!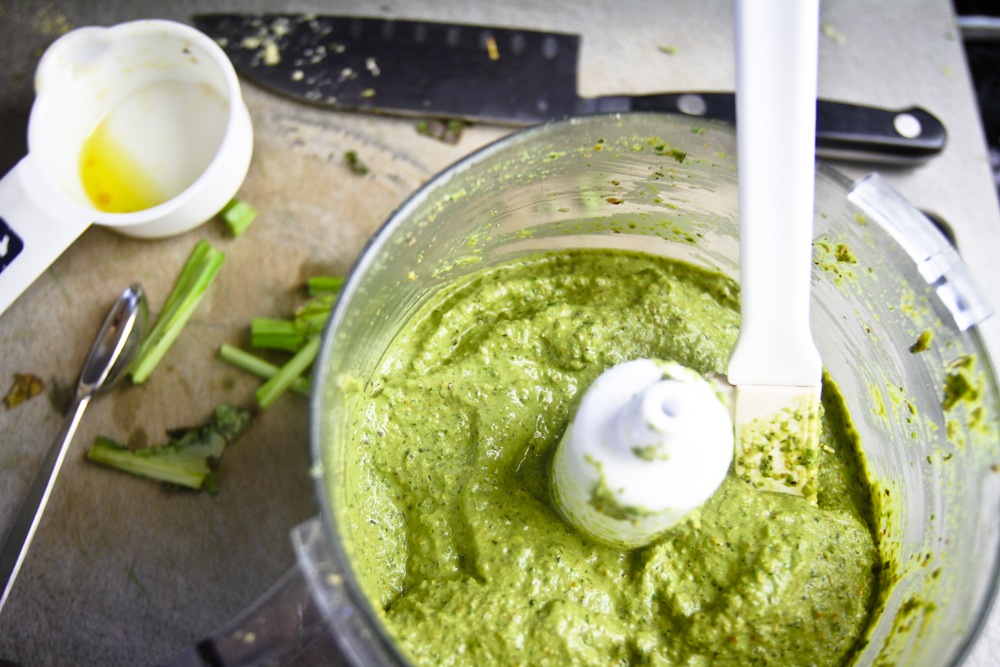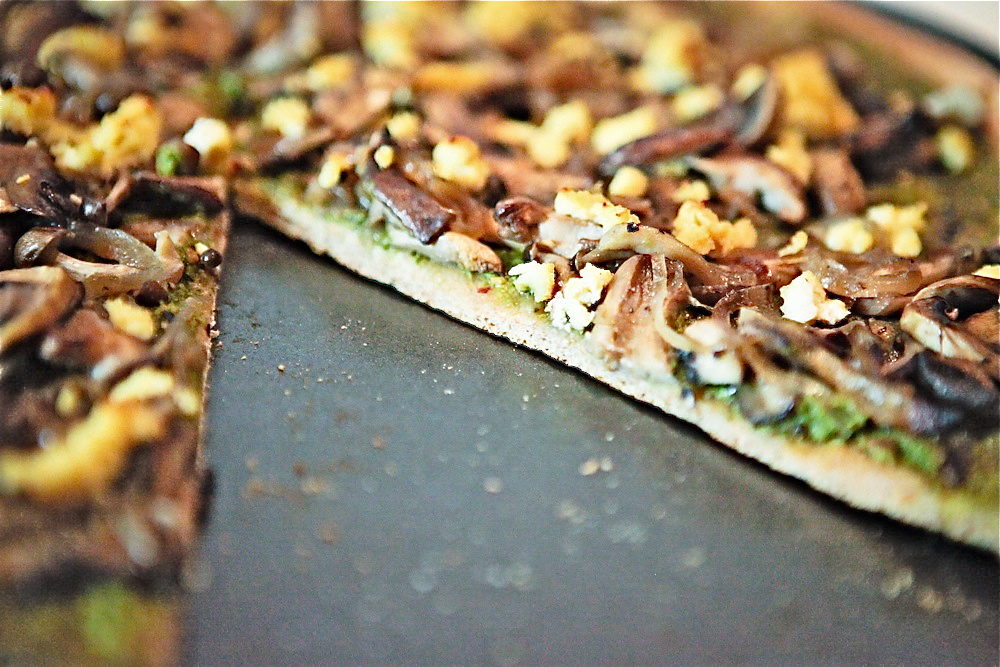 WILD MUSHROOM & PISTACHIO PESTO PIZZA WITH TOFU CHEVRÉ
makes 1 12-14 inch pizza
Ingredients: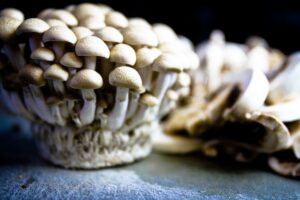 1/3 recipe Pizza Dough (see above)
1/3 cup Pistachio Pesto (see above)
1/3 recipe Tofu Chèvre
8oz crimini mushrooms, thinly sliced
4 oz shiitake mushrooms, thinly sliced
1 3-4oz cluster bunapi-shimeji mushrooms, removed separated from their "base"
1 T olive oil
salt and pepper to taste.
Instructions: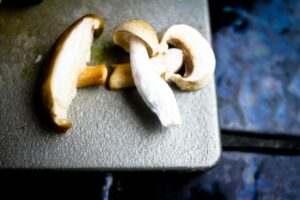 Preheat oven to 500.  You should have your pizza dough prepared, according to instructions above, spread out into a 12-14 in circle and on your prepared pizza-cooking device of choice.
Heat the olive oil in a large pan over medium heat for about 1 minute.  Add all of the mushrooms.  Sauté the mushrooms for about 10 minutes, stirring occasionally to prevent sticking.  When done, the mushrooms should be tender, but not mushy.  Add salt and pepper to taste.
Spread the pesto onto the pizza crust.  Top with the sautéed mushrooms.  Crumble the tofu chèvre, with your fingers, over the top of the mushrooms.  Place the pizza into the oven and cook for 10-15 minutes, until crust is golden and crisp.
Remove from oven.  Slice and serve warm.  Enjoy!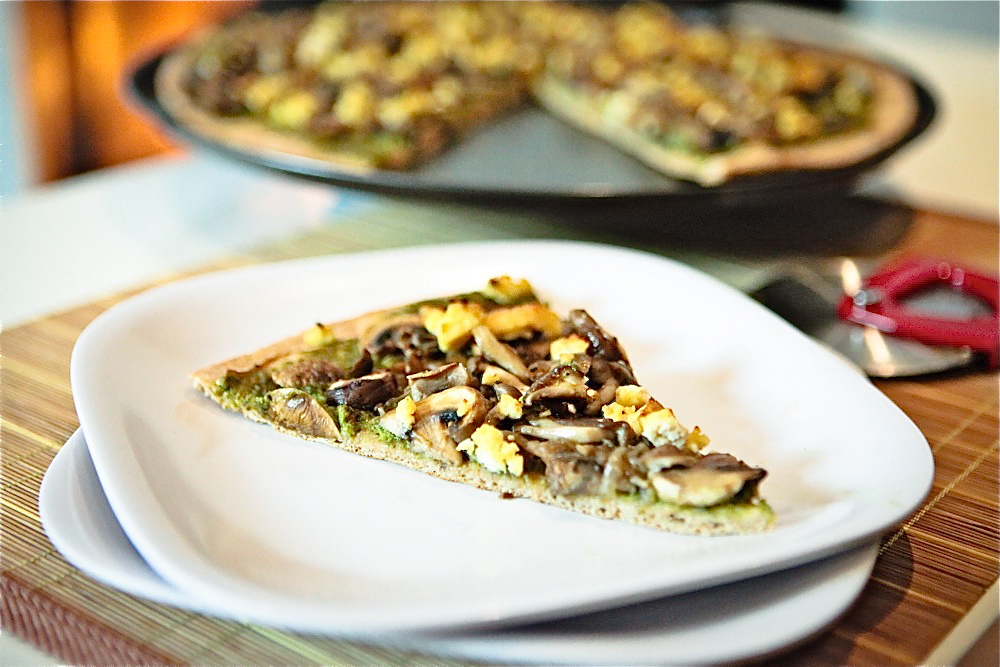 This was definitely a Family Movie Night for the record books.  The pizza was incredible- the tofu chèvre really makes it!  Watching The Parent Trap as an adult made me laugh at different parts than I had as a child, and Max and Sophia loved it.  Disney movies from the 1960's are the best.
Just a note:  If you rent this movie through Netflix, they will send you a double-feature DVD, meaning that The Parent Trap II will also be on the disk.  The twins watched it as we cleaned the kitchen.  It sounded pretty terrible, but I did hear the best line I think I've ever heard in a film: "Did you see that really cute guy looking at you?  He looked just like Ralph Macchio!"  Best.  Line.  Ever.
What were your favorite childhood movies?
All Photos by Chris Miller and Kristy Turner

© Kristy Turner and Keepin' It Kind, 2012. Unauthorized use and/or duplication of this material (content and images) without express and written permission from this blog's author and/or owner is strictly prohibited. Excerpts and links may be used, provided that full and clear credit is given to Kristy Turner and Keepin' It Kind with appropriate and specific direction to the original content.