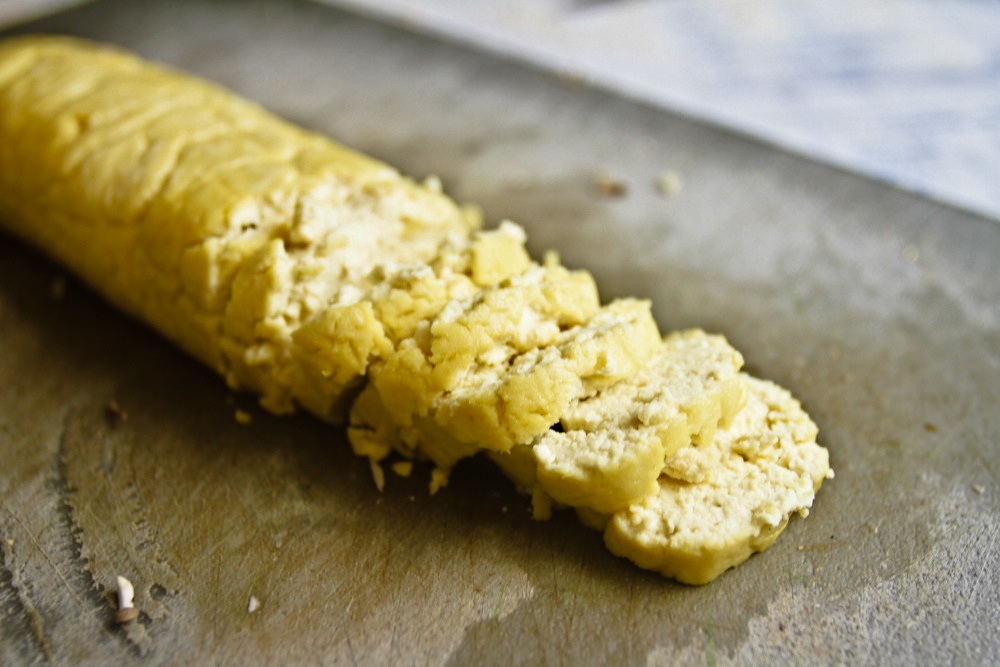 Before becoming vegan, fresh chèvre is what ignited my passion for cheese.  That statement in and of itself is what got me my first job as a fromagier.  Later on, my stepdaughter and I started experimenting with making our own chèvre, which we called "shoestring cheese," because we hung the cheesecloth full of curdled milk (Yuck!) with a shoestring.  The whole concept of consuming milk from another species thoroughly grosses me out now, but when I became vegan, I really thought I was going to miss my goat cheese.
It's quite the opposite, in fact, and not only do I not miss it at all, but I don't really even remember what it tastes like.  So many other wonderful tastes and flavors have come into my life since becoming vegan (so much more than I "gave up") that my tastebuds have replaced that memory.  I'm fine with not remembering what it tastes like.  When people say "This tastes nothing like 'the real thing'," I'm pretty thankful that it doesn't!  I am constantly impressed at how the natural flavors of plant-based foods can stand alone and taste (in my opinion) far superior to anything that comes from an animal.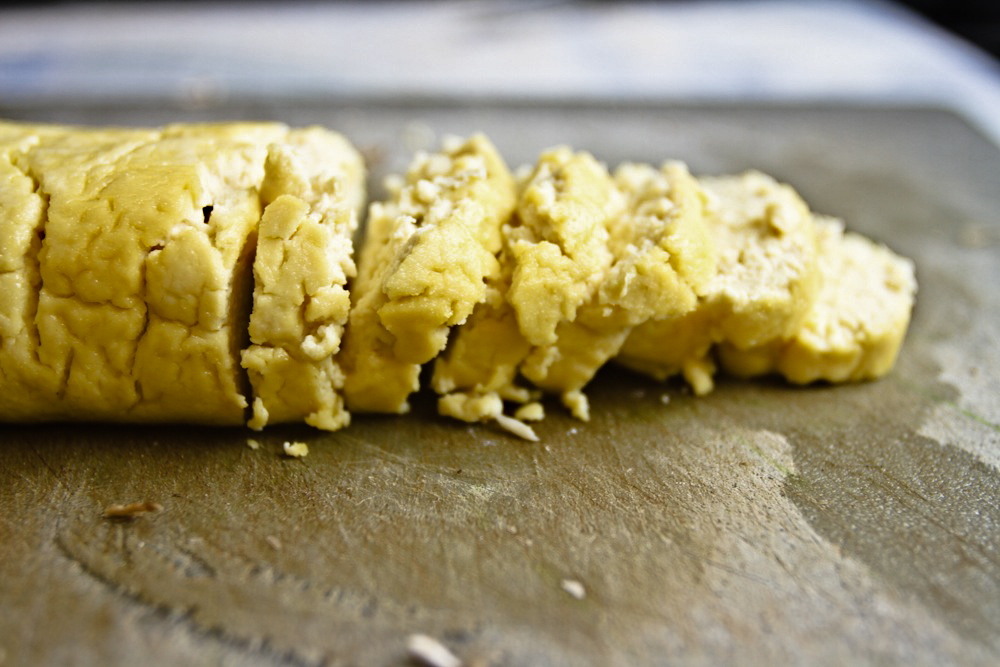 I actually created this "chèvre" in an attempt to mimic a tofu goat cheese at one of my favorite restaurants, Madaleine Bistro.  They make a Red Beet Tartare, which sits atop a tofu "goat cheese" crouton (which is actually flat and about 3 inches in diameter).  As I said before, other flavors have replaced old memories of how things taste, and this tofu "goat cheese" not only replaced, but surpassed all memories of the flavor of goat cheese.  I once asked my waitress if I could have one the size of a birthday cake, and she told me to come back on my birthday.  I winked (no, I didn't) and said "I'll be seeing you in July."  Unfortunately, that waitress no longer works there and now I don't know what I'm going to do for a birthday cake.
My first trials of this chèvre were more crouton-like, but it has beautifully evolved to this final product which I'm very happy with.  It works well in many applications (stay tuned for more recipes!) and tastes incredible on its own (It's okay for the chef to lick every one of her fingers clean, right?).  It may not taste exactly like the "real thing," but I'm more than satisfied with my tofu chèvre .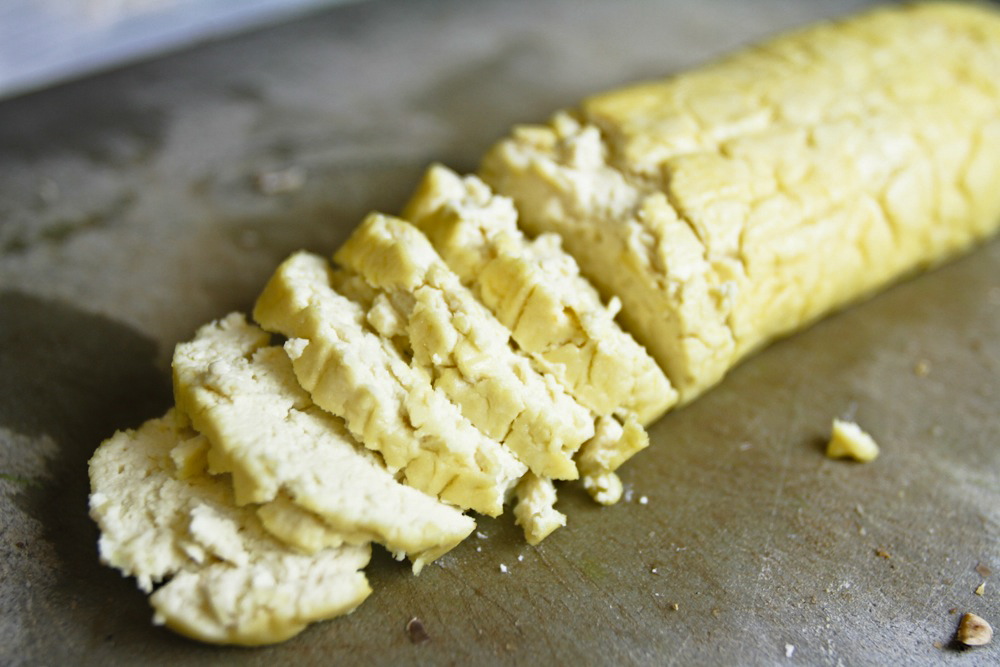 Ingredients
1 package of extra firm tofu
1 1/2 T white miso
1 T olive oil
1/2 T tahini
1/2 T lemon juice
1/4 tsp sea salt
Instructions
At least 1 day ahead, you need to press your tofu. The less moisture, the better it will turn out. My preferred method is to lay a clean kitchen towel on a plate and place the tofu on the kitchen towel. Cover the tofu with another clean kitchen towel, place a heavy book or pan on top of that, and then place 2-3 14oz. cans on top of that. Refrigerate overnight.
Once the tofu is sufficiently pressed, break it into pieces and place in the bowl of your food processor. Add the rest of the ingredients and process until a smooth ball forms. If it isn't coming together, add olive oil by the 1/2 tsp. You will need to scrape the bottom and sides of the bowl a few times to fully incorporate all the ingredients.
Remove the tofu mixture and place it on a large piece of plastic wrap. Form it into a basic log shape, then wrap the plastic wrap around it. You can then roll the log and perfect its shape a little more. Place the log in the refrigerator and chill for at least 3-4 hours.
Preheat the oven to 350. Line a baking sheet with parchment paper and spray with lightly vegan non-stick spray (optional). Remove the log from the plastic wrap and place on the baking sheet. Bake at 350 for 20 minutes. Remove from the oven when the log is slightly tan on the outside, but still creamy. Place baking sheet on a cooling rack and let it cool. If not using immediately, store the log in an air-tight container in the refrigerator. It will last about 3 days. Enjoy!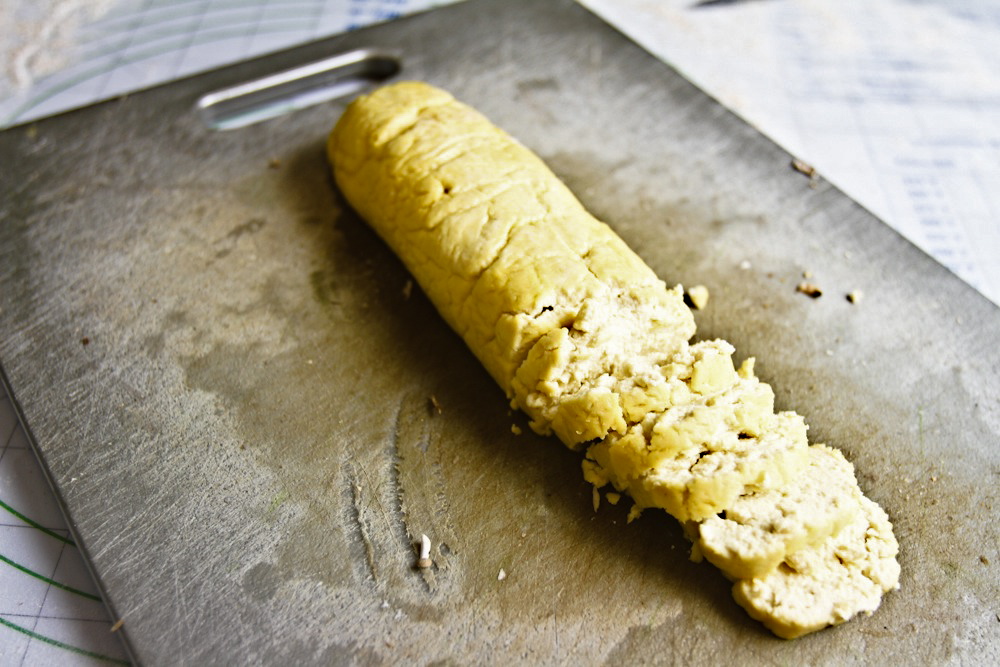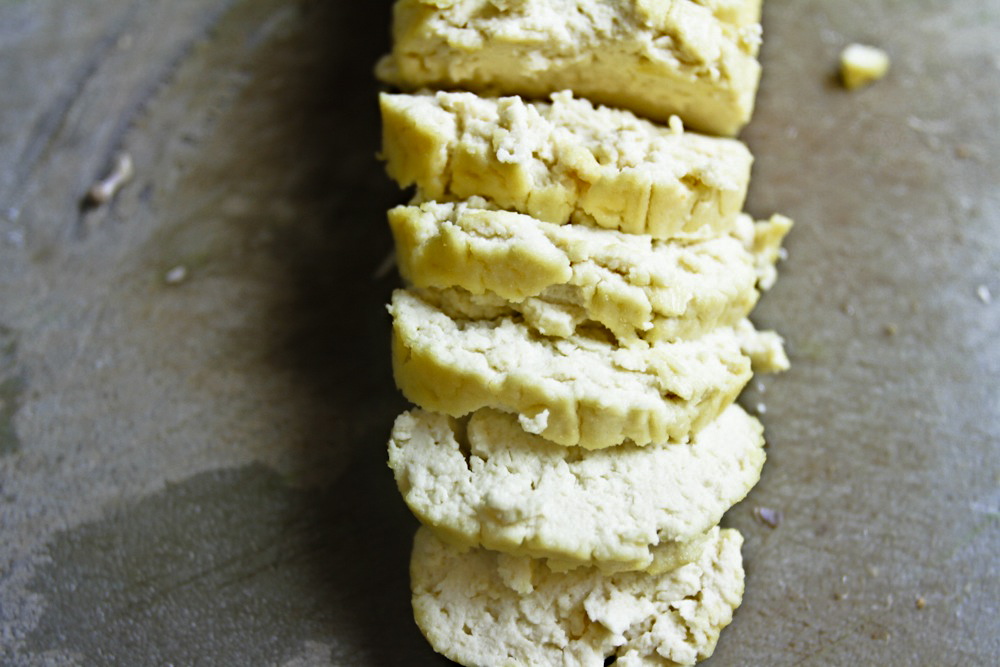 Stay tuned for more recipes involving this delicious chèvre (UPDATED 5/9/12: recipes like this, this, or this!).  It's time to replace some of those tastebud memories!
Photography by Kristy Turner