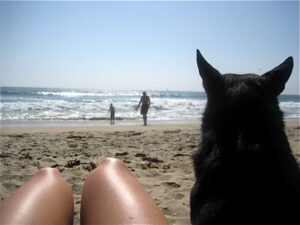 During my first summer in LA, one of my favorite things to do was take Samantha, my canine companion, to the dog beach in Huntington Beach.  It was a completely selfish routine, as Samantha hated water or anything even remotely wet.  I just liked sitting near the ocean with my good friend and she was a good sport and tolerated it.  I would walk down to the water, and as other humans splashed around in the tide with their canine friends, Sam sat stiffly by our towel and watched me as if I was a lunatic.  On our way home, we would pick up some salad ingredients from a natural foods market and go home to make a big salad for dinner.  Beaches and fresh salads are summer to me.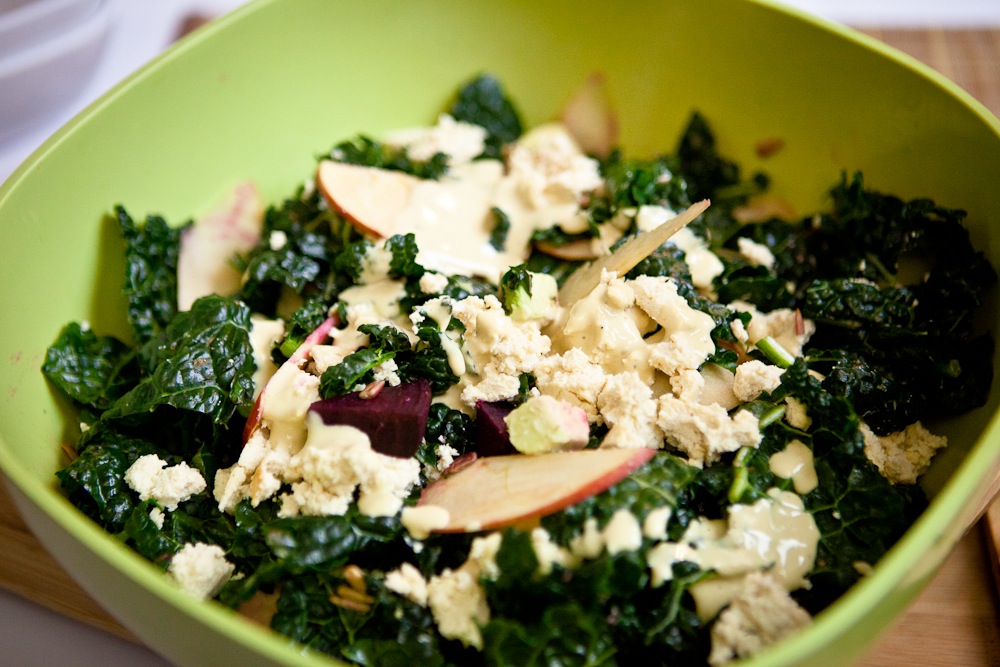 A year before Chris and I got married, we moved to the beach.  The timing was right and we found a wonderful townhouse for rent at a ridiculously low price (for this area).  Both of us being beach lovers, were terribly excited to be a block away from the sand.  Samantha, on the other hand, could not care less.  In this area, the cops mostly look the other way in regards to having dogs on the beach, or even on a leash for that matter, so in essence, this area of the beach is dog-friendly.  On our first walk down to the beach, Samantha just walked timidly along the edge of the sand.  Over time, we were able to convince her to walk down to the ocean with us, but if a wave even came close to touching her, she bolted.
I am very blessed that Samantha is intelligent enough to be able to keep herself under control if we go for a leashless walk.  She knows to stop at the curb and sit and wait for my "ok" to cross the street.  She knows "stop," "come on," "stay," and "this way."  Recently, however, this all went out the window.  We took Sam down to the ocean for one of our walks, and she started taking a very brisk walk ahead of us.  Then she saw the pack of birds sitting near the edge of the water, about 1000 yards ahead of us.  She took off running for these birds, and no amount of our yelling for her to stop slowed her down.  The birds flew away as soon as she caught up with them, and as she stood there, watching them fly away, a huge wave rushed up and soaked her.  She paused for a moment, totally shocked, and then she took off running through the water, looking for more birds to chase.  It was such a beautiful thing to see- Samantha completely letting loose and embracing her inner "beach dog."  Neither of us even tried to stop her.  After about 15 minutes of her running up and down the beach, through the water, we got her to rejoin us and we went back to the house.  Sam had let us know that (at least for her) it was summer.  And it was time for salad.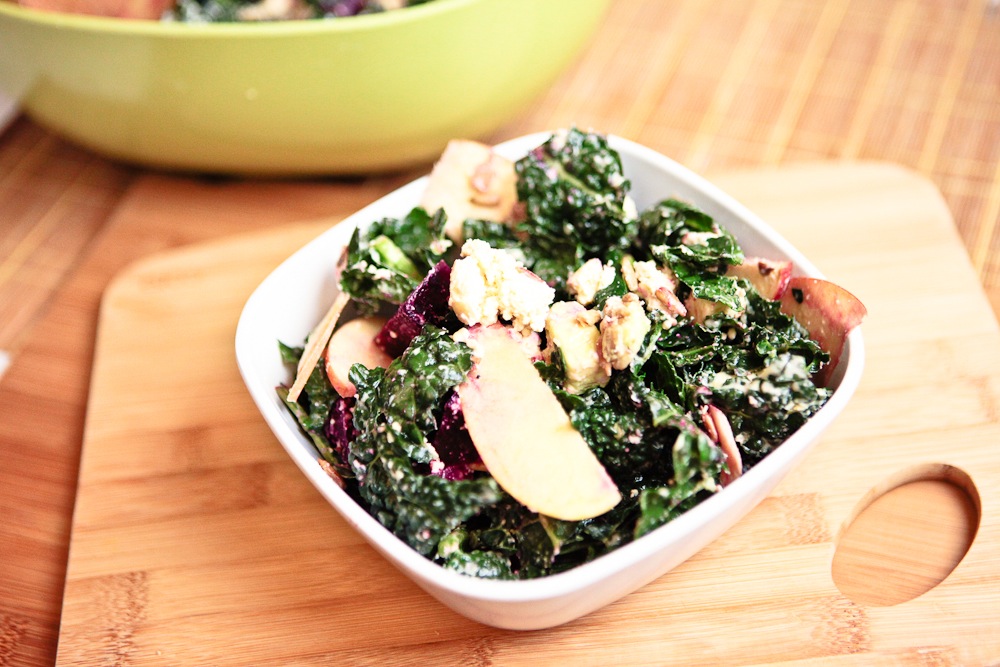 I have been using various applications (like this or this) for my tofu chèvre, but this may be my favorite.  There are so many bright refreshing flavors in this salad, it hard not to be reminded of summer.  I massaged the kale to make it more manageable to chew and I made this Tahini Lemon Dressing (with a couple modifications) from Oh She Glows.  The dressing is so rich and tangy, it complimented all of the other flavors beautifully and gave it that extra summer "Oomph!"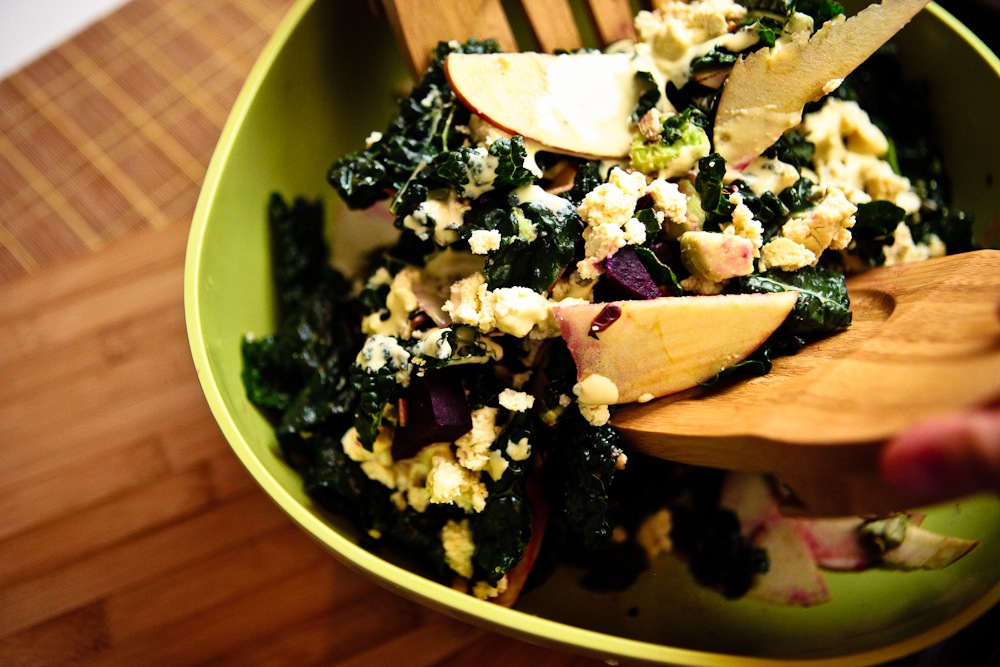 ABC KALE SALAD
for the Tahini Lemon dressing, I used this recipe, and made the following adaptations:
Decreased oil to 1 T
Used 3 T water
Added ½ tsp powdered stevia
Ingredients:
1 large beet or 2 small beets
½ an apple, very thinly sliced (I used a mandoline)
½ an avocado
1/3 recipe of Tofu Chèvre
1 bunch kale
1 T olive oil, plus ½ T olive oil, separated
1 T orange juice
½ T balsamic vinegar
1 T lemon juice
¼ cup sunflower seeds
3-4 T Tahini Lemon Dressing
Ingredients: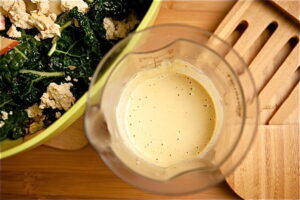 Preheat the oven to 450.  Peel and chop the beet(s) into bite size pieces.  Place into the center of a square of foil.  Add the orange juice, balsamic vinegar, and 1 tablespoon of olive oil.  Fold the foil up to make a tight packet.  Place in the oven and roast for 45 minutes.  Let cool before using.
Massage the kale:  Chop or tear the kale into small pieces and place in a large bowl.  Add the ½ T of olive oil and the lemon juice and use your hands to rub into the kale.  Do this for about 5 minutes, until the kale has softened.  Let sit for about 10 minutes to let the lemon and oil continue to do their work on the kale.
Add the apple, avocado, beet chunks, and sunflower seeds to the bowl of kale.  Using your fingers, crumble the tofu chèvre over the top of the salad.  Add the dressing and toss the salad until fully combined.  Serve immediately.  Enjoy!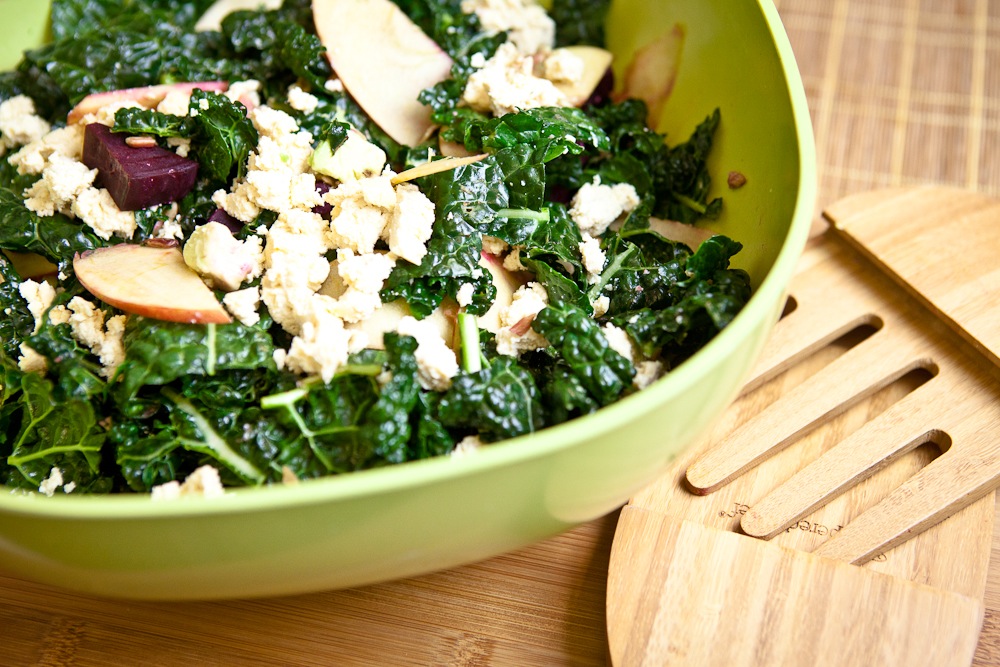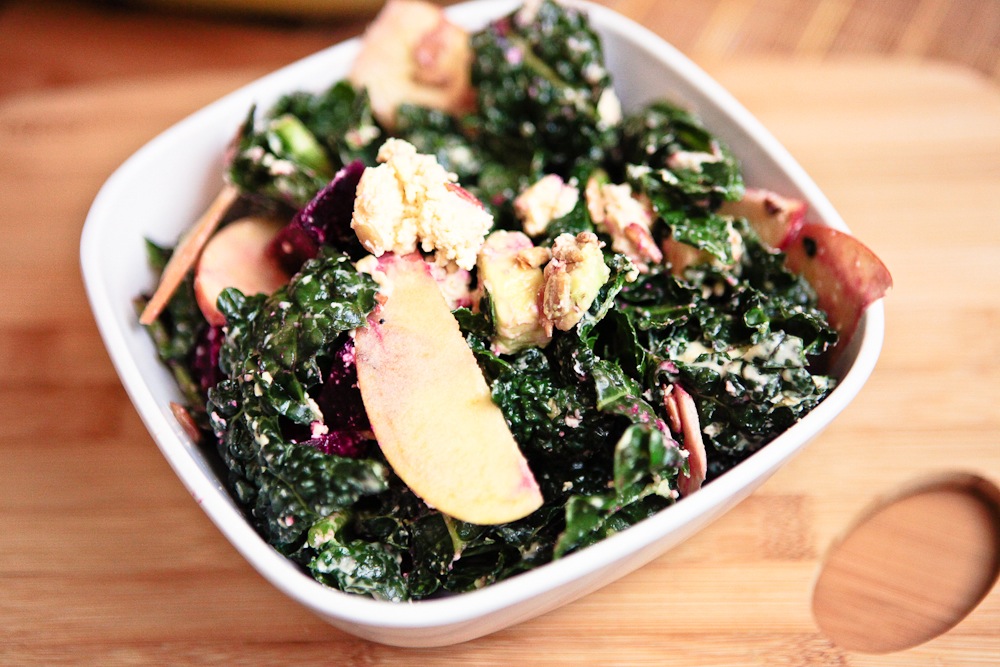 I know it's still spring, but it's never too early to get excited for summer.  What reminds you of summer?
All Photos by Chris Miller

© Kristy Turner and Keepin' It Kind, 2012. Unauthorized use and/or duplication of this material (content and images) without express and written permission from this blog's author and/or owner is strictly prohibited. Excerpts and links may be used, provided that full and clear credit is given to Kristy Turner and Keepin' It Kind with appropriate and specific direction to the original content.