A week ago, Cara over at Fork and Beans had Caitlin, The Vegan Chickpea, do a guest post.   These two ladies are already two of my favorite bloggers, and to have them together in one place was pretty great.  It's like when you're watching one of your favorite TV shows and a character from another one of your favorite shows make a guest appearance.  You know- Like when Tootie and Natalie from Facts of Life would show up on Diff'rent Strokes.  Well, Caitlin posted a recipe for Socca with Cashew Cheeze and Veggies last Friday.  I have been meaning to try a Socca for a long while, but Caitlin's just looked so simple and the cashew cheeze sounded amazing, so I commented on the post, saying that I needed to make it.  Then Cara replied that we both needed to make it and report back.  Then I was like (to myself) "Uh-oh.  Now I really have to make it and not just want to make it."  It's not like anyone was going to be checking up on me, and it was totally my conscience saying "You said you were going to and you have to follow through."  My conscience was keeping me in check.
So I made the Socca with Cashew Cheeze and Veggies.  I used broccoli and sun-dried tomatoes because that's what I had on hand.  I just sauteed the broccoli for a few minutes with about 2 tsp of Bragg Liquid Aminos and then tossed the sun-dried tomatoes in for the last minute or two.  I made the mistake of making the cashew cheeze before everything else, and I couldn't stop licking it out of the food processor taste-testing it. The final product was amazing.  Chris practically inhaled his, but in between swallows, he kept saying "What the @#$* is this?!!!  It's @#$*ing amazing!!!"  If the meal reduces Chris to using primarily profanities to describe it, you know it's pretty great.  It was so easy to make and I cannot wait to make it again.  You can get the recipe here, but this is how mine turned out: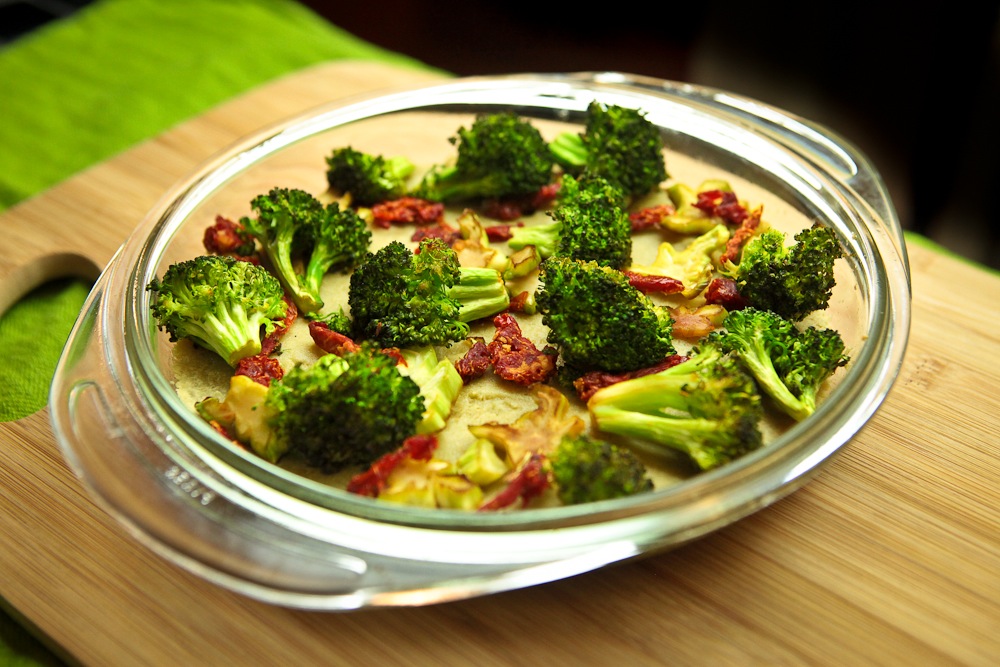 Thank you so much Cara and Caitlin for presenting this recipe!  Chris and I loved it!
To accompany the Socca, I made a salad.  We had just gotten some candy beets (red and white striped beets- think: Candy Canes) from our CSA, and I couldn't decide on how I wanted to use them in the salad, so I narrowed it down to two ways and did both: Baked Beet Chips and Roasted Beets.  We also had blood oranges and avocado (also both from our CSA) so I threw those in as well.  I made a Orange Balsamic Vinaigrette to go with it, but really, any balsamic vinaigrette would work.  The differences in texture with complimenting flavors was awesome.  It was maybe the most delicious beet salad I've ever had, not to mention gorgeous!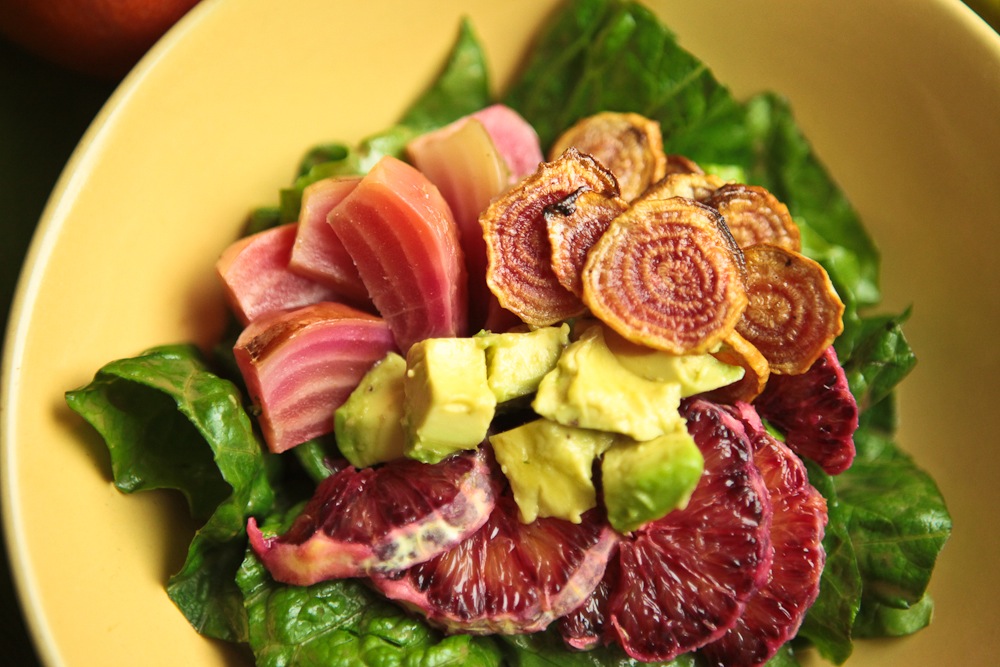 TWO-TIMIN' CANDY BEET SALAD
makes 2 salads
Ingredients:
for the Orange Balsamic Vinaigrette:
¼ cup orange juice
¼ cup balsamic vinegar
½ cup olive oil
1 tsp dijon mustard
¼ tsp salt
for the salad:
4 candy beets
½ T olive oil, plus ½ T olive oil, separated
½ T balsamic vinegar
salt and pepper to taste
1 blood orange, halved and cut into slices
½ avocado, cut into small chunks
2 cups romaine (or other lettuce), roughly chopped
2-3 T Orange Balsamic Vinaigrette
Instructions:
Preheat the oven to 400.  Line a baking sheet with foil, and also set aside a 10-12 inch square of foil.
Peel all four of the candy beets with a vegetable peeler.  Put two of the beets onto the 10-12in piece of  aluminum foil.  Top with ½ T of olive oil and ½ T of balsamic vinegar.  Sprinle a bit of salt and pepper if desired.  Wrap the beets up in the foil, making a little tightly sealed square package.  Put in the oven for 45 minutes or until beets are easily pierced with a fork.  Let cool before serving.
Using a mandoline, if you have one, or a knife, slice the other 2 candy beets into very thin slices.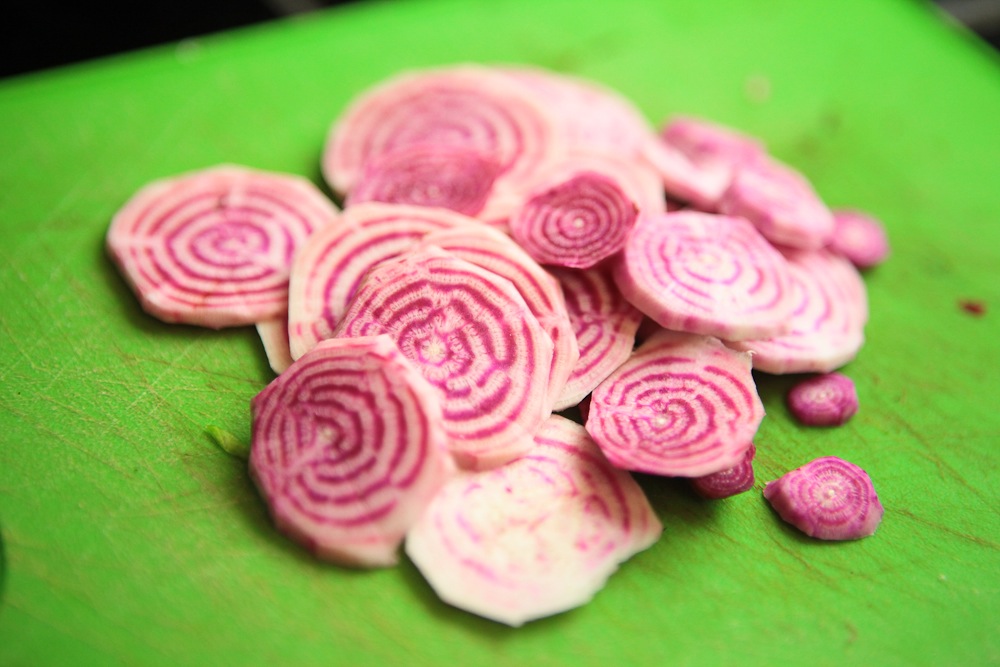 Place the slices, or "chips" on the baking sheet and cover with ½ T olive oil and salt and pepper if desired.  Toss until thoroughly covered in oil and put into the oven with the other beets.  Bake these beets for 15 minutes, flip the slices, and return to the oven for 15 more minutes or until slices are crisp.  Remove the chips from oven, spread out on a paper towel and cover with another paper towel to absorb the excess oil.
While your beets are in the oven, make the dressing.  Combine all of the ingredients in a blender, or if you are using an immersion blender, combine them in a bowl or large cup.  Blend all of the ingredients together and refrigerate.
Once your beets are cooled, prepare your salads.  In a medium bowl, toss the lettuce with the dressing.  Divide the lettuce between two bowls.  Divide the avocado chunks and orange slices between the two bowls.  Chop the roasted beets into about 8 pieces each and divide between the two bowls.  Sprinkle the beet chips on top of the two salads and serve.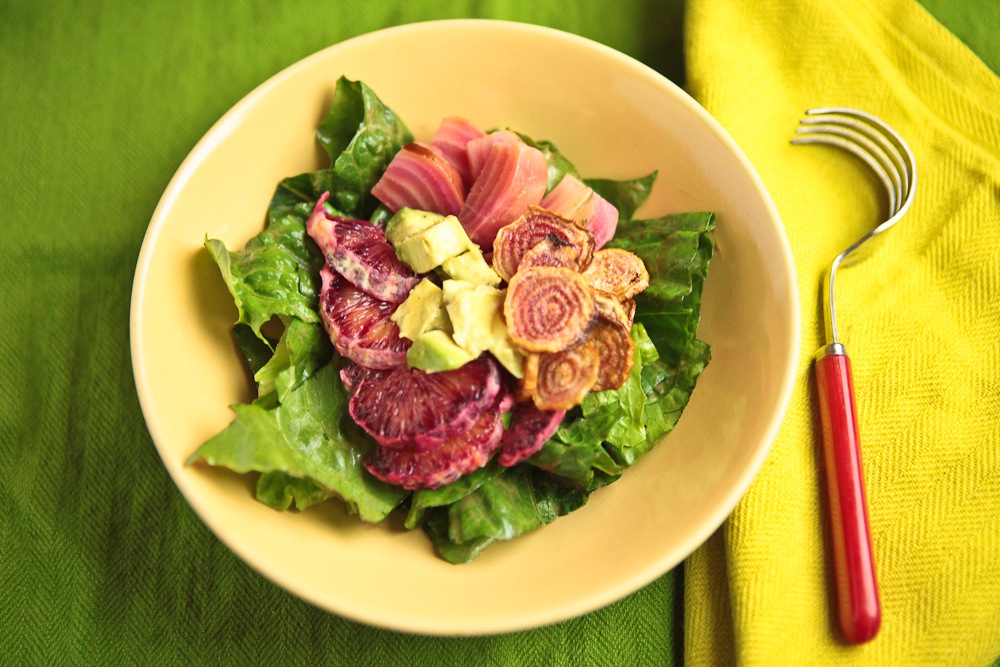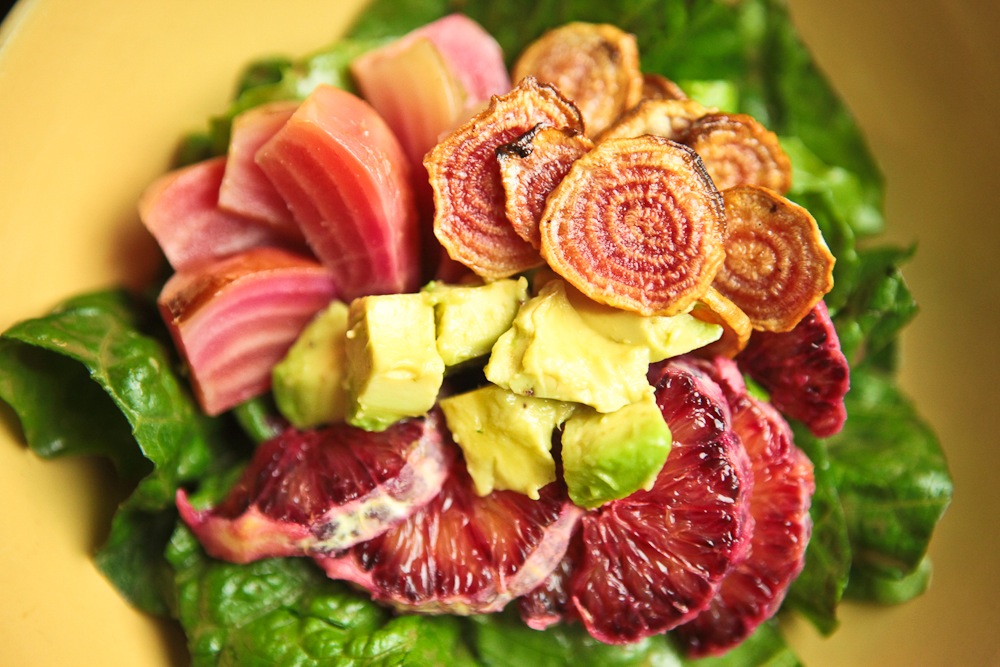 If you like salads that have a variety of textures, you will love this salad.  Give it a try and report back!
Again, much thanks to Cara and Caitlin.  What's on your "recipe to-try list"?
All Photos by Chris Miller
© Kristy Turner and Keepin' It Kind, 2012. Unauthorized use and/or duplication of this material (content and images) without express and written permission from this blog's author and/or owner is strictly prohibited. Excerpts and links may be used, provided that full and clear credit is given to Kristy Turner and Keepin' It Kind with appropriate and specific direction to the original content.