That first year of high school is rough.  Add starting high school in a new town, only knowing one person (a cousin), while transitioning to living with your grandparents, and you've got enough to give a hormonal fourteen year old girl a nervous breakdown.  Every day was a crazy whirlwind of emotions from trying to make new friends without seeming desperate, taking showers in a locker room with other girls for the first time in my life, trying to figure out if Sean from French class liked me (like, like liked me), remember my locker combination (lockers were another first), and reading 100 pages a day for my honors English class on top of all my other homework.  By the time my grandma would pick me up from school, I felt like collapsing.  She always seemed to know how to calm my nerves.  Sometimes, she would take me out for frozen yogurt after school, or makes us some coffee so we could sit and chat for awhile, or sometimes it was just letting me decompress in front of the TV, watching reruns of Saved By The Bell before I started my homework.   One chilly fall afternoon, when I was feeling particularly overwhelmed, after bringing me home, she got to work preparing that night's dinner: Minestrone Soup.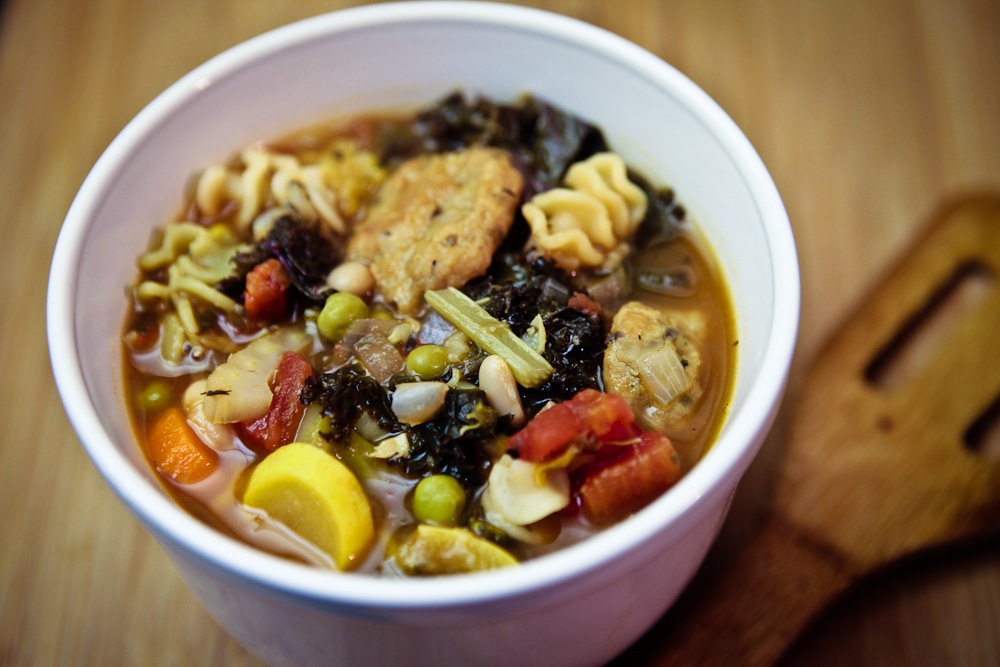 Grandma's Minestrone has healing powers.  That fall evening, as I ate her soup, with some crusty french bread, I could feel all of my teenage trauma melt away.  Grandma must've known that it was one of my new favorites, because she made it often, and later, when I no longer lived with them, she would often make it when I came to visit, and whatever my troubles, it always seemed to take them away.
When I moved out on my own, I called my grandma and asked if she could send me a couple of her recipes, one of them being her Minestrone.  She wrote it down and mailed it to me (I don't think either of us had an email address back then).  Her recipe is huge and makes enough to feed an army.  It also has a ton of ingredients, so I saved it for those times when I had some time to cook or for those awkward times when I had to feed an entire army.  The soup retained its healing powers, but as I grew older, I knew it was because it warmed that spot in my heart where memories of my grandma occupy.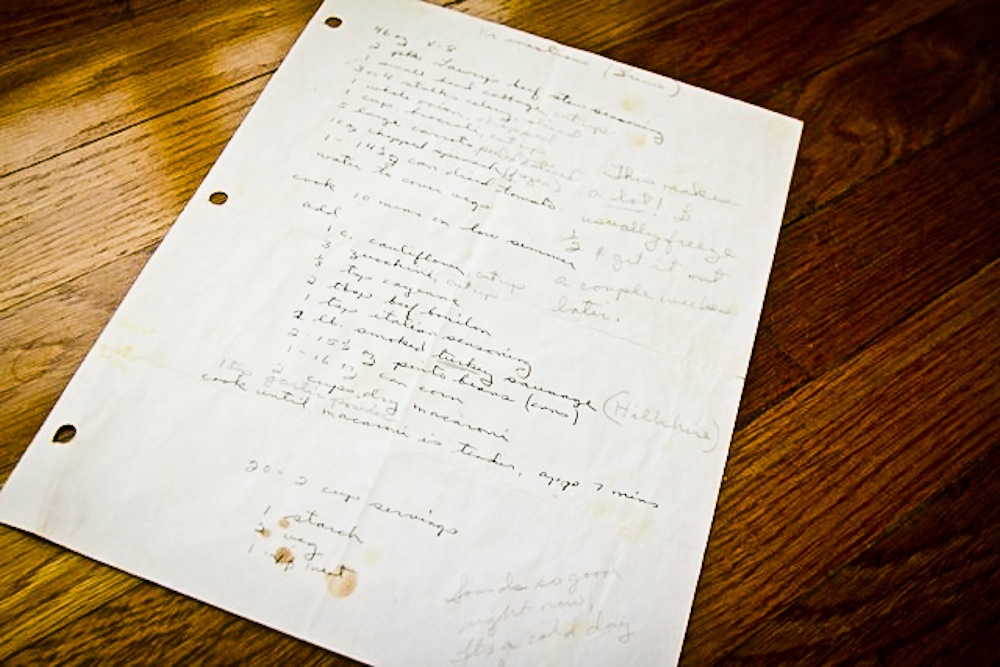 The other day, I went to a different type of yoga class than I normally go to.  I must have misread the class description because it was pretty much the hardest workout I've ever done, and I had already worked out that morning.  I was dripping sweat everywhere and my whole body was shaking, while others gracefully twisted themselves into knots while balancing on one limb.  This class tore me up.  I could barely ride my bike home.  I mean, muscles in my butt and legs were twitching for several hours after.  When I got home, I needed some nurturing.  The type of nurturing only Grandma's Minestrone could do.  I know I've been on a "Grandma's Cooking" streak (see this last post), but nothing else would satisfy me at this point.  I pulled out her recipe, made some revisions (remove Lawry's Beef Seasoning and Hilshire Farms Smoked Turkey Sausage and replace with homemade seitan meatballs, for example), and began the meditative practice of soup making in order to comfort my body and connect to my grandmother.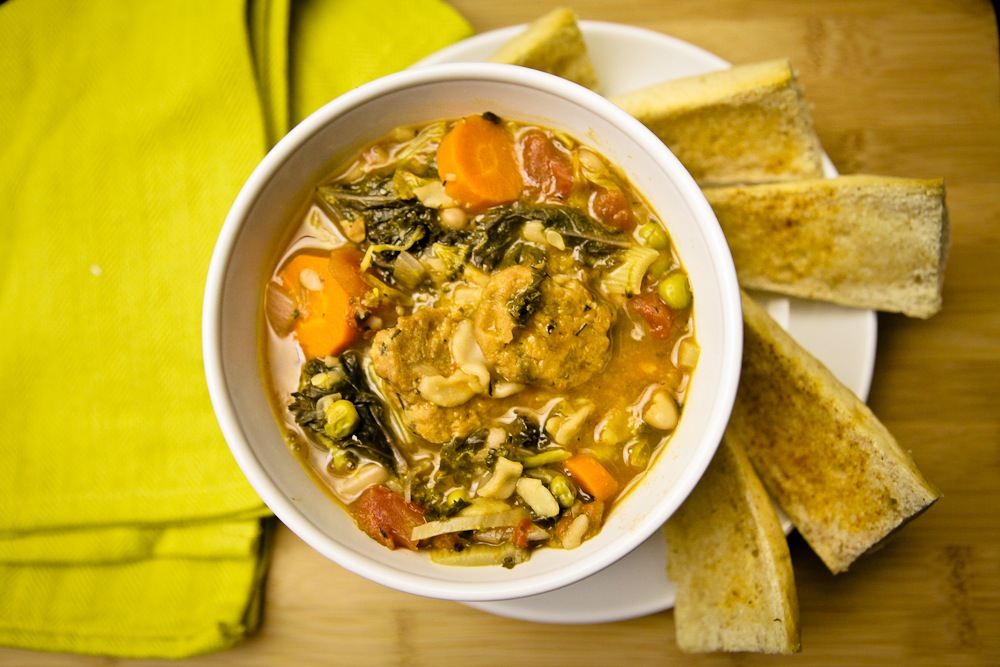 MINI SEITAN MEATBALLS
Note: For the seitan meatballs, by following the instructions below, the balls will flatten slightly, but they are still amazing.  If you need perfectly round meatballs, follow all the instructions, except instead of laying the balls out on a baking sheet, cut out about 30-35 3 inch square pieces of foil and wrap each ball individually.  Then proceed to follow the cooking instructions.
Ingredients:
1 cup vital wheat gluten
¼ cup chickpea flour
¼ cup bread crumbs
3T nutritional yeast
½ tsp dried thyme
½ tsp dried oregano
½ tsp dried basil
¼ tsp rubbed sage
¼ tsp paprika
1/8 tsp cayenne
1 T olive oil
2 button mushrooms, finely minced
2 T finely minced fennel
2 T finely minced onion
1 clove garlic, finely minced
¾ cup vegetable broth
2 T Bragg Liquid Aminos
1 T tomato paste
Instructions:
Preheat oven to 325.  Line a baking sheet with foil and spray with canola oil or olive oil (or oil by hand).  Set aside.
In a large bowl, combine the dry ingredients.  Set aside.
In a small pan, heat the olive oil over medium heat.  After about 30 seconds, add the mushrooms, fennel, onion, and garlic.  Saute, stirring occasionally, for about 2-3 minutes, until onion has lightened in color and the mushrooms have softened.  Remove from heat.
Add the wet ingredients and the sautéed vegetables to the dry ingredients.  Mix with a rubber spatula until it's no longer workable.  Then knead with your hands for about 5 minutes, until a solid ball forms.
Using a ½ tablespoon, scoop and form little balls with your hands, as if you were making cookies.  Drop the little balls onto the oiled, foil-covered baking sheet.  You should have about 30-35 balls.  Using another sheet of foil (spraying the dull side, which will be facing the balls), cover the baking sheet and tightly tuck the edges under, so that barely any air can get in.
Bake for 15 minutes, flip the balls over (they will have flattened a bit, looking like small patties), and bake for 15 minutes.  Let sit until ready to use.  If making the day before, let the balls cool and then store in an air-tight container and refrigerate until ready to use.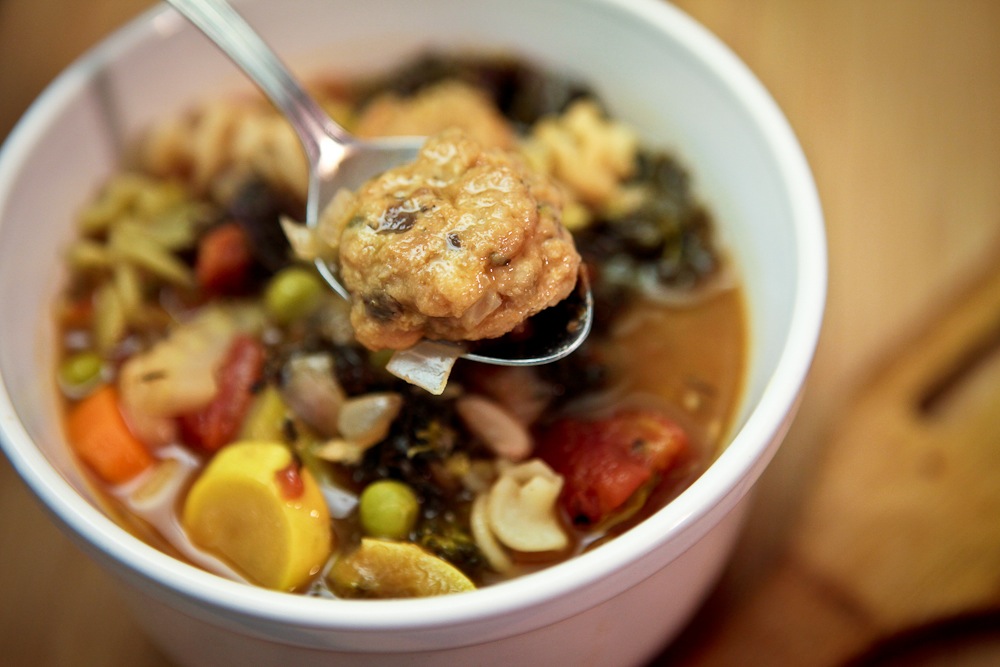 GRANDMA'S MINESTRONE WITH MINI SEITAN-MEATBALLS
Note: though smaller than my grandma's original recipe, this is still a huge recipe.  You will need a very large pot.
Ingredients:
2 T olive oil
1 onion, finely chopped
4 cloves garlic, finely minced
3 carrots, peeled and sliced
2 stalks of celery, sliced
1 28 oz can organic diced tomatoes
5 cups vegetable broth
3 T Bragg Liquid Aminos
2 tsp dried basil
2 tsp thyme
2 tsp oregano
1-½ tsp salt
1 tsp marjoram
½ tsp paprika
¼ tsp cayenne
several dashes of pepper
1 fennel bulb, halved and sliced
2 cups broccoli, chopped
1 cup crimini mushrooms, sliced
2 small yellow crook-neck squash, halved and sliced
1 small bunch of kale
5 cups water
1 bay leaf
1 14-½ oz can of cannellini beans, drained and rinsed
1 cup frozen peas
25-30 mini seitan-balls
1 cup dry pasta (shells, radiatore, elbows)
pepper to taste
Instructions:
In a large stockpot, heat olive oil over medium heat for about 1 minute.  Add onion and garlic and sauté until onion is slightly translucent.  Add the next 13 ingredients, and mix to combine.  Raise the heat, cover the pot, and bring to a boil.  Once it is boiling, add the next 7 ingredients, and stir to combine.  Cover the pot, bringing it to a boil once more.  Once it is boiling, lower the heat, and let simmer for 15 minutes.
After 15 minutes, add the remaining ingredients and let simmer until pasta is cooked and all vegetables are fully cooked.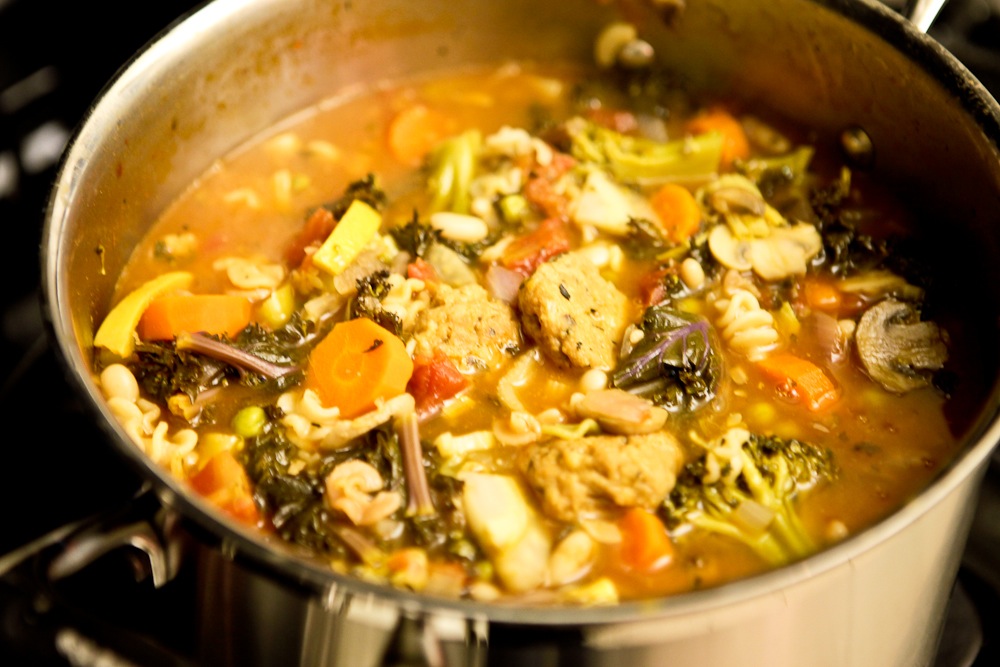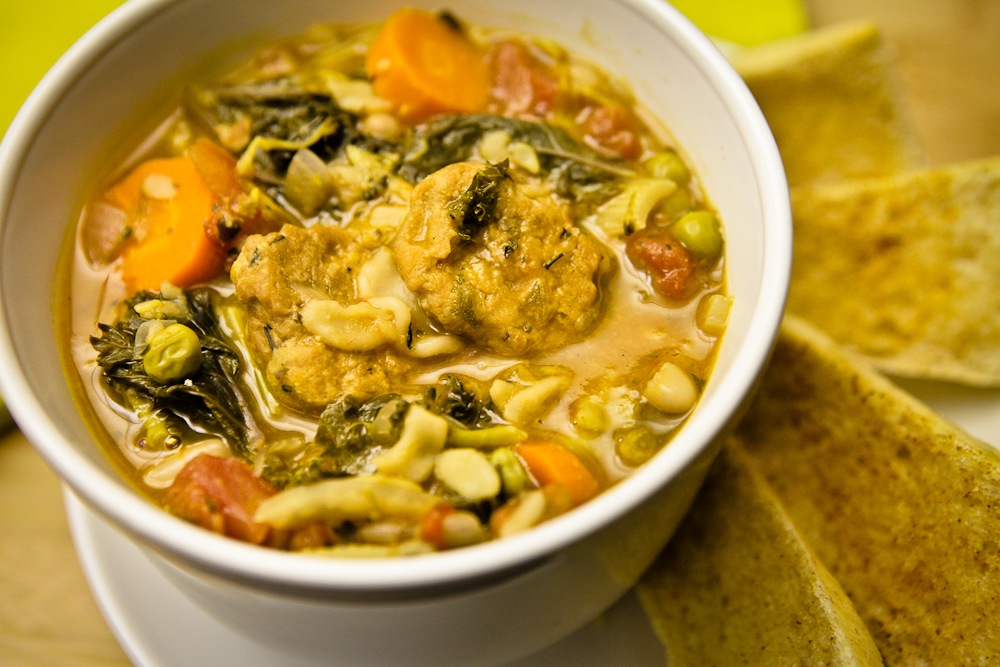 All Photos by Chris Miller
© Kristy Turner and Keepin' It Kind, 2012. Unauthorized use and/or duplication of this material (content and images) without express and written permission from this blog's author and/or owner is strictly prohibited. Excerpts and links may be used, provided that full and clear credit is given to Kristy Turner and Keepin' It Kind with appropriate and specific direction to the original content.