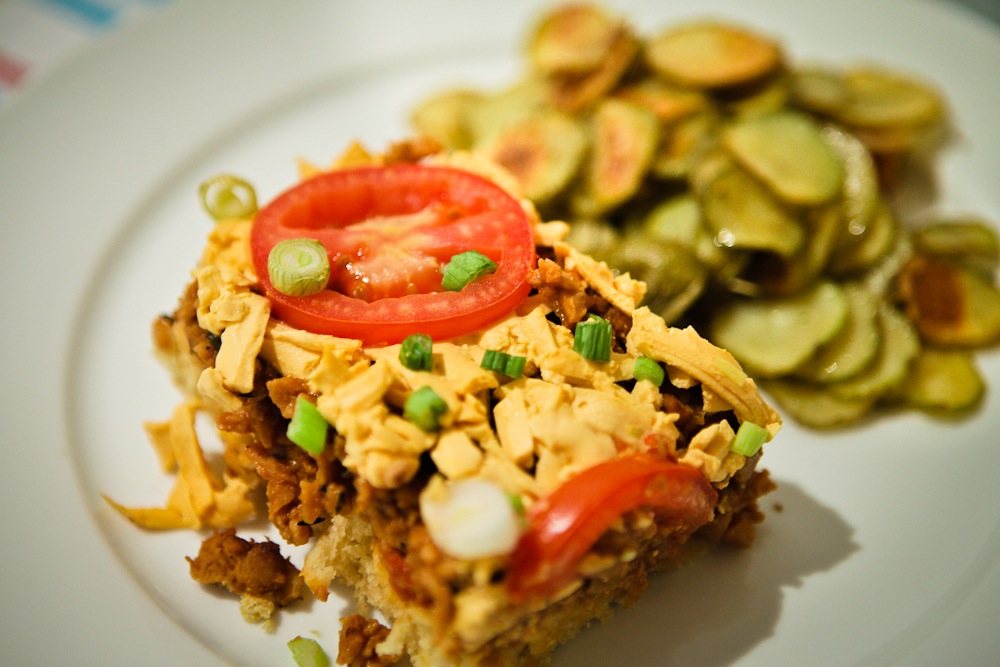 I had the incredible blessing to be able to live with my grandparents for my first year of high school.  I was close to my grandparents prior to living with them, but after that year, I returned to my parents with nothing but the utmost respect and admiration for my grandma and grandpa.  They are truly two of the most amazing human beings I have ever met, and I am so thankful to have had this time with them.
Every day, I would try to get up extra early so I could go out to breakfast with my grandfather before school.  We would go to his favorite local diner, owned by a good friend of his, and as soon as he walked in, he smiled and said "good morning" to each person we passed, and they would all say "good morning, Tom" (I think everyone in Tracy, CA knows Tom Nuce).  We would go directly to our booth in the back corner, and the waitress would come by to make sure we wanted our "usuals."  We would share the newspaper, me reading the comics and the horoscope and he would fill me in on what was going on in the world.  Having that time with my grandpa each morning was the best way to start my day.  Even though I don't read the paper anymore, when I visit my grandparents, I make a point to get up early and read the paper with my grandpa.
My grandma taught me how to cook.  Every night, I had to help her make dinner.  She taught me how to cut different types of vegetables, how to use yeast, how to read a recipe.  Then, each Tuesday, it was my responsibility to cook dinner.  She would stand by and assist me as needed, but it was up to me to pick the recipe and make it happen.  That first time, I thumbed through my grandma's recipes, finally choosing one that was one of my favorites: Impossible Cheeseburger Pie.  I had no idea why it was considered "impossible," (though a google search today provided the answer- it's supposed to be impossibly easy).  I remember being incredibly nervous the first time, so afraid that this "impossible" meal I was about to feed them would be burnt/poisoned/inedible.  It turned out just fine.  Really great, in fact.  Impossible Cheeseburger Pie became a go-to for when I couldn't find another recipe to make on Tuesday nights.  It was a staple for when I moved back to my parent's house and didn't want to eat what my parent's were eating.  When I moved out on my own, it was a cheap meal and the leftovers would last me the rest of the week.  After I became vegetarian, however, the recipe became just a fond memory.
Today, I have a recipe binder, organized exactly like my grandma's: typed recipes, in individual plastic sleeves, with hand-written notes on them.  Magazine cut-outs and recipes given to me by friends are haphazardly shoved in the front and back pockets.  There is a section with recipes I made and liked and took the time to print out for future use, and then there's my grandma's section.  Sometimes I flip through it, just for sentimental purposes (even though many of the recipes contain meat or eggs or dairy, things that I don't include in my diet anymore).  Recently I was doing just that, when I saw grandma's Impossible Cheeseburger Pie recipe.  I was flooded with homesickness, and I knew I needed to veganize this recipe immediately.
As I prepared it, I felt the same nervous excitement I felt the first time I made it.  I was so thrilled to see it come out of the oven, looking just as it had, well, let's just say over 15 years ago, the first time I had made it.  As I plated it and presented it to Chris and the twins, I proudly told them "This is the first meal I ever learned to cook."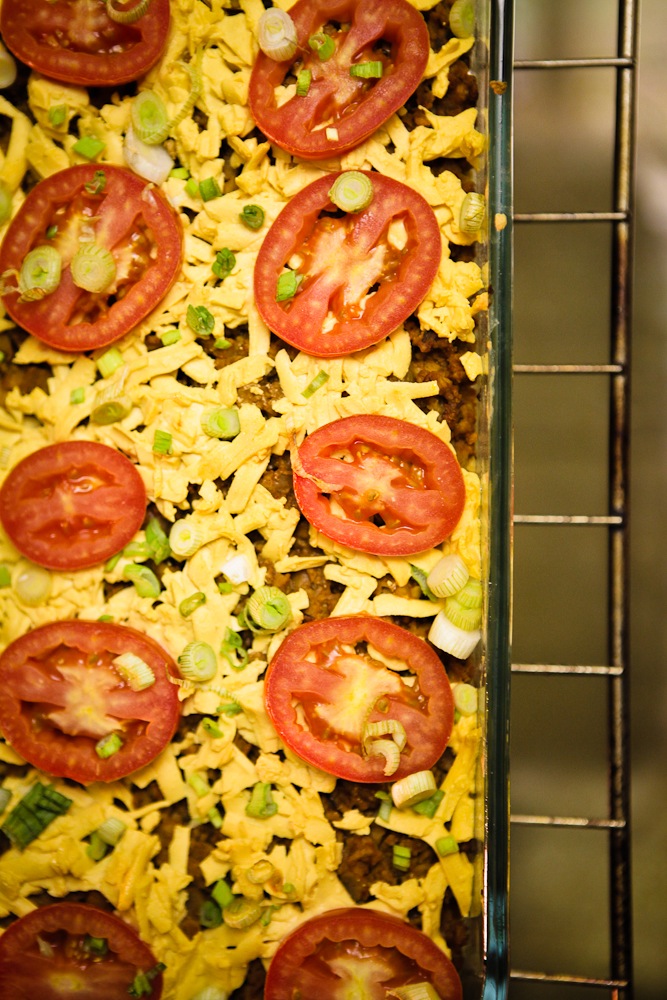 NOT MY GRANDMA'S IMPOSSIBLE CHEESEBURGER PIE
A couple notes: I have never made biscuits in my life that didn't come from a box or a can (scary, yes, I know), and the original recipe called for bisquick (and I wanted a more "made from scratch" sort of crust), so I didn't really know where to start to when it came to making the biscuit crust.  Holy Cow! helped me out with that.  I also used cheddar-flavored Teese, though I generally prefer Daiya.  Whole Foods was out of Daiya, and I really like (love, actually) the way Teese melts, but the taste isn't quite as good as Daiya's, in my opinion.  I think either would work fine here. 
makes 12 servings
Ingredients:
for the biscuit crust (adapted from Holy Cow!):
1 cup soymilk or almond milk
1 tsp vinegar
2 cup all-purpose flour
2-½ tsp baking powder
½  tsp baking soda
½ tsp salt
2-½ T vegan margarine/butter
2-½ T coconut oil
for the "pie":
2 T olive oil
½ onion, finely chopped
2 cloves garlic, finely minced
1-½ cups TVP
1-1/2 cups vegetable broth
2 T Bragg Liquid Aminos
1 tsp liquid smoke
1 tsp dried thyme
½ tsp dried oregano
salt & pepper to taste
½ cup vegan ketchup/catsup
¼ cup vegan BBQ sauce
¼ cup mustard
1 cup vegan cheddar cheese, grated
2 tomatoes, sliced
2 green onions, finely sliced
Instructions:
Preheat oven to 450.  Spray a 9x13 baking dish with vegan non-stick spray.
Mix the soy or almond milk with the vinegar and set aside so it can curdle.
In a large shallow saucepan, heat the olive oil over medium heat for about 30 seconds.  Add the onion and garlic and cook until onion is translucent.  Add the TVP, vegetable broth, Bragg Liquid Aminos, Liquid Smoke, spices, and salt and pepper.  Let simmer, stirring occasionally, until TVP is cooked and there is no more liquid.  Remove from heat.
Mix together the ketchup, BBQ sauce, and mustard.  Add it to the TVP mixture.  Set aside.
Meanwhile, in a large bowl, mix together the dry ingredients for the biscuit crust.  Add the coconut oil and margarine/butter and cut them in very quickly until you have a coarse crumbly texture.  Add the curdled milk and mix together until you have a ball of dough.
Spread the dough into the bottom of your greased baking dish.  Spread the TVP mixture over the top of the dough.  Put the baking dish in the oven and bake for 10-14 minutes.
Sprinkle the grated cheese over the top of the TVP mixture.  Top the cheese with the tomato slices, and then the green onions.  Return to oven until cheese is melted.  Serve warm.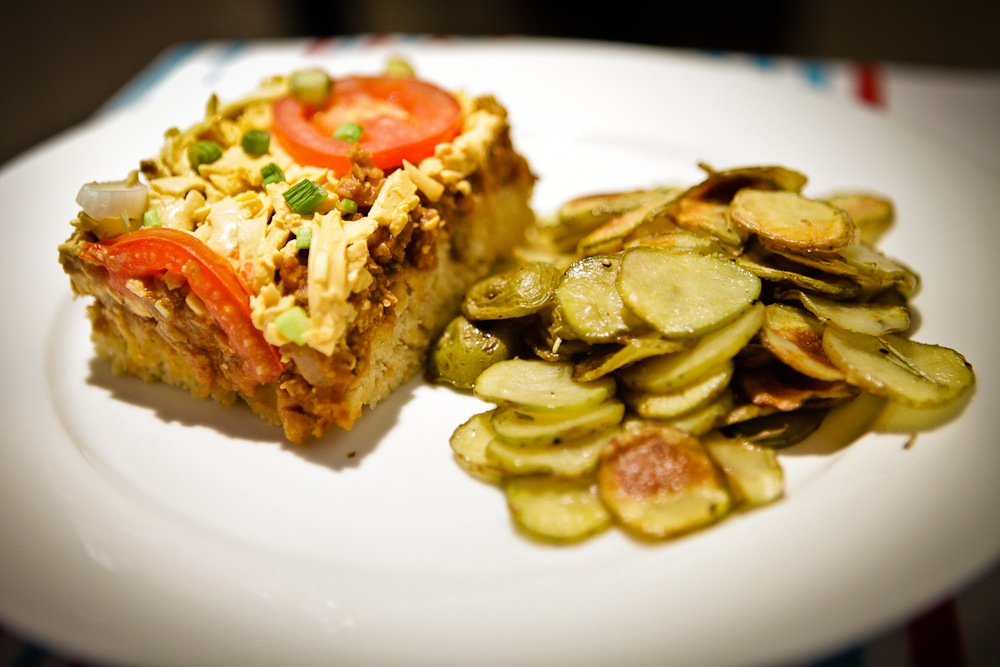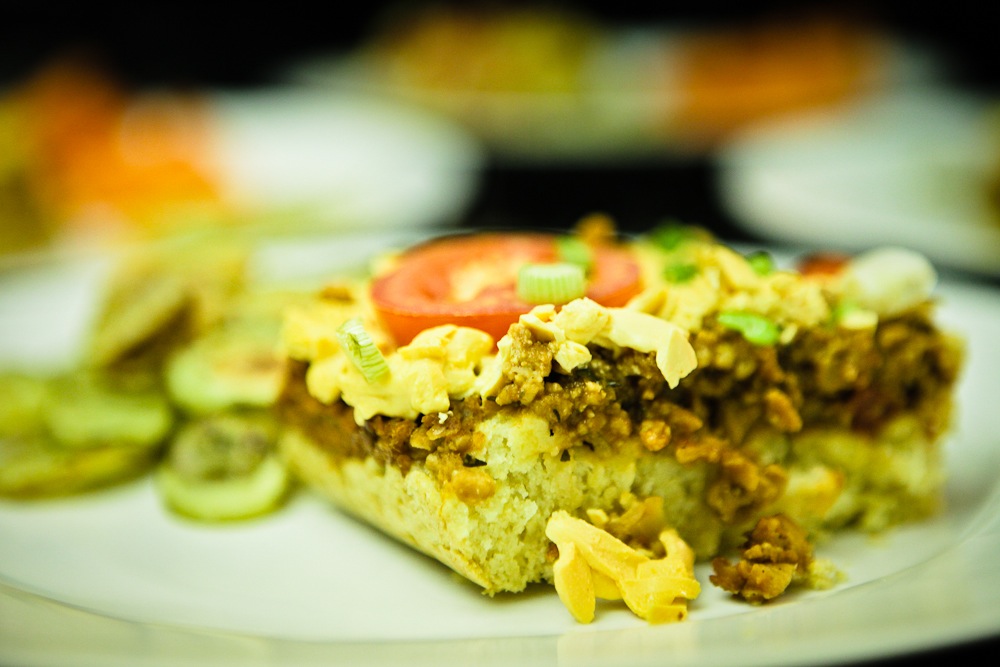 I actually got a little teary-eyed writing this post.  It's so amazing how we can have emotional connections to different recipes, just because of where we were when we made it or who we cooked it for.  That may be one of my most favorite things about cooking: how it becomes more than just sustenance and becomes a connection between you and loved ones, a shared memory.  What recipes make you emotional?  What was the first meal you ever prepared?
Photos by Chris Miller
© Kristy Turner and Keepin' It Kind, 2012. Unauthorized use and/or duplication of this material (content and images) without express and written permission from this blog's author and/or owner is strictly prohibited. Excerpts and links may be used, provided that full and clear credit is given to Kristy Turner and Keepin' It Kind with appropriate and specific direction to the original content.