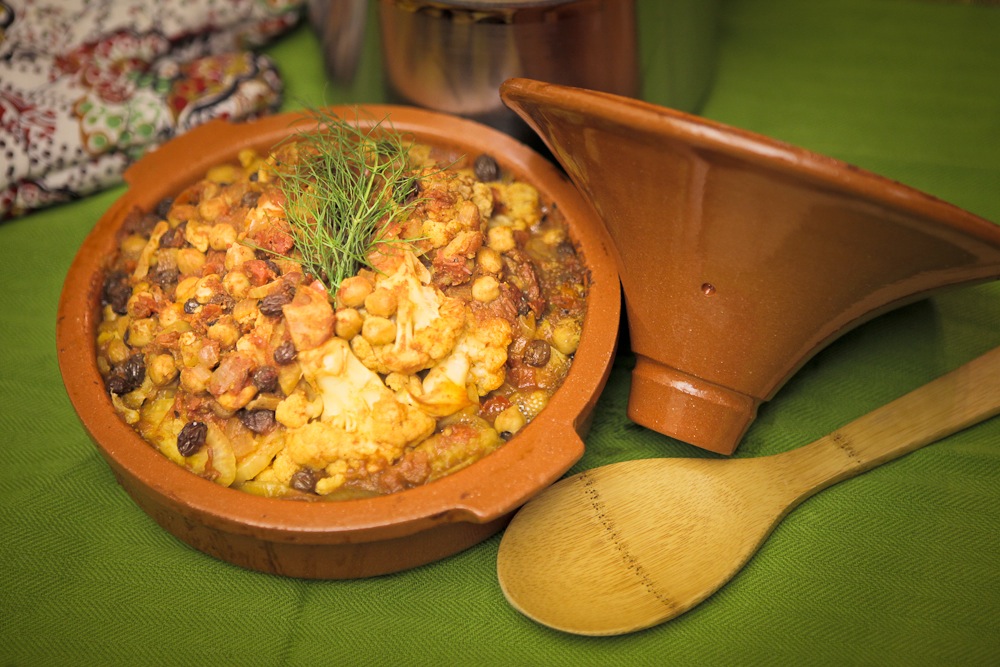 For Christmas, Chris and I were given a Tagine as part of an incredible gift basket.  Our friends thought of everything- a vegan cookbook, a jar of couscous, orange olive oil, citrus herb salt, and this gorgeous Tagine.  Dan and Melissa seriously took gift baskets to the next level (Thank you so much, Dan and Melissa!).
I've always been enticed by Tagines, but never actually used one.  The idea of having something slow-cooked in a beautiful piece of pottery seems so dramatic and delicious at the same time, but I had no idea where to start.  The Tagine sat on our counter for months, staring at me, daring me to use it.  I finally caved and went for it.
In my research, I found that you have to "season" a Tagine before you use it.  This meant letting it soak in warm water for at least 2 hours, then covering it with oil and baking it in the oven at a very low heat for a couple of hours (go here for more detailed instructions).  Finally it was ready.
Also, when you use the Tagine, you cannot allow any sudden temperature changes, or it will crack.  Do not put it in a preheated oven and don't put anything hot into it while it is cold.  I don't know how authentic my instructions are, and I'm sure if you went to Morocco, they would be doing it much differently.  If you do not have a tagine, you can use any dutch oven or oven-safe dish (like Pyrex or similar) or an oven-safe pan or pot, with a lid.  It worked pretty well, though, and we were quite pleased with the results.  The sweet & spicy combo was spectacular and made our house smell amazing! And I felt very dramatic pulling the clay lid off to unveil our meal, so it was a win all the way around.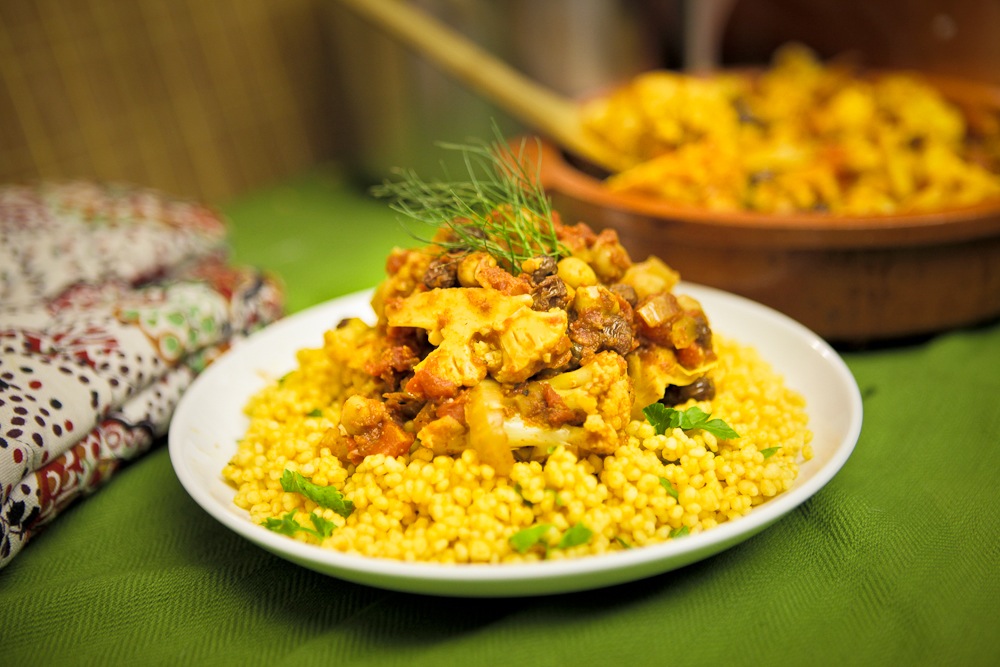 CAULIFLOWER & CHICKPEA TAGINE WITH LEMON PARSLEY COUSCOUS

Ingredients:
for the Tagine:
1 small onion, or ½ large onion, finely diced
1 fennel bulb, cleaned and thinly sliced
1 head of cauliflower, broken into bite-size pieces
4 cloves garlic, minced
1 can of chickpeas, drained and rinsed
1 can of fire-roasted tomatoes
1 ½ - 2 cups of vegetable broth (less for a smaller tagine, more for a larger one)
2 T olive oil, plus some for rubbing the inside of the tagine
1 tsp cumin
1 tsp cinnamon
1 tsp ginger
¾ tsp ground coriander
½ tsp paprika
several saffron threads
a few dashes of black pepper
1 T agave syrup
½ cup raisins
for the couscous:
3 cups vegetable broth
2 cups couscous
½ cup fresh parsley, roughly chopped
1 T lemon juice
Instructions:
If using a tagine, make sure the inside is properly covered with oil, set inside the oven and preheat the oven to 300°.  If using a regular oven safe dish, just preheat the oven and grease the dish.
In a large, shallow saucepan, preheat the oil over medium heat.  Add the onion and sauté until translucent, and then add garlic.  Cook for a couple more minutes, stirring often, and then add the rest of the tagine ingredients, except for the agave syrup and the raisins.  Mix to combine, raise the heat and cover.  Once it is boiling, lower the heat and let it simmer for about 5 minutes.
If using a tagine, remove the heated tagine from the oven, and reapply oil to the insides.  Pour the contents of the saucepan into the tagine or baking dish of your choice.  Cover with tagine lid, or foil, and put back into the oven.  Bake in the oven for 60 -75 minutes at 300°.
About 15 minutes before the tagine is ready to be removed from the oven, you can start your couscous.  Pour the vegetable broth and couscous into a medium pot, cover and bring to a boil.  Once it is boiling, remove from heat, keeping it covered until liquid is dissolved (about 7-10 minutes).  After liquid is dissolved, add parsley and lemon juice, and use a fork to combine, and "fluff" the couscous.  Cover again until ready to use.
After the tagine has baked for 60-75 minutes, remove from the oven.  Carefully remove lid, and serve the tagine with the couscous.  Enjoy!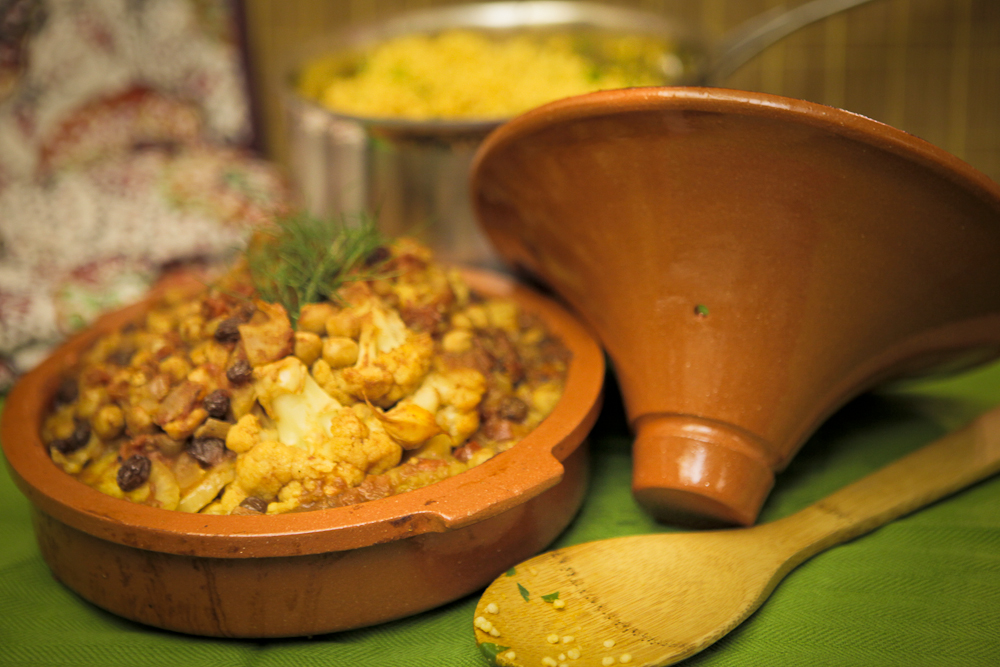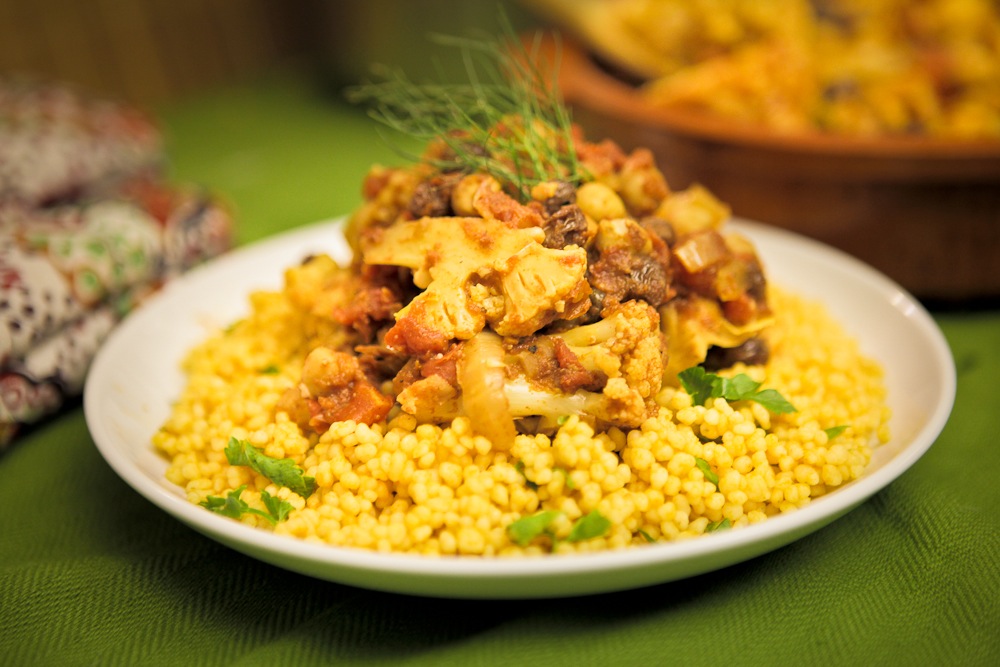 All Photos by Chris Miller
© Kristy Turner and Keepin' It Kind, 2012. Unauthorized use and/or duplication of this material (content and images) without express and written permission from this blog's author and/or owner is strictly prohibited. Excerpts and links may be used, provided that full and clear credit is given to Kristy Turner and Keepin' It Kind with appropriate and specific direction to the original content.