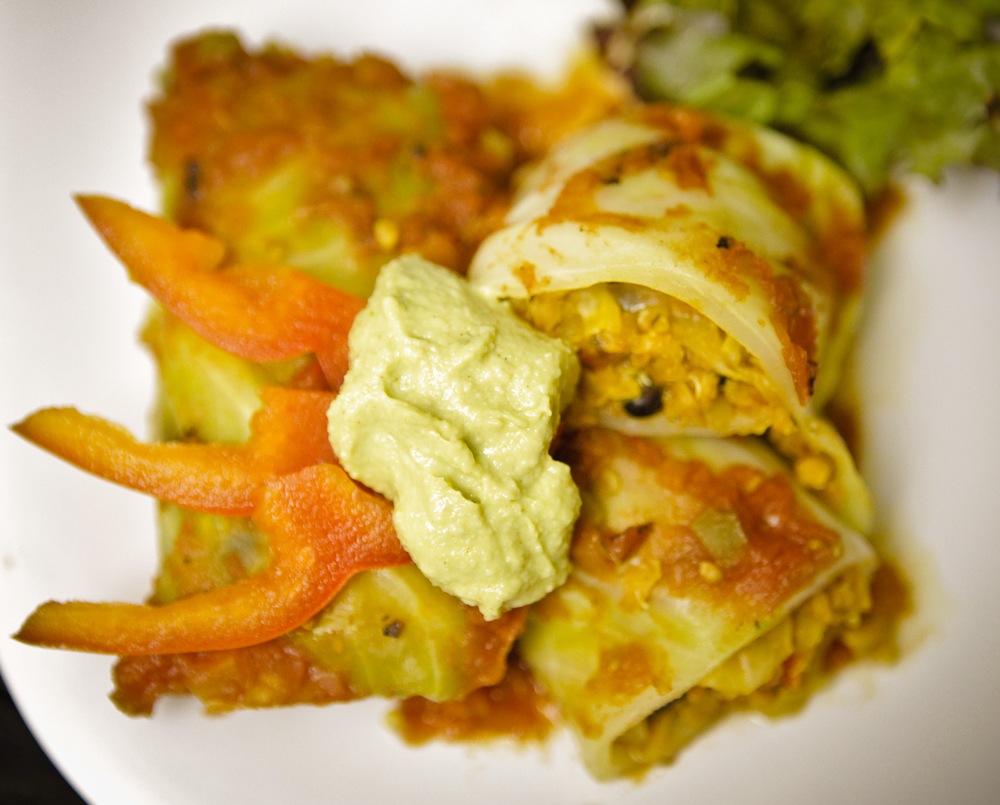 On Urban Dictionary, one of the definitions (after several unnecessary x-rated definitions) for "Fiesta" is:
A small economy car that is popular in Europe and/or other poor or liberal hell holes.

"Billy drives a Fiesta and he is a communist."
That is actually not the definition I was looking for.  I was thinking something along the lines of a party, as in "These Stuffed Cabbage Rolls are a fiesta in my mouth!"  And they are.  I've played with these recipes a few times (whenever our CSA sends us cabbage or collard greens), each time with different ratios of ingredients.  The primary ingredients are as follows: Black Beans, Quinoa, TVP, Tomato, and miscellaneous vegetables.  Just a like a real party, when you invite too many of one ingredient, it throws the whole party off.  Quinoa is like the super-hot intellectual girls who the guys lust after but are too intimidated to approach.  When you have too many, all the girls just sit in the corner, with their coffee, discussing foreign films until they leave at 11.  Although quinoa is awesome, when you have too much it's a little boring and anti-climatic.  TVP are the younger kids, the freshmen if you will.  They will do anything for attention, take on any persona to impress the crowd.  They have great potential but just not enough of a developed personality of their own.  When you have too much TVP, it becomes a bland, sometimes obnoxious, one-flavor mixture, making you wonder "who invited them anyway?"  The black beans are the wild card- the handsome, fun, stand-out guy who has a little bit of a crazy side when he's in a certain crowd.  When you have too many (any girl's dream), you will have the night of your life but wake up with your house (your body) totally thrashed and will have you swearing off black beans for life.  The tomatoes and the selection of vegetables are your good, devoted friends and you just can't go wrong with good friends.
This final recipe is the perfect balance of all.  It's like that one super-fun, mind-blowing 4th of July party (without all the falling down and puking at the end of the night, not that I know anything about that).  To top it all off, there is a delicious Avocado Cashew Cream (that is in no way a low-calorie topping).  Don't expect it to taste like sour cream or guacamole it's its own perfect flavor.
Just a note- If you've never used TVP, don't shy away.  I bought a bag, and then was nervous about using it for about 5 months- I just didn't know what to expect.  It stands for Texturized Vegetable Protein, and once you cook it in liquid, it takes on whatever flavor you season it with. It's a great vegan replacement in recipes that would normally use ground beef or turkey.   TVP is also low in calories and high in protein.  If you don't want to use it, just add another 1/2 cup of beans and another 1/2 cup of quinoa.
One more thing: Give yourself some time to make these recipes.  It takes about 1 1/2 - 2 hours, including cooking time.
AVOCADO CASHEW CREAM
makes 1-1/2 cups
Ingredients:
1 small avocado, or about ¾ of a large avocado
½ cup raw cashews
¼ cup cashew water
2 tsp apple cider vinegar
juice from ½ a lime
1 tsp salt
1 tsp garlic powder
½ tsp paprika
dash of cayenne pepper
pepper to taste
Instructions:
Soak the cashews in water for at least an hour.  You can also put the cashews in a pot of boiling water, stirring occasionally, for about 10 minutes.
Remove the cashews from the water, keeping the liquid that they soaked/cooked in, and put them into a food processor.  Add ¼ cup of the reserved water.  Pulse in food processor until finely chopped.  Add the rest of the ingredients and puree until smooth.  You may need to adjust salt and pepper to taste.
Serve immediately or refrigerate for an hour or more to let the all the flavors "mesh."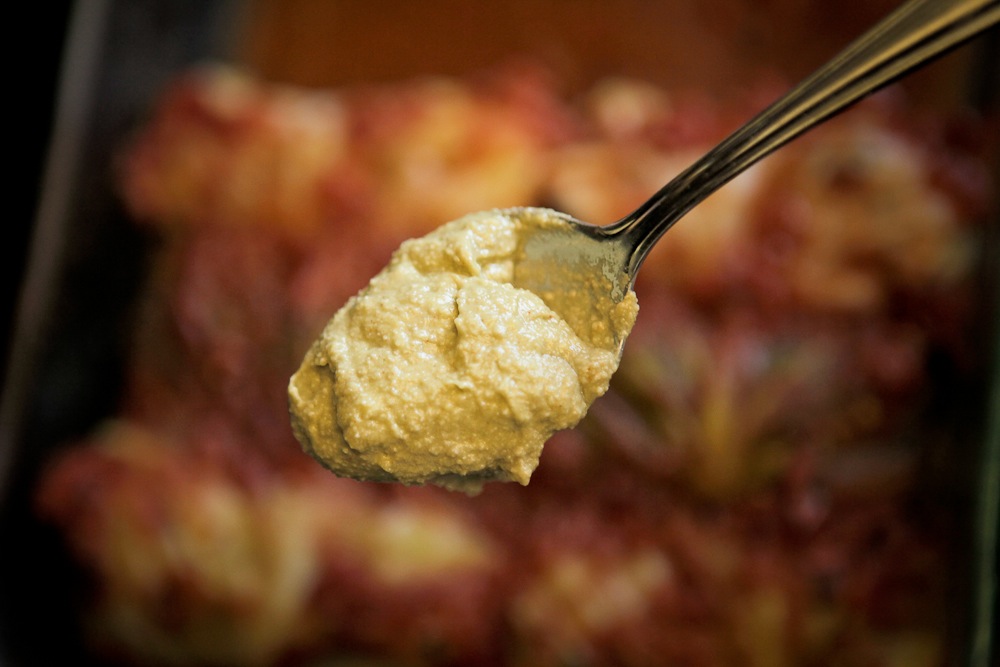 BLACK BEAN FIESTA CABBAGE ROLLS
makes 12 rolls
Ingredients:
1 head cabbage
1 14.5oz can of crushed or diced tomatoes, plain
1 14.5oz can of fire-roasted diced tomatoes (I use Trader Joe's)
¾ cup black beans, cooked
¾ cup TVP
¾ cup cooked quinoa
1 red bell pepper, chopped (about 1 cup)
½ onion, finely diced
3 cloves garlic
1 ½ cups vegetable broth + ¼ cup (separate)
3 T tomato paste
2 T olive oil
1 T Bragg Liquid Aminos
1 tsp liquid smoke
1 tsp Sriracha sauce (or to taste)
2 tsp dried thyme
1 tsp cumin
½ tsp paprika
salt and pepper to taste
Instructions: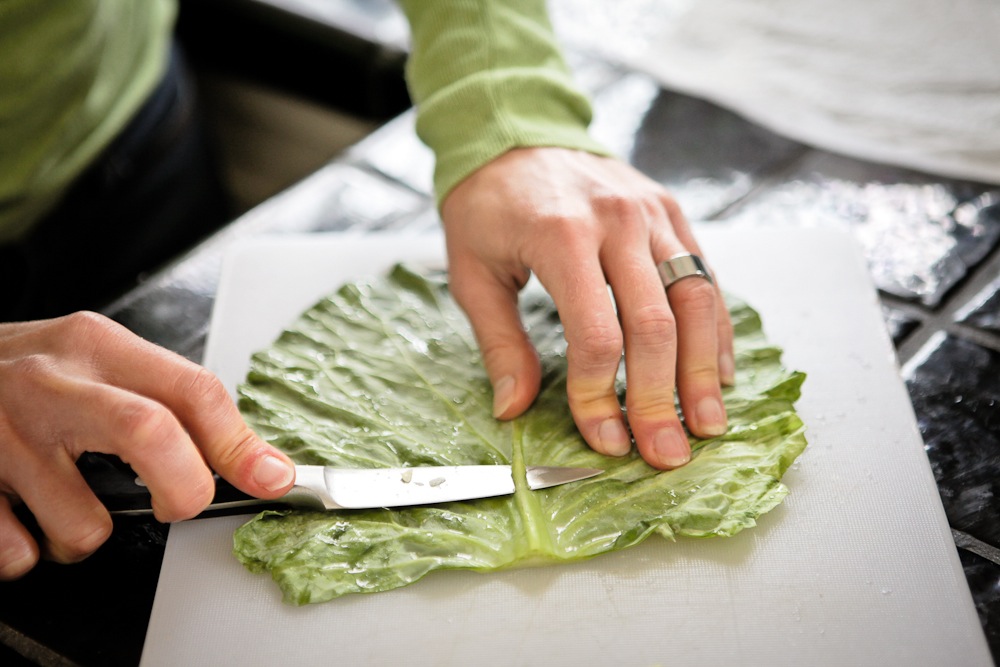 Remove 12 of the largest leaves (make sure they are clean and dry) from the outside of the cabbage head.  Trim any chunky stems from the bases of the leaves.  With each leaf, outside facing up, use a small knife to trim the thicker part of the stem from the leaf.  All you need to do is carefully run the knife parallel to the leaf to remove the thickest part of the stem.  Set the leaves aside.  Take the remaining cabbage (center) and chop into small, fine pieces.  Set aside.
In a food processor or blender, pulse the ¼ cup of vegetable broth with the can of fire-roasted tomatoes to a smooth-but-slightly-chunky consistency.  Set aside.
In a large shallow saucepan, heat the olive oil over medium heat.  Add the onion and garlic and sauté until onion is translucent.  Add bell pepper, TVP, can of (plain) crushed tomatoes, tomato paste, vegetable broth, Bragg Liquid Aminos, liquid smoke, Sriracha sauce and spices.  Mix to combine.  Simmer over medium heat for about 5 minutes, stirring occasionally. Add in cabbage, and cook until slightly wilted.  If you find that it is sticking, lower heat and add more broth.  Mix in black beans and quinoa, and cook until there is no more excess liquid.  Salt and pepper to taste, if needed.  Set aside.
While you are cooking the TVP mixture, start a pot of water boiling.  In batches of 4, put cabbage leaves into boiling water and cover with a lid.  After about 3 minutes, use tongs or a slotted spoon to remove.  Set aside on a clean kitchen towel or paper towel.
Preheat your oven to 350°.  Spray a 9x13 casserole dish with vegan cooking spray, and then spread a couple spoonfuls of the tomato sauce into the base of the dish.
To assemble the rolls: Lay a cabbage leaf out, and spoon about 2-3 tablespoons of the bean, TVP, and quinoa mixture onto the bottom third of the leaf.  Fold the sides over, and roll (burrito-style) the mix-containing end towards the top of the leaf.  Place roll, seam side down, into the baking dish.  Repeat with remaining leaves.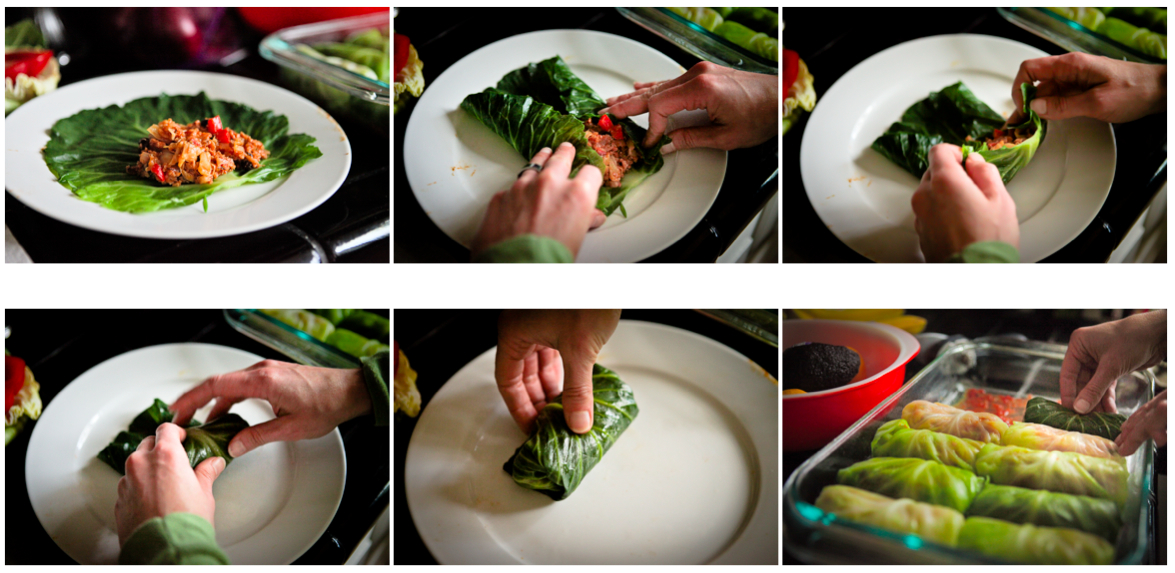 Spoon the remaining tomato sauce over the rolls and cover the dish tightly with aluminum foil.  Bake for 35-40 minutes.  Serve with Avocado Cashew Cream (or just some avocado and/or vegan sour cream).  Enjoy!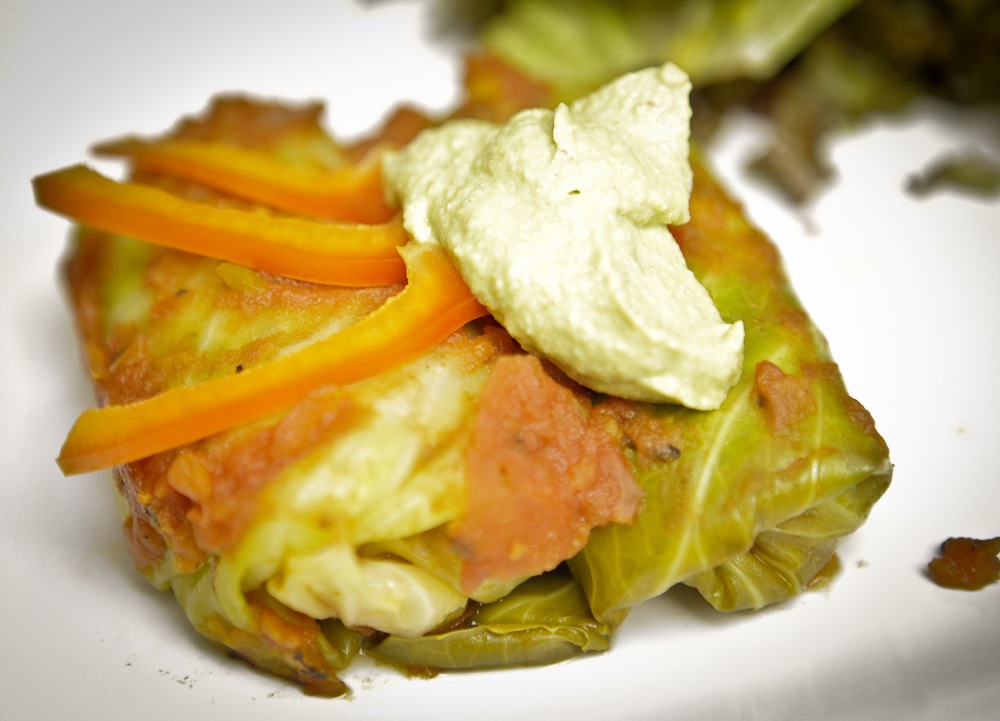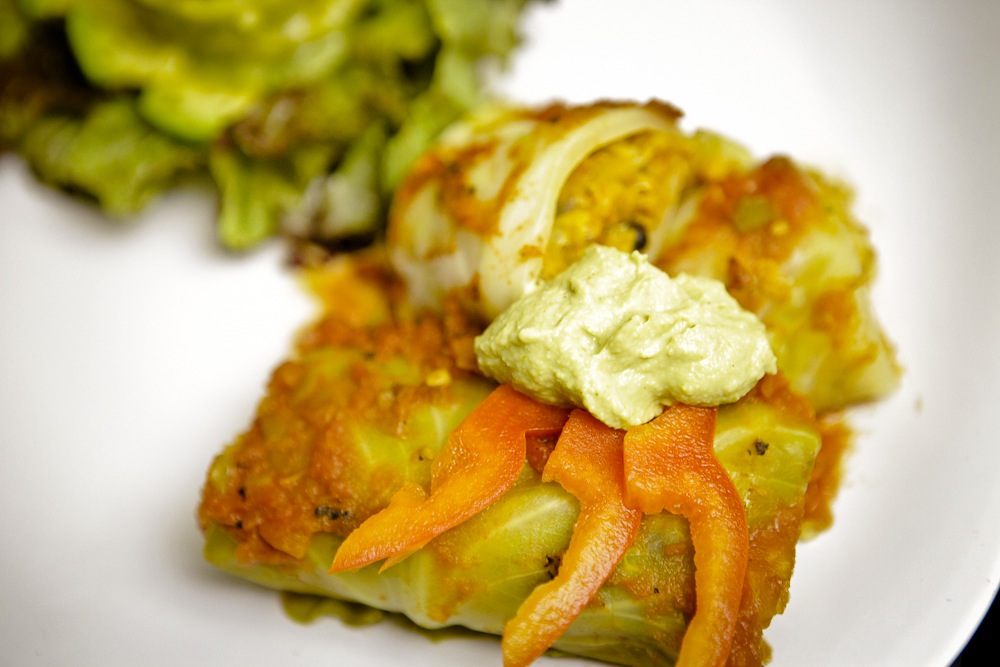 Photos by Chris Miller
© Kristy Turner and Keepin' It Kind, 2012. Unauthorized use and/or duplication of this material (content and images) without express and written permission from this blog's author and/or owner is strictly prohibited. Excerpts and links may be used, provided that full and clear credit is given to Kristy Turner and Keepin' It Kind with appropriate and specific direction to the original content.