When I was a little kid, I would eat anything.  I was a parent's dream- any vegetable they wanted me to try, I was totally game.  Whatever my dad cooked, I ate.  The only thing I remember ever not wanting to try were beets, but my parent's tricked me, saying "Oh well, more for us.  Yeah, it's better that you don't get any.  You wouldn't like them."  Then, of course, I had to have them.
But it didn't stop with what my parents wanted me to eat, I ate things I thought were shiny (aluminum foil- I know, it's so gross and so bad) or things I thought were pretty (leaves from the tree in our front yard).  I remember chewing, for hours, on a rubber band as if it were bubble gum.  I used to scour the backyard for dandelions, eating each one I came across.  I seem to remember thinking that by eating these "magical" flowers, I would start to grow fairy wings (I had an extremely active imagination and was obsessed with fairies).
Apparently, my tastes have changed (thank goodness!).  This last week, our CSA sent us dandelion greens.  My first thought: "Ah-ha!  They are edible!"  I was kind of excited, being reunited with this childhood delicacy.  I tore off a piece of one of the leaves and put it in my mouth.  As I began to chew, the bitterness shocked me, and my nostrils started to burn because of the spiciness.  Tears welled up in my eyes.  I realized that in order for me to consume these as an adult, they were going to have to be masked by a lot of other flavors, and whatever I made, it was going to be spicy.
The next day, I stared into my refrigerator, trying to gain inspiration for what I was going to use these greens for.  I hadn't made it to the grocery store yet, so really, besides the CSA delivery, all that was left were a little leftovers from this, and some leftovers from that.  I can remember a time when, just a couple years ago, if I had been faced with a pretty much empty refrigerator, with some weird odds and ends, I would have moped around before declaring defeat and begrudgingly ate raw baby carrots for dinner.  Just when I was preparing myself for defeat, out of nowhere, a little voice in my brain said "Let's do this!  You're going to make an awesome dinner with whatever you have right now.  And it's going to be fun.  And you're going to like it!"
After I got over the shock of my sudden maturity, I got to work and this is what was born: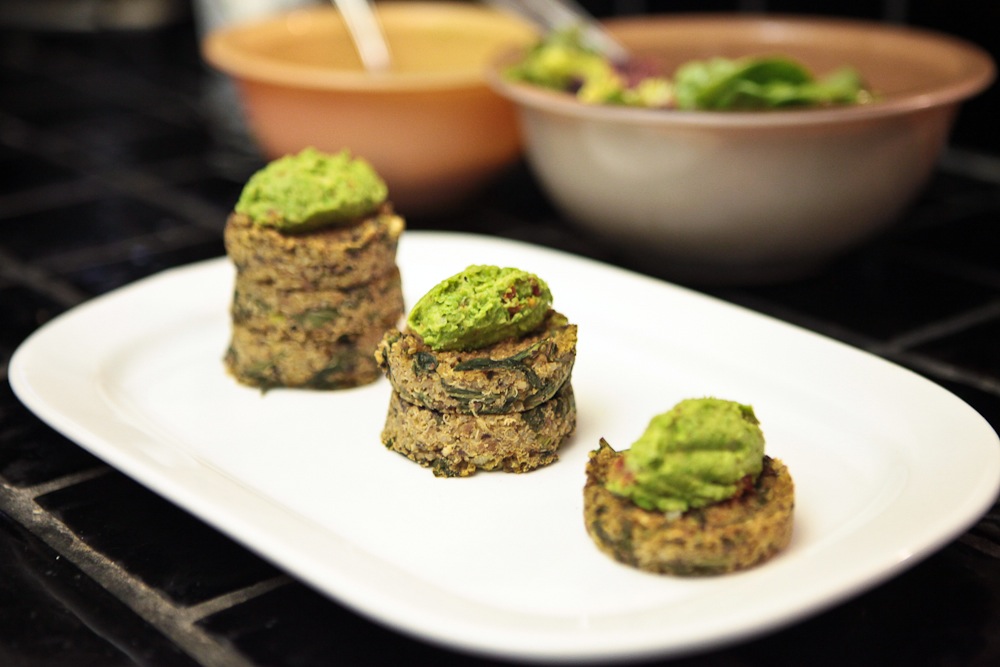 PEASAMOLE
Ingredients:
1 ½ cups frozen peas, defrosted
1 T + 1 tsp olive oil
1 T lime juice
1/2 tsp cumin
½ tsp garlic powder
¼ tsp paprika
1/8 tsp cayenne pepper
2 T onion, finely diced
2 T sun-dried tomatoes
salt and pepper to taste
Instructions:
Combine the first seven ingredients in a food processor, and process until mostly smooth.  Add the onion and sun-dried tomatoes, and pulse a few times.  Add salt and pepper if necessary.  Refrigerate 1 hour before serving.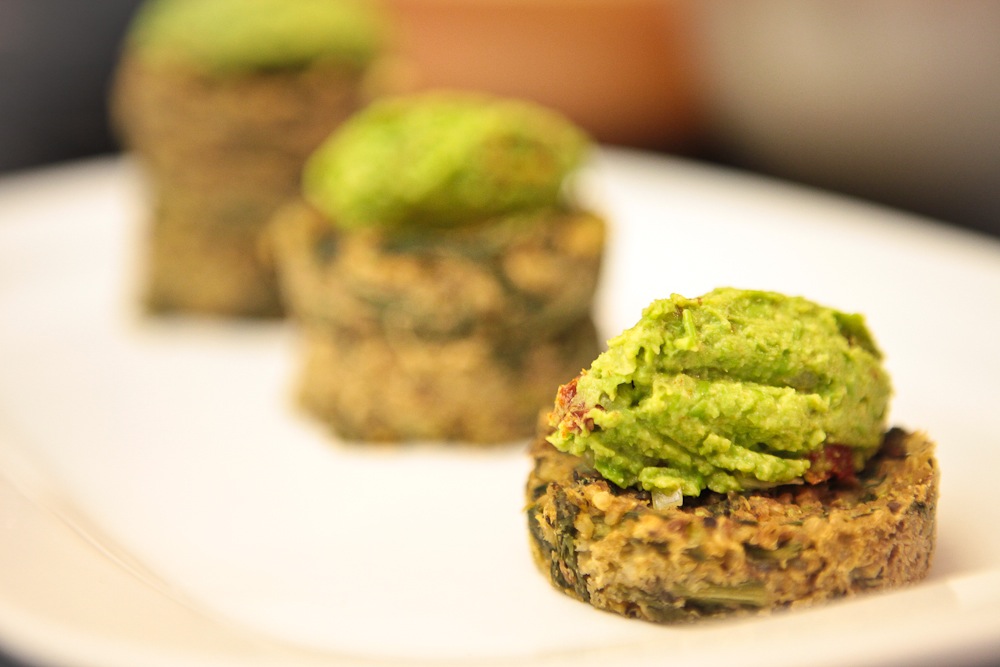 DANDELION & BEAN QUINOA CAKES
Just a note: I used silicone muffin "tin" and the cakes were very easy to get out.  If using a metal tin, you may need to run a knife around the outer edge of each cake before getting it out.
makes 12 cakes
Ingredients:
1 ½ cup cooked quinoa
1 cup cooked black or pinto beans
2 cups roughly chopped dandelion greens (or other dark leafy green)
2-3 cloves garlic
1 T olive oil
2 green onions, finely chopped
¼ cup vegetable broth
1 tsp Sriracha sauce
1 tsp cumin
1 tsp thyme
½ tsp paprika
2 T chickpea flour
1 T nutritional yeast
salt and pepper to taste
Instructions:
Preheat oven to 350.  Lightly spray a muffin tin with vegan non-stick spray.
In a medium pan, heat the olive oil and garlic over medium heat for about 1 minute.  Add the greens and toss to combine.  Cook until greens are wilted, about 3 minutes, stirring occasionally to prevent sticking.  Once they are wilted, remove from heat.
In a food processor, combine the beans with the vegetable broth, Sriracha sauce, cumin, thyme, and paprika.  Process until there are no more chunks of beans.
In a large bowl, mix the bean mixture, the quinoa, the greens, with the chickpea flour and nutritional yeast.  Mix until thoroughly combined.  If needed, add salt and pepper.
With a ½ tablespoon, measure 1-½ tablespoons of mixture into each section of the muffin tin.  Pat them down with your finger or the back of the spoon.  You should have 12 cakes.  Put the muffin tin in the oven and bake for 25-28 minutes, until the tops are browned.  Remove from the oven and let stand for about 10 minutes.  Top with peasamole and serve.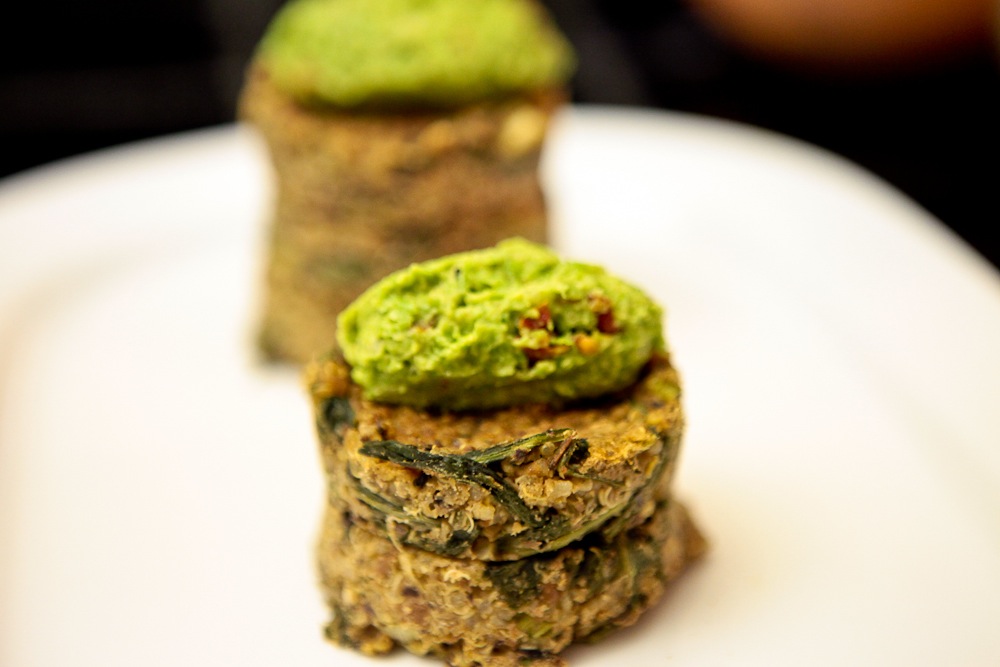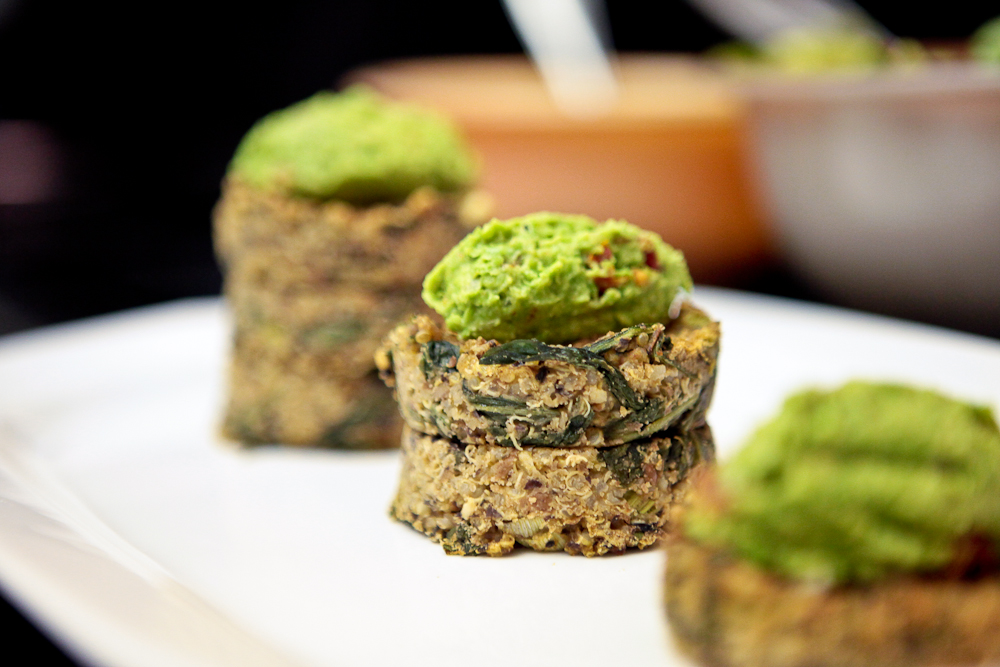 When  I completed my challenge, I was glowing with pride, not just because of the kick-butt meal I had just created, but because I love being, dare I say, an adult, who doesn't mope and still eats dandelions.  Chris came home right when I was finishing up and when we sat down to eat, all he could say, in between bites, was "Magical."
Photos by Chris Miller
© Kristy Turner and Keepin' It Kind, 2012. Unauthorized use and/or duplication of this material (content and images) without express and written permission from this blog's author and/or owner is strictly prohibited. Excerpts and links may be used, provided that full and clear credit is given to Kristy Turner and Keepin' It Kind with appropriate and specific direction to the original content.