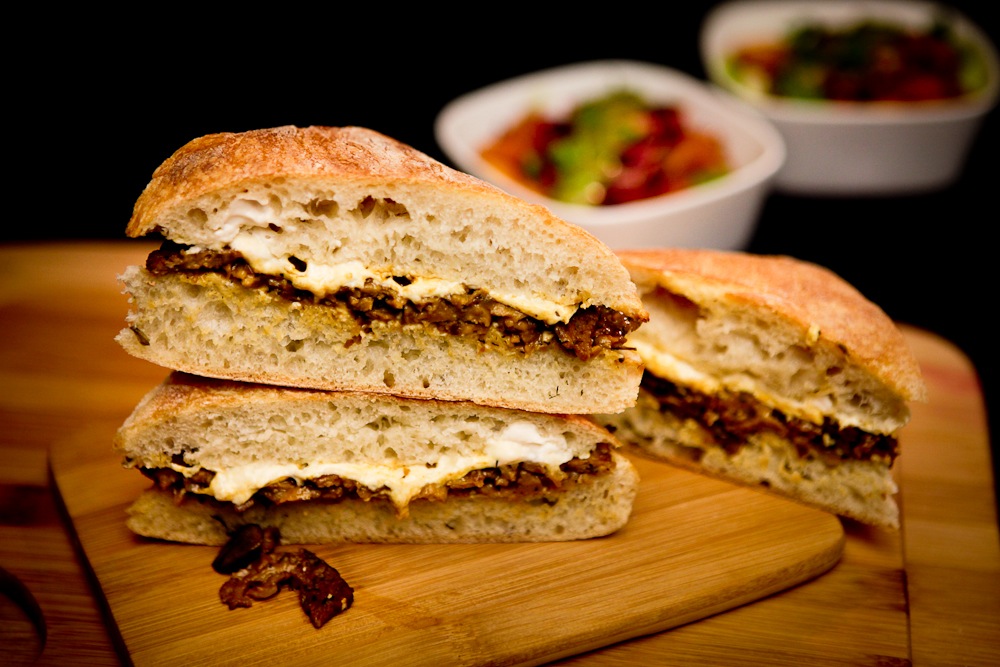 Let me tell you: I've made some grilled cheese sammies in my day.  For a long while, I was a fromagier, first for a fancy French bistro in West Hollywood and then I was the head fromagier at a well-known cheese shop in Studio City.  You could say that I knew my cheese.  I made tons of grilled sandwiches filled with crazy combinations of exotic cheeses and other fillings.  I think the first thing I ever cooked for Chris was a grilled cheese sandwich.
When I first became vegan, many of my family members asked "But how will you live without cheese?"  In all honestly, cheese is probably what I miss least (I actually don't miss anything, but the feeling I have for cheese is pretty much the opposite of "missing").  I saw a video of a mother cow, watching her newborn baby dragged away from her and taken to slaughter.  The video showed the cow crying for her baby for days after.  The sound of that cow's cries haunts me to this day and then to think that she will again be forced into impregnation, just so she can have yet another baby torn away from her, all so humans can have the milk that was meant for her baby.  That cycle will repeat until she is considered "spent" (after 4-5 years) and then she too will be sent to slaughter and since her meat isn't considered as valuable (because she is "spent") it will be sold for pet food or to fast food establishments for pennies.  This is how I joyfully live without cheese in my life.  With every vegan meal I consume, I feel a greater sense of peacefulness because I know I am not a part of all of that anymore.  I am actually kind of grossed-out by the fact that I used to make a living from this, but I know that I needed that period in my life to be where I am today.
Now that I've thoroughly depressed you (Sorry!), I can get off my soapbox and cheer you up with a recipe for a super-yummy melted vegan cheese sandwich!  This is not a grilled sandwich, because I was using the Mediterranean loaf from Breadbar, rather than a sliced variety.  That day, we had to make a trip to the mall in Century City, and while we were there, we got hungry, so we decided to grab a snack at Breadbar (Hummus and bread.  Bread was great, hummus was just ok).  Back in the day, when I worked at a certain cheese shop in the valley, we ordered our bread from Breadbar.  Filled with nostalgia, I asked the waiter which breads were vegan.  Many of them are vegan actually, but I chose the Mediterranean because it is like one big, long ciabatta (they make great ciabatta).  For this type of bread, I decided that just popping it in the oven to melt the cheese would be best.
I've been experimenting with making my own cheese from tofu or nuts, but it's a work in progress.  When I don't have homemade cheese, or when I need a "melting" cheese, I definitely prefer to use Daiya cheese.  It's soy free, gluten-free, completely plant-based, and melts beautifully.  For this recipe, I used their mozzarella flavor, but they also have cheddar and pepper jack.  I used left-over seitan from this meal.
I love a sandwich filled with melted cheese, any day of the week.  If I was totally cool with getting fat, I'd probably eat one for every meal of the day (Right now, I'm only a tiny bit cool with the idea, but not totally on board).   With that said, I've got to tell you- although my grilled cheese sammies from days of yore were pretty tasty, these ones taste a gazillion times better (and more satisfying) because I know they're not filled with pain.  Kindness tastes pretty swell.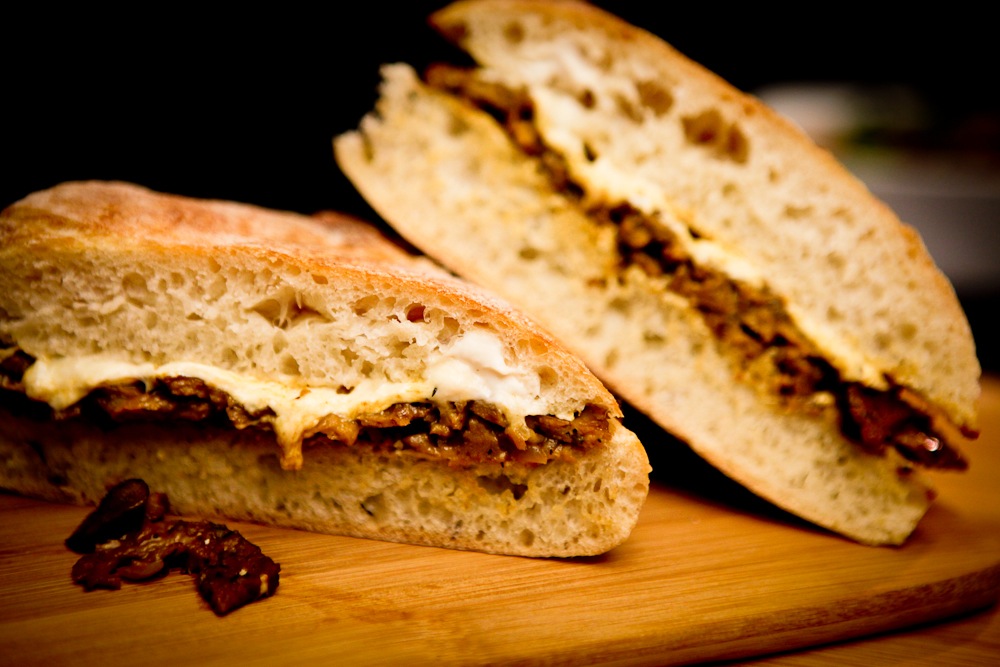 GOOEY CHEESE & SEITAN SANDWICH
makes 2 sandwiches
Ingredients:
1 cup seitan ragout (recipe here)
½ cup shredded vegan cheese (I used Daiya mozzarella)
3 T vegan cream cheese
1-2 T mustard (any kind)
2 ciabata buns or about 4-5 inch square sections from a wide French bread loaf
Instructions:
Preheat oven to 400°.  Line a baking sheet with foil.
Seitan ragout should be warm, so if you are using leftovers, reheat on the stovetop or in the microwave.
Slice the buns, or bread, horizontally.  Spread half of the mustard on the bottom side of one bun, and half of the cream cheese on the top side.  Repeat for the other bun.
Divide the seitan ragout between the two bottom sides, and the vegan cheese between the two top sides.
Place both tops and both bottoms on the foil-lined baking sheet.  Place in oven for about 5 minutes, until bread is slightly toasted and the cheese has melted.  Remove from oven, and place the bread tops with their matching bottoms.  Any cheese or seitan bits that fall out before you plate them, you should probably eat (bonus for the cook!).  Serve warm.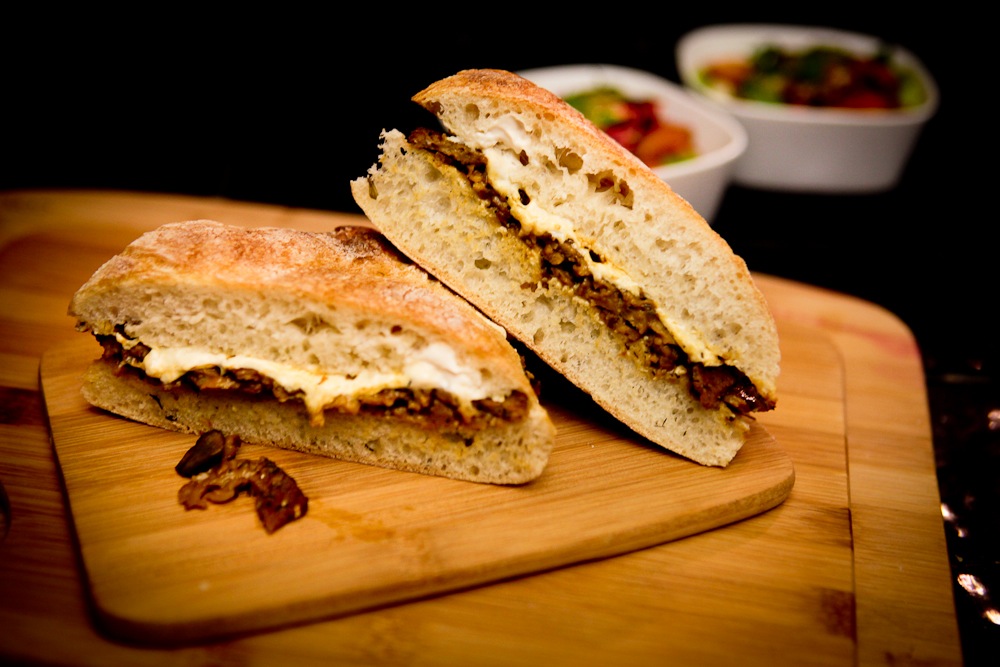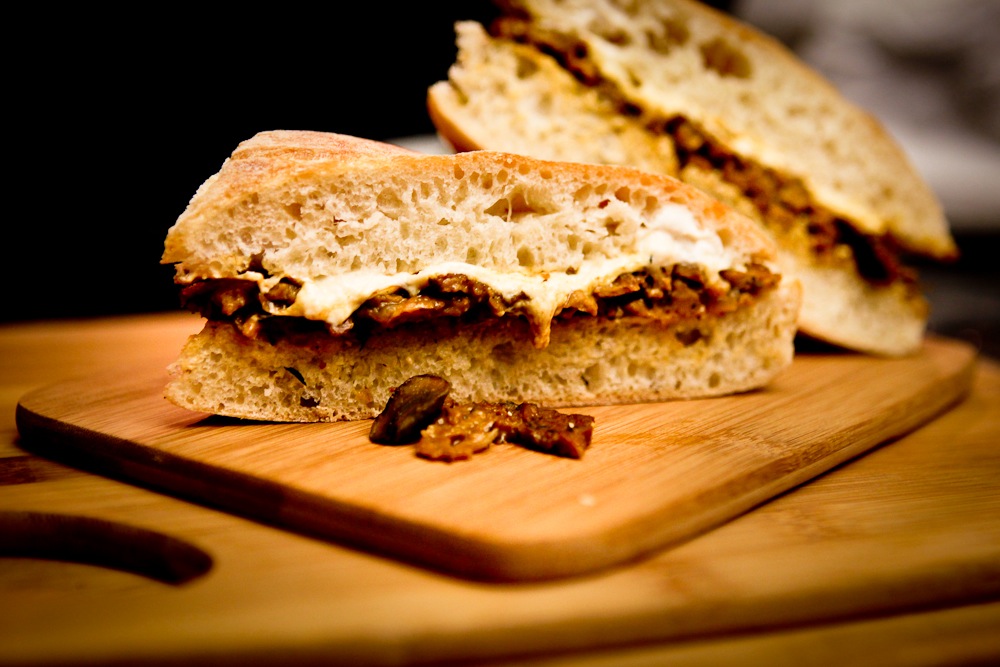 Photos by Chris Miller
© Kristy Turner and Keepin' It Kind, 2012. Unauthorized use and/or duplication of this material (content and images) without express and written permission from this blog's author and/or owner is strictly prohibited. Excerpts and links may be used, provided that full and clear credit is given to Kristy Turner and Keepin' It Kind with appropriate and specific direction to the original content.