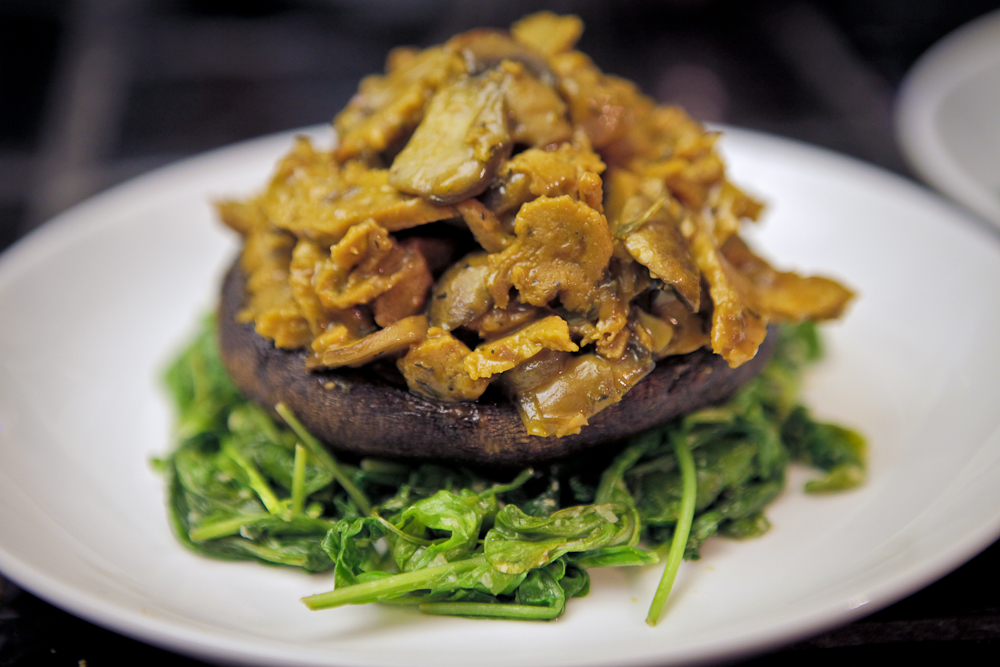 You know how sometimes you need a really classy, sophisticated meal to celebrate an important moment in life?  Perhaps its an anniversary or a birthday or a little bit of good news coming your way.  Chris and I had one of those moments this week.  The Muppets came out on DVD.
Let me back up:  I am a huge Muppets fan.  Kermit was my first crush (before I saw Back to the Future and became convinced that I was going to marry Michael J. Fox).  My devotion to the Muppets continued through adolescence (I had a poster of Kermit on my wall in high school!) into adulthood, and when Chris came home one day to tell me he had been hired to work on the newest Muppet movie, I almost crapped myself was thrilled.
I patiently waited for the movie to come out and fell in love with it at the theater.  I loved being reunited with all of my childhood friends- Fozzie Bear, Animal, Miss Piggy (even though her high maintenance level has always made me slightly uneasy), and my beloved Kermit.  Chris informed me, though, that several great parts didn't make it to the movie.  Then I had to patiently wait for the DVD to come out so I could see these deleted scenes.  This last week, that day came.  We needed a meal fit for this grand occasion.
In my opinion, Portobello mushrooms are pretty much the most impressive vegetable.  It doesn't matter how you cook it, you put one of those on a plate, and anyone will be impressed.  I used that as a starting point and went from there.  We try to always have seitan (a protein made from wheat gluten- sorry my gluten-free friends!) in the house.  You can buy it but that gets very expensive.  I always make a bunch because it goes fast in our house.  Even the twins like it (and they have very discerning palettes) so its one of the few things I can make for all four of us to eat (rather than making a kids dinner and an adult dinner).  I will generally use this seitan recipe but I've also had rave reviews from making this recipe (with the filling or just making the log without the filling).  I wanted to have a thick, saucy seitan mixture (a ragout, if you will) to put in the Portobello bowl, and we had a bunch of arugula from our CSA that I needed to use, so this dish was born.
The seitan ragout recipe will make more than you need for just 2 Portobellos.  You could easily double the Portobello and arugula ingredients to serve four, if needed.  Or you can use the extra ragout for a sandwich or served over a grain of some sort.  This is a very elegant dish, fit for very special occasions all you need to add is some candles, a glass of wine (or sparkling water), and The Muppets on the TV.  Waka, waka, waka!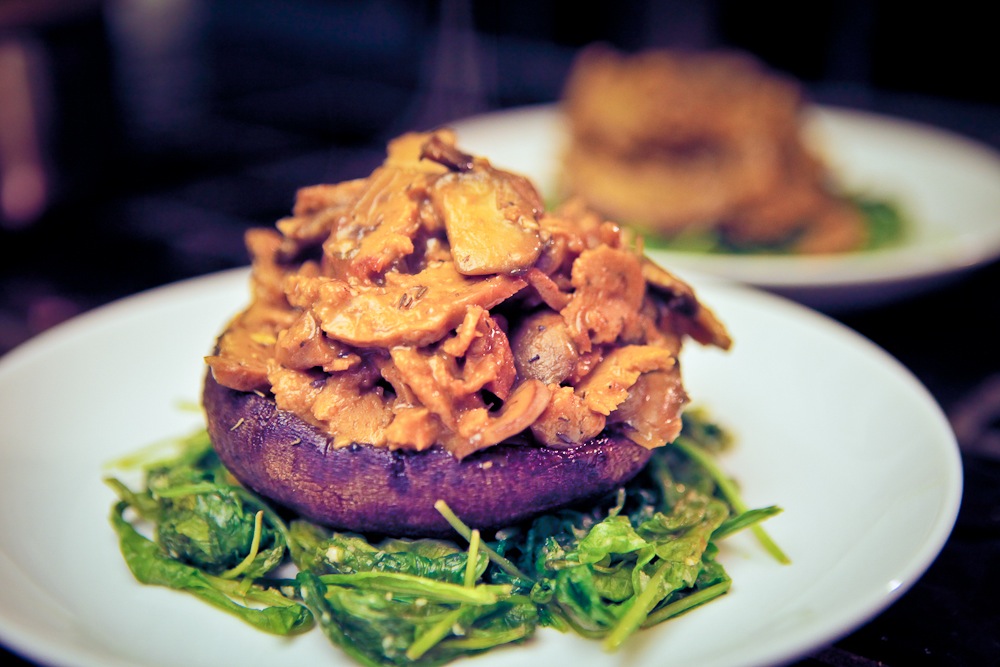 SEITAN RAGOUT PORTOBELLO BOWLS w/GARLIC ARUGULA NESTS
makes 2 servings
Ingredients:
For the Portobello Mushrooms:
2 Portobello Mushrooms
2 tsp olive oil, or olive oil spray to cover
1 T Bragg
2 tsp balsamic vinegar
1 tsp thyme
1 tsp rosemary
dash of garlic powder
dash of paprika
salt and pepper to taste
For the Seitan Ragout:
2 cups vegetable broth
2 T arrowroot flour (or cornstarch)
1 T olive oil
½ red onion, halved and thinly sliced
1-2 cloves garlic, minced
2 ½ cups thinly sliced seitan
stems from the Portobellos, thinly sliced
10-12 button or crimini mushrooms, thinly sliced
2 T Bragg Liquid Aminos
2 tsp thyme
1 tsp oregano
½ tsp paprika
¼ cup white wine
1 T nutritional yeast
For the arugula nests
½ T olive oil
3 cloves garlic, minced
1 bunch of arugula
Instructions:
Preheat the oven to 400°.
Remove the stems from the Portobellos and set aside.  Spray the tops and bottoms of the Portobellos with olive oil and place, stem side up, on a foil-lined cooking sheet.  If you do not have olive oil spray, rub olive oil on the caps, drizzle some onto the stem side, and be sure to spray the baking sheet with a vegan non-stick spray (I have stickophobia).  Split the remainder of the marinade ingredients between the two Portobellos (i.e drizzle ½ T of Bragg Amino Acids on each mushroom, 1 tsp balsamic vinegar, etc).  Allow mushrooms to marinate for about at least 10 minutes, 20-30 minutes preferably.  Once they have had marinating time, put the baking sheet in the oven and bake at 400° for 15 minutes.
Add the arrowroot powder to the vegetable broth and whisk to combine.  Set aside.
In a large shallow saucepan, or large frying pan, heat olive oil for about 30 seconds over medium heat.  Add the onion and garlic, and cook for about 3 minutes, stirring occasionally.  Add the mushrooms, Portobello stems, and seitan, and cook for about 10 minutes, stirring frequently to prevent sticking.  Once you have browned the seitan, you may need to use a little bit of water (about ¼ cup) to deglaze the pan.  Add the Bragg Amino Acids and spices and mix to combine.  Add the wine and the vegetable broth/arrowroot mixture (you may need to whisk the vegetable broth one last time before you add it, just in case some of the arrowroot sunk to the bottom).  Turn the heat down to medium-low, and stir the seitan frequently as it the arrowroot will want to stick to the bottom.  Continue to cook until the majority of the liquid has evaporated and you are left with a gravy-like consistency.  Stir in the nutritional yeast and remove from heat.
In a medium frying pan, heat the olive oil and garlic over medium heat for about 1-2 minutes.  Add the arugula and mix with the garlic.  Cook until the arugula is wilted, about 2-3 minutes.
To plate, divide the cooked arugula between 2 plates, making little "nests."  Place 1 roasted Portobello on each plate, stem side up.  Spoon roughly ½ cup of the seitan mixture into the Portobello bowl, and serve.  Enjoy!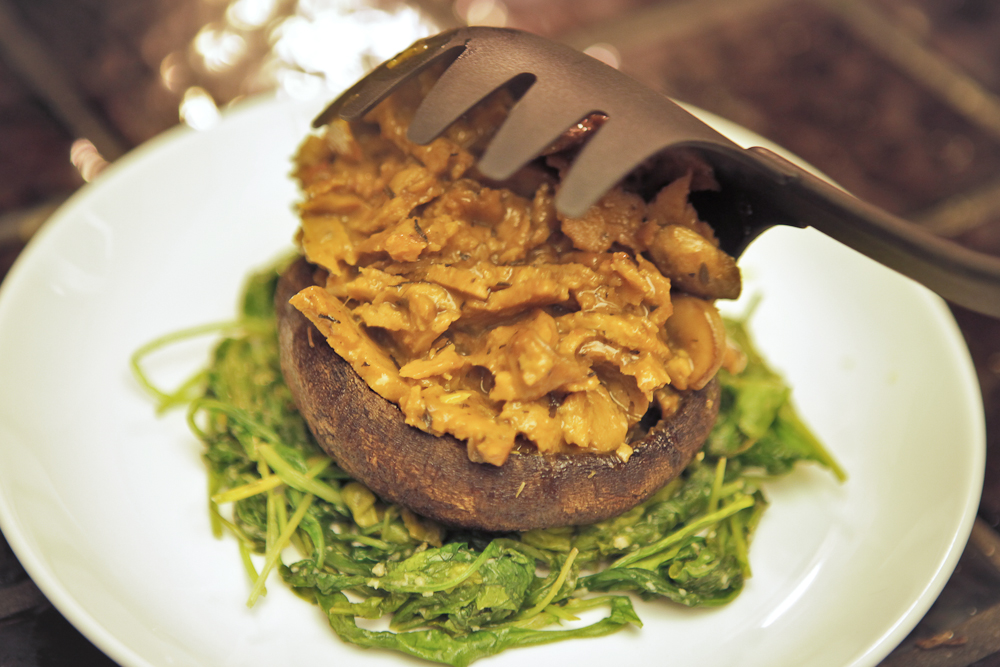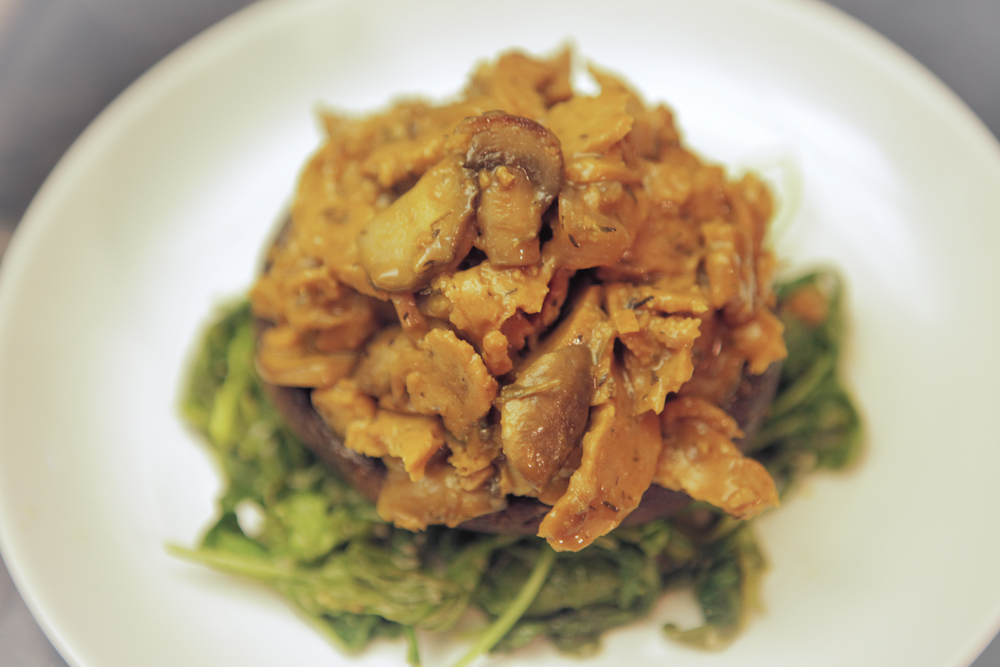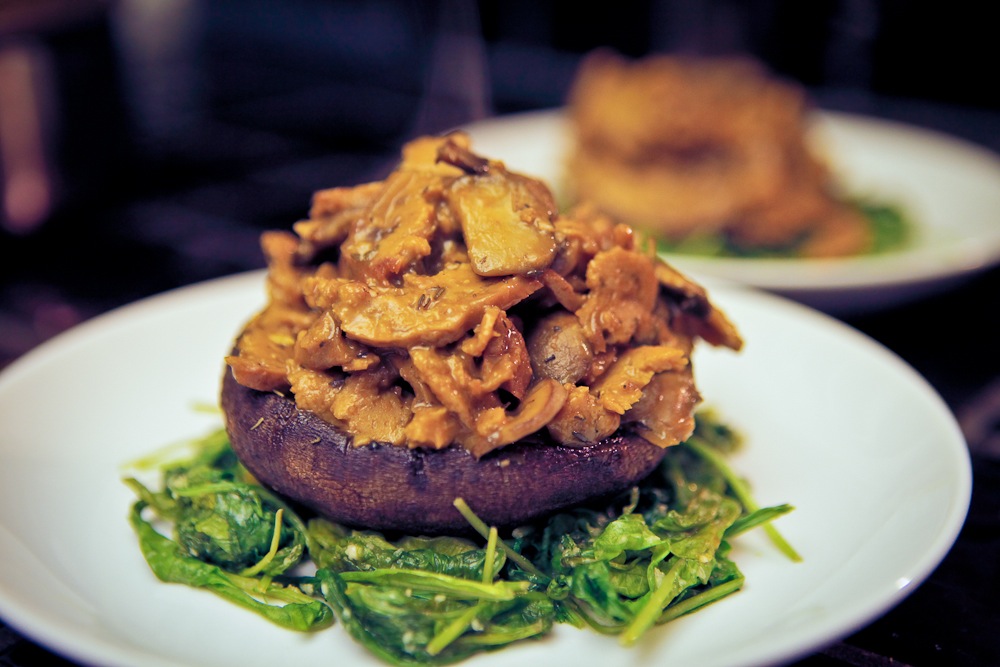 All Photos by Chris Miller
© Kristy Turner and Keepin' It Kind, 2012. Unauthorized use and/or duplication of this material (content and images) without express and written permission from this blog's author and/or owner is strictly prohibited. Excerpts and links may be used, provided that full and clear credit is given to Kristy Turner and Keepin' It Kind with appropriate and specific direction to the original content.