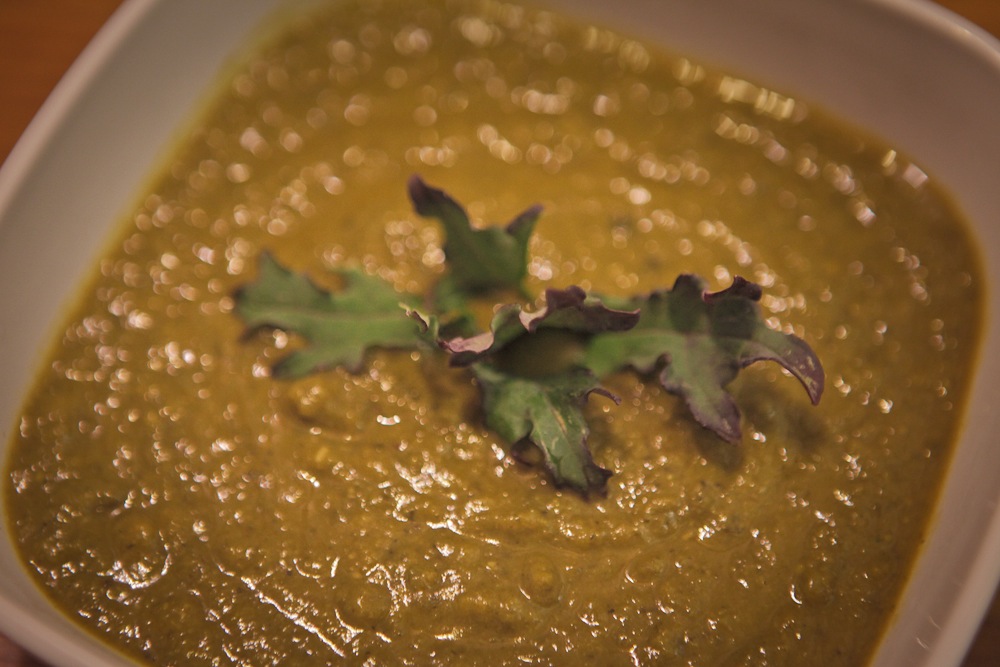 I don't know where my obsession with pureéd soups came from.  I know it started somewhere around the time I had my wisdom teeth pulled, a couple weeks before this last Christmas.   It only intensified with the gift of an immersion blender from my husband.  Long after I was able to comfortably eat solid foods again, I found myself eagerly awaiting dinner time each day so I could puree something into steamy, soupy goodness that I could sop up with some crusty bread or an english muffin.  In the past month, I've made a huge effort not to pureé all of our vegetables into soup, but I still have to give in here and there.
In my several month long soup-making frenzy, I did come across some favorites.  Using kale as an ingredient is one of them.  I really, truly love kale in everything: soups, salads, tofu scrambles, casseroles, smoothies, anything.  Peas and leafy greens are a great combo because the sweetness of the peas and the slight bitterness of the greens balance each other out into perfect harmony (Did I really just say harmony?).  And it makes the soup this super-pretty green color that I'm really fond of.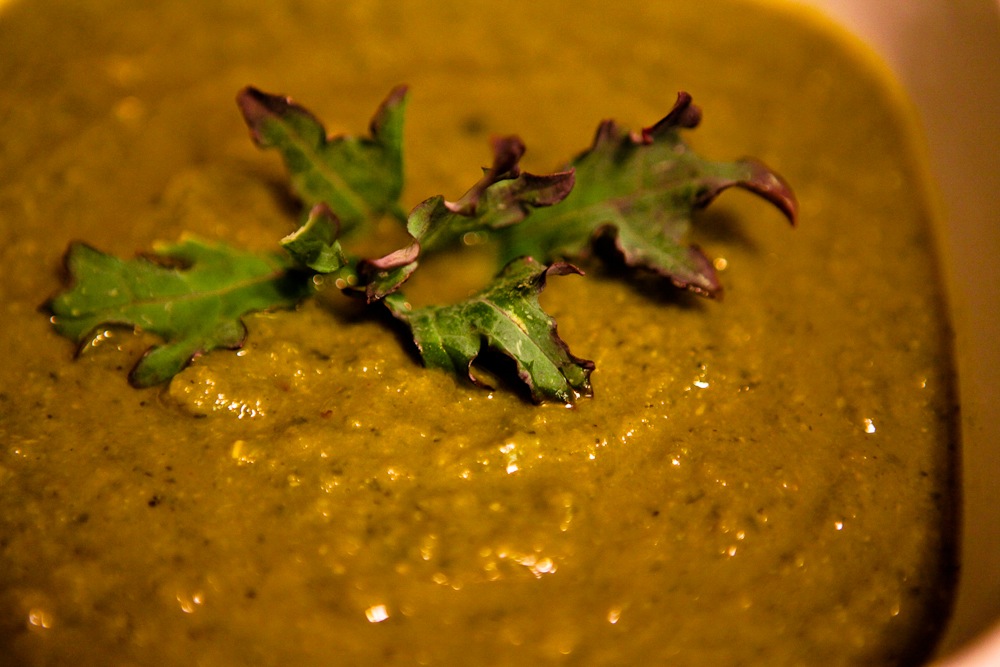 For this soup, you can use any type of dark leafy green that you like, but my CSA* sent me some gorgeous Red Russian Kale, and from the moment I saw it, I was dieing to blend it up into something.  This creation is so amazing- slightly sweet, slightly smoky, hugely nutritious, and completely yummy.  Get in the kitchen and make yourself some- you know you want to!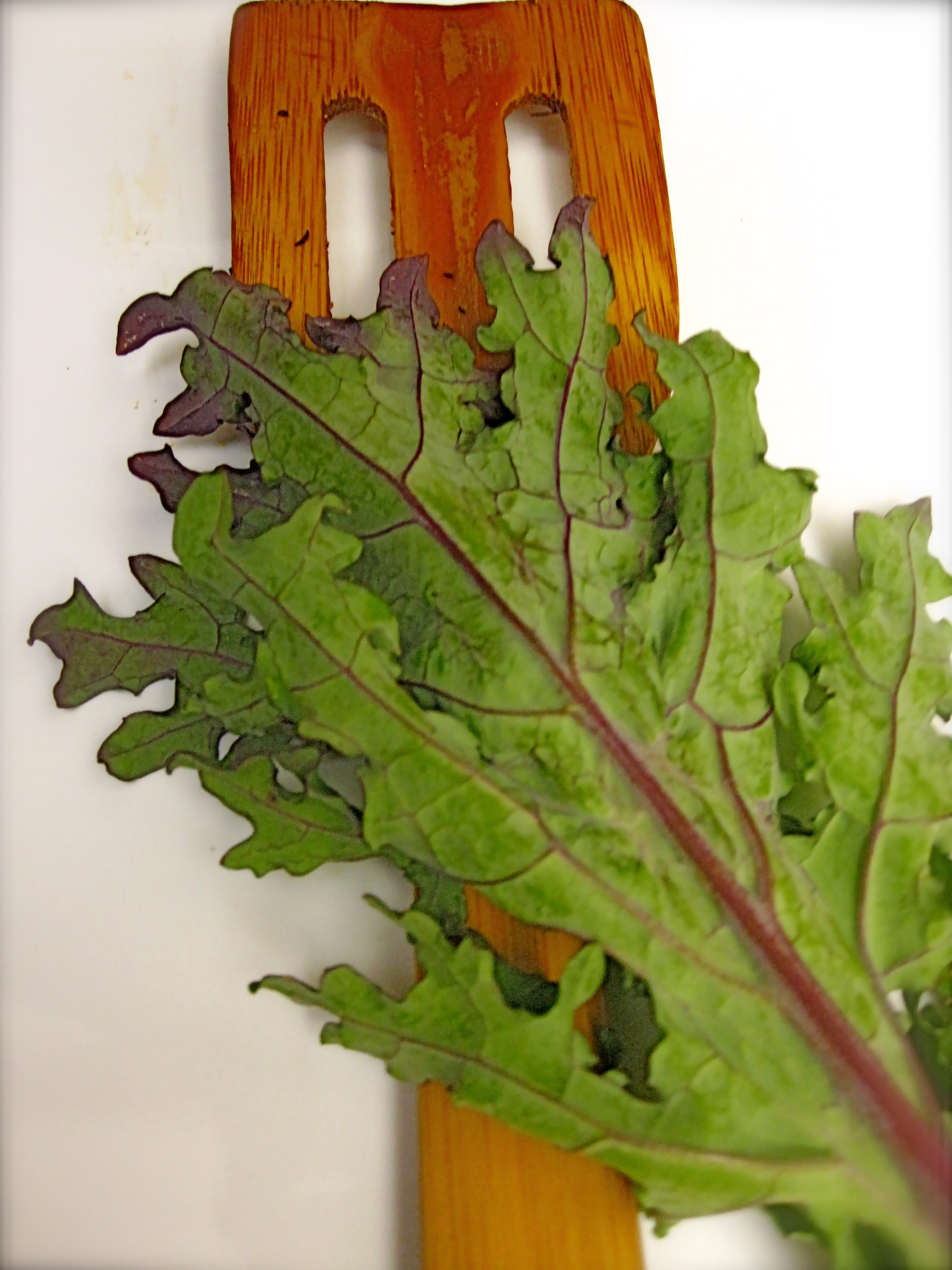 RED RUSSIAN KALE AND PEA SOUP
makes 6-8 servings
Ingredients:
1 red onion, diced
1 16oz bag of frozen peas
1 bunch of Red Russian Kale (or any leafy green), stems removed, roughly chopped
2 cloves garlic, minced
1-2 T olive oil
1 tsp Bragg Liquid Aminos
1 tsp Liquid Smoke
2 tsp thyme
1 ½ tsp salt
1 tsp cumin
½ tsp paprika
dash of pepper
3 cups vegetable broth
3 cups water
1 T nutritional yeast (optional)
Instructions:
Heat olive oil in large pot over medium heat.  After about 30 seconds, add onion and cook until translucent, stirring occasionally.  Add garlic and cook for about 2 more minutes.  Add peas, Bragg Liquid Aminos, and liquid smoke.  Mix to combine.  Mix in all the spices.
Let the peas cook for about 5 minutes, stirring occasionally to prevent sticking, then add the kale.  Add the water and vegetable broth, and stir to combine.  Put a lid on the pot and bring to a boil.  Once it is boiling, reduce to a simmer and tilt the lid on the pot so that there is a little crack for steam to get out.  Let it simmer for about 20-30 minutes, then remove from heat.
If you have an immersion blender, use it to pureé the soup to your desired consistency.  If you only have a standing blender, add the soup to the blender in batches and blend until all of the soup is pureed.  At this point, you can add in the Nutritional Yeast, which will give it a thicker, slightly cheesy taste.  You can also add salt and pepper to taste.  Pour into bowls and serve.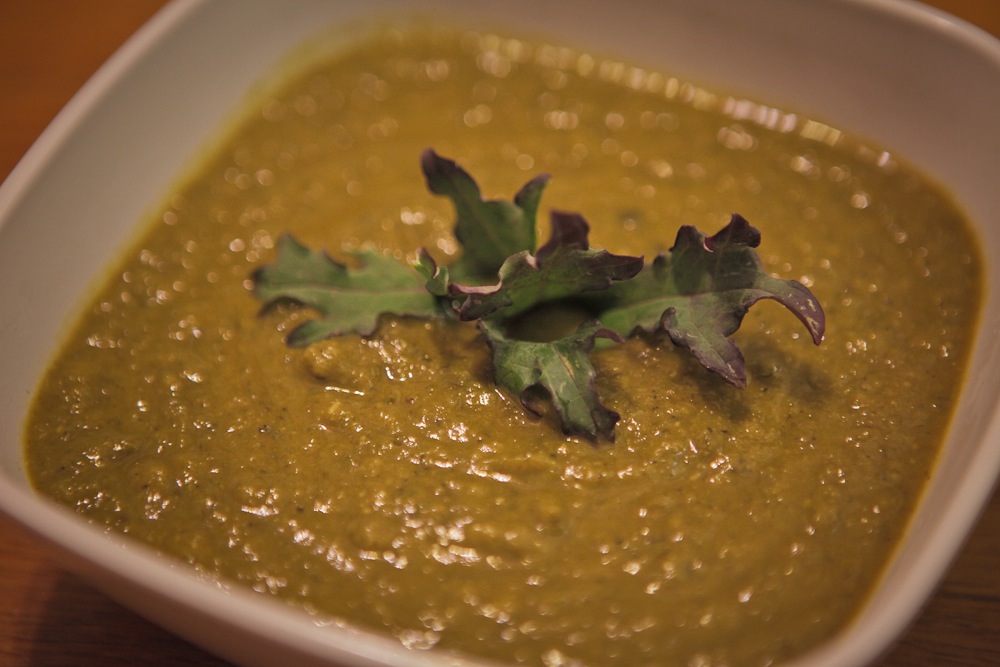 *I am not being paid to advertise for Savraw.  They just blow me away each week with our deliveries, and I am super stoked to try new things with the awesome locally-grown, organic produce they send me each week.
Photos by Chris Miller
© Kristy Turner and Keepin' It Kind, 2012. Unauthorized use and/or duplication of this material (content and images) without express and written permission from this blog's author and/or owner is strictly prohibited. Excerpts and links may be used, provided that full and clear credit is given to Kristy Turner and Keepin' It Kind with appropriate and specific direction to the original content.