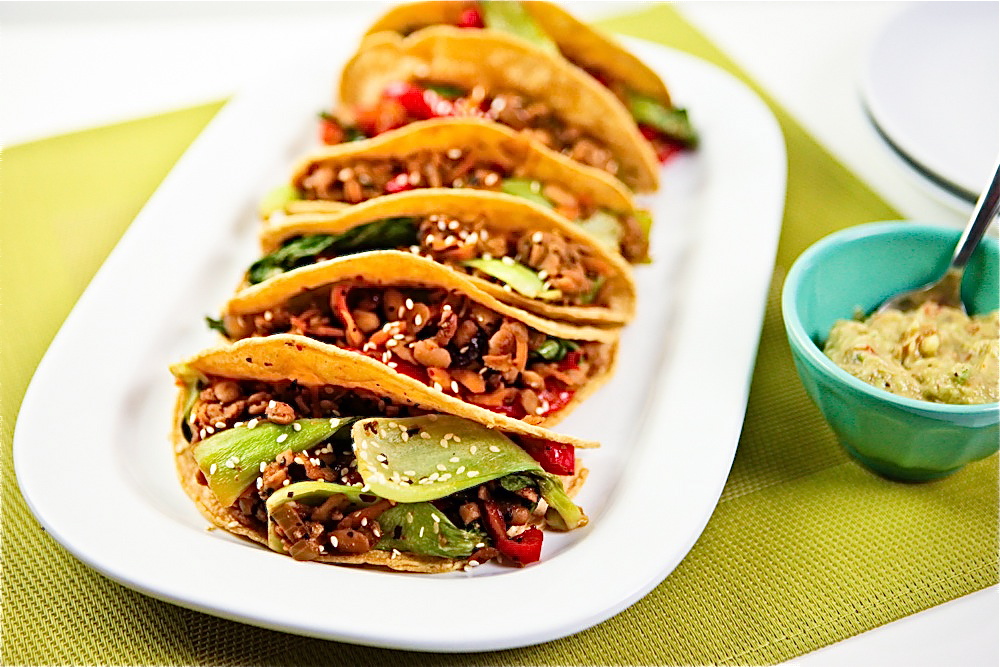 Cinco de Mayo is coming so I wanted to give you a themed recipe to fit the occasion.  Despite the fact that the only thing even remotely "Mexican" about this dish is the fact that they are tacos, the combination of flavors is luring enough to try it.
I recently found this idea on Pinterest for baked taco shells.  I fell in love with this idea because generally I don't care for fried foods and almost always prefer their baked counterparts (baked french fries, baked tortilla chips, baked doughnuts).  I was very excited to try this out.  A couple of days later, my CSA sent me bok choy.  Though I had never had bok choy before (I know, I know, I know- I don't know how that happened), all I knew was that it was generally used in Asian-inspired foods.  Occasionally, I like Vietnamese or Thai food, but generally speaking, it's not something I go for.  I was pretty stumped.  Then I remembered the taco shell idea...
I'm not saying this out of cockiness, but out of honesty: These are probably the best tacos I've ever eaten.  The savoriness of the crumbled tempeh and the slight bitterness of the bok choy are deliciously complimented by the textures of the sesame seeds and crisp corn shells.  The bright colors of the bell pepper and grated carrot make this dish just as visually appealing as it is delectable.  I'm not ashamed to admit that I ate four- yes, you read it right- four tacos (Granted, it was a long run day, so my appetite was up)!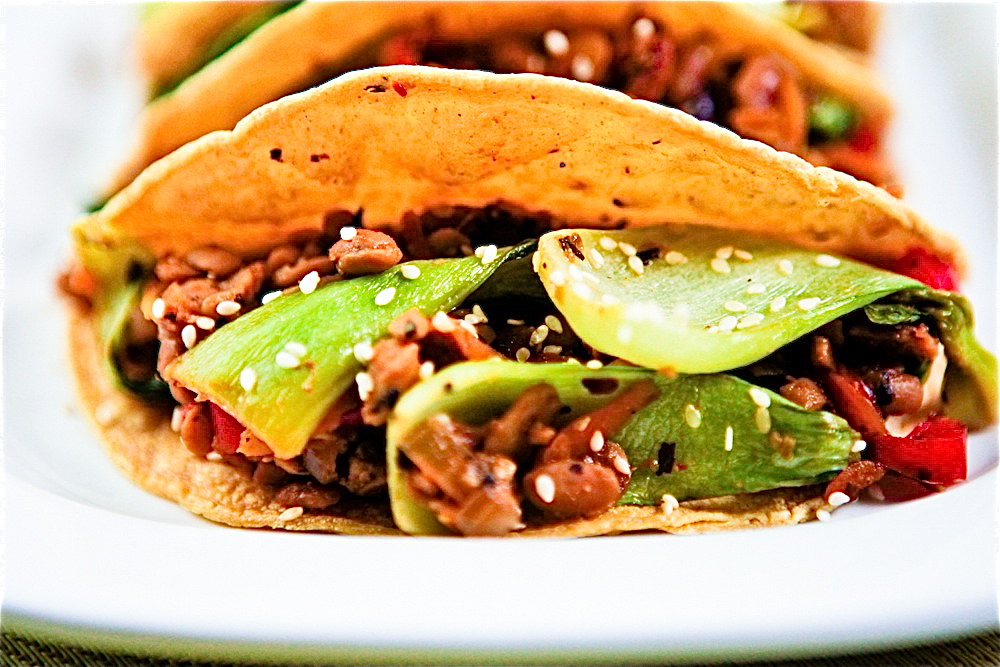 The baked taco shell ideawent over well also.  I do have a recommendation, however:  The directions will have you drape the tortilla over 2 rungs, but I found that this left you with a taco shell that is more "u" shaped than "v" shaped.  After my trial run with the 2-rung taco shells, I couldn't quite figure out how I was supposed to fit my mouth around them (They did, in fact, become our fourth tacos, and I will tell you- there is no classy way to eat a taco of that shape).  I recommend draping the taco shells over 1 rung and removing just after 7 minutes, while they are still just slightly pliable.  Otherwise, it seems as though they would crack and break while you are trying to stuff them.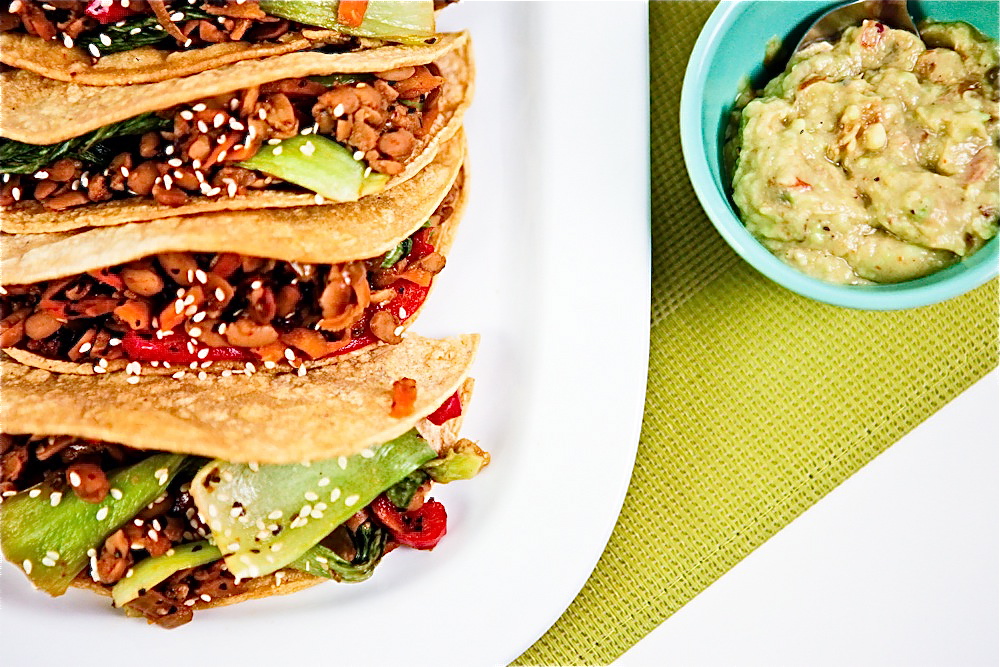 BOK CHOY TEMPEH TACOS
makes about 8 tacos
Ingredients:
for the tempeh:
½ cup vegetable broth
¼ cup Bragg Liquid Aminos (or soy sauce/tamari)
2 cloves garlic, minced
1 T balsamic vinegar
1 tsp liquid smoke
1 tsp Sriracha sauce
2 tsp dried basil
1 tsp cumin
½ tsp paprika
1 8oz package of tempeh, broken into small chunks
for the rest of the taco:
3 small bunches of bok choy, cleaned and bases chopped off
½ red bell pepper, thinly sliced
1 carrot, grated
1-2 T sesame seeds
8 taco shells
Instructions: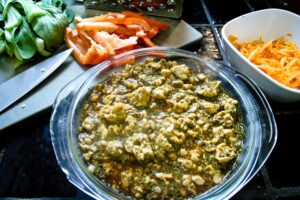 Marinate your tempeh: Combine all the liquid ingredients in a shallow bowl, and then add the broken up chunks of tempeh.  Make sure all the pieces are mostly covered with marinade.  You may need to add a bit more vegetable broth or water, if you do not have enough liquid.  Refrigerate and let marinate for at least 1 hour.
Prepare your taco shells according to these instructions, or if you have a preferred method of making taco shells, you can do it that way instead.
Heat a large shallow saucepan over medium heat for about 1 minute.  Add the tempeh along with its marinade and the bell pepper and saute for about 10 minutes, until most of the liquid is gone.  If it gets too dry and starts sticking, lower the heat and add a little vegetable broth to deglaze.
Once the liquid is mostly gone and the tempeh is tender, lower the heat to medium low and add the bok choy and the carrots.  Continue to sauté until bok choy just starts to wilt.   Remove from heat and mix in the sesame seeds.
Load up your prepared taco shells.  You should be able to fit about ½ - ¾ cup in each taco shell.  Serve warm with some avocado or guacamole, or perhaps some peasamole.  Enjoy!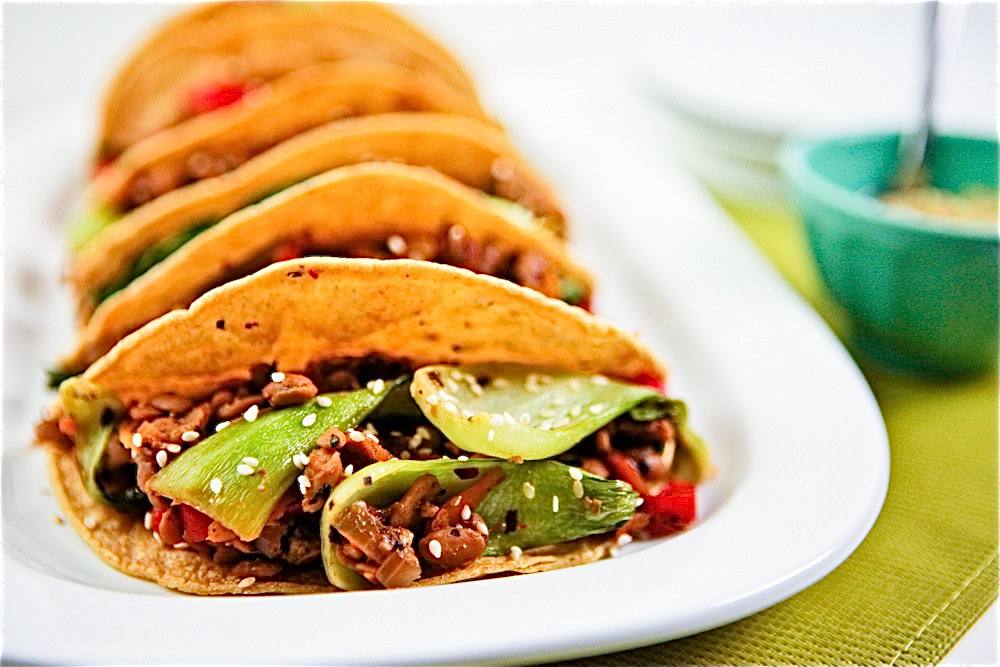 If you are searching for something festive for Cinco de Mayo, I'm sure you will find many recipes that are far more appropriately themed, but I'm going to make the claim that these tacos will be much more tasty.
What are you doing to celebrate Cinco de Mayo?
All Photos by Chris Miller and Kristy Turner

© Kristy Turner and Keepin' It Kind, 2012. Unauthorized use and/or duplication of this material (content and images) without express and written permission from this blog's author and/or owner is strictly prohibited. Excerpts and links may be used, provided that full and clear credit is given to Kristy Turner and Keepin' It Kind with appropriate and specific direction to the original content.