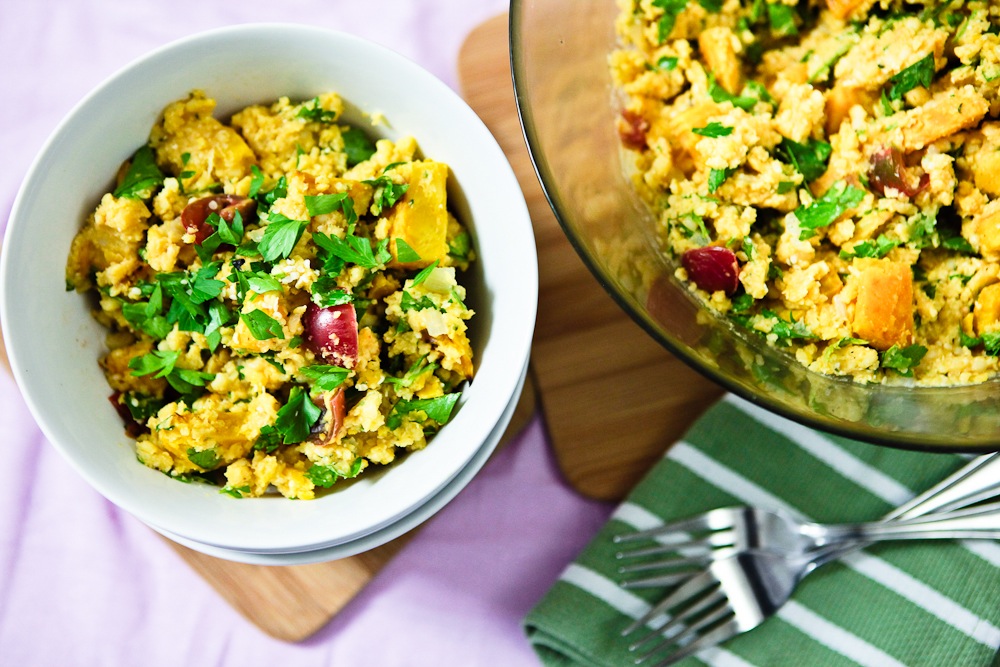 This last Saturday, on queue for Family Movie Night was Auntie Mame.  This movie takes me back to my childhood, as it was always one of my Dad's favorites and I watched it several times as a child.  I hadn't seen in it about 20 years, and Chris had only seen parts of it, so when we saw it available on Netflix, we had to go for it.  Oddly (or perhaps it's not odd, and more just a sign of me getting older), I could barely remember anything about it.  All I could remember was watching it with my dad and the sound of my dad's laughter as he enjoyed one of his favorite movies.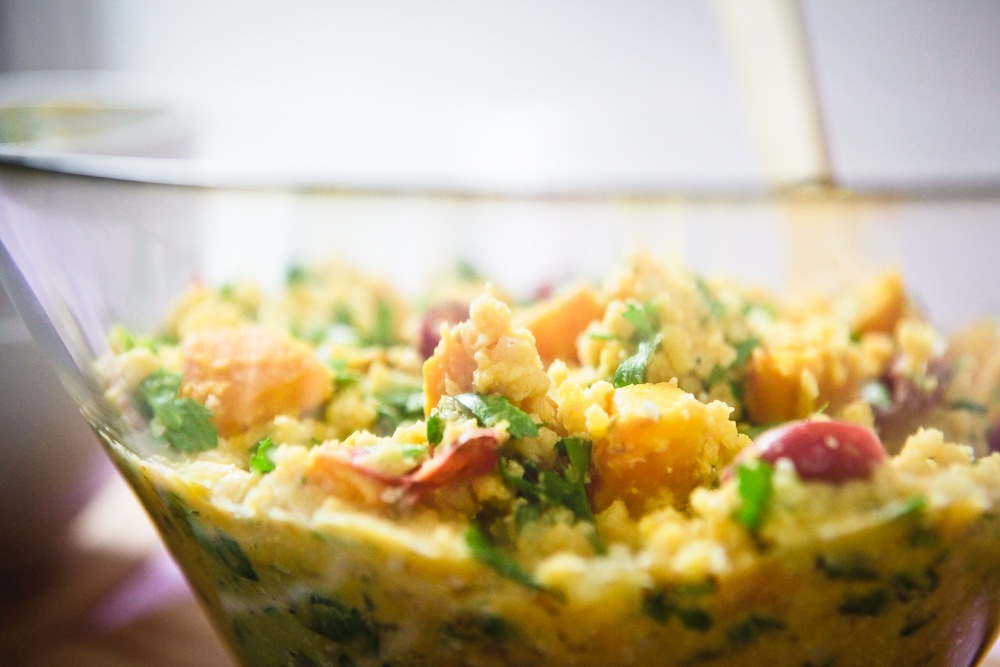 Getting ready for a night of laughing with my family on the couch put me in the mood for comfort food.  Since it is summer after all, I was not in the mood for something heavy, but just something light, healthy, and full of "feel-goodedness."  I turned to grains.  Perhaps it is because I ate A LOT of pasta and rice growing up (so much so, that pasta has lost most of its appeal and rice only turns me on in ethnic restaurants), but eating a bowl, full of grains always makes me feel so "homey" and satisfied.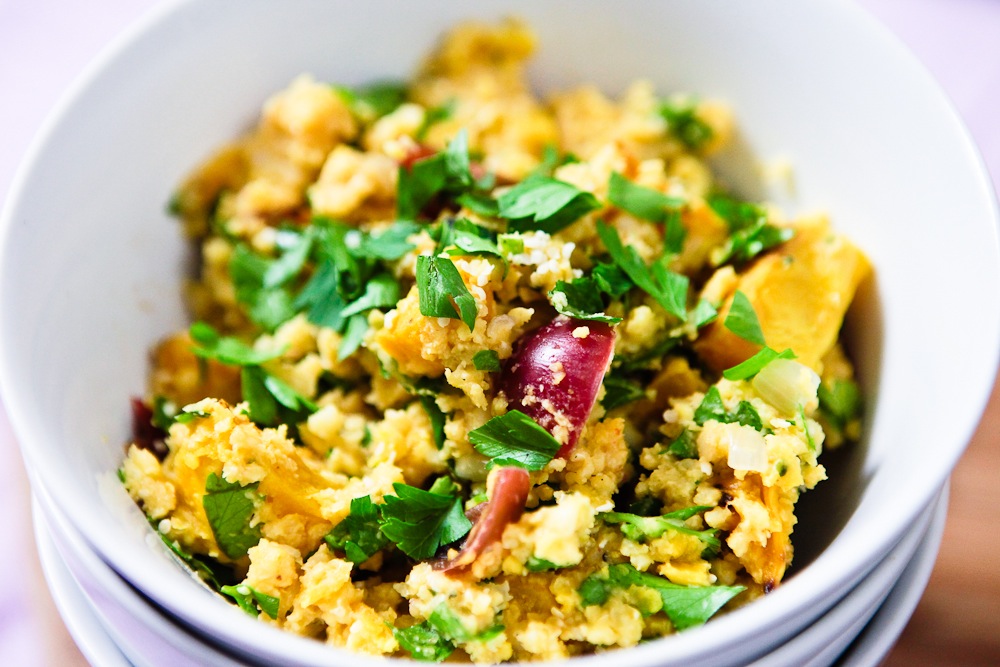 Enter millet and couscous.  Millet is a starchier grain, but it is high in protein and B vitamins, as well as calcium, iron, potassium, magnesium, and zinc.  I love its texture but to add a little contrast, I added some whole wheat couscous.  The rest of the salad came together with items I had received from our CSA (golden beets, cherry tomatoes, parsley), some lovely lemons from the farmer's market, and an excitement for a movie night full of laughs.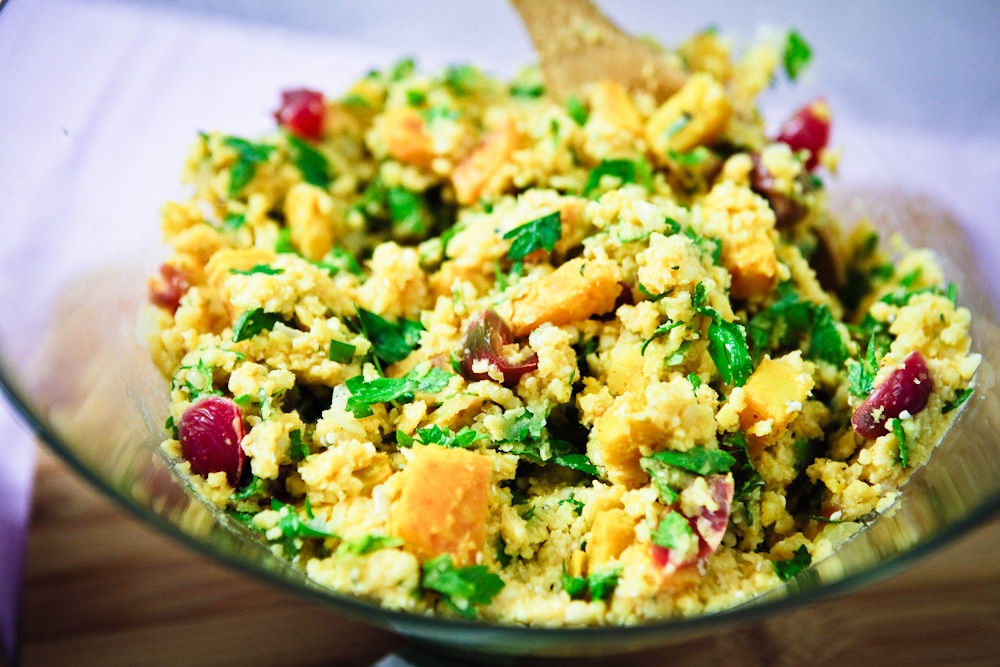 The salad, as well as Auntie Mame, did not fail to please.  The millet/couscous mixture had a texture similar to risotto, but soaked in lemony goodness and combined with lemon-giner roasted beets, tartness from the cherry tomatoes, and the summery freshness of the parsley gave me a bowl full (and tummy full) of summer comfort.  Auntie Mame filled our living room (and our hearts) with laughter and warmth.  It was the same warmth I felt while sitting with my dad, my ears filled with his laughter, while eating the pasta he'd cooked for us.  I highly recommend both the salad and the movie.  They're even better when enjoyed together.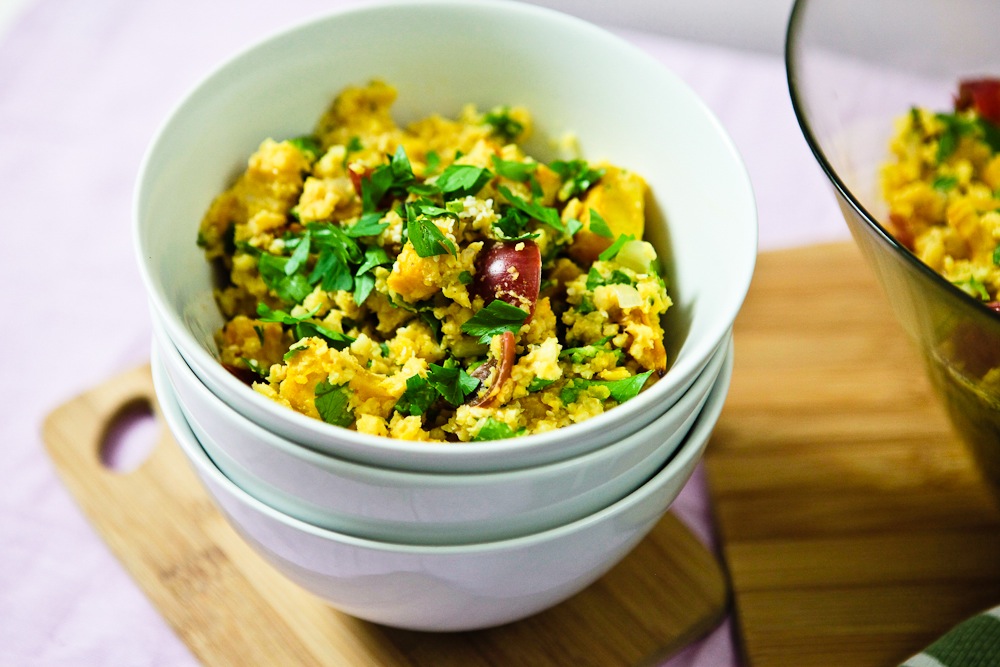 LEMON PARSLEY MILLET & COUSCOUS SALAD WITH LEMON GINGER BEETS
Ingredients:
for the beets:
4 golden beets, peeled and cubed
olive oil spray
1 T lemon juice
1 tsp lemon zest
several dashes of dried ginger
for the dressing:
½ cup fresh lemon juice (about 3-4 lemons)
1 T lemon zest
1 date, seeded and finely chopped
1 ½ T olive oil
½ T champagne vinegar
½ T Dijon mustard
2 T hemp hearts (shelled hemp seeds)
for the salad:
1 ¼ cup millet
1/3 cup couscous
2 cups water
2 cups vegetable broth
1 tsp olive oil
½ onion, finely chopped
1 clove garlic, finely minced
1 ½ cups fresh parsley, chopped
1 cup cherry tomatoes, quartered
Instructions:
Clean the millet and then add the millet and couscous to a bowl.  Soak for about half an hour.
Zest 1 lemon and then juice all of your lemons.  You will need the juice of about 3-4 lemons.  Set aside.
In a 3 quart pot, heat the ½ tsp of olive oil over medium heat.  Add the onion and garlic and sauté for about 2-3 minutes.  Add the millet, couscous, water, and vegetable broth and mix to combine.  Cover the pot, raise heat and bring to a boil.  Once boiling, lower the heat to a simmer and recover.  Let simmer for about 10-5 minutes, stirring occasionally to prevent sticking, until liquid is absorbed.  It will have a sticky, risotto-like texture.  Pour the mixture into a large bowl and let cool.  You can refrigerate it to speed up the process.
While the millet and couscous is cooking you can prepare your beets.  Preheat the oven to 450.  Line a baking sheet with parchment paper and spread your cubed beets out on the paper.  Spray generously with olive oil spray.  Top with lemon juice, lemon zest and ginger.  Add salt to taste and toss to combine.  Spread the cubes out evenly and place the baking sheet in the oven.  Bake for 15 minutes, flip the pieces over, and bake for about 10 more minutes.  Remove from oven and let cool.
While the beets are in the oven, and the millet and couscous is cooking, you can make the dressing.  Add all ingredients, minus the hemp hearts into a food processor or blender and blend until fully combined.  Pour into a cup and add the hemp hearts.  Stir to combine.  Refrigerate until ready to use.
Once the millet and couscous is cool, add the rest of the salad ingredients, the beets, and the dressing.  Use a strong wooden spoon to mix it all together.  Serve immediately or cover and chill until ready to serve.  It will keep for 2-3 days and the flavors intensifies the longer you wait.  Enjoy!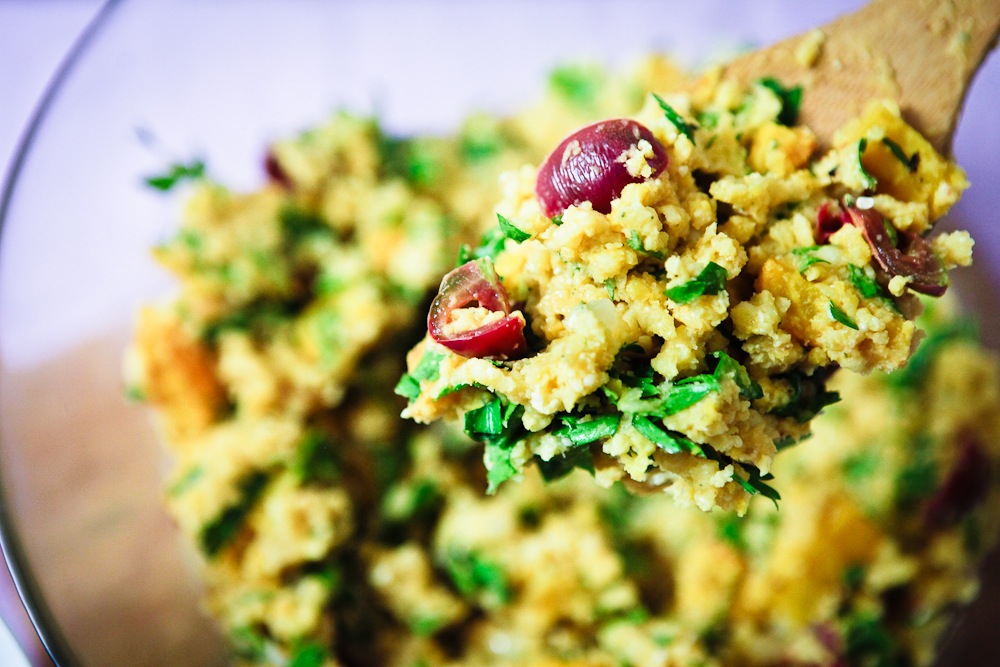 All Photos taken by Chris Miller

© Kristy Turner and Keepin' It Kind, 2012. Unauthorized use and/or duplication of this material (content and images) without express and written permission from this blog's author and/or owner is strictly prohibited. Excerpts and links may be used, provided that full and clear credit is given to Kristy Turner and Keepin' It Kind with appropriate and specific direction to the original content.