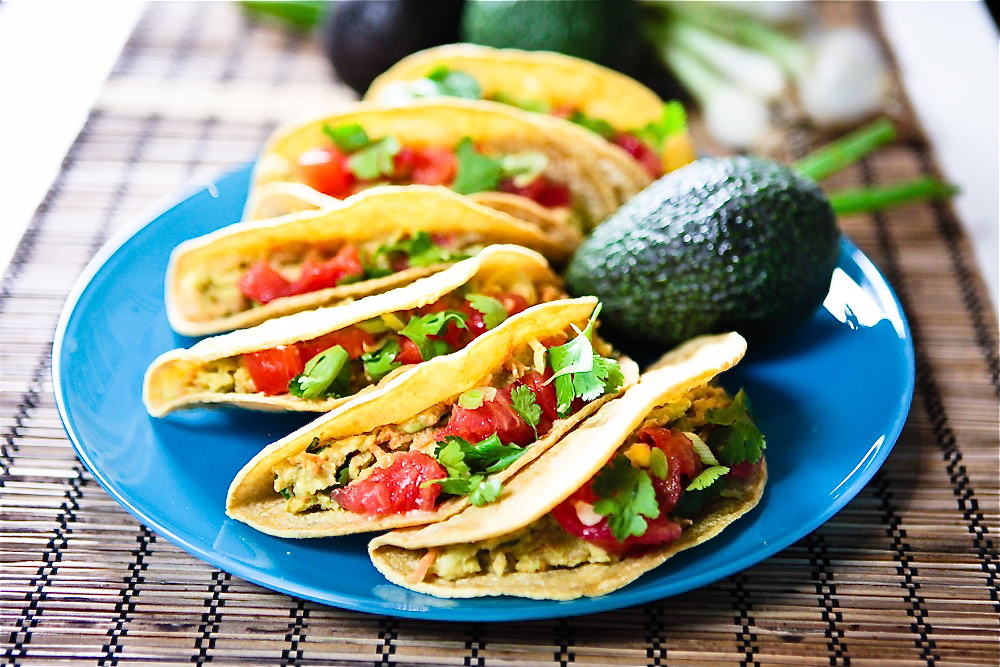 This is going to sound so weird but I had daydreams about this meal for about 2 days before actually making it.  I knew it was going to be avocados and chickpeas, for sure, since I had just received some of the most gorgeous avocados from my CSA, but what form would it take?  Did I want it to just be a salad?  No, it needed to be a little heartier, but still light.  Sandwiches?  No, not in the mood.  Wraps?  No, we've been doing those a lot recently.  By the end of the first day of daydreams, I had settled on tacos.  They seemed like the perfect, light, crisp vessel to transport this salad to my mouth.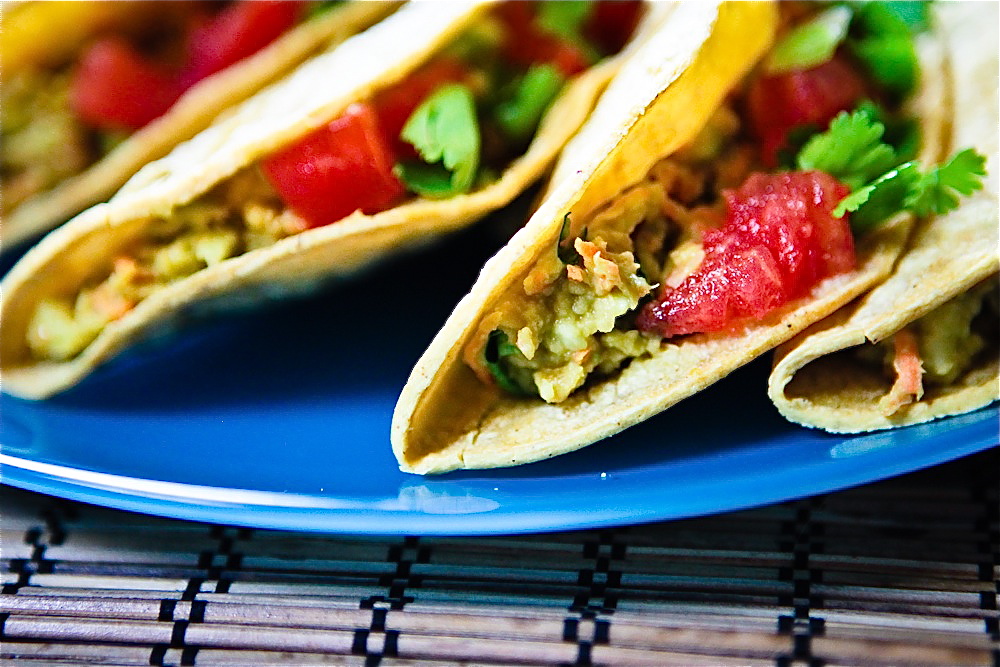 Once I had settled on tacos, I had to figure out what to add to my avocado/chickpea mixture.  I considered several additional ingredients, but since my CSA had sent me cilantro in the same delivery, I had to go with that as well as some lime juice.  I also decided, somewhere in the latter half of day 2 of daydreaming, that I would not simply mash the chickpeas.  I would prepare them the way I like to prepare them when I'm going to add them to a leafy salad: Sauteing them briefly in a bit of Bragg Liquid Aminos until the liquid is gone and the outsides of the chickpeas are a lightly browned.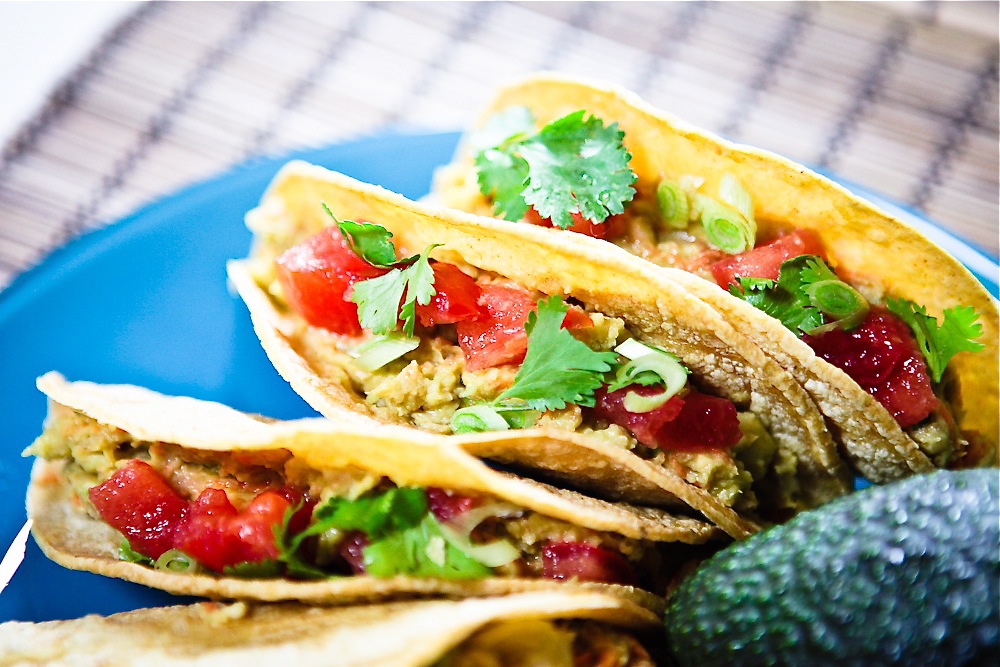 Then came the day that my daydreams could come to fruition.  Just after lunchtime, I began checking the clock every seventeen minutes to see if it was time for me to get started in the kitchen.  At four o'clock, I couldn't wait anymore and headed to the kitchen to start on the avocado salad.  Once it was complete (at 4:27pm), I asked Chris if he was ready for dinner.  No?  Not hungry yet?  Ok then, Mr. Not-Hungry-For-Dinner-At-4:30-In-The-Afternoon, have it your way!  I put my avocado chickpea salad in the fridge and waited until it was a more appropriate time for dinner, though I did take a little bite every hour or so, to make sure it still tasted as delicious as my first taste (you know, just taking precautionary measures to ensure that our dinner tasted wonderful).  Perhaps he was tired of me asking "Are you hungry yet," every half hour, but around 6:30pm, Chris finally said "Sure, let's have dinner."  I ran to the kitchen and fifteen minutes later, dinner was served.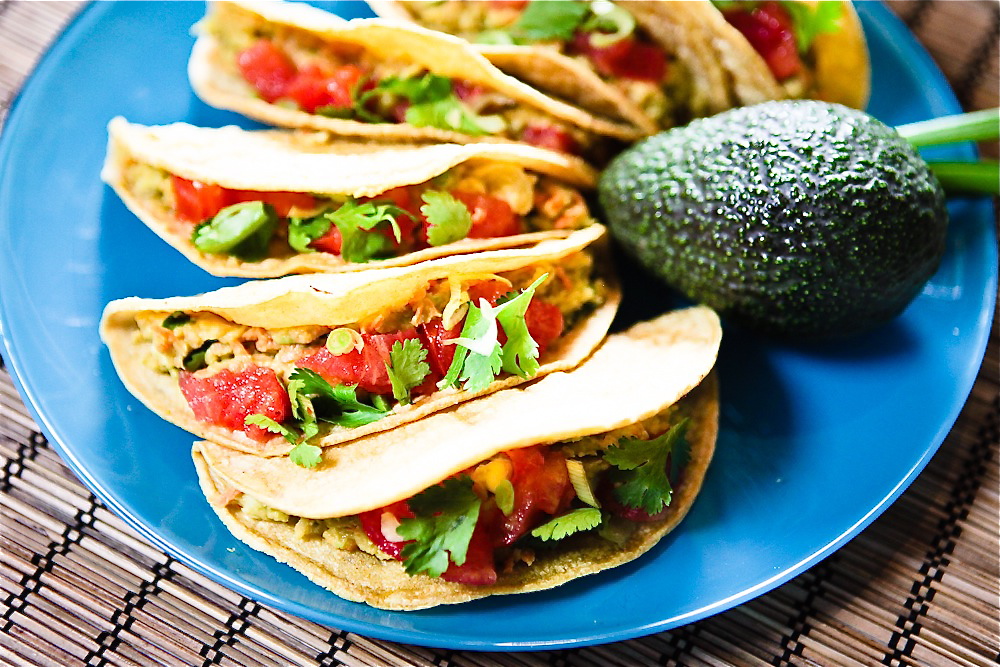 These tacos were better than I had imagined they would be.  The light, crisp corn tacos provided the perfect balance to the rich, savory, lime-infused, mashed chickpeas and avocado.  They were so good, I continued to daydream about them the next day and had to make another batch for dinner that night, though this time, Chris was more than willing to have an early dinner.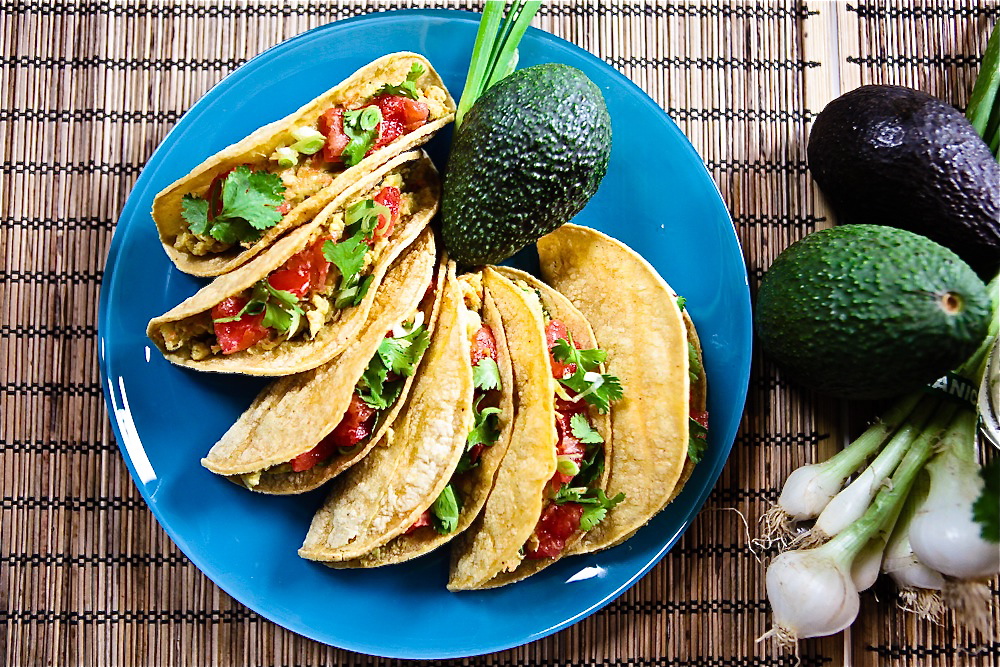 CILANTRO AVOCADO CHICKPEA SALAD TACOS
makes 6 tacos
Ingredients:
1 can of chickpeas, rinsed and drained
1 large avocado, mashed
½ cup grated carrot
¼ cup fresh cilantro, roughly chopped
1 green onion, finely chopped
1 clove garlic, finely minced
½ T lime juice
2 T Bragg Liquid Aminos (or tamari/soy sauce)
½ tsp olive oil
dash of cayenne pepper (optional)
salt and pepper to taste
Instructions:
Heat the olive oil in a large pan over medium heat for about 30 seconds.  Add the chickpeas and cook for about 2 minutes, stirring frequently.  Add the Bragg Liquid Aminos and cook until liquid is dissolved, stirring frequently.  If it starts to stick, lower the heat.  When the chickpeas are done, they should be a darker brown, with a slightly toasted exterior.  Remove from heat and let cool for about 5 minutes.
In the pan, use a fork to lightly mash the chickpeas.  It should be mashed, with chunks of beans throughout.
The mashed avocado should be in a medium/large bowl.  Add the mashed chickpeas and the remaining ingredients, minus the salt and pepper.  Mix until thoroughly combined.  Taste and then add salt and pepper if you desire (I don't add any at all).  You can make this a day in advance to save on prep time later.  Just refrigerate in an airtight container until ready to use.
Prepare your tacos shells.  I used this method, but you can use whatever method you prefer.
Spoon the avocado chickpea salad into the taco shells.  Garnish with tomato, cilantro, green onion, or just salsa, and serve at room-temp.  Enjoy!
Do you ever prepare meals, based purely on your daydreams (or regular dreams)?  If so, what have you created?
All Photos taken by Chris Miller

© Kristy Turner and Keepin' It Kind, 2012. Unauthorized use and/or duplication of this material (content and images) without express and written permission from this blog's author and/or owner is strictly prohibited. Excerpts and links may be used, provided that full and clear credit is given to Kristy Turner and Keepin' It Kind with appropriate and specific direction to the original content.