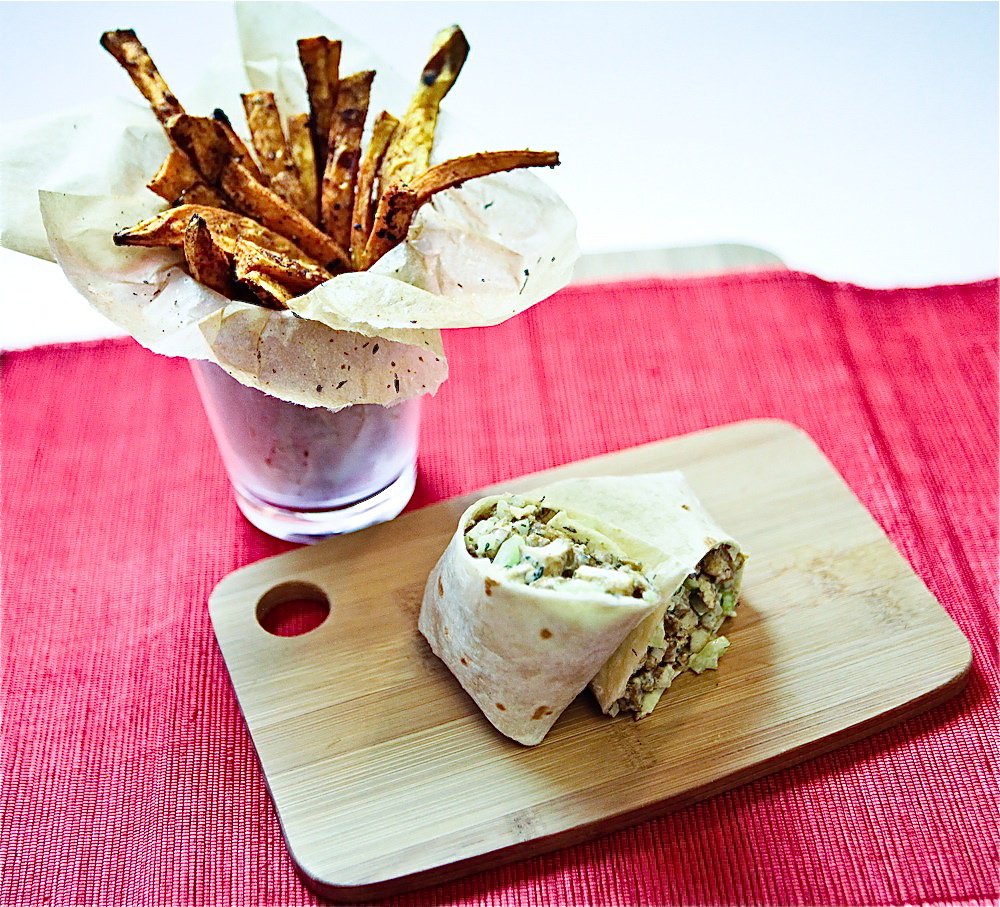 Happy Memorial Day!  I know tradition calls for a grand barbecue on this holiday, but we will be keeping it simple here at the Miller/Turner home.  This is mostly because we don't own a grill, but also because Chris and I are kind of going through a Chickenless Salad phase right now.
The Chickenless Salad phase began while we were on vacation the week before last.  There was a vegetarian market that we frequented for its hot/cold food bar, and they had a Mock Chicken Tofu Salad that was terribly addictive.  We couldn't get enough of it.  I was leery at first because I don't often care for very mayonaisey (I just made that word up.  You're welcome.) things.  Even before I became vegan, it was a taste and texture that did not agree with me.  I keep Vegenaise in the house because sometimes a little bit here and there is a bonus in certain recipes, but never is it a primary ingredient.  This salad of theirs, though, changed my outlook and I couldn't wait to put my own Vegenaise to work when we got home.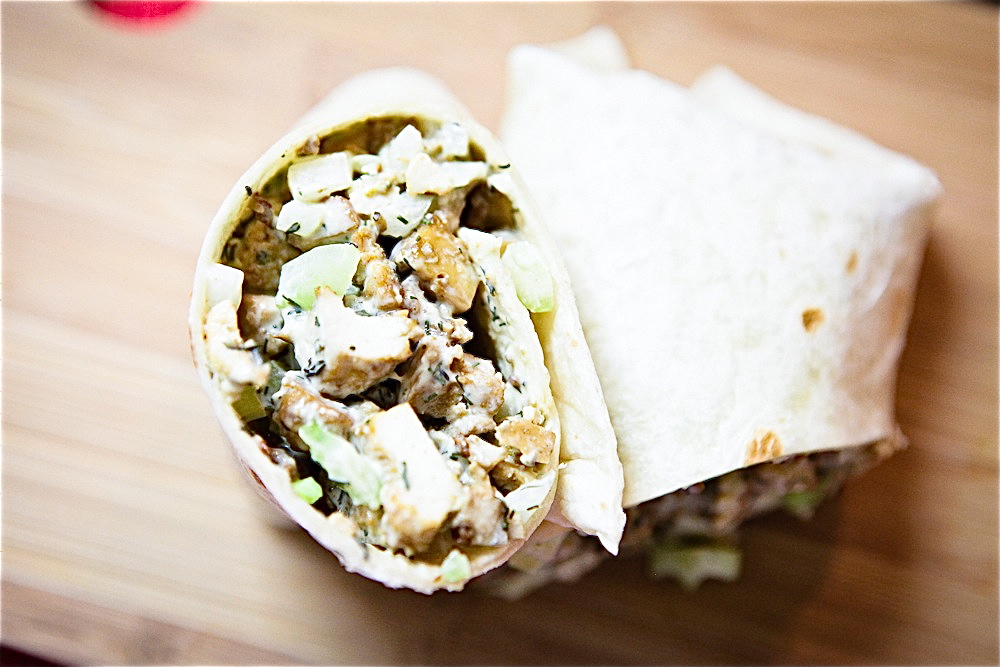 Though there is Vegenaise in this recipe, what really puts it over the top is the tofu.  I pressed it for 24 hours, the old-fashioned way (on a plate, with an enormously heavy book and a few cans of beans on top).  During this process, Chris opened the refrigerator and said "Honey, did you realize that you left a book in here?"  He was completely just in asking this because sometimes, when my focus is elsewhere, I've been known to put refrigerated things in the cabinet or leave my keys in the freezer.  Yada, yada, yada and now Chris knows how to press tofu.  I marinated it for a while (about 2 hours), but the key is to get as much moisture back out of it as possible.  I got a weird look from Chris when I was using the bottom of a bowl to push as much of the remaining marinade out of the tofu and through the strainer, but he did not question it.  I think he knew that magic was happening.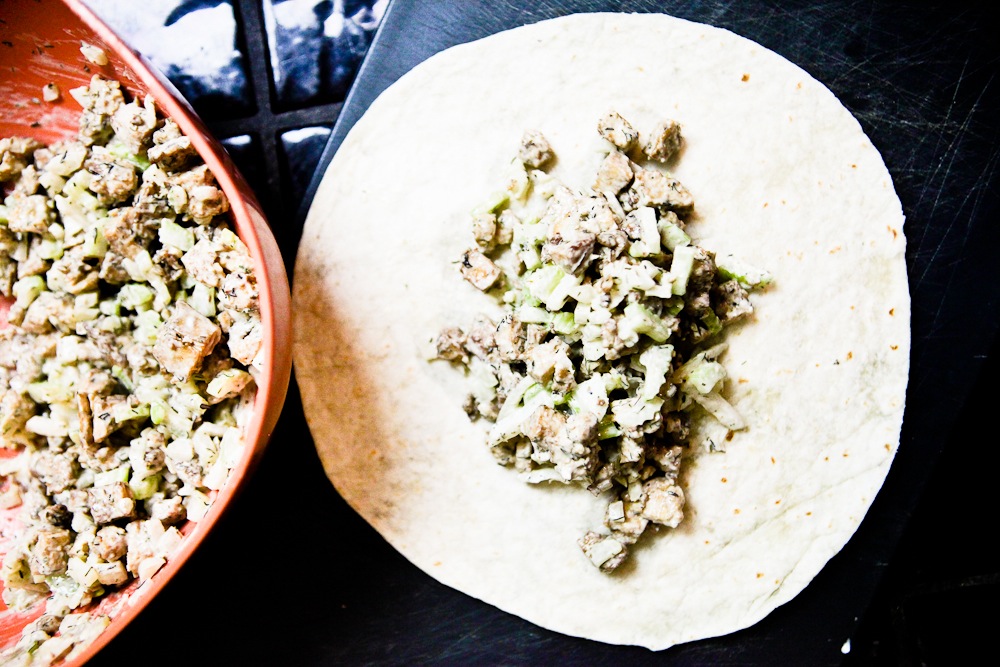 After the tofu is baked, and added to the rest of the salad ingredients, it makes for a delicious meal on its own, but when it's made into a sandwich or wrap is when the salad really shines.  I didn't use a ton of Vegenaise, but if you want a creamier salad, by all means, add in a little more.  I made my Spicy Sweet Potato Fries to accompany it and altogether it was the perfect meal.  When we were done, Chris said "I can't believe that just happened.  It was too good to be true."  A huge book is in my refrigerator now and I can't wait to make it the magic happen again for today's holiday meal.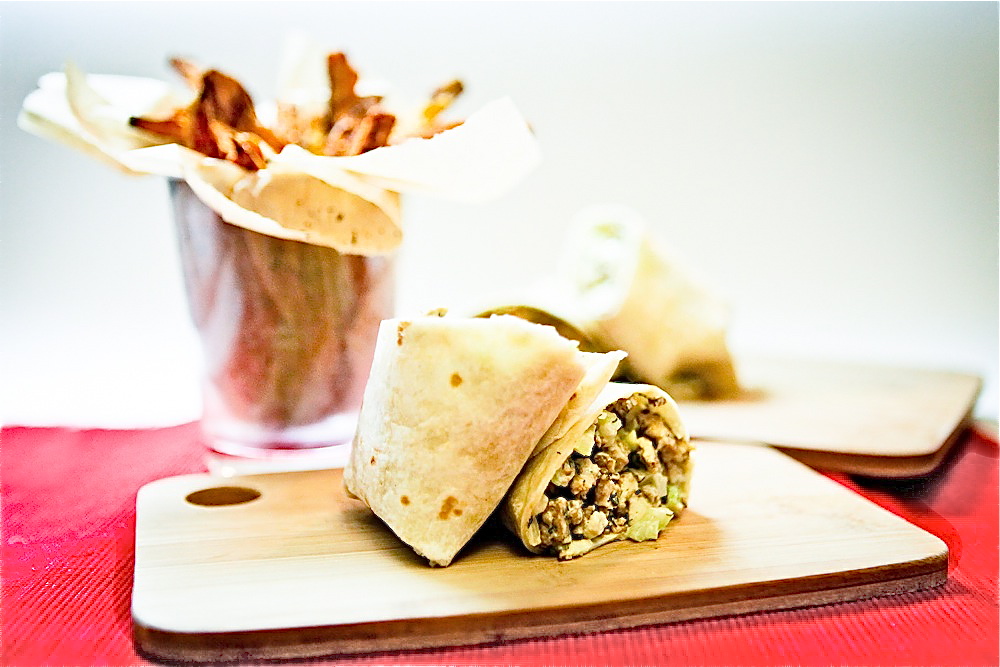 CHICKENLESS SALAD WRAPS
makes 2 wraps
Ingredients:
1 block of tofu, pressed
2 celery stalks, halved lengthwise and finely chopped
¼ small onion, finely chopped
¼ cup Vegenaise
1 tsp Dijon mustard
1 tsp dried dill
a few dashes of black salt (Kala Namak), or sea salt
for the tofu marinade:
½ cup vegetable broth
¼ cup Bragg Liquid Aminos
1 tsp dried thyme
½ tsp marjoram
½ tsp garlic powder
½ tsp onion powder
½ tsp paprika
½ tsp liquid smoke
Instructions:
Combine the marinade ingredients in a shallow container, such as a 9x9 baking dish or a pie pan.  Set aside.
Halve the pressed block of tofu, horizontally.  Thinly slice the two blocks into two thinner blocks, so you have 4 tofu sheets, all roughly 2 inches by 4 inches.  Tear each of the blocks into little pieces and place all the pieces into the marinade.  Place the dish in the fridge and allow to marinate for 1-2 hours.
Once the tofu is done marinating, preheat the oven to 350. Line a baking sheet with parchment paper and lightly spray with oil.
Pour the tofu and marinade into a strainer/colander and allow to drain for about 5 minutes. Using the bottom of a clean bowl.  Press the tofu into the strainer, squeezing out as much of the marinade as possible.  You can squeeze the marinade into a bowl and save it for another use, if you'd like.
Once you've drained the tofu as much as possible, spread the tofu out on a baking sheet.  Bake the tofu for 20 minutes, remove and flip, then return to the oven for another 10 minutes.  Remove from oven and let cool.
In a medium bowl, combine the other ingredients.  Once the tofu is cooled, add to the mixture and stir to combine.  Spoon half of the mixture into the center of a tortilla.  Fold the outer ends of the tortilla over the mixture, then roll the end closest to you over the mixture, then continue to roll it up completely, burrito-style.  Cut in half and serve.  Enjoy!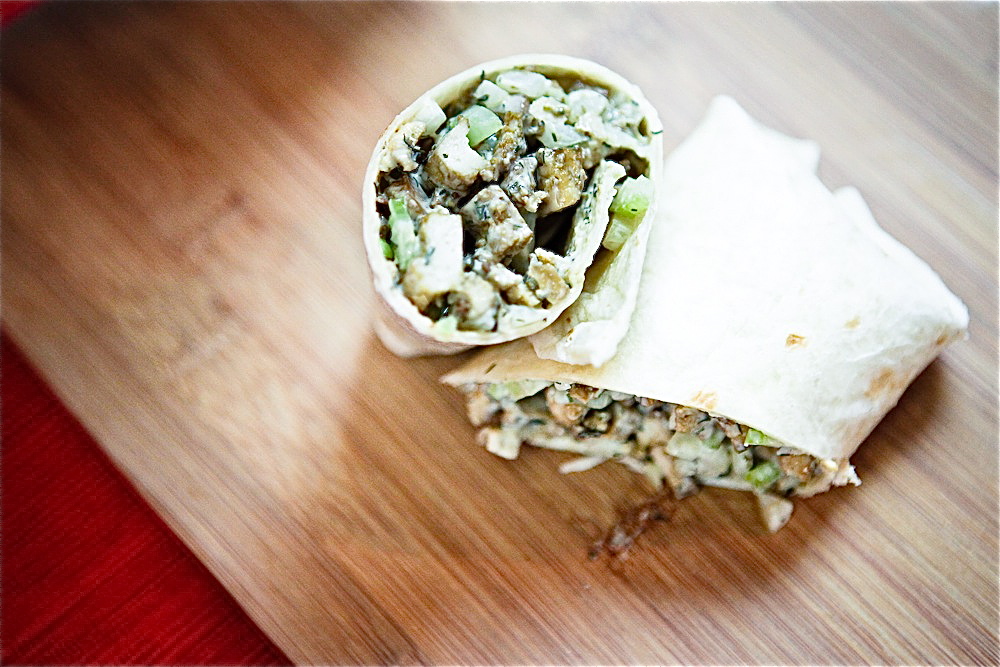 SPICY SWEET POTATO FRIES
makes 2 small servings (double or triple for more people)
Ingredients:
1 large sweet potato, peeled
1 tsp cumin
1/2 tsp cinnamon
1/2 tsp paprika
1/4 tsp cayenne pepper (increase if you like it extra spicy)
salt and pepper to taste
Olive oil spray
Instructions:
Preheat oven to 450.  Line a baking sheet with parchment paper and generously spray with olive oil.
Cut the sweet potato in half, lengthwise.  Then slice each half into 4 or 5 pieces, lengthwise.  For smaller fries, halve each those pieces lengthwise.
Spread the fries out on the prepared baking sheet.  Evenly sprinkle the spices over the fries and toss to fully coat.  Spread the fries out again and bake for about 20 minutes, flipping halfway through to cook evenly.  Remove from oven and serve warm.  Enjoy!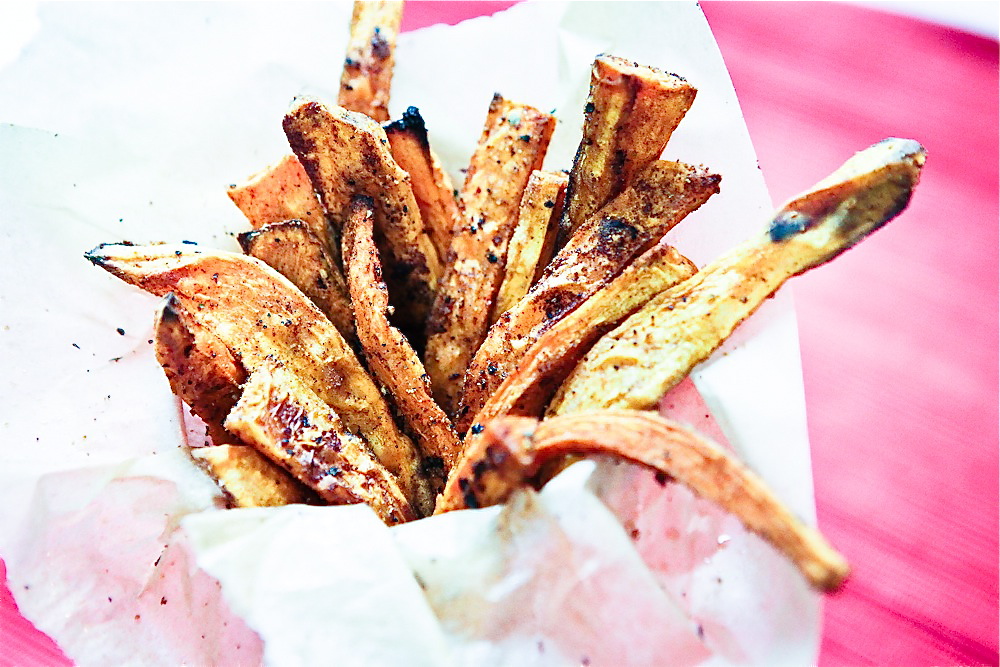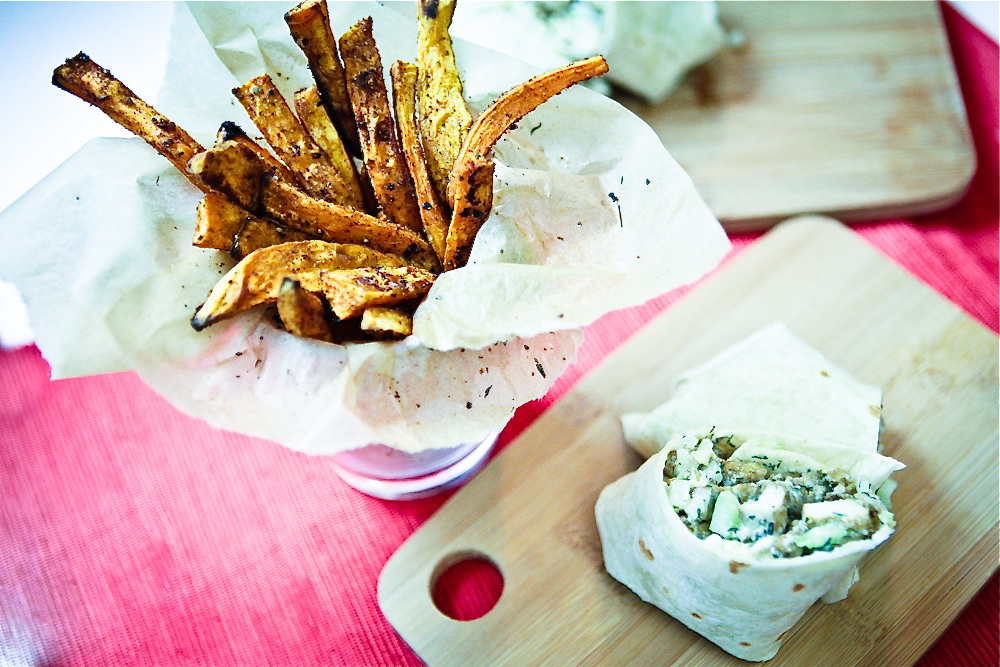 I hope you all have a fun and relaxing holiday!  What did you all prepare for your holiday meal?
All Photos by Chris Miller

© Kristy Turner and Keepin' It Kind, 2012. Unauthorized use and/or duplication of this material (content and images) without express and written permission from this blog's author and/or owner is strictly prohibited. Excerpts and links may be used, provided that full and clear credit is given to Kristy Turner and Keepin' It Kind with appropriate and specific direction to the original content.