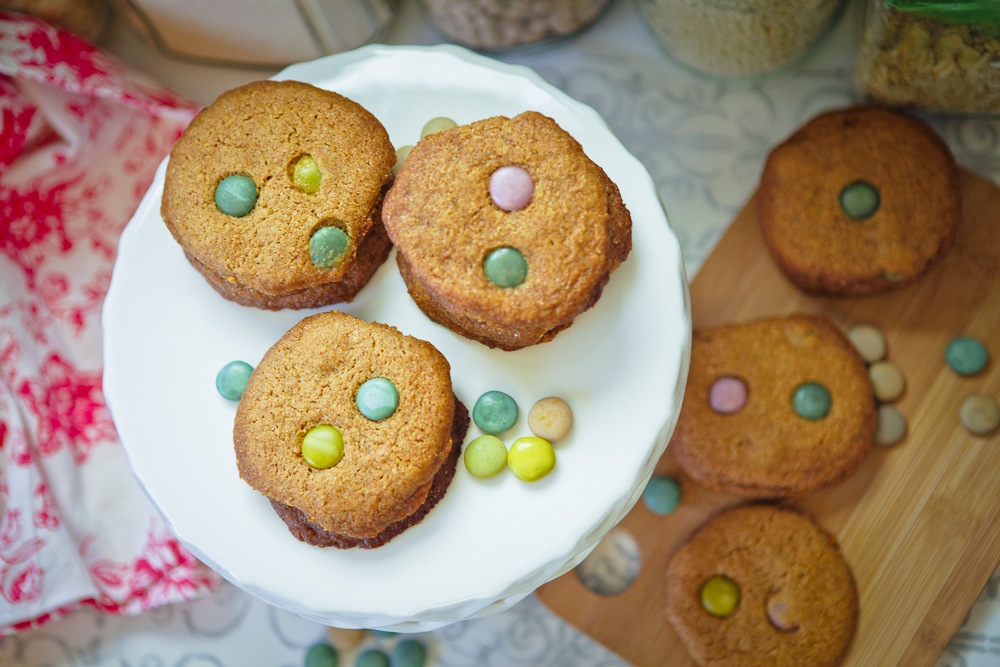 One of my earliest memories of grocery shopping is riding around in the shopping cart, eating an M&M cookie from Safeway's (in Southern California, they're Von's) bakery, while my mom did her shopping.  M&M cookies were always the fun cookie, a very special treat.  You could get chocolate chip or oatmeal cookies any ol' time, but M&M cookies were a rarity.  They were my absolute favorite cookie all the way into my late 20's, when my love affair with French Macaroons began.  The macaroons, however, never replaced the special spot in my heart that M&M cookies held.  It was M&M cookies that I turned to for holiday gatherings or just for when I wanted a pick-me-up.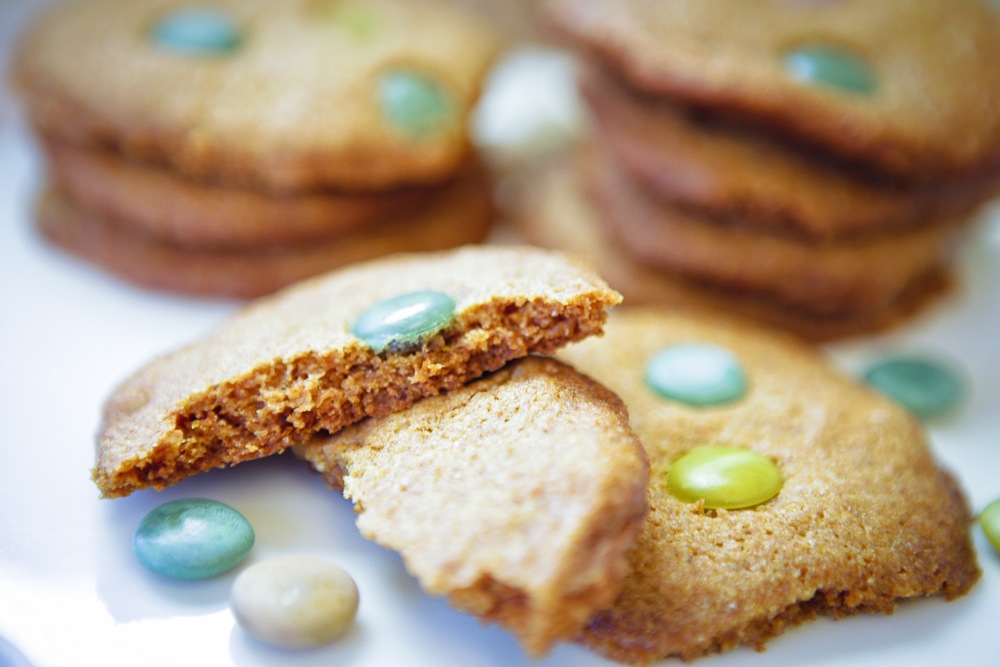 When I became vegan,  I said goodbye to my M&M cookies.  I didn't mind going without because I knew it was going to be, in a small way, helping to save lives.  That doesn't mean that I didn't spend hours scouring the internet looking for vegan alternatives, only to find Whizzer's Candy Beans (pretty much only bad reviews) or the Dark Chocolate "Skippers" from Vermont Nut-Free Candy (Lots of vegans are into them, but I'm really weary of all the questionable ingredients: artificial colors/flavors and lack of clarification about the sugarand wax.  The FAQ page also states that they cannot claim there is no dairy in their dark chocolate products).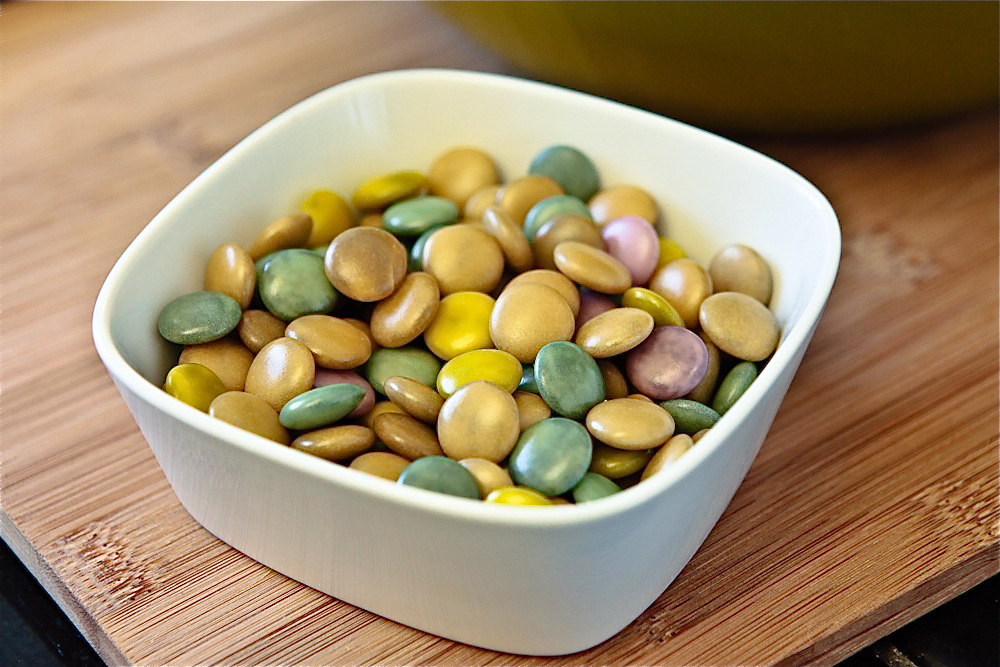 That was until SF Weekly's mention of Holy Cow Vegan Dark Chocolate Beans in Megan Rascal's "Week in Vegan" Article on April 27th, 2012 (found through Vegansaurus's Facebook Feed).  As soon as I saw the link for these bad boys, I clicked it and was running for my credit card.  I quickly ordered two 100 gram bags and started dancing around and texting Chris to tell him the fantastic news, until I remembered I had actually been reading something, so I finished my text, sat back down and finished reading (I was still dancing in my seat).  With beautiful timing, the candy arrived the same day that a lovely pair of vegan shoes I had ordered arrived.  Vegan shoes and vegan "M&Ms" in one day?!  These are the things dreams are made of.
Holy Cow did a great job in replicating the old classics.  The shell of the candy bean is a tad more crunchy than I remember M&Ms being, and the flavor of dark chocolate is strong, which I love.  They have no artificial colors, flavors, or additives and are made without any GMO ingredients.  Oh, and did I mention they are delicious?  They are such a treat!  I am so pleased with this (slightly expensive, but totally worth it) purchase, especially because they allowed me to reunite with my beloved cookies.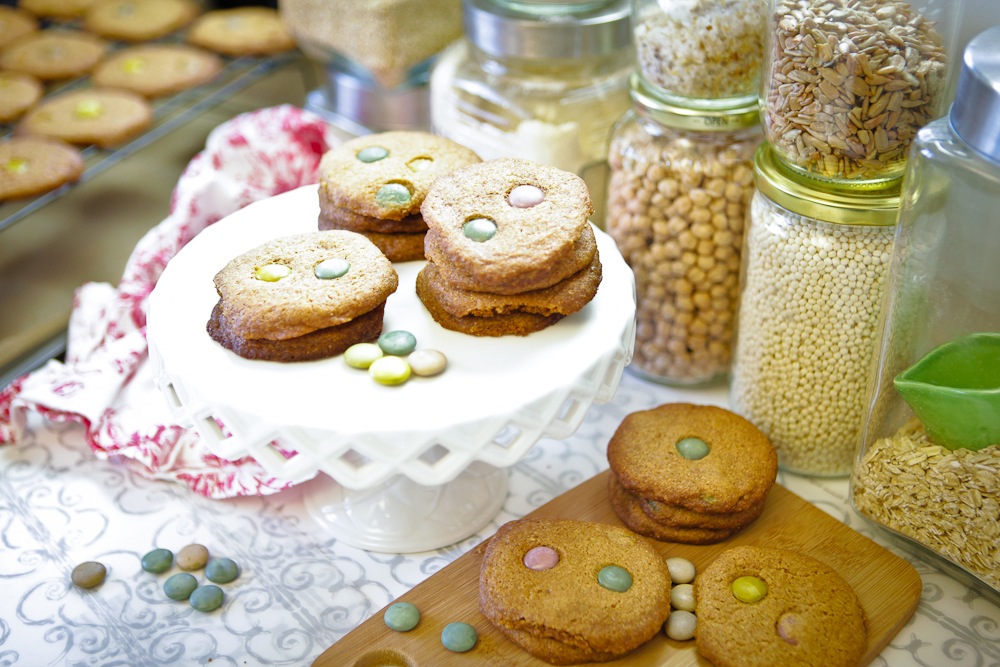 I wasted no time getting these cookies made.  Naturally, I just veganized my old M&M cookie recipe, and decided to use only natural sweeteners: coconut sugar and agave syrup.  As they baked, I eagerly waited, just like someone waiting at the airport for their long-lost love to get off the plane.  As soon as they emerged from the oven, the old excitement was welling up within me.  That first bite was so incredibly rewarding - they were chewy, but thin and slightly crisp, just like the cookies from the grocery store bakery.  Chris said the candy tasted even more like M&Ms after being baked.  I think it's because the heat caused the shell to soften a bit.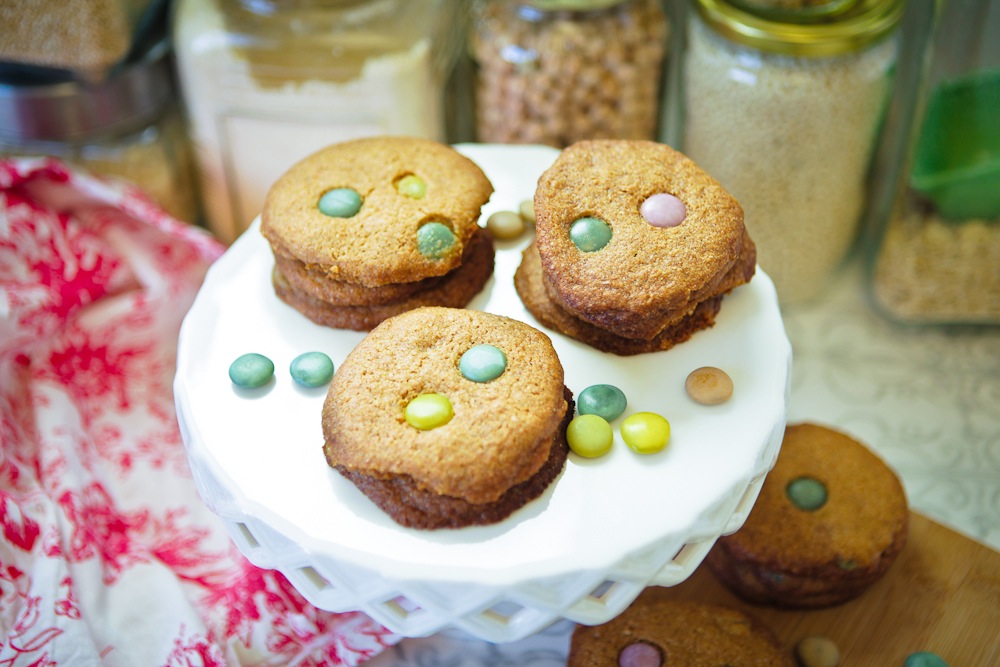 Rejoiceful is the only word I could use to describe my feelings about these cookies.  I wanted to sing to them, "Reunited" by Peaches & Herb, but I refrained and just softly hummed it to myself (and my cookie) once Chris left the kitchen.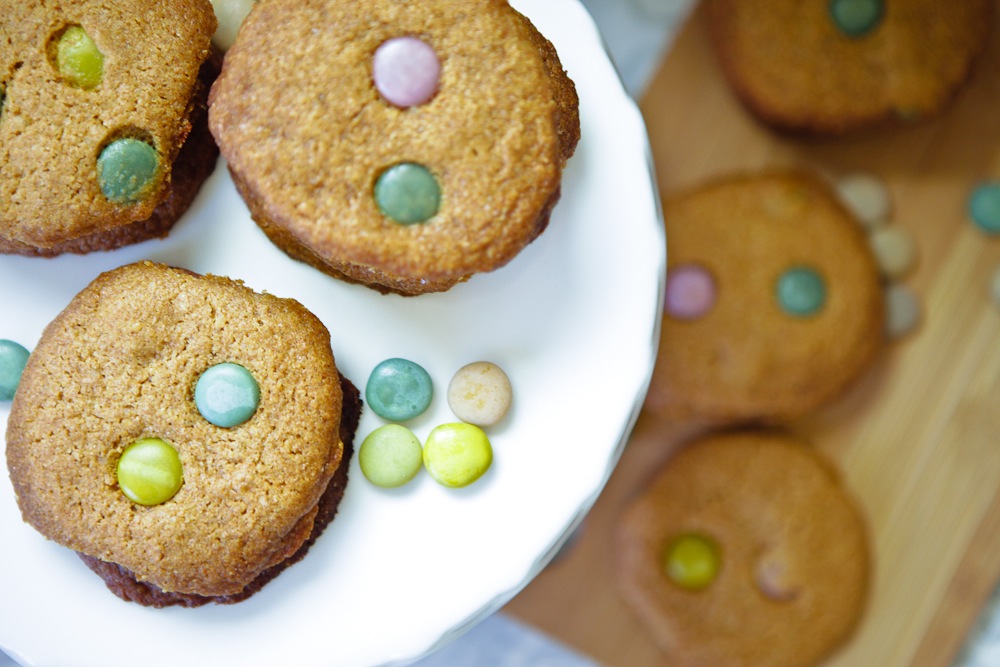 vegan m&m cookies
Ingredients
2 cups whole wheat flour
1 teaspoon baking soda
1 teaspoon baking powder
¾ teaspoon salt
½ cup coconut oil
1 tablespoon peanut butter
¾ cup coconut sugar
¾ cup agave syrup
1 Ener-G Egg Replacer (1-½ teaspoon of Ener-G Egg Replacer mixed until frothy with 2 tablespoons warm water)
2 teaspoons vanilla
3/4 cup [Holy Cow Dark Chocolate Candy Beans|http://www.veganessentials.com/catalog/holy-cow-vegan-dark-chocolate-beans.htm)
Instructions
Preheat oven to 350. Line 2 baking sheets with parchment paper, and lightly grease or spray with vegan non-stick spray.
Prepare your Ener-G egg replacer. Set aside.
In a large bowl, mix your dry ingredients together. In a medium bowl, mix your wet ingredients together until fully emulsified.
Add your wet ingredients to your dry and mix with a wooden spoon or rubber spatula until fully combined. Fold in the candy beans.
In heaping tablespoonfuls, form your dough into small balls, and then lightly flatten. Spread them evenly on the prepared baking sheets.
Place baking sheets in the oven and bake for about 12 minutes, until slightly golden, barely crisp around the edges, but still soft on the top. Let cool on the baking sheets for about 3-5 minutes, and then transfer to cooling racks. Let cool for at least 10 more minutes (or just tear into them immediately). Enjoy!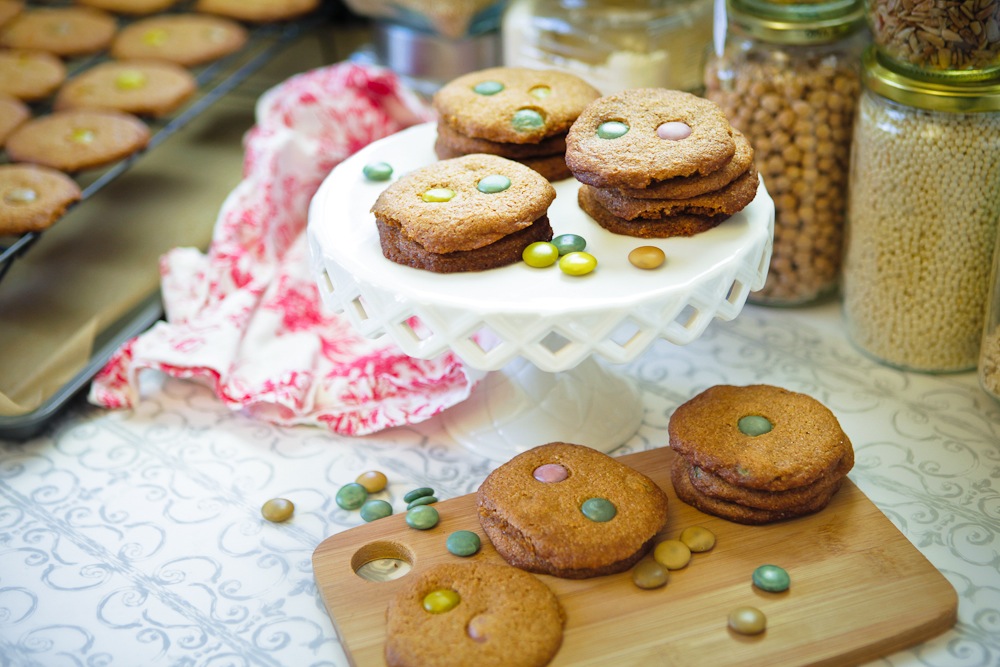 I find it very appropriate that my very first cookie post is about my most favorite cookie of all time.  Now I need to find some vegan French macaroons...
What is your all-time most favorite cookie?
Photography by Chris Miller