Two of my most favorite people to cook for are my stepkids, Maxwell and Sophia. They are eleven, twins, have very particular palates, and generally offer up good, honest critiques. Although they are twins, their tastbuds differ quite a bit. For example: Sophia loves peanut butter but Max hates it. Max is into cinnamon-flavored things but Sophie's not totally on board. Sophia likes garbanzo beans, while Max detests beans of any sort. Max drinks apple juice and Sophia prefers orange juice. Sophia loves broccoli but won't go near cauliflower, and Max is completely the opposite. Up until now, I usually would give broccoli to Sophia with her dinner, and cauliflower to Max, but Cadry's Kitchen changed all that.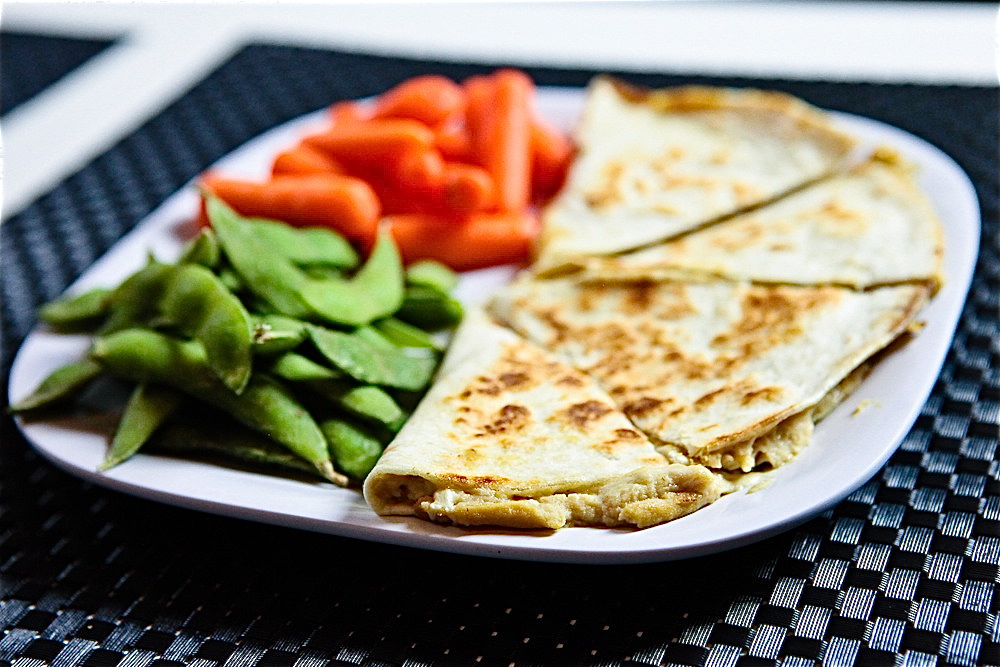 A little over a week ago, Cadry posted the most delicious-looking recipe: Cauliflower Queso. The pictures she posted made my heart sing, and one picture in particular, a quesadilla filled with this delectable queso, made me crave quesadillas like no one's business (except now it's your business). What really got my gears going, though, was the idea that I might be able to get Sophia to finally eat cauliflower (that sounds so devious, but I really mean it in the most sincere way a person possibly can when referring to tricking someone into eating something they don't like).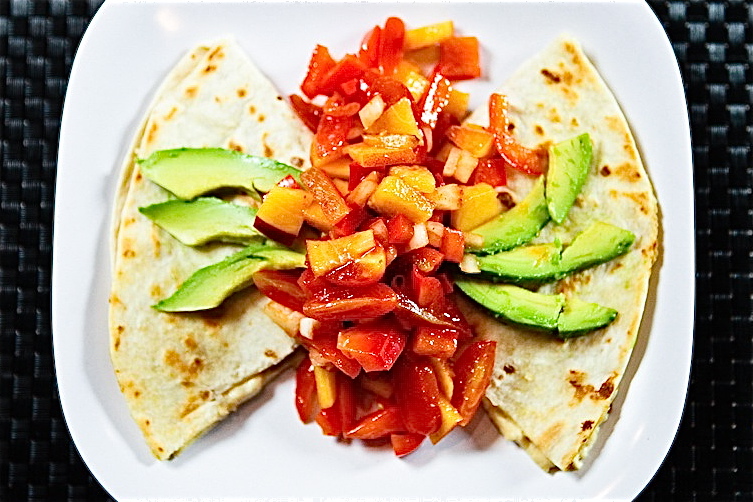 This last Saturday, it was on! I whipped up the queso very easily (leaving out the jalapenos, because I knew the twins would veto that after one bite), ate several heaping spoonfuls tasted it, and set it aside to make quesadillas with later.  A couple of hours later, with Family Movie Night upon us, I got to work on the quesadillas.  I realized I had no salsa for Chris and I to have on ours, so I whipped up my Nectarine Bell Pepper salsa.  I usually use cilantro (as indicated in the recipe) but didn't have any on hand so this batch went without it.  I also didn't have any chile peppers of any sort (I was not prepared to make salsa at all), so I used a bit of Sriracha sauce and I think I liked the taste of it even more than previous batches.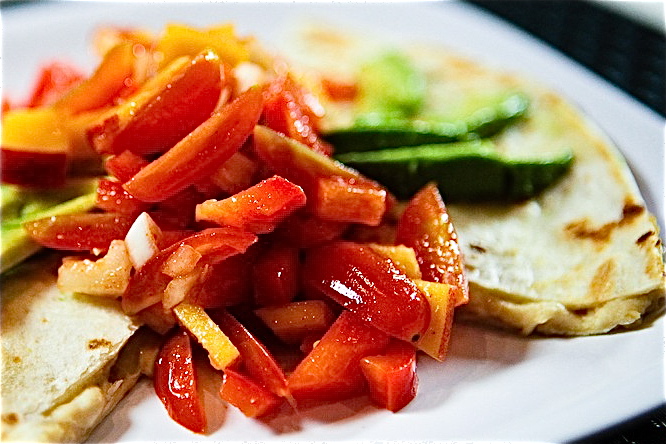 The quesadillas were received extremely well, by all parties involved.  Chris and I wished we hadn't run out of tortillas so we could have made seconds.  The queso is so rich and velvety and made every bite of the quesadilla burst with flavor in my mouth.  The twins, Sophia especially, ate it up quickly.  The only question was from Sophia, who asked if the cheese was made with beans.  I told her "Yes it was- I'm so impressed that you picked that up!"  And it was left at that.  The next day, I told her there was cauliflower in it, and her response was "Oh.  Well, it was good."  So here it is- the recipe that got Sophia to injest cauliflower and actually like it: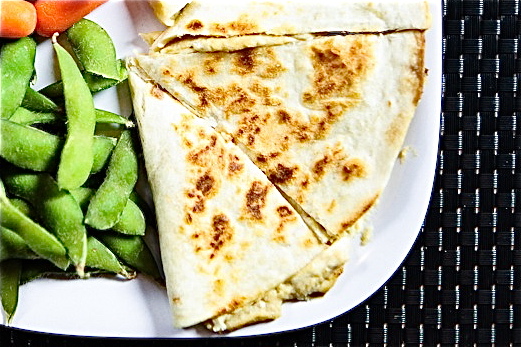 CADRY'S CAULIFLOWER QUESO QUESADILLAS

makes 4 quesadillas
Ingredients:
Instructions: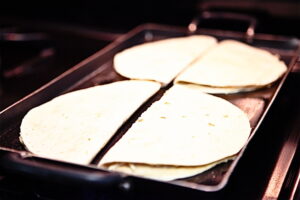 Spread about 3-4 T cauliflower queso on a tortilla.  If using, sprinkle about 2 tablespoons of grated vegan cheese on top of the queso.  Fold the tortilla in half and repeat with remaining tortillas.  You will have some queso left over.
Heat a large pan over medium heat.  Lightly spray both sides of each quesadilla with olive oil spray before placing onto the heated pan.  Depending on the size of your pan, you can do about 2-4 quesadillas at a time.  I used a large, double burner griddle pan, so I was able to do all at once.
Cook the quesadillas for about 2-3 minutes on each side.  Serve warm, topped with Nectarine Bell Pepper Salsa (or salsa of choice).  Enjoy!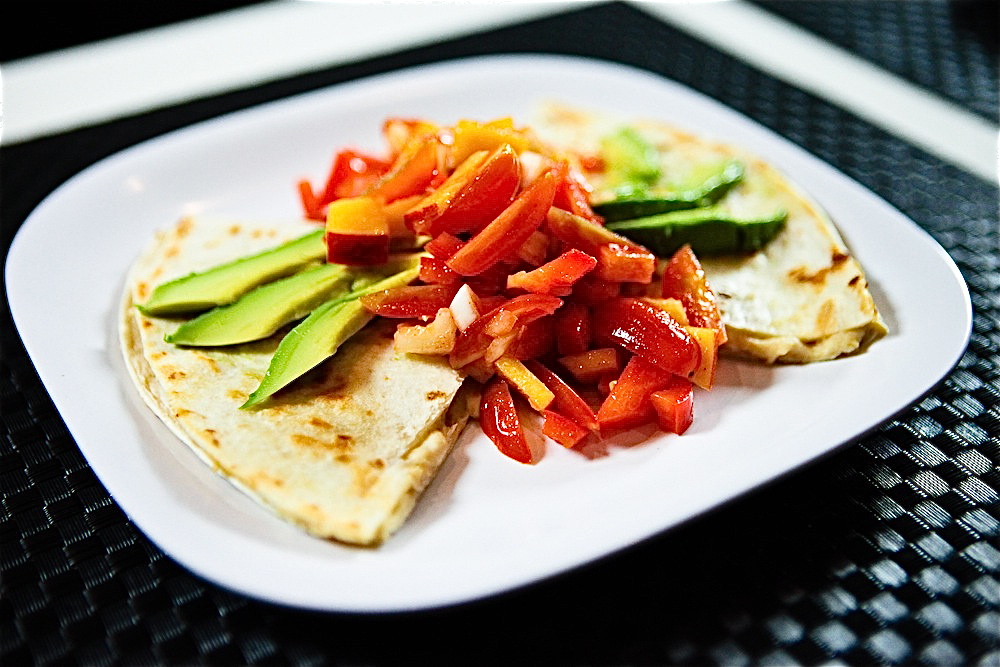 NECTARINE BELL PEPPER SALSA
Ingredients:
15-20 cherry tomatoes, quartered
1 nectarine, sliced and chopped
½ red bell pepper, chopped
¼ onion, finely chopped
¼ cup fresh cilantro, roughly chopped
½-1 tsp Sriracha sauce
Instructions:
Combine all the ingredients in a medium bowl.  You can easily sub the Sriracha sauce for fresh peppers, finely chopped.  Chill for an hour prior to serving.  Enjoy!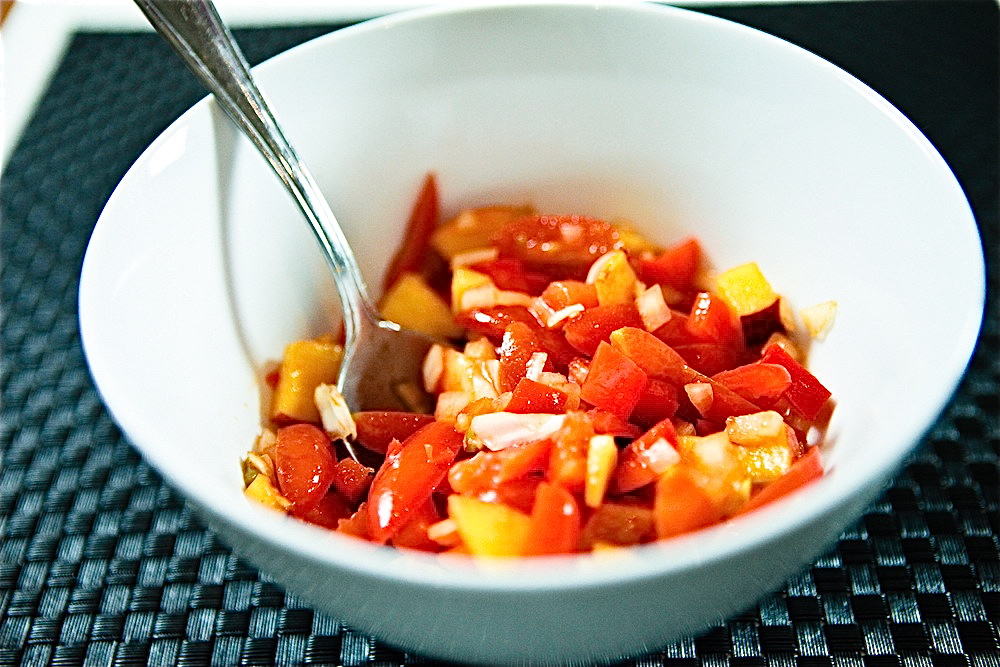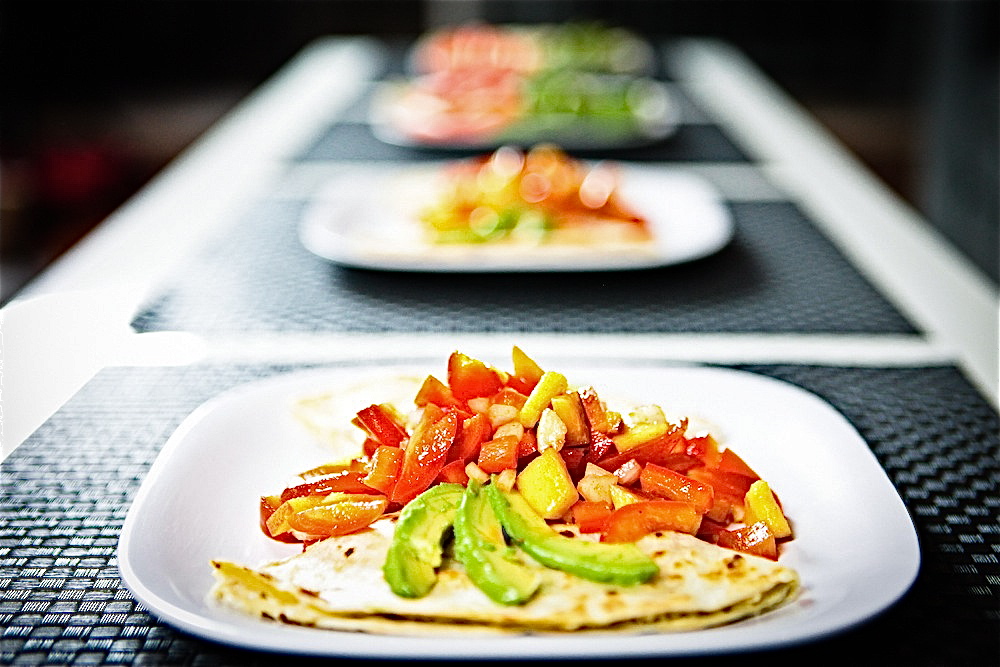 Thank you so much to Cadry's Kitchen for providing me with the answer to the cauliflower/broccoli war in our house.  Now I just need to make a broccoli based cheese...
All Photos taken by Chris Miller

© Kristy Turner and Keepin' It Kind, 2012. Unauthorized use and/or duplication of this material (content and images) without express and written permission from this blog's author and/or owner is strictly prohibited. Excerpts and links may be used, provided that full and clear credit is given to Kristy Turner and Keepin' It Kind with appropriate and specific direction to the original content.