Do you ever prepare a meal, and when you look at the finished product, you're like "Daaaaaamn gurl!  You lookin' so purdy!"  No?  Either it's just me or you've never made this pizza.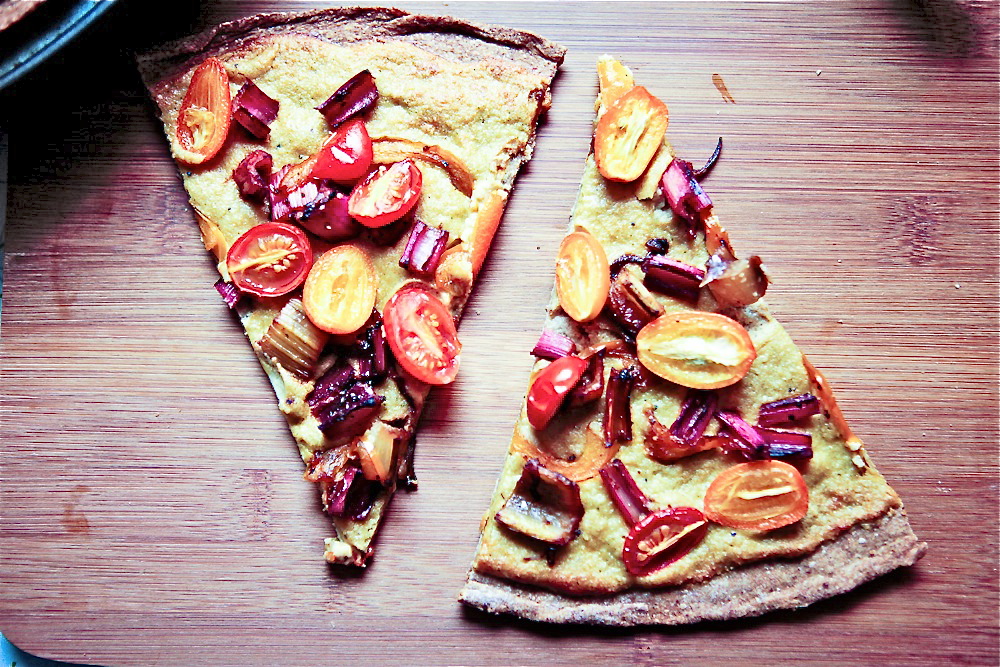 Let me start from the beginning.  I like to use as much of the plant as possible in my cooking, so when I get chard, I cut off the stems and use them just as I would use celery.  Chard stems are actually great sources of vitamin A and beta-carotene, as well as iron and magnesium.  When I got incredibly gorgeous rainbow chard from my CSA, I knew I had to use those gorgeous stalks in a way that could show off their beauty.  When I saw the little tiny kumquats in the box, next to the stems, I knew I wanted to showcase all those beautiful colors together.  What better way to show-off a food's outer (and inner) beauty?  A pizza, of course.  It's like a big edible platter with delicious decorations!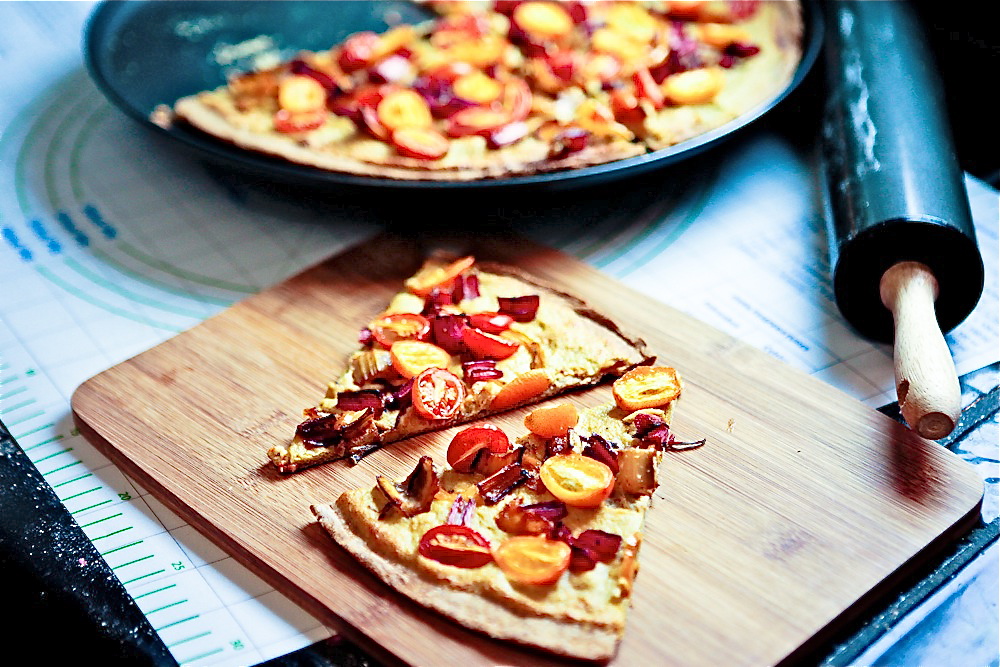 The natural spread to go with these tart and tangy additions had to be something creamy and rich with a slight tang itself, yet a shade perfect to act as the backdrop for my toppings.  Enter Cashew Hemp Cheese.  The creaminess from the cashews, the tanginess from the miso and nutritional yeast, and the nutty richness from the hemp seeds makes this spread something I know I will be making time and time again to spread on pretty much everything.  I also added some orange bell pepper slices and cherry tomatoes, which coordinated with the other toppings' colors as well as flavors.  The finished product?  Not only super scrumptious in a slightly sweet, but mostly savory sort of way, but it had me making cat-calls and talking to my food (again).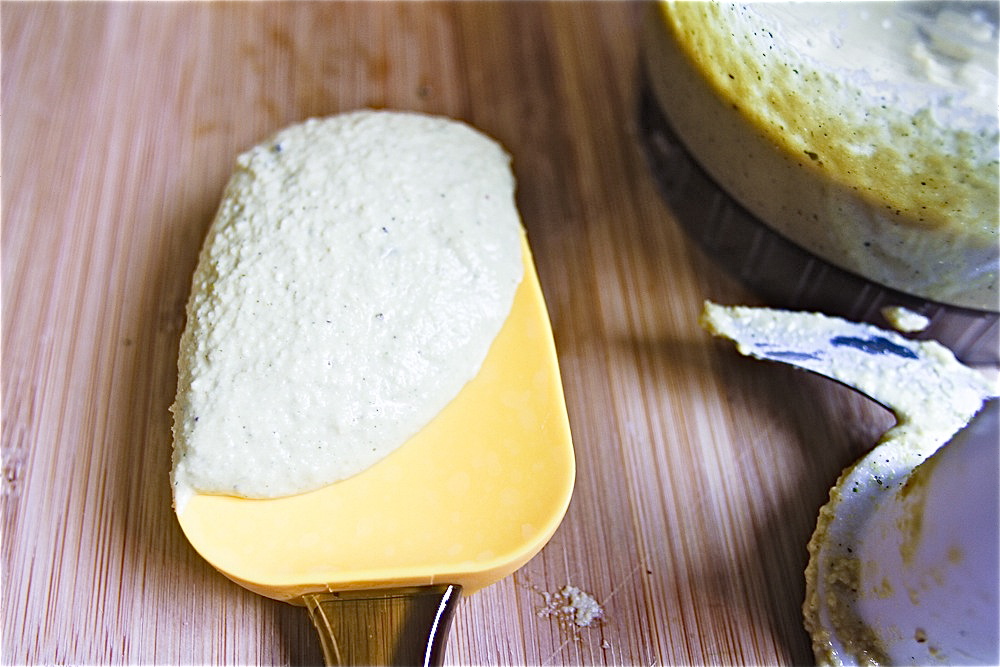 CASHEW HEMP CHEESE SAUCE
Ingredients:
½ cup raw cashews
1 T shelled hemp seeds
1 cup water for soaking, reserve ¼ cup + 2 tsp for the sauce
¼ cup nutritional yeast
1 tsp white miso
¼ tsp minced garlic (optional)
¼ tsp salt
Instructions:
Soak your cashews and hemp seeds in warm water for at least an hour.  Drain and reserving the water.
In the bowl of a food processor, combine all of the ingredients.  Puree until smooth.  Refrigerate until ready to use (should keep for 1-2 days) or enjoy immediately.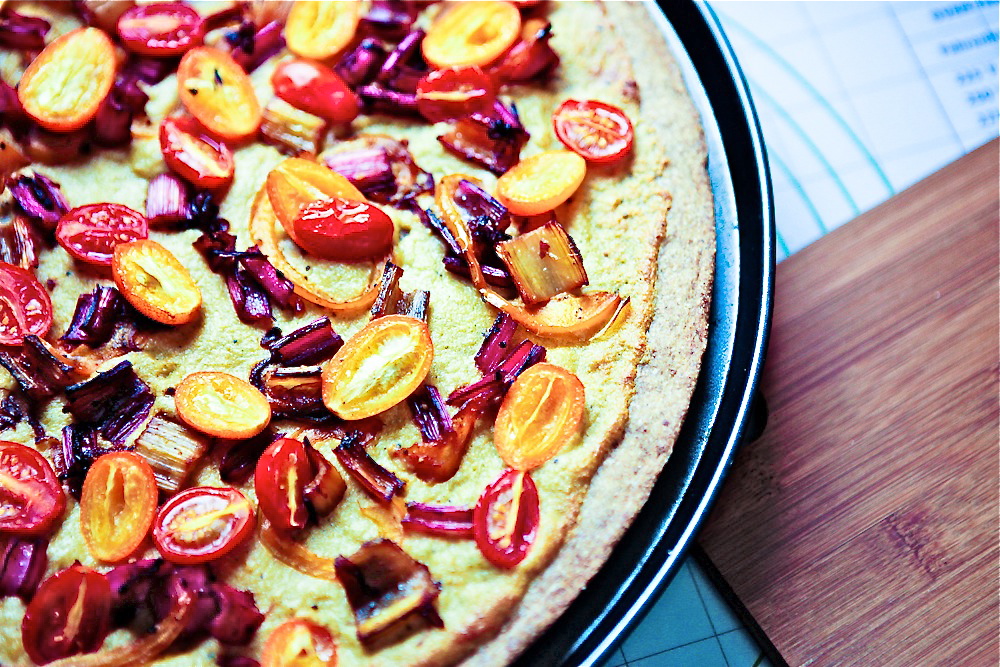 KUMQUAT & RAINBOW CHARD STEM PIZZA
makes 1 pizza
Ingredients: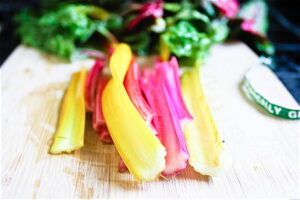 1/3 recipe pizza dough
1 recipe of Cashew Hemp Cheese
12-14 kumquats, halved and seeds removed
12-14 cherry tomatoes, halved
stems from one bunch of rainbow chard, chopped
½ orange bell pepper (or any color pepper), thinly sliced
½ cup vegetable broth
1 T olive oil
1 tsp paprika
salt and pepper to taste
Instructions:
Preheat oven to 500.  You should have your pizza dough prepared, according to this recipe (or the pizza dough recipe of your preference), spread out into a 12-14 in circle and on your prepared pizza-cooking device of choice.
Heat the olive oil in a frying pan over medium heat for about 30 seconds.  Add the chard stems and the vegetable broth and sauté until liquid is gone and the stems have softened.  Add the bell pepper slices and sauté for a few more minutes.  Mix in paprika and salt and pepper to taste.  Remove from heat.
Evenly spread the Cashew-Hemp Cheese Sauce on the prepared pizza crust.  Top with the chard stems & bell pepper slices, the sliced kumquats, and the sliced cherry tomatoes.  Place the pizza in the oven and cook for about 10 minutes, until the crust is golden and crisp.
Slice and serve warm.  Enjoy!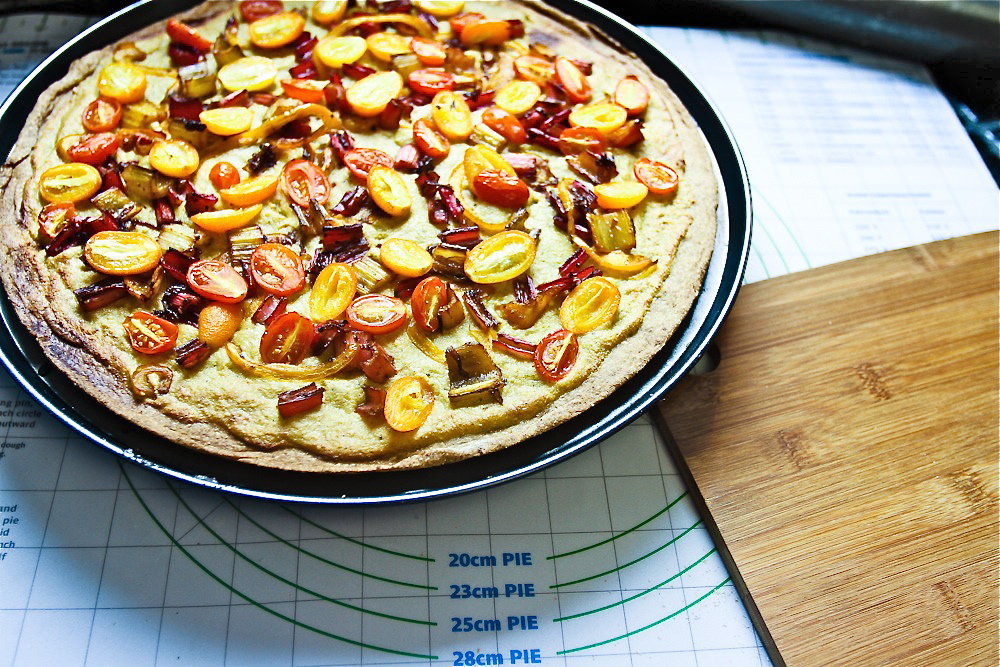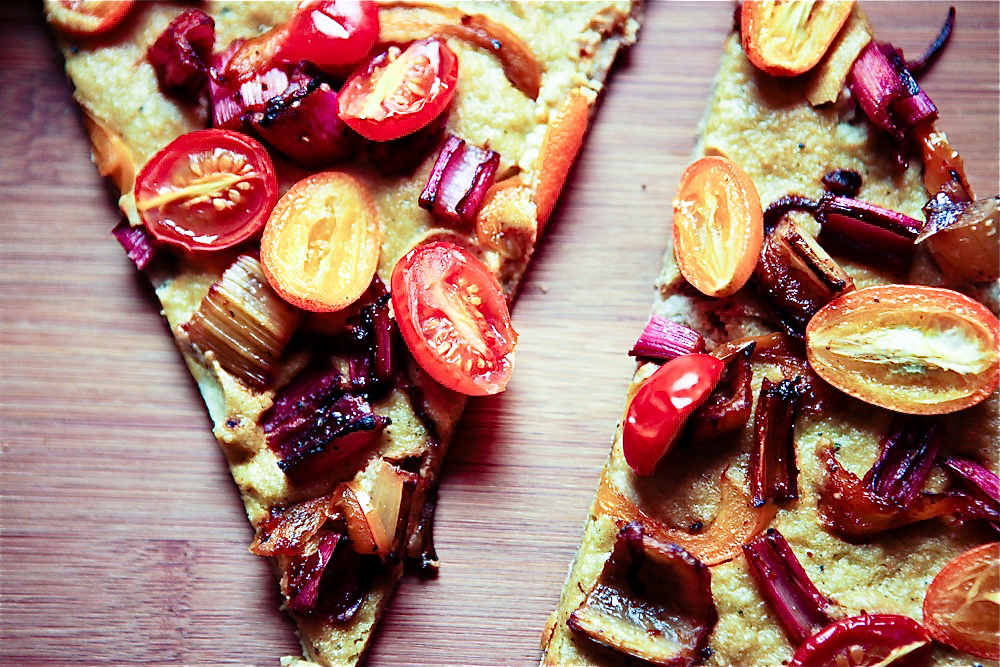 The next time you need to practice your cat calls and whistles, make this gorgeous pizza and go to town!
What is your favorite "pretty meal"?
All Photos by Chris Miller and Kristy Turner

© Kristy Turner and Keepin' It Kind, 2012. Unauthorized use and/or duplication of this material (content and images) without express and written permission from this blog's author and/or owner is strictly prohibited. Excerpts and links may be used, provided that full and clear credit is given to Kristy Turner and Keepin' It Kind with appropriate and specific direction to the original content.