I had prepared to share my opinion of the recent USDA decision to not promote Meatless Mondays.  As I was writing, however, I felt that I was getting preachy, and I hate it when I get preachy.   I was upset for a number of reasons, but what concerned me the most was how this would affect the USDA's already distorted and misguided regulations for nutrition in schools.  The USDA is following a set of standards set along ago with good intentions, but have since abandoned listening to what science tells us is good for us and the earth, and have chosen to listen more closely to what pays them the most money.  Rather than let myself let my frustration escalate, I sought to find the good in this situation.  The more I thought about what message this sends to our nation, I realized that this is a reminder, to Chris and I at least, but hopefully to all parents, that it is up to us to teach our youth how to live healthfully by setting a good example at home instead of relying on schools or what the USDA mandates as "healthy" to do the job for us.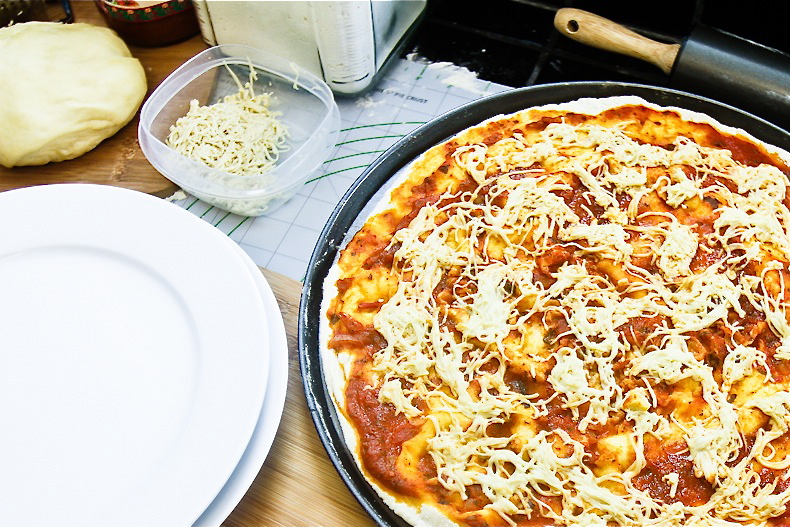 Chris and I have the twins each weekend, and Sophia (vegetarian) and Max (omnivore, for the time being) have chosen to be vegan when they are with us.  They know that our house is 100% cruelty-free and all that Chris and I will give them is vegan foods, but if we are visiting family for example, where a variety of foods are offered, they still choose to eat vegan since they "are vegan on the weekends."  When they are with their mother, she does her best to provide them with healthy meals, but it can be tricky when there is one vegetarian and one very picky eater to feed.  Recently, Sophia decided that she wants to be vegan all of the time (Yay!), but since her mother is concerned about Sophia getting all of the nutrients she needs on a plant-based diet, they worked out a deal that Sophia could be vegan all the time once she learns how to prepare her own food.  Sophia's goal is to be fully vegan by the time she's 13 and she has asked that I teach her how to cook.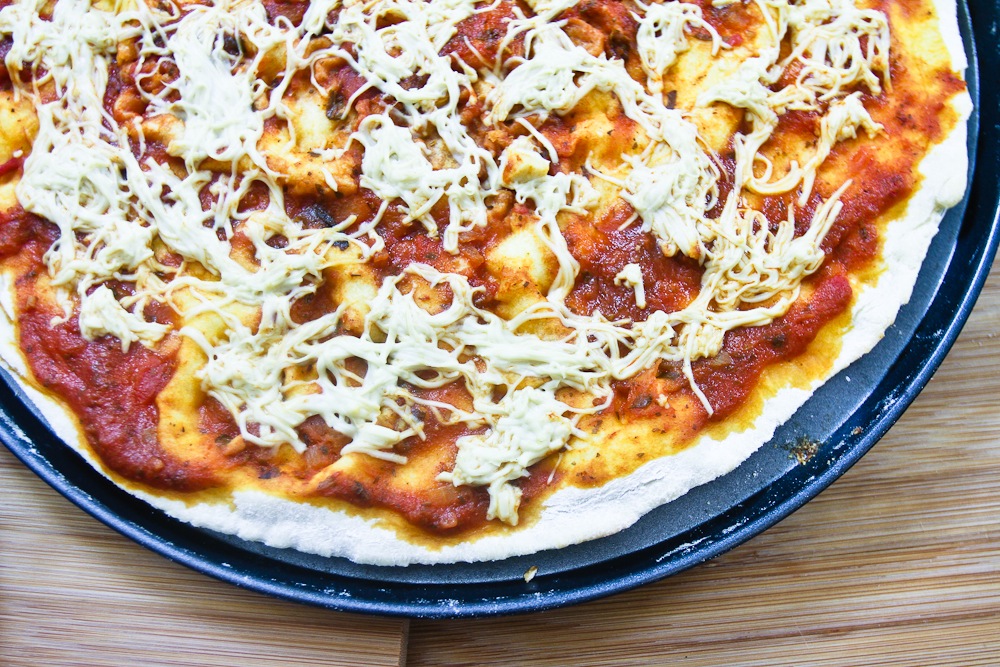 I am delighted to be able to help Sophia with this goal and I am so proud of her for making this decision at such a young age.  Her determination is inspiring.  Because of this decision, she has been helping me out in the kitchen a lot more, all the while taking notes in her little notebook.  Because of this decision, I will be posting more of Max and Sophia's favorites, to serve as guidance for Sophia when she needs it.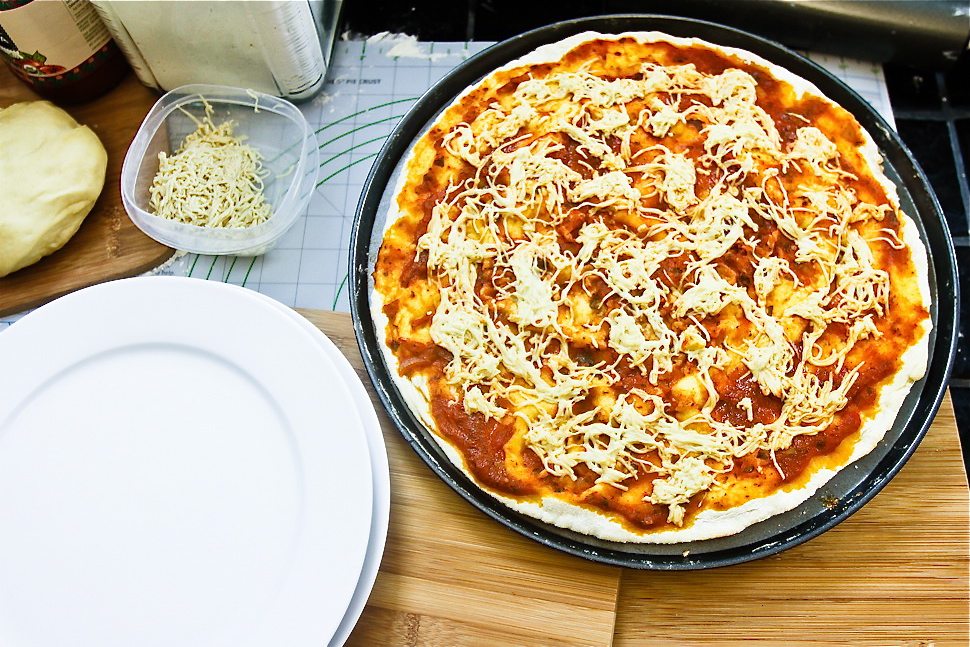 This pizza is one of those recipes.  When I first met the twins, they did not like marinara sauce, or even pizza for that matter.  Somewhere along the line, they learned to accept marinara sauce, and pizza as long as it's a plain cheese pizza.  Pizza is so versatile, that if I make a more elaborate pizza for Chris and I, I can easily make another plain cheese one for the twins.  This time, however, I enlisted Sophia's assistance.  I made the dough (though you could just as easily buy a premade crust), while Sophia watched (and took notes), and I had to help her roll it out, but Sophia took great satisfaction in dressing it with sauce and cheese.  She had even helped me make the mozzarella-style cashew cheese the day before, and she was surprised at how simple it was.  Her response: "That's it?!"  After she set the timer, she stood very close to the oven, keeping an eye on her work.  I would be lying if I said I wasn't proud to see her excited about taking steps to live healthfully.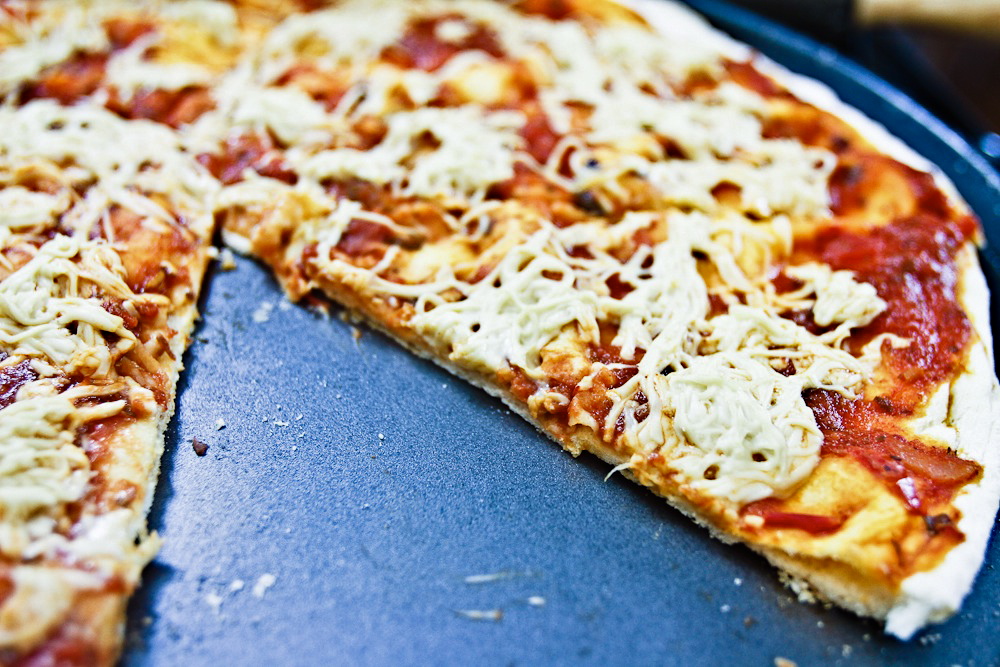 Once we sat down to dinner, and Sophia handed her brother his plate, Max immediately, as per usual, said "Thank you, Kristy!  This looks so great!"  It was so great to watch Sophia very proudly tell her brother that she helped make dinner.  It was even better to watch her eat something that she helped create, knowing that she was getting closer to her goal.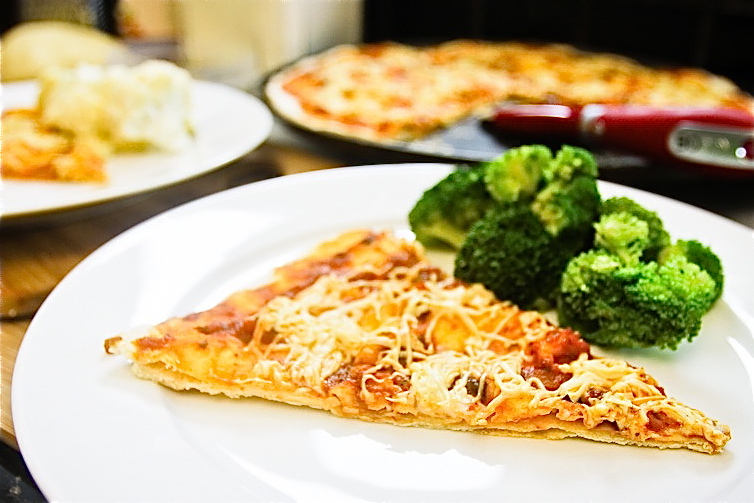 PIZZA DOUGH
makes 3 12-14 inch pizzas
Instructions: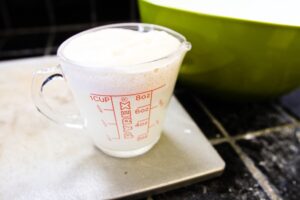 1 package active dry yeast
1 teaspoon sugar
1 cup warm water (110 deg.)
1 tablespoon kosher salt
2 T olive oil
3 cups unbleached bread flour, plus more for dusting
Instructions: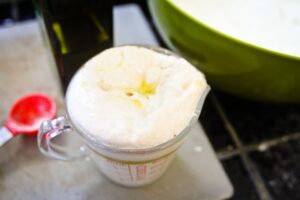 In a measuring cup or small bowl, combine the yeast and water until yeast has mostly dissolved.  Add in the sugar and gently stir until dissolved.  Set aside for at least 10 minutes, until a thick layer of foam has developed on the top.
Pour your flour into a large bowl and make a small "well" in the middle.  Add the salt and olive oil to your yeast mixture and pour into the well in the bowl of flour.  Use a wooden spoon (or other strong spoon) to stir, until it becomes too tough.  Then you can use your hands to knead the dough.  If it is too sticky, add more flour, 1 tablespoon at a time.  If it is too crumbly, add water, 1 tablespoon at a time.  Knead the dough until it forms into a solid ball.  Turn the dough out onto a lightly floured surface and fold it over itself a few times; kneading until it's smooth and elastic.
Form the dough into a round and place in a lightly oiled bowl, turn it over to coat. Cover with plastic wrap or a damp towel and let it rise in a warm spot until doubled in size, about 1 hour.
Preheat the oven to 500.  Prepare your pizza-cooking device of choice (pan, stone, or paddle) by lightly sprinkling with flour or cornmeal.
Once the dough is domed and spongy, turn it out onto a lightly floured counter. Roll and stretch the dough into a cylinder and divide into 3 equal pieces. Cover and let rest for 10 minutes so it will be easier to roll out.  Roll or pat out a piece of dough into a 12-14 inch circle, about 1/8-inch thick.
Transfer your rolled-out pizza dough to your cooking device and top with desired toppings.  Transfer the pizza to the oven and cook for 10-15 minutes, until crust is golden and crisp.  Repeat with remaining balls of dough, or wrap in plastic and refrigerate for up to 5-7 days.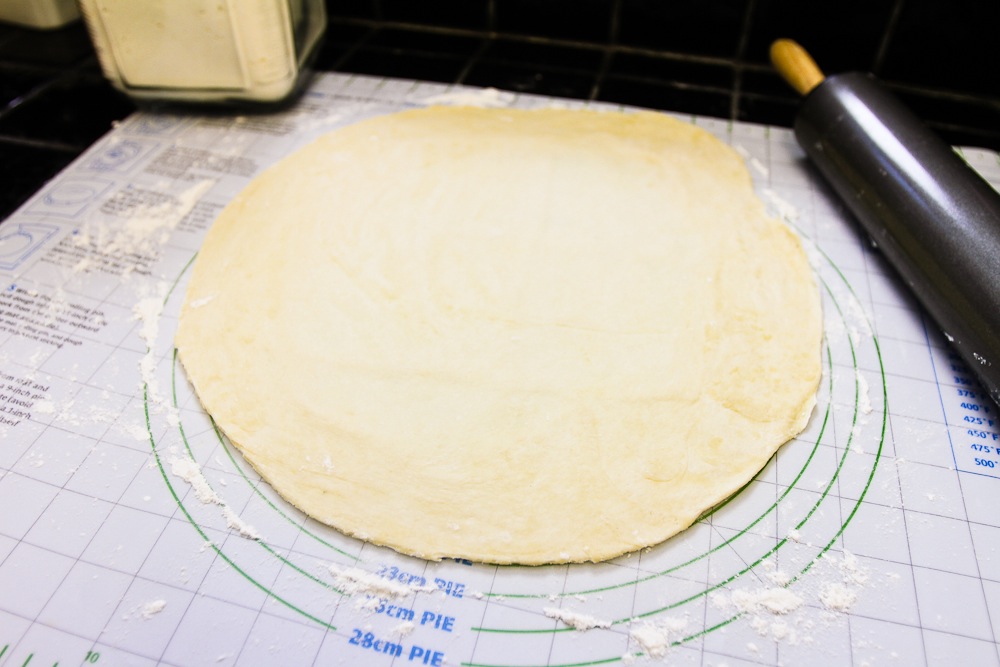 EASY CHEEZY PIZZA
Ingredients:
1/3 recipe pizza dough (or use a pizza dough recipe of your choice or a pre-made crust)
½ cup marinara sauce (you can make your own, or used jarred.  I like Trader Joe's Organic Tomato Basil Marinara)
1 cup shredded vegan mozzarella-style cashew cheese (I used this recipe, but Daiya is great too)
Instructions:
Prepare pizza dough according to directions (ahead of time) and roll out into desired shape and place on pizza pan/peel.
Spread the marinara sauce over the top, leaving a little room for the crusts.
Spread the cheese out on top of the marinara sauce and place the pizza in the oven.  Cook until crust is golden and cheese is melted.  Slice, serve and enjoy!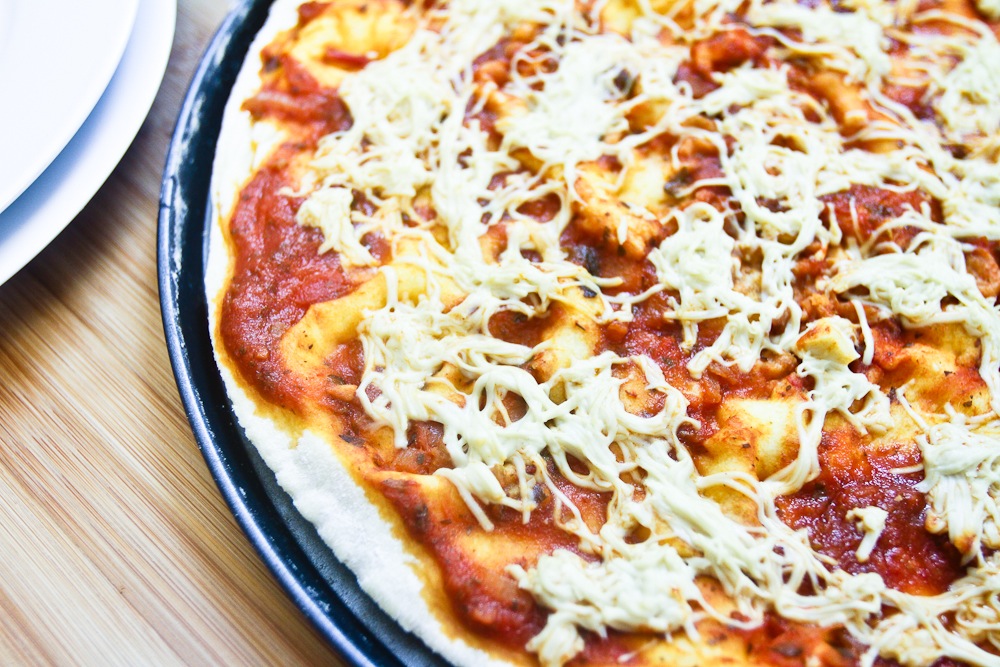 All Photos taken by Kristy Turner

© Kristy Turner and Keepin' It Kind, 2012. Unauthorized use and/or duplication of this material (content and images) without express and written permission from this blog's author and/or owner is strictly prohibited. Excerpts and links may be used, provided that full and clear credit is given to Kristy Turner and Keepin' It Kind with appropriate and specific direction to the original content.