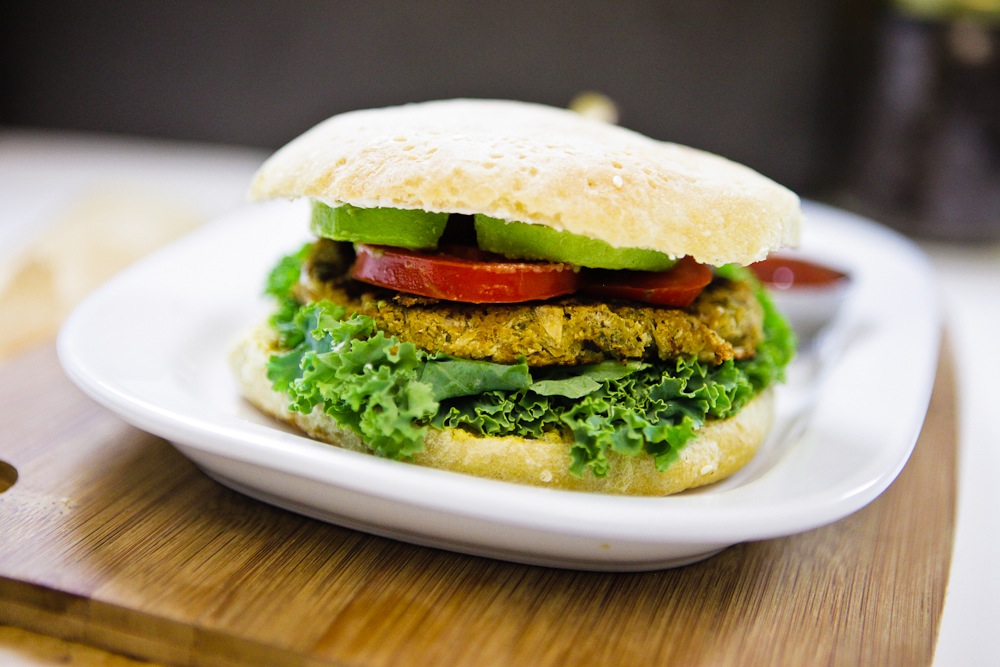 I have been dying to make a good cauliflower burger for about three months.  I attempted one back in early May, and the day after what Chris refers to as "The night of Brick Burgers," Richa at Hobby and More posted the recipe for these gems. " Ah ha!" I exclaimed (in my head, not out loud).  The trick is to use raw grated cauliflower (not roasted).  I altered my previous recipe in a few ways, including using the grated cauliflower technique, which led to what I like to refer as "The night of Sloppy Burgers."  They were tasty, but no amount of rolled oats in the world could have saved these guys from being a big sloppy pile of mush (this was in no way due to Richa's technique.  I added way to many wet ingredients and roasted sweet potato).  They were very tasty, but a pile of mush none the less.  I just couldn't seem to find an even balance in my ingredient choices, so I stepped away from the quest for a while.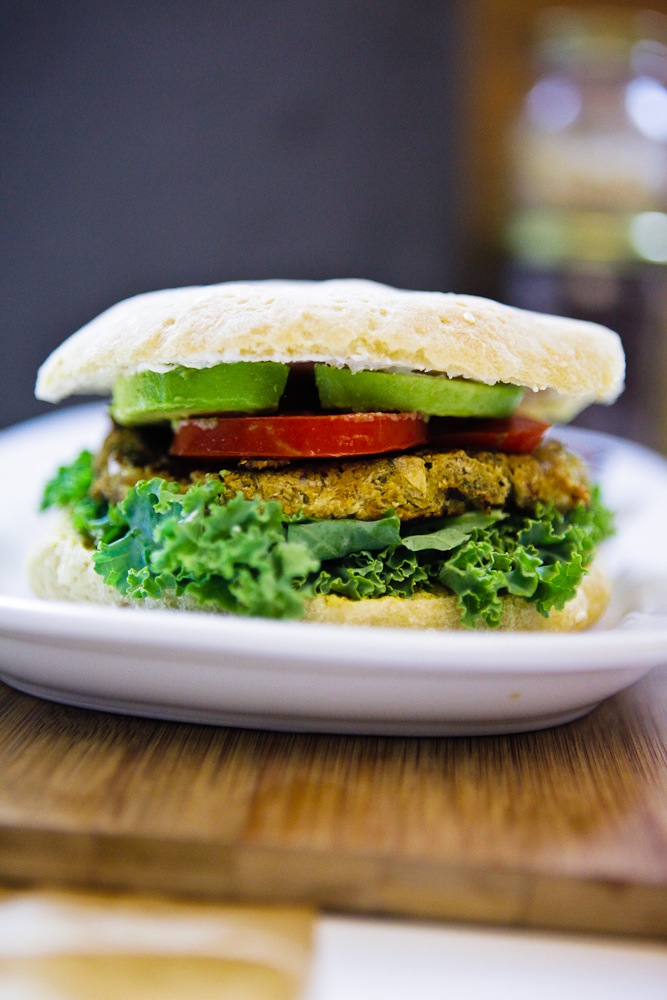 One of my favorite yoga instructors always tells us, when we fall or lose our balance, that falling down is part of the process.  You must fall in order to get back up again and try a different technique.  That is how you find the technique that helps you keep your balance.  Throughout my life, I've fallen, and while discouraged at the time, later I'm able to look back and see why I needed that fall.   It was part of my journey, part of my process.  The one job I got fired from?  It was the catalyst that brought me back to the states and now I know what type of job I am not cut out for.  When a mix-up at the university caused me to lose the one nutrition class I needed that semester to graduate, I was allowed to take a different class instead: Nutrition and Cooking for Restaurant Service.  Without that class, I would have no knife skills, not to mention many other useful tools, that later helped me while working in restaurants (and in my own kitchen).  Without the "Brick Burger" or "Sloppy Burger," I would not have been able to see my cauliflower burger dreams come to fruition.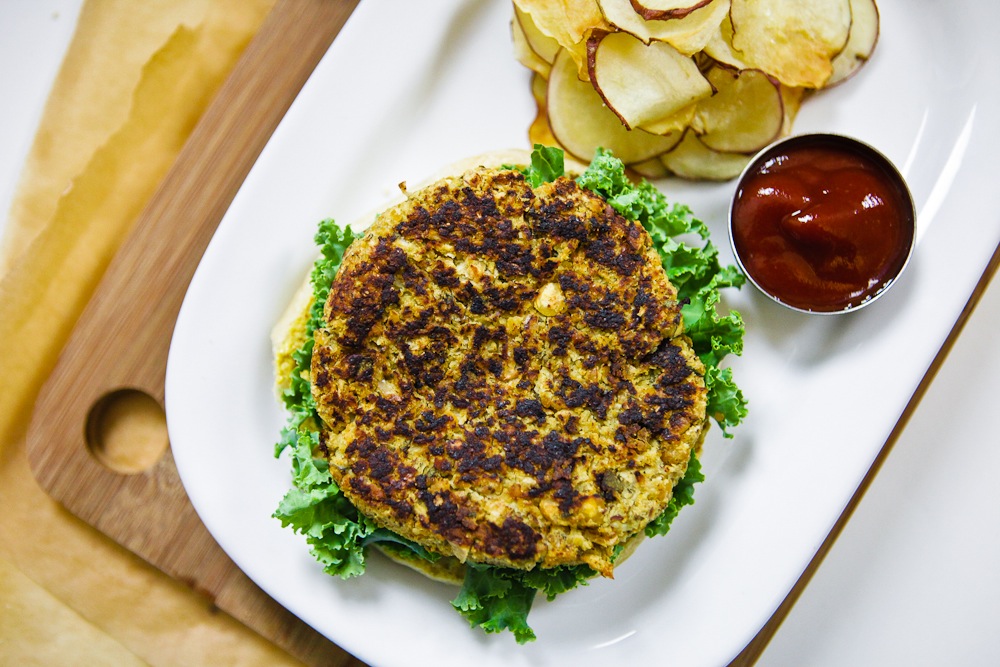 Using a combination of fresh savory and fresh sage, along with the grated cauliflower and white beans, no grains were needed to hold these guys together.  They also won't break the tile, if you drop them on the floor.  They taste fresh and light and hearty at the same time.  They will impress whoever you share them with.  They will make you give you that great super-satisfied feeling of finally accomplishing something that you have been struggling with (I don't know- that one may be just me).  Most importantly, they will taste really, really great.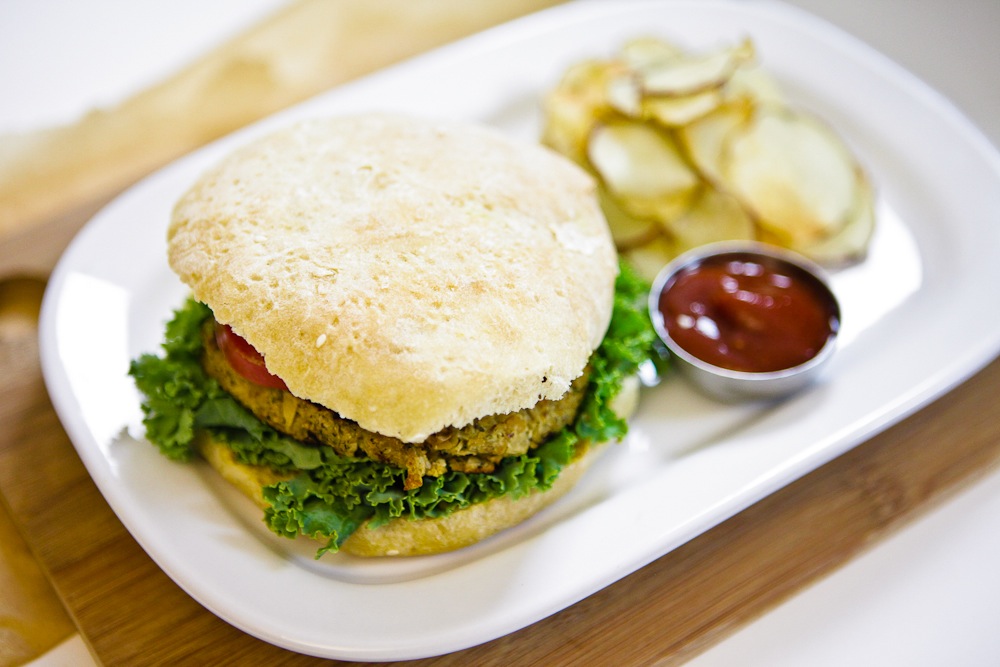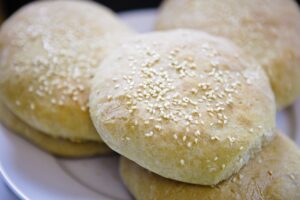 Because I was feeling pretty hard-core in the kitchen that day, I also made my own homemade burger buns, using this recipe from Holy Cow!, using unbleached bread flour instead of whole wheat flour.  While I was at it, I thought I would whip something up with the potatoes we had on hand so I made some baked potato chips too.  No big deal.  This meal just rocked my world, not just because it was fantastic, or because I made the whole thing from scratch (almost- I did use canned beans), but because after falling enough times, I had found my balance.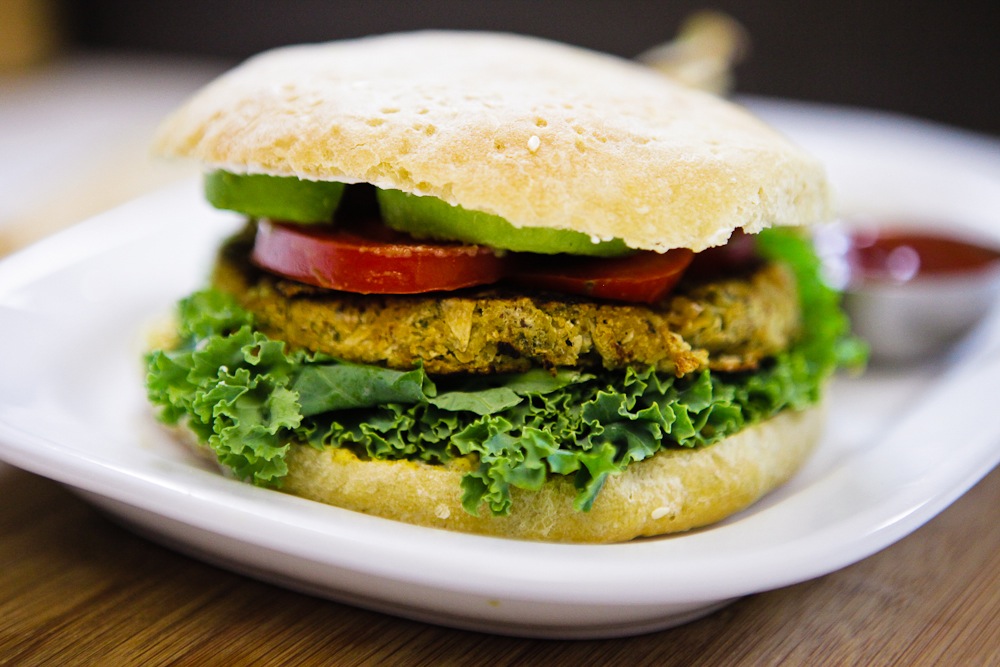 SAVORY SAGE & FLOWER BURGERS
makes 4 burgers
Ingredients:
½ head of cauliflower, grated
1 can of Great White Northern beans, rinsed and drained
2 heaping tablespoons fresh sage, finely chopped
2 heaping tablespoons fresh savory, finely chopped
1 tsp dried cumin
several dashes of paprika
1 flax egg (1 T flax meal, mixed with 3 T warm water)
1 T Bragg Liquid Aminos (or tamari/soy sauce)
salt and pepper to taste
rolled oats, if mixture is too wet (use certified gluten-free, if needed)- I didn't need any but thought I would suggest it just in case
olive oil spray
burger buns
Instructions:
Preheat oven to 400.  Line a baking sheet with parchment paper.  Prepare your flax egg and let it set for about 5-10 minutes.
In a large bowl, mash the white beans until there are no large bean pieces left.  You can also throw them in a food processor and pulse a few times.
Add the rest of the ingredients (except the salt, pepper, and oats).  Mix them all together, using your hands if necessary, to form the patty mixture.  Taste and add salt and pepper as necessary.  If it is too wet to form patties, add rolled oats by the ¼ cup, until a slightly drier, more firm consistency is reached.  If it is too dry and crumbly, add water or vegetable broth by the tablespoon, until it holds together a little more.  Once you can form a patty that is wet, but firm and holding together, you are ready.  Split the mixture into four pieces and form into patties.
Lightly spray a frying pan with the olive oil spray, and heat over medium heat.  Add the patties, two at a time (or more, if you can fit them), to the pan and cook each side for about 3-4 minutes.  Remove the patties from the pan and place on the prepared baking sheet.  Once they are all browned on each side, place them in the oven and bake them for about 10-15 minutes, until they are firm, flipping halfway through.  If you are a grilling aficionado, by all means, you can try to grill them, but I would place the patties on a piece of tin foil, rather than straight onto the grill.
Remove the patties from heat and place inside burger buns, with your favorite fillings.  We used kale, tomato, avocado, mustard, and Sun-Dried Tomato Sriracha Hummus.  Enjoy!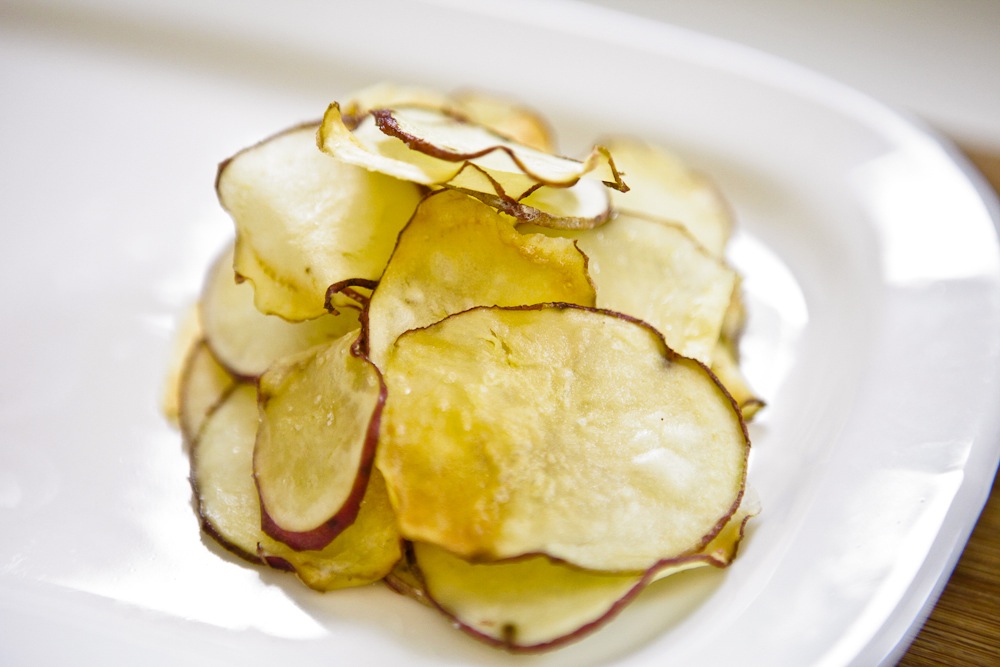 BAKED POTATO CHIPS
Ingredients:
5-6 small-medium red or golden potatoes (I used a combination of both)
olive oil spray
several dashes of paprika
salt and pepper to taste
Instructions:
Preheat oven to 400.  Line two baking sheets with parchment paper and set aside.
Slice your potatoes very thinly.  I used a mandoline.  The thinner, the better.
Lay the potato slices out over the parchment paper.  Lightly spray with olive oil spray.  Sprinkle desired amount of paprika (or other spices, if desired), and then salt and pepper to taste.  Toss to fully coat each slice.
Bake in the oven for 15-20 minutes, flipping once, halfway through to ensure even cooking.  Once the edges turn light brown and crisp, remove from the oven.
Let cool on the baking sheets for about 10 minutes.  They will continue to get a little crisper.  Serve and enjoy!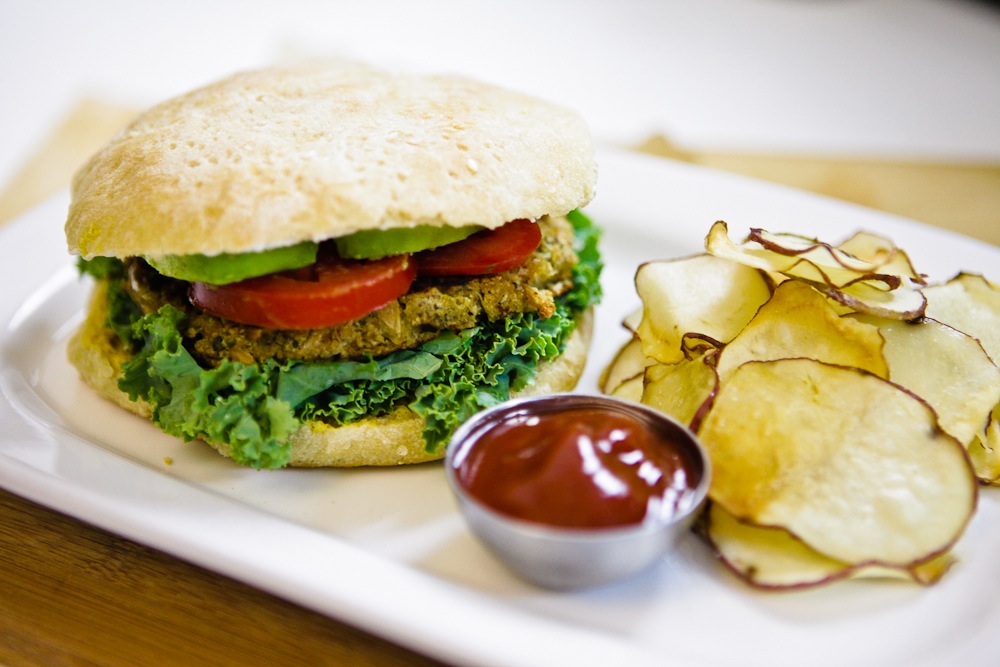 This recipe is being shared with Wellness Weekends and Healthy Vegan Fridays.
All Photos taken by Chris Miller

© Kristy Turner and Keepin' It Kind, 2012. Unauthorized use and/or duplication of this material (content and images) without express and written permission from this blog's author and/or owner is strictly prohibited. Excerpts and links may be used, provided that full and clear credit is given to Kristy Turner and Keepin' It Kind with appropriate and specific direction to the original content.