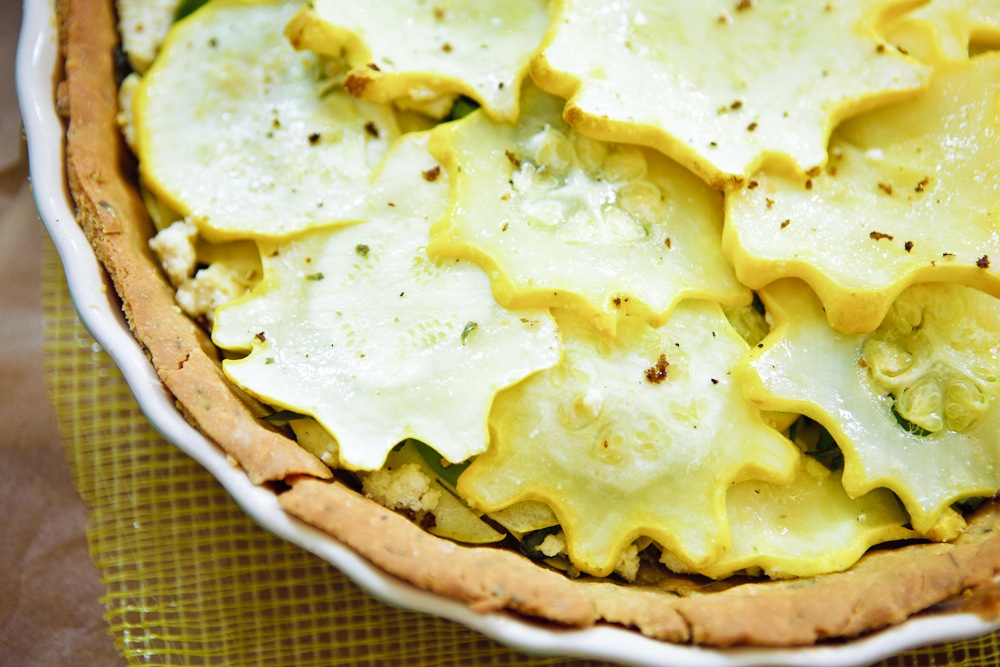 There are times when I'm making something, a salad for example, and I just grab whatever vegetables I have on hand and throw them in.  Then there are times when I have a vegetable and I think to myself "What can I make to showcase these beauties?"  This was one of those times.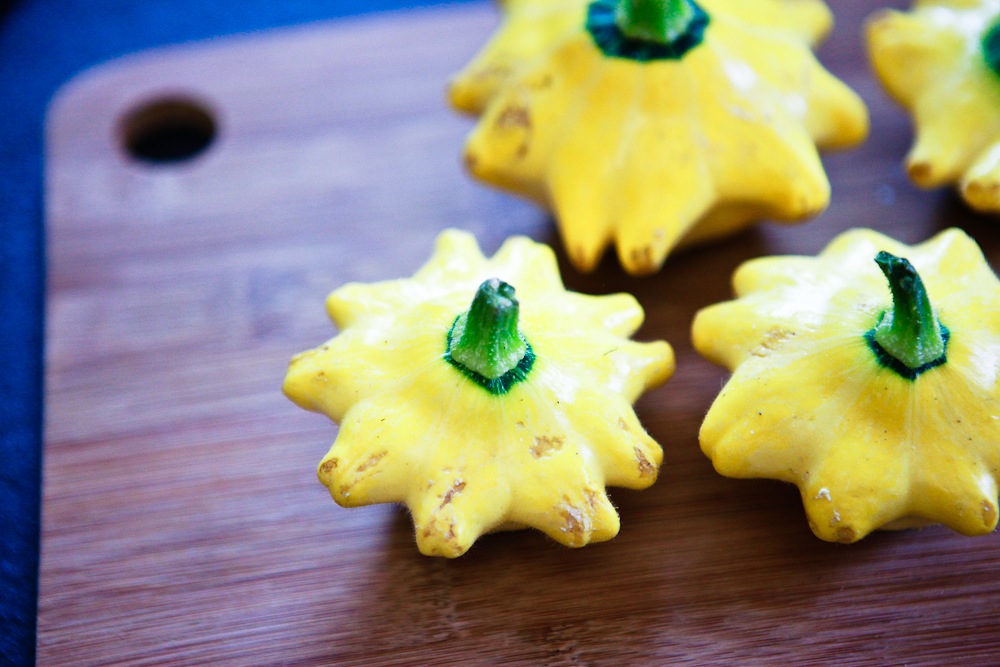 My CSA sent me these gorgeous Star Squash.  They are basically the same as summer squash or patty pan squash, but much more whimsical.  I love fruits and vegetables that have a sense of whimsy about them.  Take dragonfruit, for example.  Whimsy to the max.  I was quite taken by these little guys and even kept them on display on my kitchen counter until I decided how I wanted to prepare them.  Chris said they looked like little Pokémon characters.  I don't know about that, but I did kind of want to name them.  Agnes, Agatha, Jermaine, and Jack (that's not what I named them.  I didn't name them at all.  I've just had that line from that Biz Markie song stuck in my head for about three weeks now).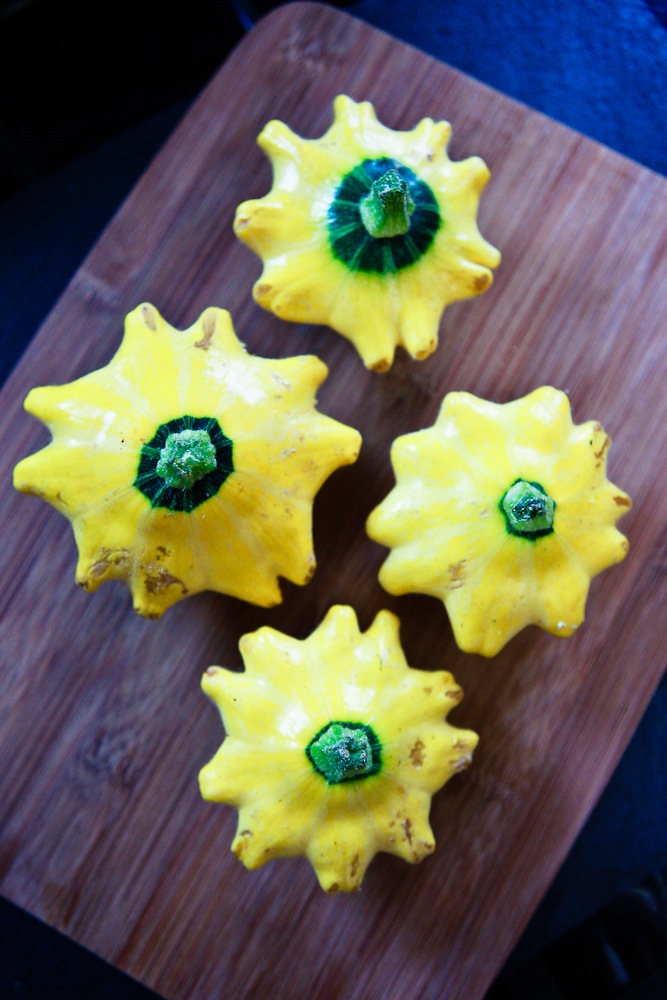 After spending sometime crushing on these little guys sitting on my counter, I decided to get fancy.  I decided to attempt a tart, something I've never done.  I actually avoid anything with crusts because for some unknown reason, they intimidate me.  Anything, aside from pizza crusts, that requires me to use my rolling pin makes me very hesitant to try it.  In a google search for vegan tart crusts, I came across this one from Gena at Choosing Raw.  Since Gena is amazing, and I've tried a couple of her recipes before, I decided to try her chickpea crust.  I liked the idea of making a chickpea crust and thought it would add a little nuttiness to the flavor of the tart.  I made some tofu chèvre to go in the tart with the squash and since I received some fresh basil in the same CSA delivery, I decided to throw some basil chiffonade into the mix as well.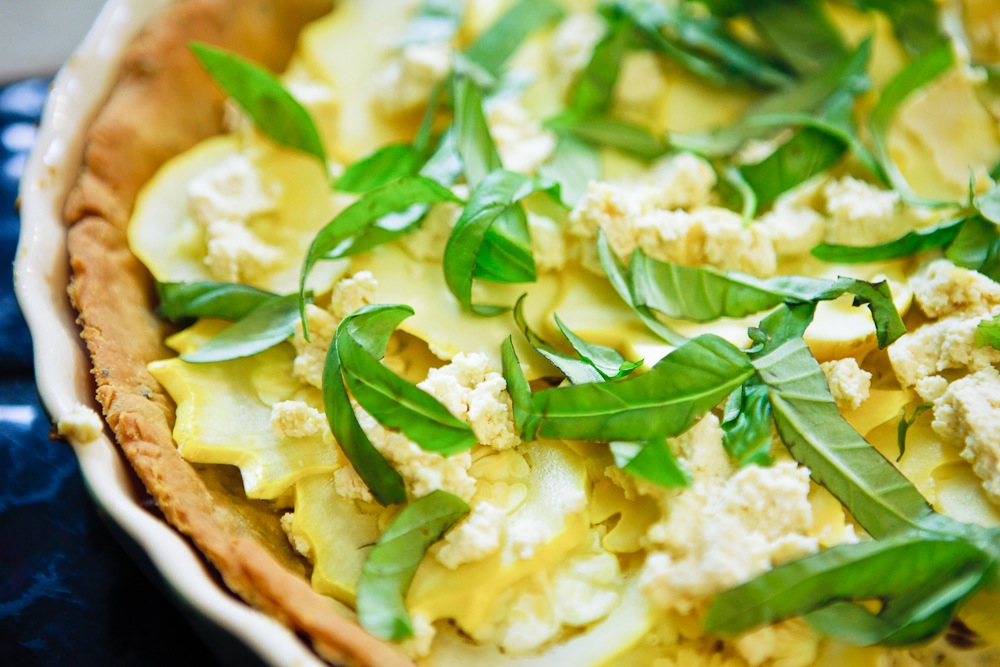 My first attempt at a tart, though the crust seemed daunting at first, went extremely well.  Once I had the tart crust pressed into my pie plate and in the oven, the biggest sense of accomplishment rushed over me.  I have gained a new confidence in the kitchen and I can't wait to try out more crust techniques.  The squash was so delicious, almost buttery, and paired with my tofu chèvre, it felt like we were enjoying something extremely decadent.  Gena's chickpea tart crust did add the perfect amount of nuttiness and the basil brought a nice fresh taste to the party.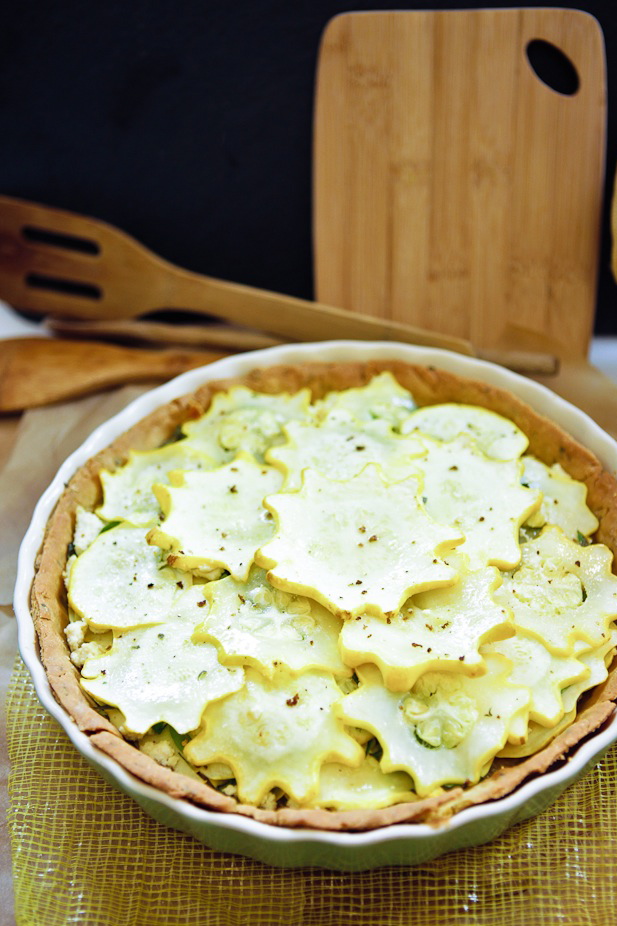 The best part about this tart, though, is it's simplicity.  There was not much to distract from the beauty of these little star quash.  They were really able to shine.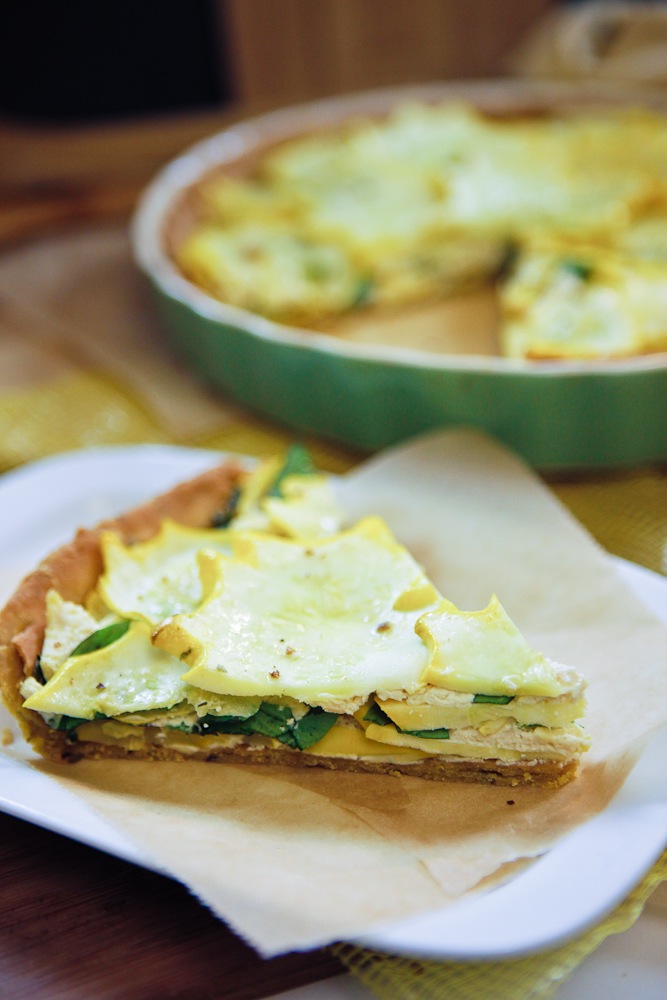 Star Squash Tofu Chèvre Tart
Ingredients
Instructions
Prepare your tofu chèvre.
Prepare Gena's Chickpea Tart Crust per her instructions. Since the dough needs to be refrigerated for awhile, it can be started when you start your chèvre. Once you have placed it in the oven for 25 minutes (I should have done it for 20 because it seems that my oven runs a little hot), you can begin preparing your squash. Just a note: I lined my pie plate with parchment paper and lightly sprayed it with vegetable oil, and I was very pleased with how easily the slices were able to be removed from the pie plate.
Using a mandoline, very thinly slice the squash. Separate the more circular shaped slices from the star shaped slices (if using star squash).
When you remove the tart crust from the oven, lower the heat to 275.
After you've removed the tart crust from the oven, you can assemble the rest of the tart. First, sprinkle 1/3 of your tofu chèvre piece (1/3 of the 2/3 piece from the original log) into the bottom of the tart. Sprinkle 1/3 cup of the chopped basil on top of the chèvre. Layer some of the circular squash pieces on top of the basil, until it is fully covered. Repeat 2 more times, saving the more star-shaped squash slices for the top of the tart.
Spray the top very lightly with olive oil spray. Salt and pepper to taste. Place the tart in the oven and bake for about 18-20 minutes. Remove from oven, slice and serve warm. Enjoy!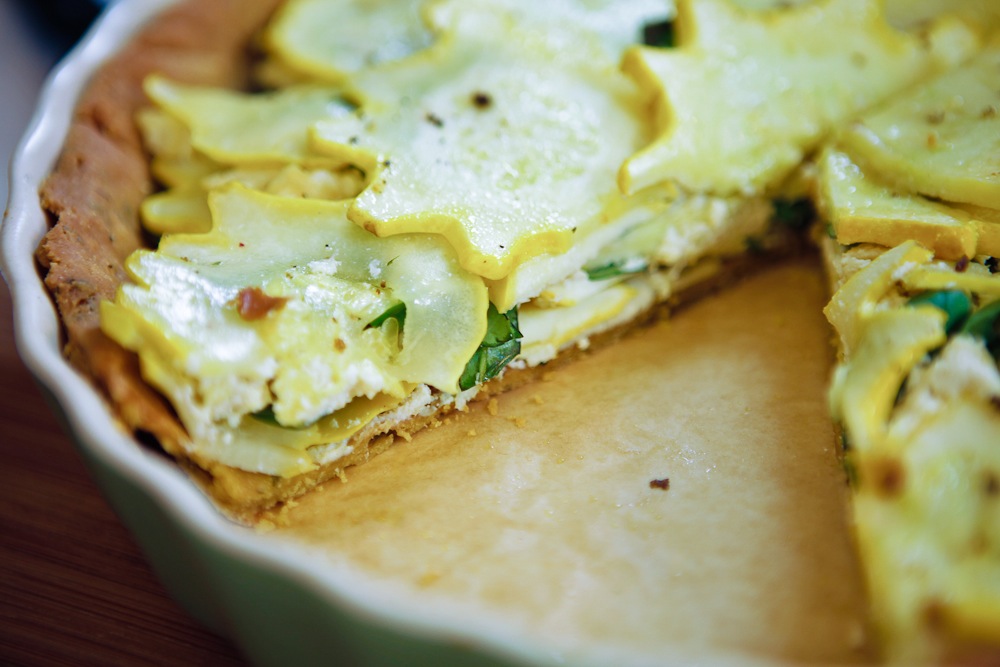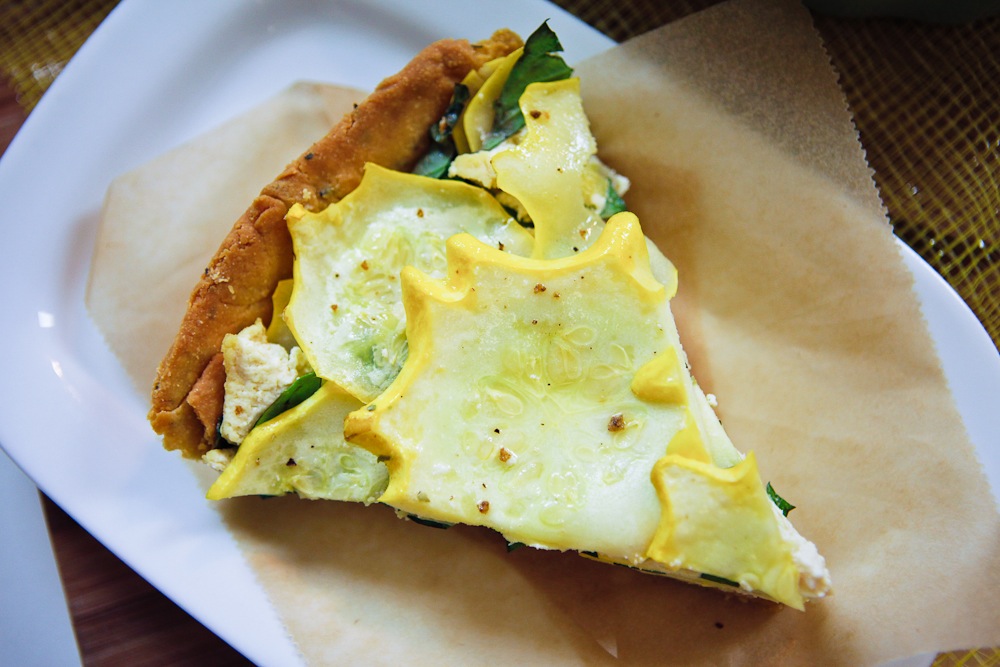 What fruit or vegetable have you been inspired by recently?
Photography by Chris Miller