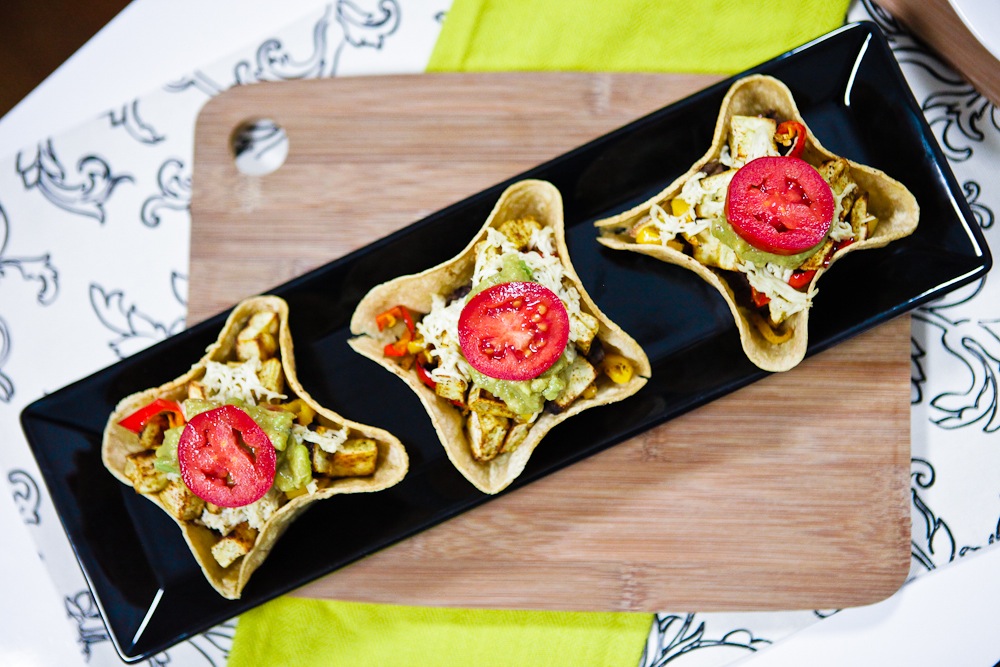 Chris and I recently stopped into one of our favorite vegan restaurants for dinner, and we ordered a new item on the menu: a trio of taco bowls.  I am not mentioning the name if this restaurant because we were, well, pretty underwhelmed with this new addition to their fabulous menu.  It was mostly rice, with a little bit of bland pinto beans, and though the title of the dish claimed that they were chipotle-spiced, neither of us were able to pick up on any sort of spiciness at all.  We were able to satiate our hunger, though considering this restaurant's usually amazing food, we left pretty disappointed.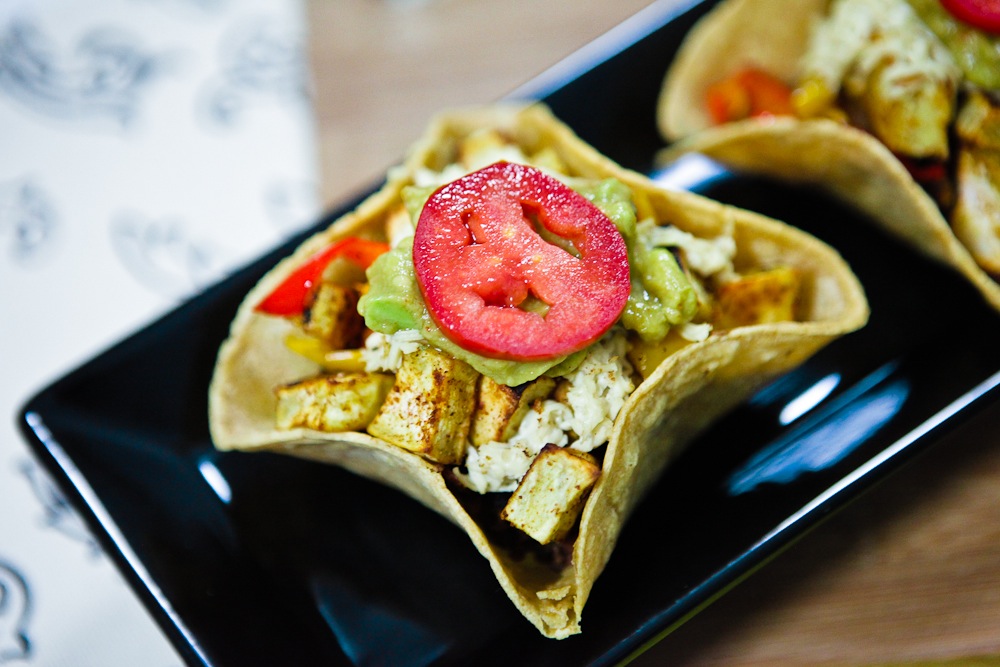 I didn't even really think about recreating them, until I ran across an easy taco-bowl-making concept on pinterest.  This idea involved baking them using the underside of muffin tins, and I was immediately sold.  I looked around our kitchen, conjured up some filling ideas, and thus the period of the Great Taco Bowl Obsession began in the Miller/Turner household.
Taco Bowls have been making an appearance at our dining table at least once a week since this find.  Combining black beans and sweet potatoes was a new thing for me, but since I had seen it done by some many other fantastic bloggers, in many different fashions, I had to try it out.  All of you fantastic bloggers were not kidding when you said these two guys were meant to paired!  These little taco bowls, filled with earthy mashed black beans and roasted sweet potatoes (I had the white variety on hand), have been my favorite taco bowl to date.  I topped them with some of the cheese I made for this recipe, but any vegan shredded cheese would do nicely.  I finished them off with a bit of homemade guacamole.
Please, join me in the Great Taco Bowl Obsession.  Make these bowls and trust me- you will walk away satiated and anything but disappointed (some might even say "euphoric").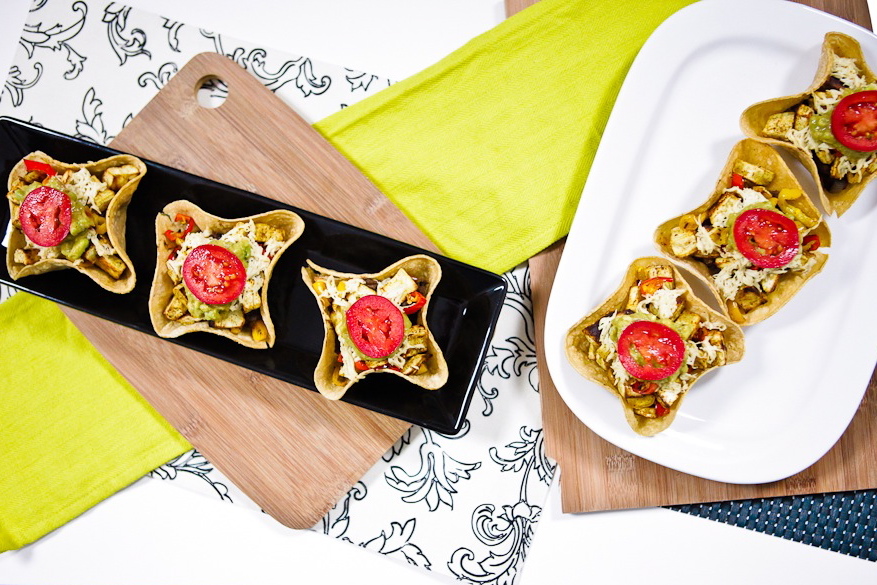 MINI BLACK BEAN & SWEET POTATO TACO BOWLS
makes 6 bowls
Ingredients:
for the taco bowls:
6 corn tortillas
olive oil spray
½- 2/3 cup shredded vegan cheese (I used this recipe)
for the black beans:
½ tsp olive oil
½ onion, finely chopped
2 cloves garlic
1 14.5oz can of black beans, rinsed and drained
1 cup crimini mushrooms, thinly sliced
1 green chile (I used canned, but a mild fresh one would work also), finely chopped
1 small tomato, chopped
1/3 cup vegetable broth, plus extra for deglazing
2 tsp Bragg Liquid Aminos (or tamari/soy sauce)
½ tsp liquid smoke
1 tsp cumin
½ tsp paprika
½ tsp ancho chile pepper (or regular chile pepper)
salt and pepper to taste
for the sweet potatoes: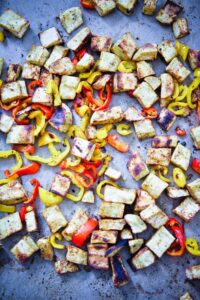 1 large sweet potato, or 2 small, peeled and cubed
4 small sweet peppers (I used 2 red and 2 yellow), seed removed, halved and thinly sliced
olive oil spray
½ tsp cumin
½ tsp ancho chile pepper (or regular chile pepper)
¼ tsp cinnamon
salt and pepper to taste
Instructions:
Preheat the oven to 400.  Line a baking sheet with parchment paper and spread out your sweet potato cubes.  Lightly spray with olive oil and sprinkle with spices, salt and pepper.  Toss to fully coat and place in oven for 10 minutes.  Remove the potatoes from the oven and add the sweet pepper slices, and mix to combine.  Return to the oven and bake for about 5-8 more minutes, until sweet potatoes are slightly crisp on the outside and soft on the inside.  Remove and set aside (Don't remove the paper from the pan- you will be using the set-up later).
Lower the heat to 375.  Cook your taco bowls according to these instructions.  I did not have two 12-muffin tins, so I had to do mine in batches with my two 6-muffin silicone tins.  Once you remove them from the oven, place them on a cooling rack to cool and get a little crisper.
While your potatoes are cooking you can start your beans.  Heat the olive oil in a frying pan over medium heat.  Add your onion and garlic and sauté until onion is slightly translucent.  Add the beans, mushrooms, tomato, and chile pepper.  Mix to combine.  Add 1/3 cup vegetable broth, Bragg Liquid Aminos, liquid smoke and spices, mix to combine and then lower heat to medium-low.  Using your spatula, mash the beans slightly (a lot will be mashed, but there will still be chunks of beans).  Continue to cook the beans, stirring occasionally to prevent sticking, until liquid is absorbed.  If the beans cook too fast and start to stick, use a little more vegetable broth to deglaze the pan and lower the heat a little more.  The final texture should be like very chunky, thick refried beans.  Remove from heat once they are finished.
To assemble the bowls:  Distribute the black bean mixture evenly amongst the 6 bowls.  Distribute the sweet potato/pepper mixture evenly amongst the 6 bowls, topping the black bean mixture.  Top each bowl with a little bit of shredded vegan cheese, and place each bowl on the baking sheet that you had prepared the sweet potatoes on.  Place the baking sheet in the oven and let the bowls to melt the cheese, about 2-3 minutes.  Remove from oven and serve warm (perhaps with some guacamole or salsa or sour cream).  Enjoy!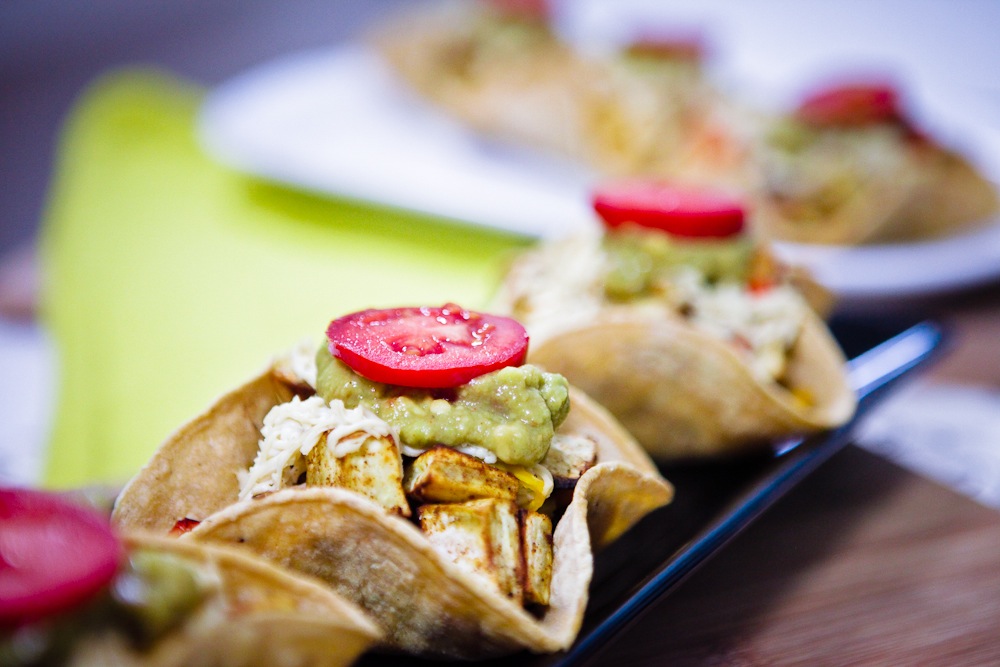 Do you have any current obsessions in your household?
All Photos taken by Chris Miller

© Kristy Turner and Keepin' It Kind, 2012. Unauthorized use and/or duplication of this material (content and images) without express and written permission from this blog's author and/or owner is strictly prohibited. Excerpts and links may be used, provided that full and clear credit is given to Kristy Turner and Keepin' It Kind with appropriate and specific direction to the original content.