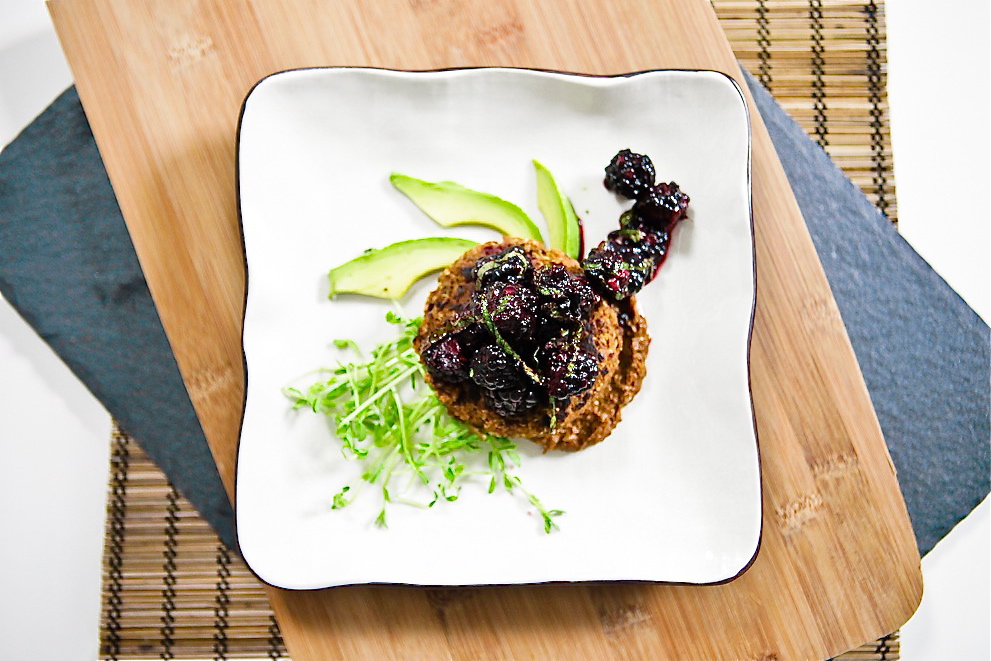 You may or may not be aware of the fact that there is a contest happening today.  I'm not a very competitive person.  In fact, I usually run away fast shy away from competition.  It's just part of my nature.  This time, however, when I discovered this contest, I got pretty excited.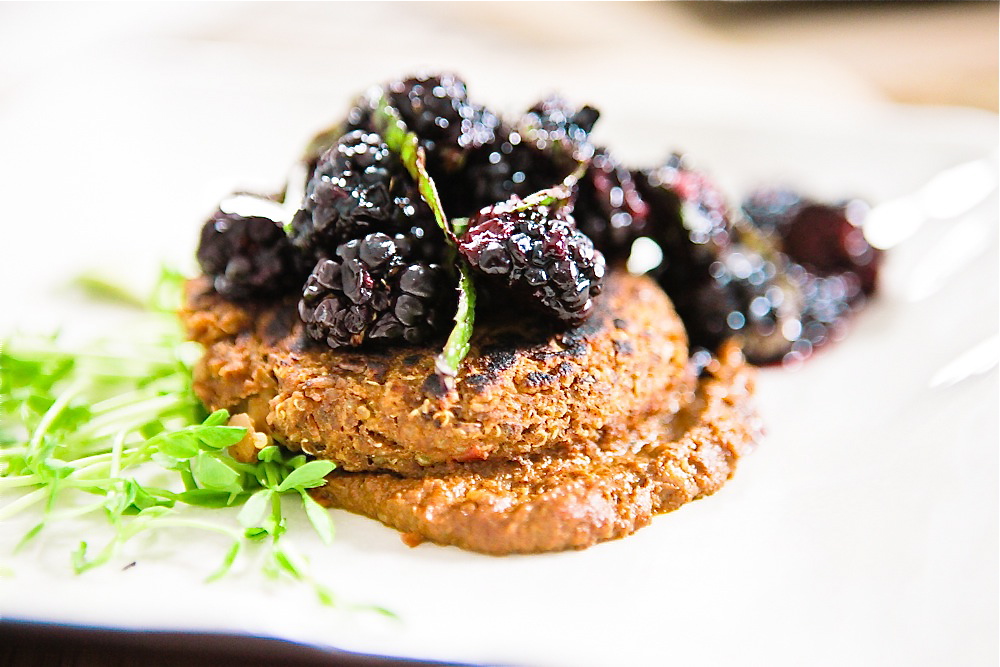 Basically, Isa Chandra Moskowitz of Post Punk Kitchen, got the idea to do a virtual vegan version of the Food Network's show, "Chopped."  I'm sure that all of you have not been living under a rock as I have, and do not need twin eleven year-olds to fill you in on the details, but as Maxwell and Sophia have explained to me, "Chopped" is a show where several cooks are presented with 4 super-random ingredients that they have to incorporate into a dish.  As one could imagine, things get pretty crazy and some pretty amazing (but usually never vegan) dishes are prepared.  How fabulous is Isa's idea to do a vegan version?  How could I not get excited?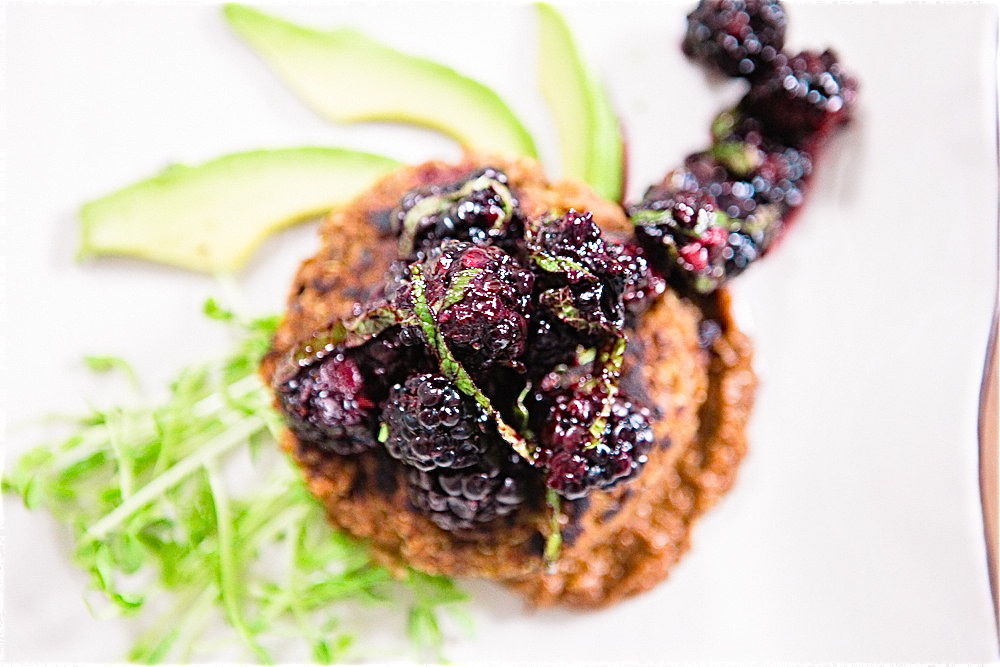 To get the full list of rules, you can go here, but basically, we were given 4 ingredients to prepare an entree with in about 40 minutes.  The ingredients we were given were blackberries, bittersweet chocolate, mint, and canned black-eyed peas.  After much deliberation and brainstorming, I came up with my concept.  I did my shopping and got to work, and it came together more quickly and easily than I had envisioned.  Before I knew it, the meal was plated and Chris was getting out his camera.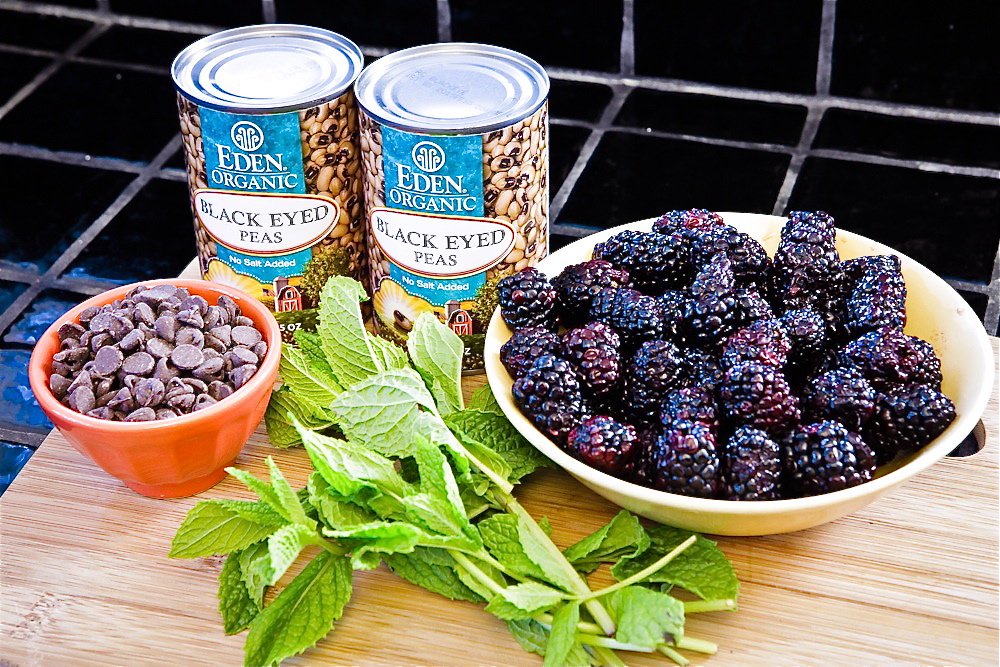 I couldn't be more pleased with my creation: Black-Eyed Pea Mole Cakes with Blackberry Mint Salsa.  It looked absolutely gorgeous, especially the blackberry mint salsa (I'm not ashamed to admit that once we were done with dinner, I ate the rest of the salsa straight-up.  It was that good.  I'll be making that quite a bit this summer!).  Chris and I both muttered expletives while injesting our meal, and Chris always says "if a meal forces you to swear, you know it's f%#$ing good."  I never would have thought that I would eat those four ingredients in the same bite, but it was one of the finest meals I've made in awhile.  Without much further ado (insert drumroll here), here is my submission to Post Punk Kitchen's Chopped Vegan Contest!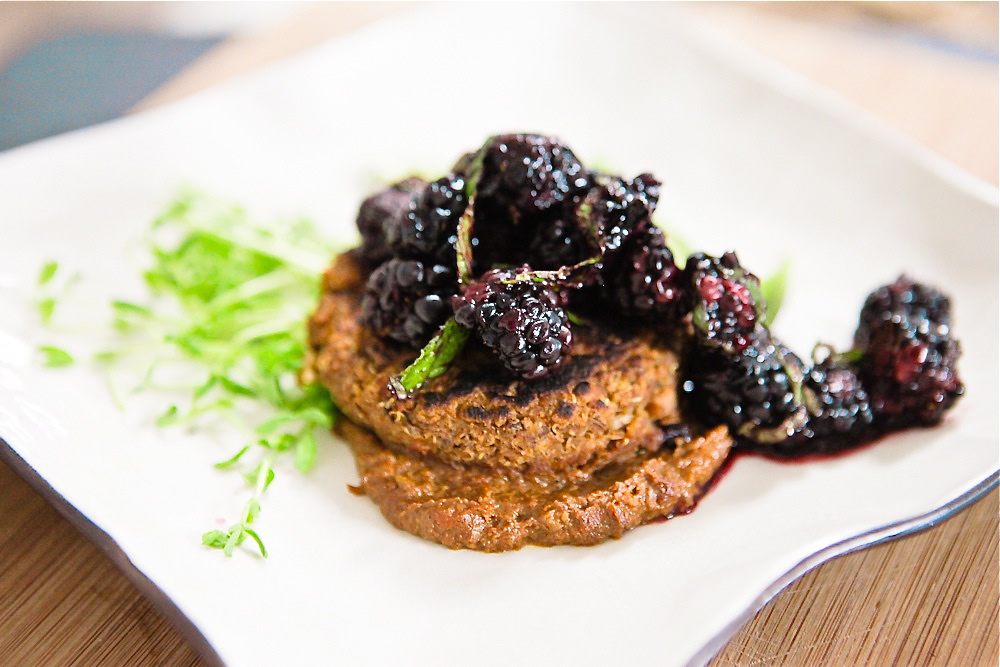 Black-Eyed Pea Mole Cakes with Blackberry Mint Salsa
Ingredients
1 teaspoon olive oil
¼ onion, finely chopped
1 clove garlic, finely minced
1 medium tomato, chopped
1 mild green chile (from can), chopped
1 date, seeded and chopped
2 tablespoons sliced almonds
1 tablespoon tahini
1 tablespoon tomato paste
½ cup vegetable broth
1 teaspoon cumin
½ teaspoon oregano
½ teaspoon paprika
½ teaspoon cinnamon
½ teaspoon ancho chili pepper (or regular pepper)
1/8 cup semi-sweet dark vegan chocolate
salt and pepper to taste
1 14.5 oz. can black-eyed peas
¼ cup quinoa, rinsed
¾ cup water
1/4 cup + 1 tablespoon mole sauce
oil spray

for the blackberry mint salsa

2 cups fresh blackberries, halved
¼ cup mint leaves, chopped into thin strips
½ teaspoon balsamic vinegar
salt to taste
Instructions
Preheat your oven to 400. Line a baking sheet with parchment paper.
Make your salsa first. In a bowl, combine your halved blackberries, mint and balsamic vinegar. Place in the refrigerator.
In a medium bowl, mash the black-eyed peas. Set aside.
On the stovetop, combine the water and quinoa in a pot and cover with a lid. Bring the water to a boil. Once it is boiling, turn the heat down to a low simmer and cover again. Once the water is absorbed and the quinoa has sprouted its "little tails," remove from heat.
While the quinoa is cooking, prepare the sauce. In the bowl of a food processor, combine the date, almonds, tahini, and tomato paste. Pulse a few times to combine. Scrape the sides and add the vegetable broth and the seasonings (minus the salt and pepper). Process until smooth.
In a small pot, heat the olive oil over medium heat for about 30 seconds. Add the garlic and sauté until it begins to sizzle. Add the onion and sauté until the onion is translucent. Add the tomato and chile and mix to combine. Sauté for about 2 minutes, stirring often to prevent sticking. Add the sauce mixture from the food processor, stir to combine, and raise the heat to medium-high. Cook, stirring frequently to prevent sticking, for about 5 minutes, until sauce has thickened and condensed to about half (you don't want a thin mole sauce because it won't hold the cakes together. The thicker, the better). If you have an immersion blender, use that to puree the sauce until it is almost smooth (there should still be some small chunks in it). If you don't, just return the sauce to a food processor and pulse about 10-12 times, then return to the pot. Turn the heat to low, and add the chocolate chips and mix to combine. Once the chocolate is completely melted and combined, taste and add salt and pepper as needed.
Add the quinoa and the mole sauce (1/4 cup + 1 tablespoon) to the bowl of mashed black-eyed peas. Stir to fully combine. There will be leftover mole sauce that will be used later for serving. Cover with a lid to keep warm.
I used a double-burner griddle, but a large frying pan would work just as well. Spray the pan with oil, or add a tiny bit of oil to grease the pan. Heat over medium heat.
I used a biscuit cutter to form the patties, but you could use a ½ cup measuring cup and pack it half full with the mixture to make the patties. Once you make the patty, place it on the griddle pan. Since I used the double-burner, I was able to brown the sides of all the patties at one time. Cook them for about 3-4 minutes on each side, and place on the baking sheet.
Once all the patties are on the baking sheet, place in the oven and bake for 10-12 minutes, flipping halfway through. Remove from oven and serve with a spoonful of the leftover mole sauce and topped with the blackberry mint salsa. Enjoy!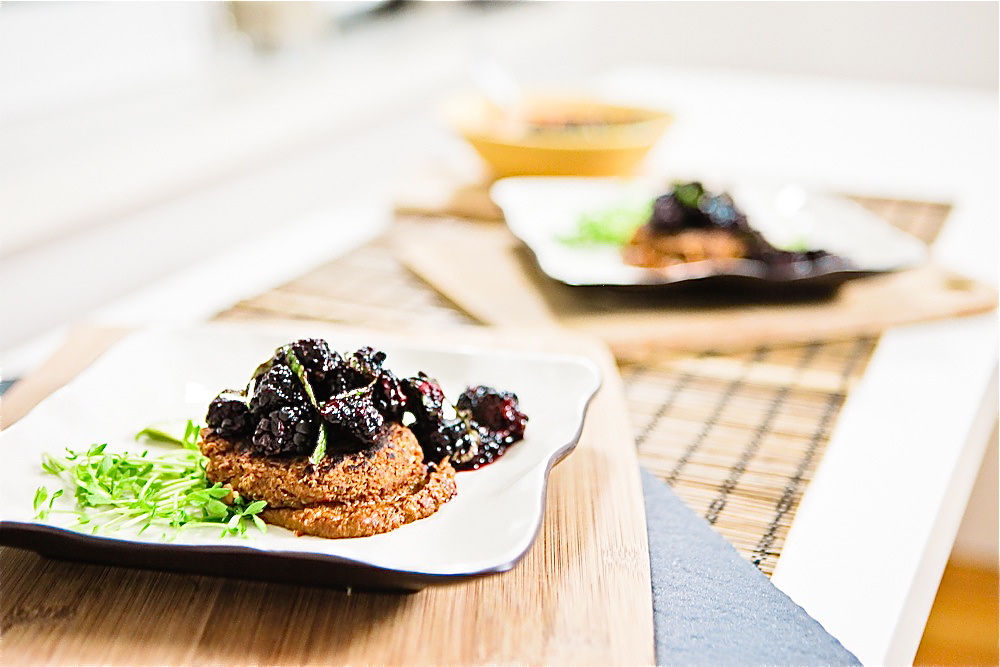 Thank you very much, Post Punk Kitchen for presenting this challenge!  I had so much fun with it and it really helped me get in touch with my competitive side.  If you'll excuse me now, I have an arm-wrestling match with my dog to get to.
Photography by Chris Miller