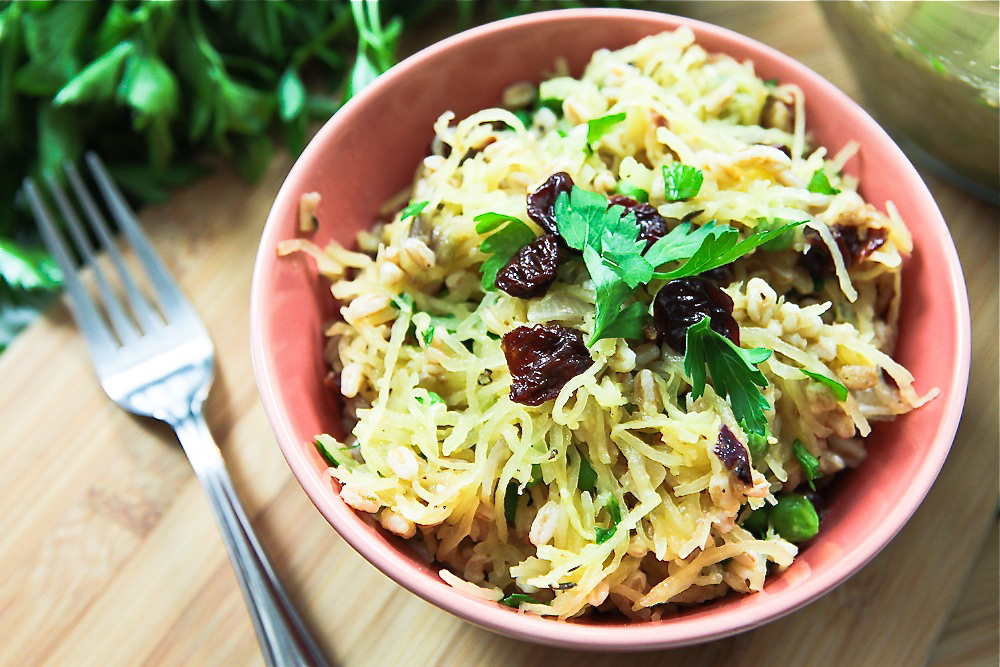 In our vegetarian days, Chris and I would often visit Lemonade, a cute cafeteria-style restaurant serving up delicious salads, sandwiches, soups, desserts, and of course, lemonade.  Because we like to share our food, we would always get the 3 item plate, which could be split up into 6 smaller items, and fill it with a variety of different salads.  The menu changes seasonally, but there was one salad that was always on the menu, and consequentially, always on our plate.  This salad was the spaghetti squash and farro salad.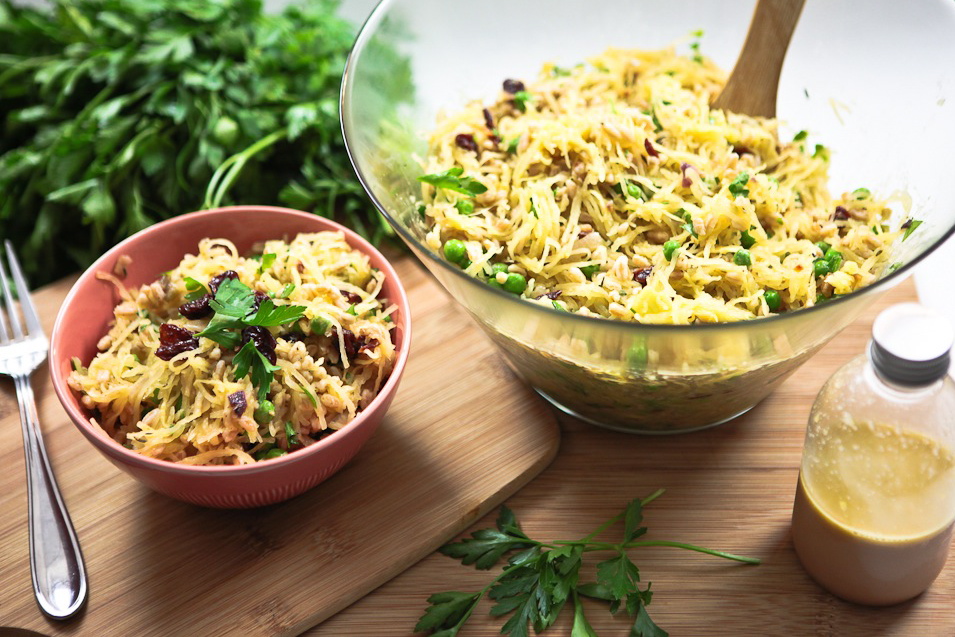 I've replicated my memory of this recipe dozens of times.  There is something about the light, fresh taste of spaghetti squash, paired with the hearty, nutty farro, and soaked in a tart dressing, that is extremely pleasing to the palate.  Lemonade has dried cranberries in theirs, as well as fresh parsley.  I kept the parsley for my version, but exchanged the cranberries for dried cherries, and then also added fresh green peas.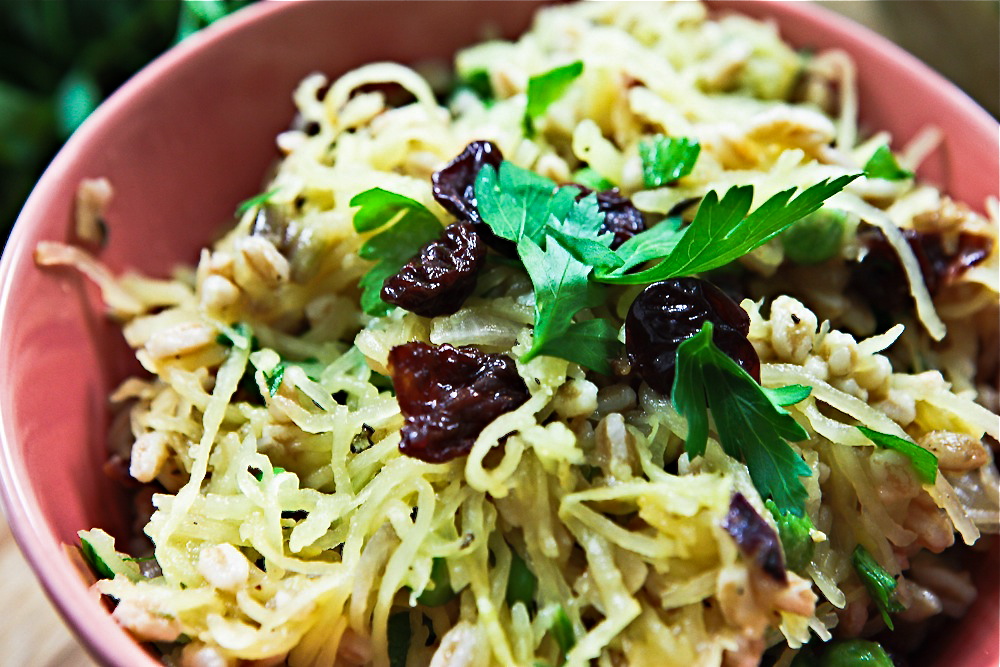 I've brought this salad to potlucks and it is always a huge hit.  I've made it with couscous and quinoa, rather than farro, and it is always wonderful (but I must say, farro is my favorite grain for this salad).  It's great as an entrée salad and its light, fresh, citrusy flavor is perfect for warm summer nights or for a weekend picnic!  I thought of sharing a plate of this salad with Chris, for old times sake, but it was so good, I needed a big ol' bowl all to myself.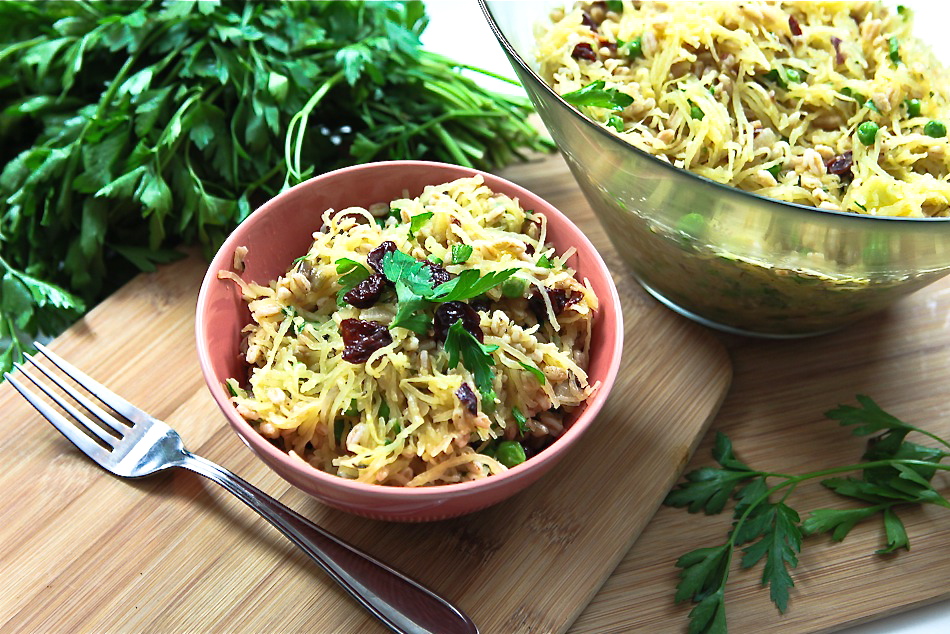 SPAGHETTI SQUASH & FARRO SALAD

makes 8-10 generous servings
Ingredients:
1 spaghetti squash (about 3lbs), seeds removed and quartered
olive oil spray
salt and pepper to taste
1 cup farro
2 cups fresh peas (removed from pods)
¼ tsp olive oil
½ red onion, chopped
½ cup fresh parsley, chopped
½ cup dried tart cherries, chopped
1 cup Cherry Citrus Dressing
Instructions:
To prepare the spaghetti squash:  Preheat your oven to 400.  Line a baking sheet with parchment paper.  Lightly spray the flesh side of the spaghetti squash quarters with olive oil and add salt and pepper taste.  Place the quarters, rind side up, on the baking sheet.  Bake for 30-35 minutes, until flesh is tender.  Remove from oven and let cool completely.  Use a fork to scrape out the flesh of each quarter.  The flesh will come out in bunches of long strings.  Place all the spaghetti-like flesh in a bowl and set aside.
To prepare the farro: Bring a 2 ½ cups of water to a boil in a pot.  Add the farro to the water, and reduce the heat so the water simmers.  Simmer until the farro is tender and the grains have split open, about 20 minutes.  Drain and rinse with cool water.
To prepare the peas: In another pot, bring about 3 cups of water to a boil.  While the farro is simmering, and the other pot of water is boiling, heat the ¼ tsp olive oil in a frying pan over medium heat.  Add the onions and sauté until onions are translucent.  Lower heat to low and continue to stir to prevent sticking.  Once the water is boiling, add the peas and let them boil for about 1 ½ - 2 minutes.  Remove from water and add to the sautéed onions.  Stir to combine and allow the peas and onions to cook on low for about 1 minute before removing from heat.
To prepare the salad:  Combine the spaghetti squash, farro, onion and pea mixture, dried cherries, parsley and dressing in a large bowl.  Toss until fully combined.  Let chill for at least 1 hour before serving.  It can be made the day before and will keep for about 2-3 days.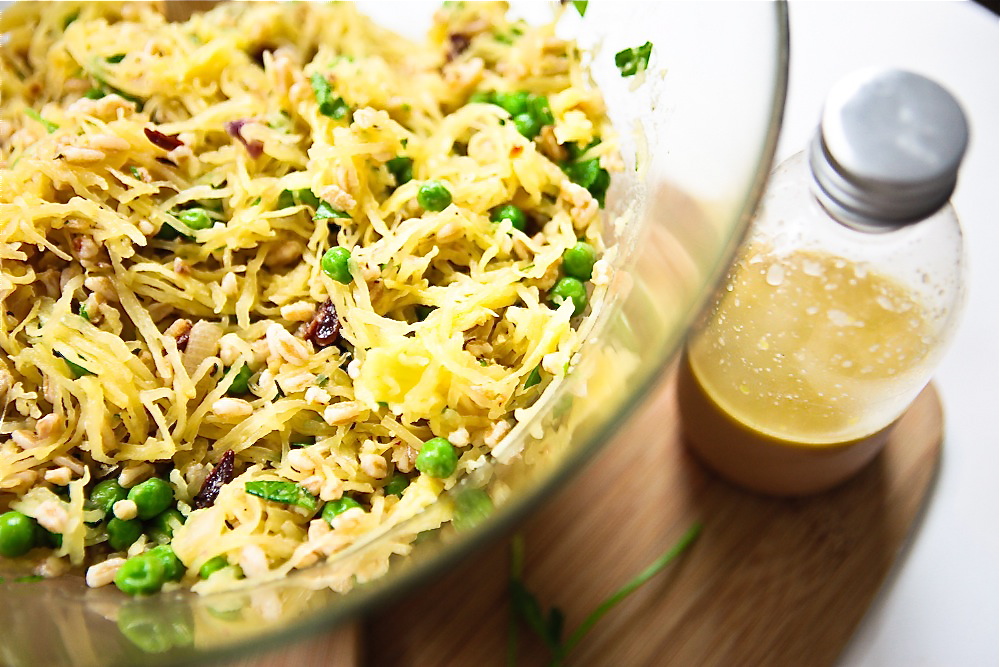 CHERRY CITRUS DRESSING
Ingredients:
¾ cup orange juice
¼ cup cherry juice
¼ cup red wine vinegar
¼ cup olive oil
juice from 1 lemon
zest of 1 lemon
1/8 cup agave syrup
1 clove garlic
¼ tsp dried ginger
salt and pepper to taste
Instructions:
Combine all ingredients in a blender and puree until fully mixed.  Chill until ready to use.  Will keep for 1 week.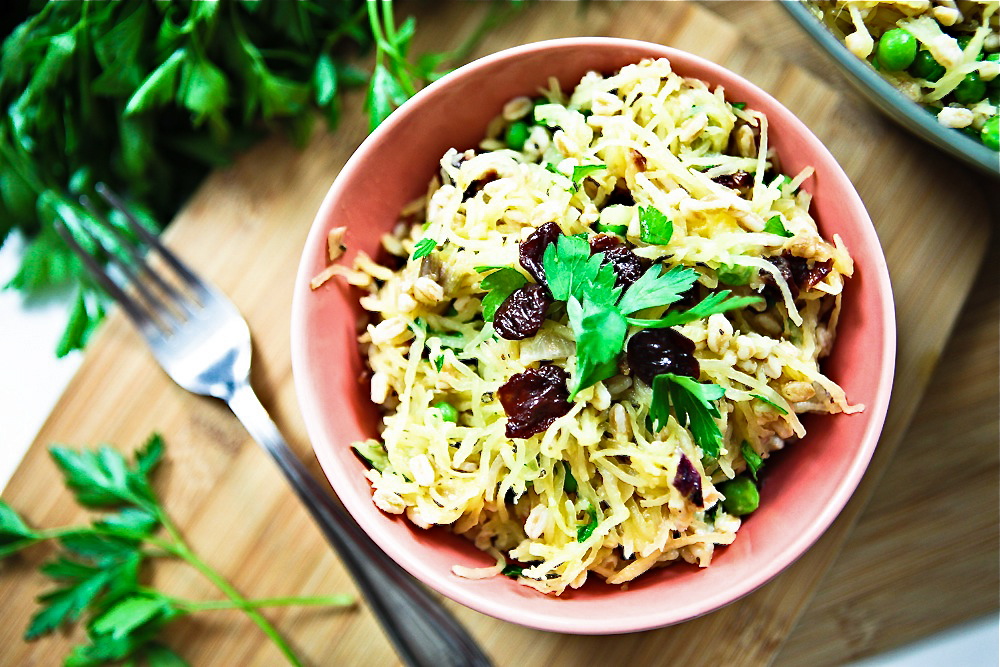 All Photos taken by Chris Miller

© Kristy Turner and Keepin' It Kind, 2012. Unauthorized use and/or duplication of this material (content and images) without express and written permission from this blog's author and/or owner is strictly prohibited. Excerpts and links may be used, provided that full and clear credit is given to Kristy Turner and Keepin' It Kind with appropriate and specific direction to the original content.